A new study detects unstable nascent RNAs and uncovers thousands of transcription initiation sites in promoters and enhancers. Detailed analysis shows that these initiation sites have a similar architecture and that they are differentiated by post-transcriptional regulation rather than transcription initiation.
Access options
Subscribe to Journal
Get full journal access for 1 year
$59.00
only $4.92 per issue
All prices are NET prices.
VAT will be added later in the checkout.
Tax calculation will be finalised during checkout.
Rent or Buy article
Get time limited or full article access on ReadCube.
from$8.99
All prices are NET prices.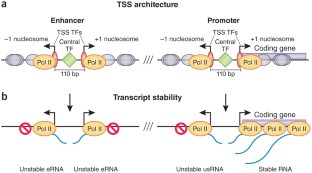 References
1

Core, L.J. et al. Nat. Genet. 46, 1311–1320 (2014).

2

Kruesi, W.S., Core, L.J., Waters, C.T., Lis, J.T. & Meyer, B.J. eLife 2, e00808 (2013).

3

Kanamori-Katayama, M. et al. Genome Res. 21, 1150–1159 (2011).

4

Andersson, R. et al. Nature 507, 455–461 (2014).

5

Struhl, K. Nat. Struct. Mol. Biol. 14, 103–105 (2007).

6

Natoli, G. & Andrau, J.C. Annu. Rev. Genet. 46, 1–19 (2012).

7

Ernst, J. & Kellis, M. Nat. Methods 9, 215–216 (2012).
Ethics declarations
Competing interests
The authors declare no competing financial interests.
About this article
Cite this article
Weingarten-Gabbay, S., Segal, E. A shared architecture for promoters and enhancers. Nat Genet 46, 1253–1254 (2014). https://doi.org/10.1038/ng.3152
Further reading
Amit Blumberg

,

Yixin Zhao

,

Yi-Fei Huang

,

Noah Dukler

,

Edward J. Rice

,

Alexandra G. Chivu

,

Katie Krumholz

,

Charles G. Danko

&

Adam Siepel

BMC Biology (2021)

O. Paredes

,

Rebeca Romo-Vázquez

,

Israel Román-Godínez

,

Hugo Vélez-Pérez

,

Ricardo A. Salido-Ruiz

&

J. Alejandro Morales

Genes & Genomics (2020)

Tal Ashuach

,

David S. Fischer

,

Anat Kreimer

,

Nadav Ahituv

,

Fabian J. Theis

&

Nir Yosef

Genome Biology (2019)