Abstract
The analysis of individuals with severe congenital neutropenia (SCN) may shed light on the delicate balance of factors controlling the differentiation, maintenance and decay of neutrophils. We identify 9 distinct homozygous mutations in the JAGN1 gene encoding Jagunal homolog 1 in 14 individuals with SCN. JAGN1-mutant granulocytes are characterized by ultrastructural defects, a paucity of granules, aberrant N-glycosylation of multiple proteins and increased incidence of apoptosis. JAGN1 participates in the secretory pathway and is required for granulocyte colony-stimulating factor receptor–mediated signaling. JAGN1 emerges as a factor that is necessary in the differentiation and survival of neutrophils.
Relevant articles
Open Access articles citing this article.
Mahsa Hojabri

,

Yeganeh Farsi

…

Samin Sharafian

BMC Pediatrics Open Access 29 April 2023
Access options
Subscribe to this journal
Receive 12 print issues and online access
$189.00 per year
only $15.75 per issue
Rent or buy this article
Get just this article for as long as you need it
$39.95
Prices may be subject to local taxes which are calculated during checkout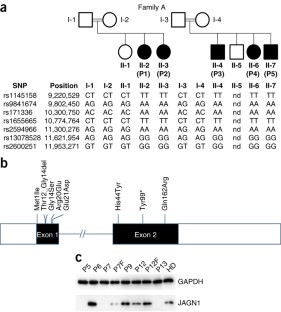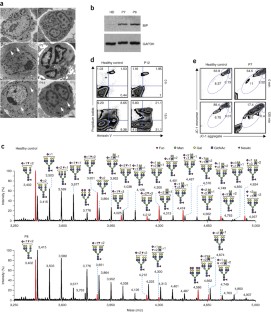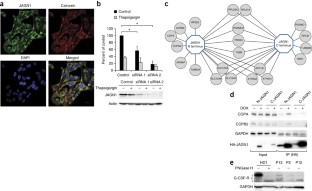 References
Kostmann, R. Infantile genetic agranulocytosis; agranulocytosis infantilis hereditaria. Acta Paediatr. Suppl. 45 (suppl. 105), 1–78 (1956).

Klein, C. Genetic defects in severe congenital neutropenia: emerging insights into life and death of human neutrophil granulocytes. Annu. Rev. Immunol. 29, 399–413 (2011).

Grenda, D.S. et al. Mutations of the ELA2 gene found in patients with severe congenital neutropenia induce the unfolded protein response and cellular apoptosis. Blood 110, 4179–4187 (2007).

Köllner, I. et al. Mutations in neutrophil elastase causing congenital neutropenia lead to cytoplasmic protein accumulation and induction of the unfolded protein response. Blood 108, 493–500 (2006).

Boztug, K. et al. A syndrome with congenital neutropenia and mutations in G6PC3. N. Engl. J. Med. 360, 32–43 (2009).

Klein, C. et al. HAX1 deficiency causes autosomal recessive severe congenital neutropenia (Kostmann disease). Nat. Genet. 39, 86–92 (2007).

Dell'Angelica, E.C., Shotelersuk, V., Aguilar, R.C., Gahl, W.A. & Bonifacino, J.S. Altered trafficking of lysosomal proteins in Hermansky-Pudlak syndrome due to mutations in the β3A subunit of the AP-3 adaptor. Mol. Cell 3, 11–21 (1999).

Bohn, G. et al. A novel human primary immunodeficiency syndrome caused by deficiency of the endosomal adaptor protein p14. Nat. Med. 13, 38–45 (2007).

Kolehmainen, J. et al. Cohen syndrome is caused by mutations in a novel gene, COH1, encoding a transmembrane protein with a presumed role in vesicle-mediated sorting and intracellular protein transport. Am. J. Hum. Genet. 72, 1359–1369 (2003).

Stepensky, P. et al. The Thr224Asn mutation in the VPS45 gene is associated with congenital neutropenia and primary myelofibrosis of infancy. Blood 121, 5078–5087 (2013).

Vilboux, T. et al. A congenital neutrophil defect syndrome associated with mutations in VPS45. N. Engl. J. Med. 369, 54–65 (2013).

Person, R.E. et al. Mutations in proto-oncogene GFI1 cause human neutropenia and target ELA2. Nat. Genet. 34, 308–312 (2003).

Devriendt, K. et al. Constitutively activating mutation in WASP causes X-linked severe congenital neutropenia. Nat. Genet. 27, 313–317 (2001).

Glocker, E.-O. et al. A homozygous CARD9 mutation in a family with susceptibility to fungal infections. N. Engl. J. Med. 361, 1727–1735 (2009).

Jun, H.S. et al. Lack of glucose recycling between endoplasmic reticulum and cytoplasm underlies cellular dysfunction in glucose-6-phosphatase-β-deficient neutrophils in a congenital neutropenia syndrome. Blood 116, 2783–2792 (2010).

Lee, S. & Cooley, L. Jagunal is required for reorganizing the endoplasmic reticulum during Drosophila oogenesis. J. Cell Biol. 176, 941–952 (2007).

Dale, D.C. et al. Mutations in the gene encoding neutrophil elastase in congenital and cyclic neutropenia. Blood 96, 2317–2322 (2000).

Horwitz, M.S. et al. Neutrophil elastase in cyclic and severe congenital neutropenia. Blood 109, 1817–1824 (2007).

Boztug, K. et al. Extended spectrum of human glucose-6-phosphatase catalytic subunit 3 deficiency: novel genotypes and phenotypic variability in severe congenital neutropenia. J. Pediatr. 160, 679–683 (2012).

Babu, P. et al. Structural characterisation of neutrophil glycans by ultra sensitive mass spectrometric glycomics methodology. Glycoconj. J. 26, 975–986 (2009).

Hayee, B. et al. G6PC3 mutations are associated with a major defect of glycosylation: a novel mechanism for neutrophil dysfunction. Glycobiology 21, 914–924 (2011).

Horwitz, M.S., Corey, S.J., Grimes, H.L. & Tidwell, T. ELANE mutations in cyclic and severe congenital neutropenia: genetics and pathophysiology. Hematol. Oncol. Clin. North Am. 27, 19–41 (2013).

Tidwell, T. et al. Neutropenia-associated ELANE mutations disrupting translation initiation produce novel neutrophil elastase isoforms. Blood 123, 562–569 (2014).

Rudashevskaya, E.L. et al. A method to resolve the composition of heterogeneous affinity-purified protein complexes assembled around a common protein by chemical cross-linking, gel electrophoresis and mass spectrometry. Nat. Protoc. 8, 75–97 (2013).

Duden, R. ER-to-Golgi transport: COP I and COP II function. Mol. Membr. Biol. 20, 197–207 (2003).

Dale, D.C. et al. A randomized controlled phase III trial of recombinant human granulocyte colony-stimulating factor (filgrastim) for treatment of severe chronic neutropenia. Blood 81, 2496–2502 (1993).

Li, J. & Sartorelli, A.C. Evidence for the glycosylation of the granulocyte colony-stimulating factor receptor. Biochem. Biophys. Res. Commun. 205, 238–244 (1994).

Welte, K., Zeidler, C. & Dale, D.C. Severe congenital neutropenia. Semin. Hematol. 43, 189–195 (2006).

de Koning, J.P. et al. The membrane-distal cytoplasmic region of human granulocyte colony-stimulating factor receptor is required for STAT3 but not STAT1 homodimer formation. Blood 87, 1335–1342 (1996).

Jung, J. et al. Identification of a homozygous deletion in the AP3B1 gene causing Hermansky-Pudlak syndrome, type 2. Blood 108, 362–369 (2006).

Seifert, W. et al. Cohen syndrome–associated protein, COH1, is a novel, giant Golgi matrix protein required for Golgi integrity. J. Biol. Chem. 286, 37665–37675 (2011).

Bryant, N.J. & James, D.E. The Sec1p/Munc18 (SM) protein, Vps45p, cycles on and off membranes during vesicle transport. J. Cell Biol. 161, 691–696 (2003).

Carpp, L.N., Ciufo, L.F., Shanks, S.G., Boyd, A. & Bryant, N.J. The Sec1p/Munc18 protein Vps45p binds its cognate SNARE proteins via two distinct modes. J. Cell Biol. 173, 927–936 (2006).

Wirnsberger, G. et al. Jagunal homolog 1 is a critical regulator of neutrophil function in fungal host defense. Nat. Genet. 10.1038/ng.3070 (17 August 2014).

Pfeifer, D. et al. The hyper-IgE syndrome is not caused by a microdeletion syndrome. Immunogenetics 59, 913–926 (2007).

Fishelson, M. & Geiger, D. Exact genetic linkage computations for general pedigrees. Bioinformatics 18 Suppl 1, S189–S198 (2002).

Hamada, T. et al. Lipoid proteinosis maps to 1q21 and is caused by mutations in the extracellular matrix protein 1 gene (ECM1). Hum. Mol. Genet. 11, 833–840 (2002).

International HapMap Consortium. A second generation human haplotype map of over 3.1 million SNPs. Nature 449, 851–861 (2007).

Li, H. & Durbin, R. Fast and accurate long-read alignment with Burrows-Wheeler transform. Bioinformatics 26, 589–595 (2010).

DePristo, M.A. et al. A framework for variation discovery and genotyping using next-generation DNA sequencing data. Nat. Genet. 43, 491–498 (2011).

Salzer, E. et al. Combined immunodeficiency with life-threatening EBV-associated lymphoproliferative disorder in patients lacking functional CD27. Haematologica 98, 473–478 (2013).

Wang, K., Li, M. & Hakonarson, H. ANNOVAR: functional annotation of genetic variants from high-throughput sequencing data. Nucleic Acids Res. 38, e164 (2010).

Ng, P.C. & Henikoff, S. Accounting for human polymorphisms predicted to affect protein function. Genome Res. 12, 436–446 (2002).

Adzhubei, I.A. et al. A method and server for predicting damaging missense mutations. Nat. Methods 7, 248–249 (2010).

Ashkenazy, H., Erez, E., Martz, E., Pupko, T. & Ben-Tal, N. ConSurf 2010: calculating evolutionary conservation in sequence and structure of proteins and nucleic acids. Nucleic Acids Res. 38, W529–W533 (2010).

Altschul, S.F. et al. Gapped BLAST and PSI-BLAST: a new generation of protein database search programs. Nucleic Acids Res. 25, 3389–3402 (1997).

Larkin, M.A. et al. Clustal W and Clustal X version 2.0. Bioinformatics 23, 2947–2948 (2007).

Girish, V. & Vijayalakshmi, A. Affordable image analysis using NIH Image/ImageJ. Indian J. Cancer 41, 47 (2004).

Jang-Lee, J. et al. Glycomic profiling of cells and tissues by mass spectrometry: fingerprinting and sequencing methodologies. Methods Enzymol. 415, 59–86 (2006).

Pichlmair, A. et al. Viral immune modulators perturb the human molecular network by common and unique strategies. Nature 487, 486–490 (2012).

Colinge, J., Masselot, A., Giron, M., Dessingy, T. & Magnin, J. OLAV: towards high-throughput tandem mass spectrometry data identification. Proteomics 3, 1454–1463 (2003).
Acknowledgements
The authors thank the patients and their families for their participation in this study. The help of all contributing medical, technical and administrative staff is greatly appreciated. The authors thank J. Colinge for bioinformatics analysis of the mass spectrometry data. The authors thank G. Leverger, H. Ducou Lepointe, J. Levin, the association IRIS (Immunodéficience Primitive, Recherche, Information, Soutien) and V. Grosjean for their support. This study was supported by CeMM intramural funds and the FWF (Austrian Science Fund) START Programme (to K.B.) and by grants from the European Research Council (Advanced Grants to C.K. and J.P.; Starting Grant to K.B.), the European Program on Rare Diseases (E-RARE Neutro-Net) and the German Research Foundation (SFB914 and Gottfried-Wilhelm-Leibniz Program). The work at Imperial College was supported by the Biotechnology and Biological Sciences Research Council (BBSRC; grants BB/F0083091 and BB/K016164/1). The French SCN registry is supported by grants from Amgen, Chugai, Fondation Maladies Rares, the Institut de Veille Sanitaire, INSERM, the Association Sportive de Saint Quentin Fallavier, CEREDIH (Reference Center for Hereditary Immunodeficiencies) and the Société d'Hémato-Immunologie Pédiatrique. This research is supported in part by the Intramural Research Program of the US National Institutes of Health, the National Library of Medicine, the DZIF (German Center for Infection Research) and the Care-for-Rare Foundation.
Ethics declarations
Competing interests
The authors declare no competing financial interests.
Integrated supplementary information
Supplementary information
Supplementary Figures 1–15 and Supplementary Tables 1–5. (PDF 3898 kb)
Identified proteins of all pulldowns using C- or N-terminally Strep-HA–tagged JAGN1 (msrun_ac P4361, P4362, P4367, P4368) and pulldowns using N-terminally Strep-HA–tagged GFP (P3208, P3209) (XLSX 1192 kb)
About this article
Cite this article
Boztug, K., Järvinen, P., Salzer, E. et al. JAGN1 deficiency causes aberrant myeloid cell homeostasis and congenital neutropenia. Nat Genet 46, 1021–1027 (2014). https://doi.org/10.1038/ng.3069
Received:

Accepted:

Published:

Issue Date:

DOI: https://doi.org/10.1038/ng.3069