Abstract
Loss-of-function mutations protective against human disease provide in vivo validation of therapeutic targets1,2,3, but none have yet been described for type 2 diabetes (T2D). Through sequencing or genotyping of ∼150,000 individuals across 5 ancestry groups, we identified 12 rare protein-truncating variants in SLC30A8, which encodes an islet zinc transporter (ZnT8)4 and harbors a common variant (p.Trp325Arg) associated with T2D risk and glucose and proinsulin levels5,6,7. Collectively, carriers of protein-truncating variants had 65% reduced T2D risk (P = 1.7 × 10−6), and non-diabetic Icelandic carriers of a frameshift variant (p.Lys34Serfs*50) demonstrated reduced glucose levels (−0.17 s.d., P = 4.6 × 10−4). The two most common protein-truncating variants (p.Arg138* and p.Lys34Serfs*50) individually associate with T2D protection and encode unstable ZnT8 proteins. Previous functional study of SLC30A8 suggested that reduced zinc transport increases T2D risk8,9, and phenotypic heterogeneity was observed in mouse Slc30a8 knockouts10,11,12,13,14,15. In contrast, loss-of-function mutations in humans provide strong evidence that SLC30A8 haploinsufficiency protects against T2D, suggesting ZnT8 inhibition as a therapeutic strategy in T2D prevention.
Access options
Subscribe to Journal
Get full journal access for 1 year
$59.00
only $4.92 per issue
All prices are NET prices.
VAT will be added later in the checkout.
Tax calculation will be finalised during checkout.
Rent or Buy article
Get time limited or full article access on ReadCube.
from$8.99
All prices are NET prices.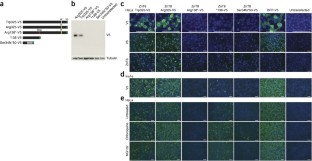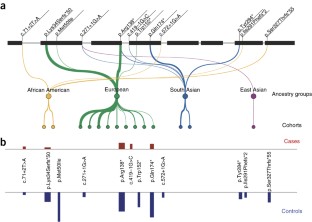 References
1

Nassar, M.A. et al. Nociceptor-specific gene deletion reveals a major role for Nav1.7 (PN1) in acute and inflammatory pain. Proc. Natl. Acad. Sci. USA 101, 12706–12711 (2004).

2

Cohen, J. et al. Low LDL cholesterol in individuals of African descent resulting from frequent nonsense mutations in PCSK9. Nat. Genet. 37, 161–165 (2005).

3

Sullivan, D. et al. Effect of a monoclonal antibody to PCSK9 on low-density lipoprotein cholesterol levels in statin-intolerant patients: the GAUSS randomized trial. J. Am. Med. Assoc. 308, 2497–2506 (2012).

4

Chimienti, F. et al. In vivo expression and functional characterization of the zinc transporter ZnT8 in glucose-induced insulin secretion. J. Cell Sci. 119, 4199–4206 (2006).

5

Dupuis, J. et al. New genetic loci implicated in fasting glucose homeostasis and their impact on type 2 diabetes risk. Nat. Genet. 42, 105–116 (2010).

6

Strawbridge, R.J. et al. Genome-wide association identifies nine common variants associated with fasting proinsulin levels and provides new insights into the pathophysiology of type 2 diabetes. Diabetes 60, 2624–2634 (2011).

7

Morris, A.P. et al. Large-scale association analysis provides insights into the genetic architecture and pathophysiology of type 2 diabetes. Nat. Genet. 44, 981–990 (2012).

8

Nicolson, T.J. et al. Insulin storage and glucose homeostasis in mice null for the granule zinc transporter ZnT8 and studies of the type 2 diabetes–associated variants. Diabetes 58, 2070–2083 (2009).

9

Rutter, G.A. Think zinc: new roles for zinc in the control of insulin secretion. Islets 2, 49–50 (2010).

10

Lemaire, K. et al. Insulin crystallization depends on zinc transporter ZnT8 expression, but is not required for normal glucose homeostasis in mice. Proc. Natl. Acad. Sci. USA 106, 14872–14877 (2009).

11

Pound, L.D. et al. Deletion of the mouse Slc30a8 gene encoding zinc transporter-8 results in impaired insulin secretion. Biochem. J. 421, 371–376 (2009).

12

Wijesekara, N. et al. Beta cell–specific Znt8 deletion in mice causes marked defects in insulin processing, crystallisation and secretion. Diabetologia 53, 1656–1668 (2010).

13

Pound, L.D. et al. The physiological effects of deleting the mouse Slc30a8 gene encoding zinc transporter-8 are influenced by gender and genetic background. PLoS ONE 7, e40972 (2012).

14

Hardy, A.B. et al. Effects of high-fat diet feeding on Znt8-null mice: differences between β-cell and global knockout of Znt8. Am. J. Physiol. Endocrinol. Metab. 302, E1084–E1096 (2012).

15

da Silva Xavier, G., Bellomo, E.A., McGinty, J.A., French, P.M. & Rutter, G.A. Animal models of GWAS-identified type 2 diabetes genes. J. Diabetes Res. 2013, 906590 (2013).

16

van de Bunt, M. & Gloyn, A.L. From genetic association to molecular mechanism. Curr. Diab. Rep. 10, 452–466 (2010).

17

Plenge, R.M., Scolnick, E.M. & Altshuler, D. Validating therapeutic targets through human genetics. Nat. Rev. Drug Discov. 12, 581–594 (2013).

18

Nejentsev, S., Walker, N., Riches, D., Egholm, M. & Todd, J.A. Rare variants of IFIH1, a gene implicated in antiviral responses, protect against type 1 diabetes. Science 324, 387–389 (2009).

19

Guey, L.T. et al. Power in the phenotypic extremes: a simulation study of power in discovery and replication of rare variants. Genet. Epidemiol. doi:10.1002/gepi.20572 (9 February 2011).

20

Chimienti, F., Devergnas, S., Favier, A. & Seve, M. Identification and cloning of a β-cell-specific zinc transporter, ZnT-8, localized into insulin secretory granules. Diabetes 53, 2330–2337 (2004).

21

Tamaki, M. et al. The diabetes-susceptible gene SLC30A8/ZnT8 regulates hepatic insulin clearance. J. Clin. Invest. 123, 4513–4524 (2013).

22

Sladek, R. et al. A genome-wide association study identifies novel risk loci for type 2 diabetes. Nature 445, 881–885 (2007).

23

Gudmundsson, J. et al. A study based on whole-genome sequencing yields a rare variant at 8q24 associated with prostate cancer. Nat. Genet. 44, 1326–1329 (2012).

24

Bloom, J. & Pagano, M. Experimental tests to definitively determine ubiquitylation of a substrate. Methods Enzymol. 399, 249–266 (2005).

25

Waters, P.J. Degradation of mutant proteins, underlying "loss of function" phenotypes, plays a major role in genetic disease. Curr. Issues Mol. Biol. 3, 57–65 (2001).

26

Mathieson, I. & McVean, G. Differential confounding of rare and common variants in spatially structured populations. Nat. Genet. 44, 243–246 (2012).

27

Price, A. L., Zaitlen, N. A., Relch, D. & Patterson, N. New approaches to population stratification in genome-wide association studies. Nat. Rev. Genet. 11, 459–463 (2010).

28

Saxena, R. et al. Genetic variation in GIPR influences the glucose and insulin responses to an oral glucose challenge. Nat. Genet. 42, 142–148 (2010).
Acknowledgements
This manuscript is dedicated to the memory of David R. Cox, our dear friend and colleague, who was relentlessly supportive of this work—and more generally, of the use of human genetics to improve human health. He is missed, but his legacy goes on. We gratefully acknowledge the contribution of all ∼150,000 participants from the various population studies that contributed to this work. J.F. was supported in part by US National Institutes of Health (NIH) Training Grant 5-T32-GM007748-33. D.A. was supported by funding from the Doris Duke Charitable Foundation (2006087). N.L.B. was supported by a Fulbright Diabetes UK Fellowship (BDA 11/0004348). This work was supported in part by funding to the Broad Institute (principal investigator D.A.) from Pfizer, Inc. Funding for the GoT2D and T2D-GENES studies was provided by grants 5U01DK085526 (NIH/NIDDK; Multiethnic Study of Type 2 Diabetes Genes), DK088389 (NIH/NIDDK; Low-Pass Sequencing and High-Density SNP Genotyping for Type 2 Diabetes) and U54HG003067 (National Human Genome Research Institute (NHGRI); Large-Scale Sequencing and Analysis of Genomes), as well as by NIH grants U01 DK085501, U01 DK085524, U01 DK085545 and U01 DK085584. The Malmö Preventive Project and the Scania Diabetes Registry were supported by grants from the Swedish Research Council (Dnr 521-2010-3490 to L.G. and Dnr 349-2006-237 to the Lund University Diabetes Centre), as well as by a European Research Council (ERC) grant (GENETARGET T2D, GA269045) and two European Union grants (ENGAGE (2007-201413) and CEED3 (2008-223211)) to L.G. The Botnia study was supported by funding from the Sigrid Juselius Foundation and the Folkhälsan Research Foundation. P.R.N. was funded by the ERC (AdG 293574), the Research Council of Norway (197064/V50), the KG Jebsen Foundation, the University of Bergen, the Western Norway Health Authority, the European Association for the Study of Diabetes Sabbatical Leave Programme and Innovest. The Danish studies were supported by the Lundbeck Foundation (Lundbeck Foundation Centre for Applied Medical Genomics in Personalised Disease Prediction, Prevention and Care (LuCamp); http://www.lucamp.org/) and the Danish Council for Independent Research. The Novo Nordisk Foundation Center for Basic Metabolic Research is an independent Research Center at the University of Copenhagen, partially funded by an unrestricted donation from the Novo Nordisk Foundation (http://www.metabol.ku.dk/). The PIVUS/ULSAM cohort was supported by Wellcome Trust grants WT098017, WT064890 and WT090532, Uppsala University, the Uppsala University Hospital, the Swedish Research Council and the Swedish Heart-Lung Foundation. The METSIM study was supported by the Academy of Finland (contract 124243), the Finnish Heart Foundation, the Finnish Diabetes Foundation, Tekes (contract 1510/31/06), the Commission of the European Community (HEALTH-F2-2007-201681) and grants R01DK062370 and R01DK072193 (NIH/NIDDK) and grant Z01HG000024 (NHGRI). The FUSION study was supported by grants R01DK062370 and R01DK072193 (NIH/NIDDK) and grant Z01HG000024 (NHGRI). The DR's EXTRA Study was supported by the Ministry of Education and Culture of Finland (627; 2004-2011), the Academy of Finland (102318; 123885), Kuopio University Hospital, the Finnish Diabetes Association, the Finnish Heart Association and the Päivikki and Sakari Sohlberg Foundation and by grants from the European Commission Framework Programme 6 Integrated Project (EXGENESIS); LSHM-CT-2004-005272, City of Kuopio and Social Insurance Institution of Finland (4/26/2010). V. Salomaa is funded by the Academy of Finland, grant 139635, and by the Finnish Foundation for Cardiovascular Disease. Sequencing and genotyping of British individuals was supported by Wellcome Trust grants WT090367, WT090532 and WT098381 and by NIH/NIDDK grant U01-DK085545. Funding for the Jackson Heart Study (JHS) was provided by the National Heart, Lung, and Blood Institute (NHLBI) and by the National Institute on Minority Health and Health Disparities (N01 HC-95170, N01 HC-95171 and N01 HC-95172). A.P.M. acknowledges support from Wellcome Trust grants WT098017, WT090532 and WT064890. F.V.-S. and H.S. were supported by the European Union Seventh Framework Programme, DIAPREPP (Diabetes Type 1 Prediction, Early Pathogenesis and Prevention, grant agreement 202013), and by the Swedish Child Diabetes Foundation (Barndiabetesfonden).
Ethics declarations
Competing interests
G.T., V. Steinthorsdottir, P.S., G.M., D.F.G., A.K., U.T. and K.S. are employed by deCODE Genetics/Amgen, Inc. S.P., A.-M.R., J. Brosnan, J.K.T., T.R. and D.R.C. are employees of Pfizer, Inc. F.B. is a former employee of Pfizer, Inc., and retains shares in the company. All other authors declare no competing financial interests.
Integrated supplementary information
Supplementary information
Supplementary Tables 1–12, Supplementary Figures 1–10 and Supplementary Note (PDF 9205 kb)
Sequence read data for variants called from additional sequencing. (ZIP 205 kb)
About this article
Cite this article
Flannick, J., Thorleifsson, G., Beer, N. et al. Loss-of-function mutations in SLC30A8 protect against type 2 diabetes. Nat Genet 46, 357–363 (2014). https://doi.org/10.1038/ng.2915
Received:

Accepted:

Published:

Issue Date: