Abstract
PTEN acts as a tumor suppressor in a range of tissue types and has been implicated in the regulation of intestinal stem cells. To study Pten function in the intestine, we used various conditional transgenic strategies to specifically delete Pten from the mouse intestinal epithelium. We show that Pten loss specifically within the adult or embryonic epithelial cell population does not affect the normal architecture or homeostasis of the epithelium. However, loss of Pten in the context of Apc deficiency accelerates tumorigenesis through increased activation of Akt, leading to rapid development of adenocarcinoma. We conclude that Pten is redundant in otherwise normal intestinal epithelium and epithelial stem cells but, in the context of activated Wnt signaling, suppresses progression to adenocarcinoma through modulation of activated Akt levels.
Relevant articles
Open Access articles citing this article.
Yoshiaki Maru

,

Naotake Tanaka

…

Yoshitaka Hippo

Oncogenesis Open Access 25 June 2021
Access options
Subscribe to this journal
Receive 12 print issues and online access
$189.00 per year
only $15.75 per issue
Rent or buy this article
Get just this article for as long as you need it
$39.95
Prices may be subject to local taxes which are calculated during checkout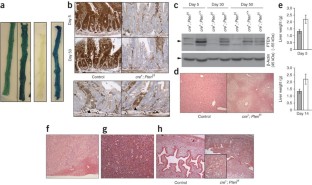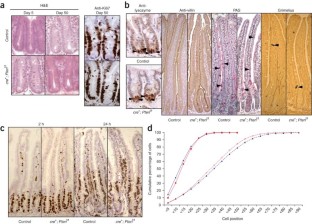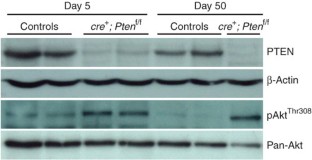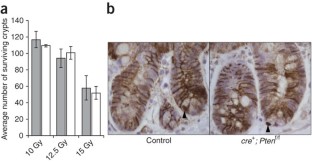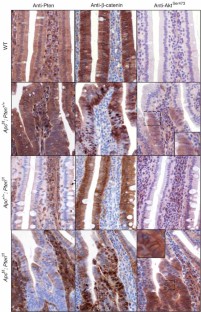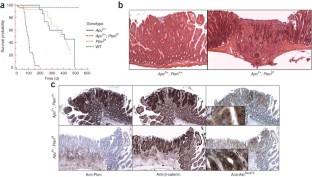 References
Steck, P.A. et al. Identification of a candidate tumor suppressor gene, MMAC1, at chromosome 10q23.3 that is mutated in multiple advanced cancers. Nat. Genet. 15, 356–362 (1997).

Li, D.M. & Sun, H. TEP1, encoded by a candidate tumor suppressor locus, is a novel protein tyrosine phosphatase regulated by transforming growth factor beta. Cancer Res. 57, 2124–2129 (1997).

Li, J. et al. PTEN, a putative protein tyrosine phosphatase gene mutated in human brain, breast, and prostate cancer. Science 275, 1943–1947 (1997).

Stambolic, V. et al. Negative regulation of PKB/Akt-dependent cell survival by the tumor suppressor PTEN. Cell 95, 29–39 (1998).

Vivanco, I. & Sawyers, C.L. The phosphatidylinositol 3-kinase-AKT pathway in human cancer. Nat. Rev. Cancer 2, 489–501 (2002).

Parsons, D.W. et al. Colorectal cancer: mutations in a signalling pathway. Nature 436, 792 (2005).

Carlson, G.J., Nivatvongs, S. & Snover, D.C. Colorectal polyps in Cowden's disease (multiple hamartoma syndrome). Am. J. Surg. Pathol. 8, 763–770 (1984).

Merg, A. & Howe, J.R. Genetic conditions associated with intestinal juvenile polyps. Am. J. Med. Genet. C. Semin. Med. Genet. 129, 44–55 (2004).

Di Cristofano, A., Pesce, B., Cordon-Cardo, C. & Pandolfi, P.P. Pten is essential for embryonic development and tumor suppression. Nat. Genet. 19, 348–355 (1998).

Podsypanina, K. et al. Mutation of Pten/Mmac1 in mice causes neoplasia in multiple organ systems. Proc. Natl. Acad. Sci. USA 96, 1563–1568 (1999).

Suzuki, A. et al. High cancer susceptibility and embryonic lethality associated with mutation of the PTEN tumor suppressor gene in mice. Curr. Biol. 8, 1169–1178 (1998).

He, X.C. et al. BMP signaling inhibits intestinal stem cell self-renewal through suppression of Wnt-β-catenin signaling. Nat. Genet. 36, 1117–1121 (2004).

Bjerknes, M. & Cheng, H. Re-examination of P-PTEN staining patterns in the intestinal crypt. Nat. Genet. 37, 1016–1017 (2005); reply 37, 1017–1018 (2005).

Persad, S., Troussard, A.A., McPhee, T.R., Mulholland, D.J. & Dedhar, S. Tumor suppressor PTEN inhibits nuclear accumulation of β-catenin and T cell/lymphoid enhancer factor 1-mediated transcriptional activation. J. Cell Biol. 153, 1161–1174 (2001).

He, X.C. et al. PTEN-deficient intestinal stem cells initiate intestinal polyposis. Nat. Genet. 39, 189–198 (2007).

Suzuki, A. et al. T cell-specific loss of Pten leads to defects in central and peripheral tolerance. Immunity 14, 523–534 (2001).

Ireland, H. et al. Inducible Cre-mediated control of gene expression in the murine gastrointestinal tract: Effect of loss of β-catenin. Gastroenterology 126, 1236–1246 (2004).

Sansom, O.J., Griffiths, D.F., Reed, K.R., Winton, D.J. & Clarke, A.R. Apc deficiency predisposes to renal carcinoma in the mouse. Oncogene 24, 8205–8210 (2005).

Soriano, P. Generalized lacZ expression with the ROSA26 Cre reporter strain. Nat. Genet. 21, 70–71 (1999).

Horie, Y. et al. Hepatocyte-specific Pten deficiency results in steatohepatitis and hepatocellular carcinomas. J. Clin. Invest. 113, 1774–1783 (2004).

Stiles, B. et al. Liver-specific deletion of negative regulator Pten results in fatty liver and insulin hypersensitivity. Proc. Natl. Acad. Sci. USA 101, 2082–2087 (2004).

Backman, S.A. et al. Deletion of Pten in mouse brain causes seizures, ataxia and defects in soma size resembling Lhermitte-Duclos disease. Nat. Genet. 29, 396–403 (2001).

Freeman, D.J. et al. PTEN tumor suppressor regulates p53 protein levels and activity through phosphatase-dependent and -independent mechanisms. Cancer Cell 3, 117–130 (2003).

Sansom, O.J. et al. MBD4 deficiency reduces the apoptotic response to DNA-damaging agents in the murine small intestine. Oncogene 22, 7130–7136 (2003).

El Marjou, F. et al. Tissue-specific and inducible Cre-mediated recombination in the gut epithelium. Genesis 39, 186–193 (2004).

Backman, S.A. et al. Early onset of neoplasia in the prostate and skin of mice with tissue-specific deletion of Pten. Proc. Natl. Acad. Sci. USA 101, 1725–1730 (2004).

Shibata, H. et al. Rapid colorectal adenoma formation initiated by conditional targeting of the Apc gene. Science 278, 120–123 (1997).

Kemp, R. et al. Elimination of background recombination: somatic induction of Cre by combined transcriptional regulation and hormone binding affinity. Nucleic Acids Res. 32, e92 (2004).

Sansom, O.J. et al. Loss of Apc in vivo immediately perturbs Wnt signaling, differentiation and migration. Genes Dev. 18, 1385–1390 (2004).

Mende, I., Malstrom, S., Tsichlis, P.N., Vogt, P.K. & Aoki, M. Oncogenic transformation induced by membrane-targeted Akt2 and Akt3. Oncogene 20, 4419–4423 (2001).

Dahia, P.L. PTEN, a unique tumor suppressor gene. Endocr. Relat. Cancer 7, 115–129 (2000).

Li, G. et al. Conditional loss of PTEN leads to precocious development and neoplasia in the mammary gland. Development 129, 4159–4170 (2002).

Schneider, A., Zhang, Y., Guan, Y., Davis, L.S. & Breyer, M.D. Differential, inducible gene targeting in renal epithelia, vascular endothelium, and viscera of Mx1Cre mice. Am. J. Physiol. Renal Physiol. 284, F411–F417 (2003).

Beppu, H. et al. Stromal inactivation of BMPRII leads to colorectal epithelial overgrowth and polyp formation. Oncogene 27, 1063–1070 (2008).

Katajisto, P. et al. LKB1 signaling in mesenchymal cells required for suppression of gastrointestinal polyposis. Nat. Genet. 40, 455–459 (2008).

Jansen, M. et al. Mucosal prolapse in the pathogenesis of Peutz-Jeghers polyposis. Gut 55, 1–5 (2006).

Chen, M.L. et al. The deficiency of Akt1 is sufficient to suppress tumor development in Pten+/− mice. Genes Dev. 20, 1569–1574 (2006).

Bjerknes, M. & Cheng, H. Methods for the isolation of intact epithelium from the mouse intestine. Anat. Rec. 199, 565–574 (1981).

Livak, K.J. & Schmittgen, T.D. Analysis of relative gene expression data using real-time quantitative PCR and the 2(-delta delta C(T)) method. Methods 25, 402–408 (2001).
Acknowledgements
We thank M. Bishop, L. Pietzka and D. Scarborough for technical assistance and R. Kemp for assistance with the epithelial extraction protocol. Villin-CreERT2 mice were provided by S. Robine (Center National de la Recherche Scientifique/Institut Curie). This work was supported by Cancer Research UK and the Wales Gene Park and by grants to A.T. from the Swiss National Science Foundation, the Swiss Cancer League, the EU FP6 INTACT program and the EU FP7 program 'Eurosystem'.
Supplementary information
About this article
Cite this article
Marsh, V., Winton, D., Williams, G. et al. Epithelial Pten is dispensable for intestinal homeostasis but suppresses adenoma development and progression after Apc mutation. Nat Genet 40, 1436–1444 (2008). https://doi.org/10.1038/ng.256
Received:

Accepted:

Published:

Issue Date:

DOI: https://doi.org/10.1038/ng.256