Our understanding of inherited risk factors for colorectal cancer (CRC) is incomplete. A new study reports the identification of germline CRC risk variants that adversely affect the proofreading function of DNA polymerases encoded by POLE and POLD1.
Access options
Subscribe to Journal
Get full journal access for 1 year
$79.00
only $6.58 per issue
All prices are NET prices.
VAT will be added later in the checkout.
Tax calculation will be finalised during checkout.
Buy article
Get time limited or full article access on ReadCube.
$32.00
All prices are NET prices.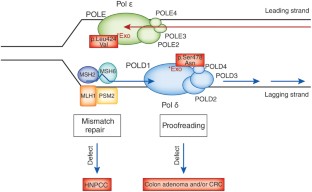 References
Jemal, A. et al. CA Cancer J. Clin. 61, 69–90 (2011).

Fearon, E.R. Annu. Rev. Pathol. 6, 479–507 (2011).

Burt, R. Drug Discov. Today Dis. Mech. 4, 293–300 (2007).

Palles, C. et al. Nat. Genet. 45, 136–144 (2013).

Preston, B.D., Albertson, T.M. & Herr, A.J. Semin. Cancer Biol. 20, 281–293 (2010).

Murphy, K., Darmawan, H., Schultz, A., Fidalgo da Silva, E. & Reha-Krantz, L.J. Genome 49, 403–410 (2006).

Albertson, T.M. et al. Proc. Natl. Acad. Sci. USA 106, 17101–17104 (2009).

TCGA. Nature 487, 330–337 (2012).

Seshagiri, S. et al. Nature 488, 660–664 (2012).
Ethics declarations
Competing interests
The author is an employee of Genentech Inc. and holds Roche stocks.
About this article
Cite this article
Seshagiri, S. The burden of faulty proofreading in colon cancer. Nat Genet 45, 121–122 (2013). https://doi.org/10.1038/ng.2540
Published:

Issue Date:

DOI: https://doi.org/10.1038/ng.2540