Abstract
Grain size and shape are important components of grain yield and quality and have been under selection since cereals were first domesticated. Here, we show that a quantitative trait locus GW8 is synonymous with OsSPL16, which encodes a protein that is a positive regulator of cell proliferation. Higher expression of this gene promotes cell division and grain filling, with positive consequences for grain width and yield in rice. Conversely, a loss-of-function mutation in Basmati rice is associated with the formation of a more slender grain and better quality of appearance. The correlation between grain size and allelic variation at the GW8 locus suggests that mutations within the promoter region were likely selected in rice breeding programs. We also show that a marker-assisted strategy targeted at elite alleles of GS3 and OsSPL16 underlying grain size and shape can be effectively used to simultaneously improve grain quality and yield.
Access options
Subscribe to Journal
Get full journal access for 1 year
$225.00
only $18.75 per issue
All prices are NET prices.
VAT will be added later in the checkout.
Rent or Buy article
Get time limited or full article access on ReadCube.
from$8.99
All prices are NET prices.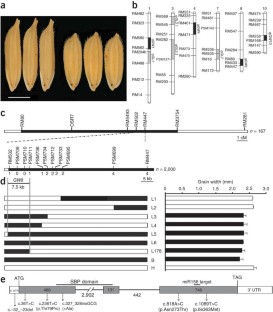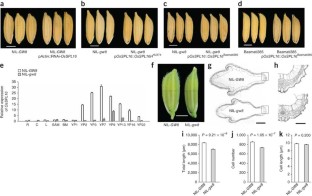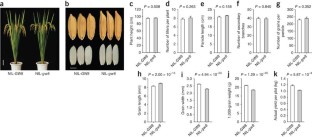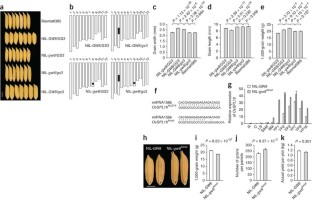 References
1

Sakamoto, T. & Matsuoka, M. Identifying and exploiting grain yield genes in rice. Curr. Opin. Plant Biol. 11, 209–214 (2008).

2

Fan, C. et al. GS3, a major QTL for grain length and weight and minor QTL for grain width and thickness in rice, encodes a putative transmembrane protein. Theor. Appl. Genet. 112, 1164–1171 (2006).

3

Mao, H. et al. Linking differential domain functions of GS3 protein to natural variation of grain size in rice. Proc. Natl. Acad. Sci. USA 107, 19579–19584 (2010).

4

Huang, X. et al. Natural variation in the DEP1 locus enhances grain yield in rice. Nat. Genet. 41, 494–497 (2009).

5

Song, X.J. et al. A QTL for rice grain width and weight encodes a previously unknown RING-type E3 ubiquitin ligase. Nat. Genet. 39, 623–630 (2007).

6

Shomura, A. et al. Deletion in a gene associated with grain size increased yields during rice domestication. Nat. Genet. 40, 1023–1028 (2008).

7

Li, Y. et al. Natural variation in the promoter of GS5 plays an important role in regulating grain size and yield. Nat. Genet. 43, 1266–1269 (2011).

8

Jain, S., Jain, R.K. & McCoouch, S.R. Genetic analysis of Indian aromatic and quality rice (Oryza sativa L.) germplasm using panels of fluorescently-labeled microsatellite markers. Theor. Appl. Genet. 109, 965–977 (2004).

9

Nagaraju, J. et al. Genetic analysis of traditional and evolved Basmati and non-Basmati rice varieties by using fluorescence-based ISSR-PCR and SSR markers. Proc. Natl. Acad. Sci. USA 99, 5836–5841 (2002).

10

Zhang, G. et al. The construction of a library of single segment substitution lines in rice (Oryza sativa L.). Rice Genet. Newsl. 21, 85–87 (2004).

11

Xi, Z.Y. et al. Development of a wide population of chromosome single segment substitution lines in the genetic background of an elite cultivar of rice (Oryza sativa L.). Genome 49, 476–484 (2006).

12

Cardon, G.H. et al. Functional analysis of the Arabidopsis thaliana SBP-box gene SPL3, a novel gene involved in the floral transition. Plant J. 12, 367–377 (1997).

13

Unte, U.S. et al. SPL8, an SBP-box gene that affects pollen sac development in Arabidopsis. Plant Cell 15, 1009–1019 (2003).

14

Xie, K., Wu, C. & Xiong, L. Genomic organization, differential expression, and interaction of SQUAMOSA promoter-binding–like transcription factors and microRNA156 in rice. Plant Physiol. 142, 280–293 (2006).

15

Jiao, Y. et al. Regulation of OsSPL14 by OsmiR156 defines ideal plant architecture in rice. Nat. Genet. 42, 541–544 (2010).

16

Miura, K. et al. OsSPL14 promotes panicle branching and higher grain productivity in rice. Nat. Genet. 42, 545–549 (2010).

17

Wang, H. et al. The origin of the naked grains of maize. Nature 436, 714–719 (2005).

18

Berckmans, B. & De Veylder, L. Transcriptional control of the cell cycle. Curr. Opin. Plant Biol. 12, 599–605 (2009).

19

Schwarz, S. et al. The microRNA regulated SBP-box genes SPL9 and SPL15 control shoot maturation in Arabidopsis. Plant Mol. Biol. 67, 183–195 (2008).

20

Wang, J.W. et al. Dual effects of miR156-targeted SPL genes and CYP78A5/KLUH on plastochron length and organ size in Arabidopsis thaliana. Plant Cell 20, 1231–1243 (2008).

21

Wang, J.W., Czech, B. & Weigel, D. miR156-targeted SPL transcription factors define an endogenous flowering pathways in Arabidopsis thaliana. Cell 138, 738–749 (2009).

22

Wu, G. et al. The sequential action of miR156 and miR172 regulates developmental timing in Arabidopsis. Cell 138, 750–759 (2009).

23

Zhou, L. et al. Fine mapping of the grain chalkiness QTL qPGWC-7 in rice (Oryza sativa L.). Theor. Appl. Genet. 118, 581–590 (2009).

24

She, K.C. et al. A novel factor FLOURY ENDOSPERM2 is involved in regulation of rice grain size and starch quality. Plant Cell 22, 3280–3294 (2010).

25

Khush, G.S. Taxonomy and origin of rice. in Aromatic Rices (eds. Singh, R.K., Singh, U.S. & Khush, G.S.) 5–13 (Oxford & India Book House, New Delhi, 2000).

26

Fu, X. et al. Expression of Arabidopsis GAI in transgenic rice represses multiple gibberellin responses. Plant Cell 13, 1791–1802 (2001).

27

Hiei, Y., Ohta, S., Komari, T. & Kumashiro, T. Efficient transformation of rice (Oryza sativa L.) mediated by Agrobacterium and sequence analysis of the boundaries of the T-DNA. Plant J. 6, 271–282 (1994).

28

Jiang, C. et al. Root architecture and anthocyanin accumulation of phosphate starvation responses are modulated by the GA-DELLA signaling pathway in Arabidopsis. Plant Physiol. 145, 1460–1470 (2007).
Acknowledgements
We thank X. Wei and the China National Rice Research Institute for providing rice germplasm samples. We also thank S. Ge for providing accessions of wild rice and W. Wang for help with nucleotide diversity analysis. This work was supported by grants from the Ministry of Science and Technology of China (2011CB915403, 2012AA10A301 and 2009CB941501), the Chinese Academy of Sciences (KSCX2-EW-N-01 and KSCX2-EW-J-4) and the National Natural Science Foundation (31130070, U1031002 and 30830074).
Ethics declarations
Competing interests
The authors declare no competing financial interests.
Supplementary information
About this article
Cite this article
Wang, S., Wu, K., Yuan, Q. et al. Control of grain size, shape and quality by OsSPL16 in rice. Nat Genet 44, 950–954 (2012) doi:10.1038/ng.2327
Received

Accepted

Published

Issue Date