Abstract
The dorsal hair ridge in Rhodesian and Thai Ridgeback dogs is caused by a dominant mutation that also predisposes to the congenital developmental disorder dermoid sinus. Here we show that the causative mutation is a 133-kb duplication involving three fibroblast growth factor (FGF) genes. FGFs play a crucial role in development, suggesting that the ridge and dermoid sinus are caused by dysregulation of one or more of the three FGF genes during development.
Access options
Subscribe to Journal
Get full journal access for 1 year
$59.00
only $4.92 per issue
All prices are NET prices.
VAT will be added later in the checkout.
Tax calculation will be finalised during checkout.
Rent or Buy article
Get time limited or full article access on ReadCube.
from$8.99
All prices are NET prices.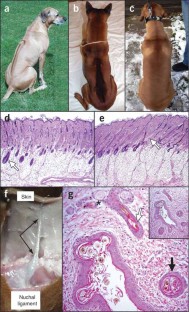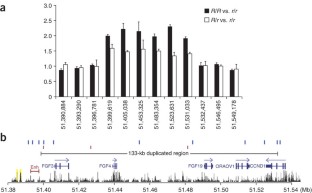 References
1

Hall, S. Dogs of Africa: Tawny Hunter, The Rhodesian Ridgeback (Blue Ribbon Books, Loveland, Colorado, USA, ) 123–140 (2003).

2

Ackerman, L.L. & Menezes, A.H. Pediatrics 112, 641–647 (2003).

3

Salmon Hillbertz, N.H.C. J. Small Anim. Pract. 46, 71–74 (2005).

4

Salmon Hillbertz, N.H.C. & Andersson, G. J. Small Anim. Pract. 47, 184–188 (2006).

5

Karlsson, E.K. et al. Nat. Genet. advance online publication 30 September 2007 (doi:10:1038/ng.2007.10).

6

Isaksson, M. et al. 123. Nucleic Acids Res., advance online publication 6 September 2007 (doi:10.1093/nar/gkm651).

7

Powles, N. et al. Dev. Dyn. 230, 44–56 (2004).

8

Huang, X., Gollin, S.M., Raji, S. & Godrey, T.E. Proc. Natl. Acad. Sci. USA 99, 11369–11374 (2002).

9

Rosenquist, T.A. & Martin, G.R. Dev. Dyn. 205, 379–386 (1996).

10

Ornitz, D.M. & Itoh, N. Genome Biol. 2, 1–12 (2001).

11

Wang, Y., Badea, T. & Nathans, J. Proc. Natl. Acad. Sci. USA 103, 19800–19805 (2006).

12

Copp, A.J., Greene, N.D. & Murdoch, J.N. Nat. Rev. Genet. 4, 784–793 (2003).

13

Wang, Y., Guo, N. & Nathans, J. J. Neurosci. 26, 2147–2156 (2006).

14

Elton, S. & Oakes, W.J. Neurosurg. Focus 10, 1–4 (2001).

15

Padmanabhan, R. Congenit. Anom. (Kyoto) 46, 55–67 (2006).
Acknowledgements
We thank C. Knudsen for access to dorsal skin samples from Rhodesian Ridgebacks, L. Gaffney for help with illustrations, D. Wright for statistical analysis, L. Spångberg for technical assistance and the Broad Institute of MIT and Harvard Genetic analysis Platform for SNP array genotyping. The work was supported by the Foundation for Strategic Research, the Swedish Research Council for Environment, Agricultural Sciences and Spatial Planning, the Swedish Research Council, the Swedish Kennel Club, the Thure F and Karin Forsbergs Foundation, the American Kennel Club/Canine Health Foundation (grant 373) and EU FP6 IP MolTools.
Ethics declarations
Competing interests
A patent application concerning commercial testing for the presence of the Ridge mutation in dogs has been filed. N.H.C.S.-H., G.A., L.A., K.L.-T., M.N. and M.I. are listed as inventors on a provisional application to the US Patent Office (no. 60/928240) related to this work.
Supplementary information
About this article
Cite this article
Salmon Hillbertz, N., Isaksson, M., Karlsson, E. et al. Duplication of FGF3, FGF4, FGF19 and ORAOV1 causes hair ridge and predisposition to dermoid sinus in Ridgeback dogs. Nat Genet 39, 1318–1320 (2007). https://doi.org/10.1038/ng.2007.4
Received:

Accepted:

Published:

Issue Date: