A new study reports the development of the 'morbidostat', a device that allows for continuous culture of bacteria under a constant drug selection pressure using computer feedback control of antibiotic concentration. This device, together with bacterial whole-genome sequencing, allowed the authors to follow the evolution of resistance-conferring mutations in Escherichia coli populations in real time, providing support for deterministic evolution of resistance in some situations.
Access options
Subscribe to Journal
Get full journal access for 1 year
$79.00
only $6.58 per issue
All prices are NET prices.
VAT will be added later in the checkout.
Tax calculation will be finalised during checkout.
Buy article
Get time limited or full article access on ReadCube.
$32.00
All prices are NET prices.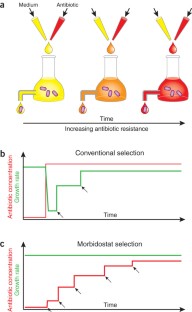 References
Toprak, E. et al. Nat. Genet. 44, 101–105 (2012).

Barrick, J.E. et al. Nature 461, 1243–1247 (2009).

Woods, R.J. et al. Science 331, 1433–1436 (2011).

Lee, H.H., Molla, M.N., Cantor, C.R. & Collins, J.J. Nature 467, 82–85 (2010).

Bryson, V. & Szybalski, W. Science 116, 45–51 (1952).

Gould, S.J. Wonderful Life: The Burgess Shale and the Nature of History 1st edn. (W.W. Norton, 1989).

Weinreich, D.M., Delaney, N.F., Depressor, M.A. & Hartl, D.L. Science 312, 111–114 (2006).

Zhang, Q. et al. Science 333, 1764–1767 (2011)

Hermsen, R. & Hwa, T. Phys. Rev. Lett. 105, 248104 (2010).

Lieberman, T.D. et al. Nat. Genet. 43, 1275–1280 (2011).

Comas, I. et al. Nat. Genet. 44, 106–110 (2012).
Ethics declarations
Competing interests
The authors declare no competing financial interests.
About this article
Cite this article
Rosenthal, A., Elowitz, M. Following evolution of bacterial antibiotic resistance in real time. Nat Genet 44, 11–13 (2012). https://doi.org/10.1038/ng.1048
Published:

Issue Date:

DOI: https://doi.org/10.1038/ng.1048