Atmospheric conditions play an important role in driving severe air pollution events in Beijing, China. Now research finds that global warming will enhance weather conditions favouring such events, increasing the chances of severe winter-time haze in the future.
Access options
Subscribe to Journal
Get full journal access for 1 year
$213.00
only $17.75 per issue
All prices are NET prices.
VAT will be added later in the checkout.
Rent or Buy article
Get time limited or full article access on ReadCube.
from$8.99
All prices are NET prices.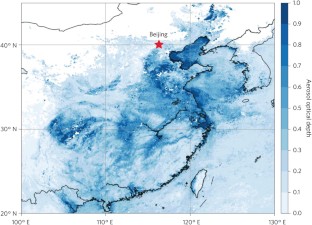 References
1

Zhang, X. et al. Atmos. Environ. 119, 362–373 (2015).

2

Zhang, R., Li, Q. & Zhang, R. N. Sci. China Earth Sci. 57, 26–35 (2014).

3

Yang, Y., Liao H. & Lou S. J. Geophys. Res. Atmos. 121, 13050–13065 (2016).

4

Cai, W., Li, K., Liao, H., Wang, H. & Wu, L. Nat. Clim. Change http://dx.doi.org/10.1038/nclimate3249 (2017).

5

Mu, Q. & Zhang, S. China Environ. Sci. 33, 2087–2094 (2013).

6

Sun, J., Wang, J., Wei, Y., Li, Y. & Liu, M. Int. J. Environ. Res. Public Health 13, 402 (2016).

7

Li, Q., Zhang, R. & Wang, Y. Int. J. Climatol. 36, 346–354 (2016).

8

Huang, R., Chen, J., Wang, L. & Lin, Z. Adv. Atmos. Sci. 29, 910–942 (2012).

9

Chinese State Council Air Pollution Prevention and Control Action Plan (Beijing: People's Publishing House, 2013).

10

Wang, X., Wang, K. & Su, L. Sci. Rep. 6, 36404 (2016).
About this article
Cite this article
Zhang, R. Warming boosts air pollution. Nature Clim Change 7, 238–239 (2017). https://doi.org/10.1038/nclimate3257