Political upsets could stall coordinated international mitigation action, but emissions and investments over the next few years will have long-term consequences. Any delays to mitigation or cuts to renewable energy research by the US will likely render the 2 °C target unachievable if a global precedent is set.
Access options
Subscribe to Journal
Get full journal access for 1 year
$99.00
only $8.25 per issue
All prices are NET prices.
VAT will be added later in the checkout.
Tax calculation will be finalised during checkout.
Rent or Buy article
Get time limited or full article access on ReadCube.
from$8.99
All prices are NET prices.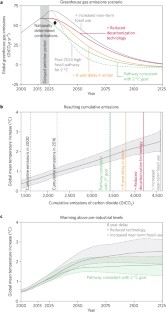 References
1

Knutti, R. & Rogelj, J. Climatic Change 133, 361–373 (2015).

2

The Emissions Gap Report 2016 (UNEP, 2016).

3

Jacques, C. A Trump Presidency Could Mean 3.4 Billion Tons More US Carbon Emissions than a Clinton One (luxresearch, 2016).

4

Fuss, S. et al. Nat. Clim. Change 4, 850–853 (2014).

5

Sanderson, B. M., O'Neill, B. C. & Tebaldi, C. Geophys. Res. Lett. 43, GL069563 (2016).

6

Shared Socioeconomic Pathways Version 1.1 (Science for Global Insight, accessed 15 November 2016); http://go.nature.com/2iepr2x

7

Rogelj, J. et al. Nat. Clim. Change 6, 245–252 (2016).

8

Solomon, S., Plattner, G.-K., Knutti, R. & Friedlingstein, P. Proc. Natl Acad. Sci. USA 106, 1704–1709 (2009).

9

Matthews, H. D. & Solomon, S. Science 340, 438–439 (2013).

10

Rogelj, J., McCollum, D. L., Reisinger, A., Meinshausen, M. & Riahi, K. Nature 493, 79–83 (2013).
About this article
Cite this article
Sanderson, B., Knutti, R. Delays in US mitigation could rule out Paris targets. Nature Clim Change 7, 92–94 (2017). https://doi.org/10.1038/nclimate3193