Exposure to scientific information cannot explain entirely the levels of public concern about global warming in the United States. Now research shows that US views on climate change are largely affected by the actions of political groups.
Access options
Subscribe to Journal
Get full journal access for 1 year
$213.00
only $17.75 per issue
All prices are NET prices.
VAT will be added later in the checkout.
Rent or Buy article
Get time limited or full article access on ReadCube.
from$8.99
All prices are NET prices.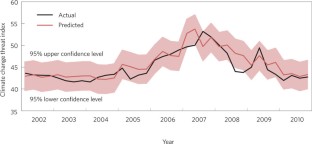 References
2

Brulle, R. J., Carmichael, J. & Craig Jenkins, J. Climatic Change http://dx.doi.org/10.1007/s10584-012-0403-y (2012).

3

McCright, A. & Dunlap, R. Sociol. Quart. 52, 155–194 (2011).

4

Hoffman, A. J. Nature Clim. Change 1, 195–196 (2011).

5

Zaller, J. The Nature and Origins of Mass Opinion (Cambridge Univ. Press, 1992).

6

Stimson, J. Public Opinion in America: Moods, Cycles and Swings 2nd edn (Westview Press, 1999).
About this article
Cite this article
Brechin, S. Shaping US climate opinion. Nature Clim Change 2, 236–237 (2012). https://doi.org/10.1038/nclimate1469
Further reading
Flávio Augusto S. Berchez

,

Natalia Pirani Ghilardi-Lopes

,

Monica Dorigo Correia

,

Hilda Helena Sovierzoski

,

Alexandre de Gusmão Pedrini

,

Suzana Ursi

,

Laura Pioli Kremer

,

Renato de Almeida

,

Yara Schaeffer-Novelli

,

Valéria Marques

&

Daniel Shimada Brotto

Brazilian Journal of Oceanography (2016)

Nature Climate Change (2013)