Abstract
Deforestation is a major source of anthropogenic greenhouse gas emissions1, and the greatest single driver of species extinctions2. The reduction of emissions from deforestation and forest degradation (REDD) has been formally recognized as a climate change mitigation option. REDD might have important co-benefits for biodiversity conservation3,4,5,6,7,8,9,10, yet the extent of these benefits will depend on as-yet untested associations between fine-scale spatial patterns of deforestation, species distributions and carbon stocks. Here we combine a global land-use model11 and spatial data on species distributions12,13,14 to explore scenarios of future deforestation within REDD-eligible countries, to quantify and map the potential impacts on species extinctions as increased by forest loss and decreased by carbon conservation. We found that the continuation of historical deforestation rates is likely to result in large numbers of species extinctions, but that an adequately funded REDD programme could substantially reduce these losses. Under our deforestation scenarios, the projected benefits of REDD were remarkably consistent across the four methods used to estimate extinctions, but spatially variable, and highly dependent on the level of carbon payments. Our results indicate that, if well designed, adequately funded and broadly implemented, carbon-based forest conservation could play a major role in biodiversity conservation as well as climate change mitigation.
Relevant articles
Open Access articles citing this article.
Melese Genete Muluneh

&

Belachew Bogale Worku

Agriculture & Food Security Open Access 09 December 2022

M. J. Milán

&

E. González

Environment, Development and Sustainability Open Access 30 March 2022

Rebecca Catherine Brock

,

Andy Arnell

…

Valerie Kapos

Biodiversity and Conservation Open Access 03 April 2021
Access options
Subscribe to Journal
Get full journal access for 1 year
$99.00
only $8.25 per issue
All prices are NET prices.
VAT will be added later in the checkout.
Tax calculation will be finalised during checkout.
Buy article
Get time limited or full article access on ReadCube.
$32.00
All prices are NET prices.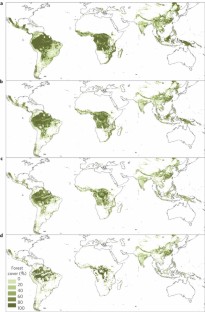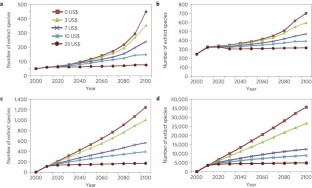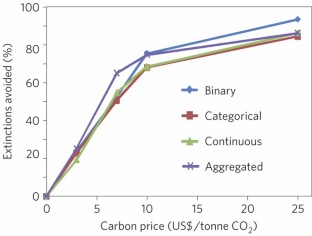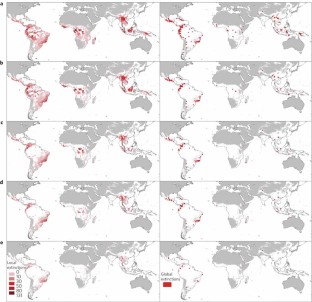 References
IPCC Climate Change 2007: Mitigation of Climate Change (eds Metz B., Davidson O., Bosch P., Dave R., Meyer L.) (Cambridge Univ. Press, 2007).

Baillie, J. et al. 2004 IUCN Red List of Threatened Species. A Global Species Assessment (IUCN—The World Conservation Union, 2004).

Miles, L. & Kapos, V. Reducing greenhouse gas emissions from deforestation and forest degradation: Global land-use implications. Science 320, 1454–1455 (2008).

Strassburg, B. B. N. et al. Global congruence of carbon storage and biodiversity in terrestrial ecosystems. Conserv. Lett. 3, 98–105 (2010).

Venter, O. et al. Harnessing carbon payments to protect biodiversity. Science 326, 1368 (2009).

Strassburg, B., Turner, R. K., Fisher, B., Schaeffer, R. & Lovett, A. Reducing emissions from deforestation—The 'combined incentives' mechanism and empirical simulations. Glob. Environ. Change 19, 265–278 (2009).

Venter, O. et al. Carbon payments as a safeguard for threatened tropical mammals. Conserv. Lett. 2, 123–129 (2009).

Rodrigues, A. S. L. et al. Boom-and-bust development patterns across the Amazon Deforestation Frontier. Science 324, 1435–1437 (2009).

Busch, J., Godoy, F., Turner, W. R. & Harvey, C. A. Biodiversity co-benefits of reducing emissions from deforestation under alternative reference levels and levels of finance. Conserv. Lett. 4, 101–115 (2010).

Paoli, G. D. et al. Biodiversity conservation in the REDD. Carbon Balance Manag. 5, 7 (2010).

Kindermann, G. et al. Global cost estimates of reducing carbon emissions through avoided deforestation. Proc. Natl Acad. Sci. USA 105, 10302–10307 (2008).

IUCN 2009 IUCN Red List of Threatened Species (2009); available at http://www.iucnredlist.org.

Schipper, J. et al. The status of the world's land and marine mammals: Diversity, threat, and knowledge. Science 322, 225–230 (2008).

Stuart, S. N. et al. Status and trends of amphibian declines and extinctions worldwide. Science 306, 1783–1786 (2004).

Gullison, R. et al. Tropical forests and climate policy. Science 316, 985–986 (2007).

Pimm, S. L., Russell, G. J., Gittleman, J. L. & Brooks, T. M. The future of biodiversity. Science 269, 347–350 (1995).

Capoor, K. & Ambrosi, P. State and Trends of the Carbon Market 2009 (The World Bank, 2009).

Riahi, K. & Nakicenovic, N. (eds) Greenhouse Gases—Integrated Assessment Technol. Forecasting Soc. Change 74 (Special Issue) 873–1108 (2007).

Isbell, F. et al. High plant diversity is needed to maintain ecosystem services. Nature 477, 199–202 (2011).

Manne, L., Brooks, T. & Pimm, S. Relative risk of extinction of passerine birds on continents and islands. Nature 399, 258–261 (1999).

Thomas, C. et al. Extinction risk from climate change. Nature 427, 145–148 (2004).

Malhi, Y. et al. Climate change, deforestation, and the fate of the Amazon. Science 319, 169–172 (2008).

Gardner, T., Barlow, J., Parry, L. & Peres, C. Predicting the uncertain future of tropical forest species in a data vacuum. Biotropica 39, 25–30 (2007).

Fisher, B. et al. Implementation and opportunity costs of reducing deforestation and forest degradation in Tanzania. Nature Clim. Change 1, 161–164 (2011).

Harvey, C. A., Dickson, B. & Kormos, C. Opportunities for achieving biodiversity conservation through REDD. Conserv. Lett. 3, 56–61 (2010).

Stickler, C. M. et al. The potential ecological costs and cobenefits of REDD: A critical review and case study from the Amazon region. Glob. Change Biol. 15, 2803–2824 (2009).

Putz, F. & Redford, K. Dangers of carbon-based conservation. Glob. Environ. Change 19, 400–401 (2009).

Balmford, A. et al. The convention on biological diversity's 2010 target. Science 307, 212–213 (2005).

He, F. & Hubbell, S. P. Species–area relationships always overestimate extinction rates from habitat loss. Nature 473, 368–371 (2011).

Brooks, T. M. et al. Extinctions: Consider all species. Nature 474, 284 (2011).
Acknowledgements
A.B. and R.K.T. acknowledge the support of the Leverhulme Trust's Valuing the Arc Programme. M.O., M.G. and S.F. were funded by the GEOBENE project (grant agreement 037063, GOCE) under the European Community's Sixth Framework Programme. B.B.N.S. was supported by CAPES.
Ethics declarations
Competing interests
The authors declare no competing financial interests.
Supplementary information
About this article
Cite this article
Strassburg, B., Rodrigues, A., Gusti, M. et al. Impacts of incentives to reduce emissions from deforestation on global species extinctions. Nature Clim Change 2, 350–355 (2012). https://doi.org/10.1038/nclimate1375
Received:

Accepted:

Published:

Issue Date:

DOI: https://doi.org/10.1038/nclimate1375