Abstract
The diarylquinoline R207910 (TMC207) is a promising candidate in clinical development for the treatment of tuberculosis. Though R207910-resistant mycobacteria bear mutations in ATP synthase, the compound's precise target is not known. Here we establish by genetic, biochemical and binding assays that the oligomeric subunit c (AtpE) of ATP synthase is the target of R207910. Thus targeting energy metabolism is a new, promising approach for antibacterial drug discovery.
Access options
Subscribe to Journal
Get full journal access for 1 year
$119.00
only $9.92 per issue
All prices are NET prices.
VAT will be added later in the checkout.
Tax calculation will be finalised during checkout.
Rent or Buy article
Get time limited or full article access on ReadCube.
from$8.99
All prices are NET prices.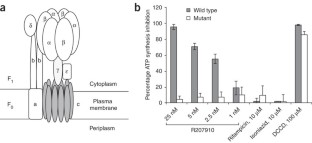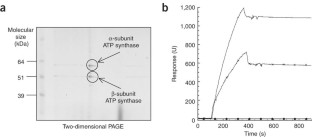 References
1

Dye, C., Scheele, S., Dolin, P., Pathania, V. & Raviglione, M.C. J. Am. Med. Assoc. 282, 677–686 (1999).

2

Andries, K. et al. Science 307, 223–227 (2005).

3

Ji, B. et al. Antimicrob. Agents Chemother. 50, 1921–1926 (2006).

4

Junge, W. & Nelson, N. Science 308, 642–644 (2005).

5

Walsh, C. Nature 406, 775–781 (2000).

6

Telenti, A. et al. J. Clin. Microbiol. 35, 719–723 (1997).

7

de Jonge, M.R., Koymans, L.H., Guillemont, J.E., Koul, A. & Andries, K. Proteins published online 23 March 2007 (doi:10.1002/prot.21376).

8

Telenti, A. et al. Nat. Med. 3, 567–570 (1997).

9

Wang, R., Prince, J.T. & Marcotte, E.M. Genome Res. 15, 1118–1126 (2005).

10

Tran, S.L. & Cook, G.M. J. Bacteriol. 187, 5023–5028 (2005).

11

Ferrandiz, M.J. & de la Campa, A.G. FEMS Microbiol. Lett. 212, 133–138 (2002).
Acknowledgements
We thank P. Janssens, T. Gevers, H. Szel, J. Hendrickx, A. Shanmugham, E. Pasquier, A. Poncelet, P. Palandjian, S. Masure, W. Bruinzeel and P. Verhasselt for technical help; N. Lounis, L. Geeraert and M. Haxaire-Theeuwes for critical reading; E. Mortz (Alphalyse, Denmark) for mass spectrometry analysis; H. Van Vlijmen for R207910-docking figure; L. Leijssen for help with figures; and Vichem (Budapest) for coupling experiments. Z.R., H.L. and D.B. acknowledge EU financial support (Marie-Curie MRTN-CT-2005-019481).
Ethics declarations
Competing interests
Research for this project is mainly provided by Johnson & Johnson Pharmaceuticals. A.K., N.D., K.V., B.M., L.V., R.W., I.D., J.G and K.A. are employees of Johnson & Johnson.
Supplementary information
About this article
Cite this article
Koul, A., Dendouga, N., Vergauwen, K. et al. Diarylquinolines target subunit c of mycobacterial ATP synthase. Nat Chem Biol 3, 323–324 (2007). https://doi.org/10.1038/nchembio884
Received:

Accepted:

Published:

Issue Date: