Fragment-based drug design capitalizes on the modular binding of low-molecular-weight, low-affinity ligands. However, the deconstruction of lead-like inhibitors into putative fragments reveals the surprising complexity of dealing with low-affinity leads, thereby challenging oversimplification of these leads and highlighting the richness of their chemical diversity and molecular recognition.
This is a preview of subscription content
Access options
Subscribe to Journal
Get full journal access for 1 year
$119.00
only $9.92 per issue
All prices are NET prices.
VAT will be added later in the checkout.
Tax calculation will be finalised during checkout.
Rent or Buy article
Get time limited or full article access on ReadCube.
from$8.99
All prices are NET prices.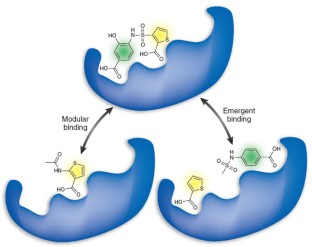 References
1

Erlanson, D.A., McDowell, R.S. & O'Brien, T. J. Med. Chem. 47, 3463–3482 (2004).

2

Hajduk, P.J., Huth, J.R. & Sun, C. Methods and Principles in Medicinal Chemistry 34, 181–192 (2006).

3

Hajduk, P.J., Huth, J.R. & Fesik, S.W. J. Med. Chem. 48, 2518–2525 (2005).

4

Babaoglu, K. & Shoichet, B.K. Nat. Chem. Biol. 2, 720–723 (2006).

5

Hann, M.M., Leach, A.R. & Harper, G. J. Chem. Inf. Comput. Sci. 41, 856–864 (2001).
About this article
Cite this article
Hajduk, P. Puzzling through fragment-based drug design. Nat Chem Biol 2, 658–659 (2006). https://doi.org/10.1038/nchembio1206-658