Abstract
The aromatic amino acids L-phenylalanine and L-tyrosine and their plant-derived natural products are essential in human and plant metabolism and physiology. Here we identified Petunia hybrida and Arabidopsis thaliana genes encoding prephenate aminotransferases (PPA-ATs), thus completing the identification of the genes involved in phenylalanine and tyrosine biosyntheses. Biochemical and genetic characterization of enzymes showed that PPA-AT directs carbon flux from prephenate toward arogenate, making the arogenate pathway predominant in plant phenylalanine biosynthesis.
Relevant articles
Open Access articles citing this article.
Álvaro Polonio

,

Mónica Pineda

…

Alejandro Pérez-García

Scientific Reports Open Access 28 May 2019

Yichun Qian

,

Joseph H. Lynch

…

Natalia Dudareva

Nature Communications Open Access 03 January 2019
Access options
Subscribe to Journal
Get full journal access for 1 year
$119.00
only $9.92 per issue
All prices are NET prices.
VAT will be added later in the checkout.
Tax calculation will be finalised during checkout.
Buy article
Get time limited or full article access on ReadCube.
$32.00
All prices are NET prices.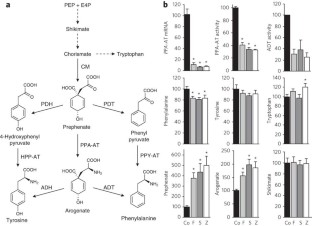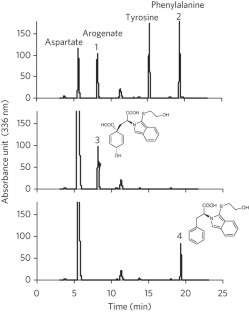 References
Boerjan, W., Ralph, J. & Baucher, M. Annu. Rev. Plant Biol. 54, 519–546 (2003).

Kutchan, T.M. in The Alkaloids, Vol. 50 (ed. Cordell, G.) 257–316 (Academic Press, San Diego, 1998).

Bramley, P.M. et al. J. Sci. Food Agric. 80, 913–938 (2000).

Siehl, D.L. in Plant Amino Acids: Biochemistry and Biotechnology (ed. Singh, B.) 171–204 (CRC Press, 1999).

Rippert, P. & Matringe, M. Eur. J. Biochem. 269, 4753–4761 (2002).

Cho, M.H. et al. J. Biol. Chem. 282, 30827–30835 (2007).

Maeda, H. et al. Plant Cell 22, 832–849 (2010).

Yamada, T. et al. Plant Cell 20, 1316–1329 (2008).

Rubin, J.L. & Jensen, R.A. Plant Physiol. 64, 727–734 (1979).

Siehl, D.L., Singh, B.K. & Conn, E.E. Plant Physiol. 81, 711–713 (1986).

Bonner, C.A. & Jensen, R.A. Arch. Biochem. Biophys. 238, 237–246 (1985).

Redkina, T.V., Uspenska, Z. & Kretovic, V. Biochemistry (Mosc.) 34, 247–256 (1969).

Siehl, D.L., Connelly, J.A. & Conn, E.E. Z. Naturfo. C. 41, 79–86 (1986).

De-Eknamkul, W. & Ellis, B.E. Arch. Biochem. Biophys. 267, 87–94 (1988).

Wightman, F. & Forest, J.C. Phytochemistry 17, 1455–1471 (1978).

Obayashi, T., Hayashi, S., Saeki, M., Ohta, H. & Kinoshita, K. Nucleic Acids Res. 37, D987–D991 (2009).

Görlach, J. et al. Proc. Natl. Acad. Sci. USA 92, 3166–3170 (1995).

de la Torre, F., De Santis, L., Suarez, M.F., Crespillo, R. & Canovas, F.M. Plant J. 46, 414–425 (2006).

Nobe, Y. et al. J. Biol. Chem. 273, 29554–29564 (1998).

Verdonk, J.C. et al. Phytochemistry 62, 997–1008 (2003).

Bickel, H. & Schultz, G. Phytochemistry 18, 498–499 (1979).

Nakai, T. et al. Biochemistry 38, 2413–2424 (1999).

Zamir, L., Tiberio, R. & Jensen, R. Tetrahedr. Lett. 24, 2815–2818 (1983).

Marino, G. et al. J. Biol. Chem. 263, 12305–12309 (1988).

Fazel, A.M. & Jensen, R.A. J. Bacteriol. 138, 805–815 (1979).
Acknowledgements
We thank J. Zheng and C.M. Kish (Purdue University) for technical assistance in the quantitative real-time PCR experiments, G. Taguchi and E. Pichersky (University of Michigan) for the pLISG vector and N. Bonawitz, D. Rhodes (Purdue University) and members of Dudareva laboratory for critical reading of the manuscript. This work was supported by the US Agriculture and Food Research Initiative competitive grant no. 2010-65115-20385 from US Department of Agriculture National Institute of Food and Agriculture and by grant MCB-0615700 from the US National Science Foundation to N.D. H.M. was supported in part by the Japan Society for the Promotion of Science Postdoctoral Fellowship for Research Abroad.
Ethics declarations
Competing interests
The authors declare no competing financial interests.
Supplementary information
Supplementary Methods, Supplementary Figures 1–9 and Supplementary Tables 1 & 2 (PDF 1032 kb)
Supplementary Data Set (TXT 40 kb)
About this article
Cite this article
Maeda, H., Yoo, H. & Dudareva, N. Prephenate aminotransferase directs plant phenylalanine biosynthesis via arogenate. Nat Chem Biol 7, 19–21 (2011). https://doi.org/10.1038/nchembio.485
Received:

Accepted:

Published:

Issue Date:

DOI: https://doi.org/10.1038/nchembio.485