Abstract
Paraquat, a herbicide linked to Parkinson's disease, generates reactive oxygen species (ROS), which causes cell death. Because the source of paraquat-induced ROS production remains unknown, we conducted a CRISPR-based positive-selection screen to identify metabolic genes essential for paraquat-induced cell death. Our screen uncovered three genes, POR (cytochrome P450 oxidoreductase), ATP7A (copper transporter), and SLC45A4 (sucrose transporter), required for paraquat–induced cell death. Furthermore, our results revealed POR as the source of paraquat-induced ROS production. Thus, our study highlights the use of functional genomic screens for uncovering redox biology.
Relevant articles
Open Access articles citing this article.
Leah K. Billingham

,

Joshua S. Stoolman

…

Navdeep S. Chandel

Nature Immunology Open Access 28 April 2022

Qiang Huang

,

Ruohan Li

…

Yi-Lei Zhao

Communications Biology Open Access 25 November 2021
Access options
Subscribe to Nature+
Get immediate online access to Nature and 55 other Nature journal
Subscribe to Journal
Get full journal access for 1 year
$119.00
only $9.92 per issue
All prices are NET prices.
VAT will be added later in the checkout.
Tax calculation will be finalised during checkout.
Buy article
Get time limited or full article access on ReadCube.
$32.00
All prices are NET prices.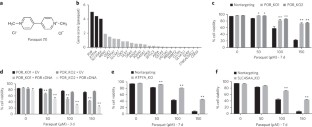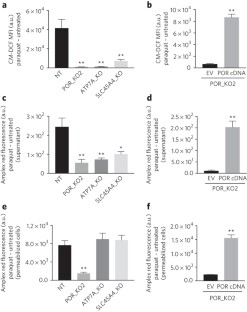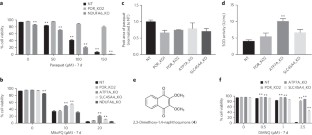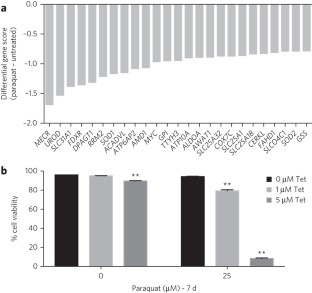 References
Dinis-Oliveira, R.J. et al. Paraquat poisonings: mechanisms of lung toxicity, clinical features, and treatment. Crit. Rev. Toxicol. 38, 13–71 (2008).

Suntres, Z.E. Role of antioxidants in paraquat toxicity. Toxicology 180, 65–77 (2002).

Blanco-Ayala, T., Andérica-Romero, A.C. & Pedraza-Chaverri, J. New insights into antioxidant strategies against paraquat toxicity. Free Radic. Res. 48, 623–640 (2014).

Kamel, F. Epidemiology. Paths from pesticides to Parkinson's. Science 341, 722–723 (2013).

Franco, R., Li, S., Rodriguez-Rocha, H., Burns, M. & Panayiotidis, M.I. Molecular mechanisms of pesticide-induced neurotoxicity: Relevance to Parkinson's disease. Chem. Biol. Interact. 188, 289–300 (2010).

Pezzoli, G. & Cereda, E. Exposure to pesticides or solvents and risk of Parkinson disease. Neurology 80, 2035–2041 (2013).

Tanner, C.M. et al. Rotenone, paraquat, and Parkinson's disease. Environ. Health Perspect. 119, 866–872 (2011).

Wang, A. et al. Parkinson's disease risk from ambient exposure to pesticides. Eur. J. Epidemiol. 26, 547–555 (2011).

Manning-Bog, A.B. et al. The herbicide paraquat causes up-regulation and aggregation of alpha-synuclein in mice: paraquat and alpha-synuclein. J. Biol. Chem. 277, 1641–1644 (2002).

McCormack, A.L. et al. Environmental risk factors and Parkinson's disease: selective degeneration of nigral dopaminergic neurons caused by the herbicide paraquat. Neurobiol. Dis. 10, 119–127 (2002).

Hong, S.Y., Lee, J.S., Sun, I.O., Lee, K.Y. & Gil, H.W. Prediction of patient survival in cases of acute paraquat poisoning. PLoS One 9, e111674 (2014).

Cochemé, H.M. & Murphy, M.P. Chapter 22 the uptake and interactions of the redox cycler paraquat with mitochondria. Methods Enzymol. 456, 395–417 (2009).

Cochemé, H.M. & Murphy, M.P. Complex I is the major site of mitochondrial superoxide production by paraquat. J. Biol. Chem. 283, 1786–1798 (2008).

Gray, J.P. et al. Paraquat increases cyanide-insensitive respiration in murine lung epithelial cells by activating an NAD(P)H:paraquat oxidoreductase: identification of the enzyme as thioredoxin reductase. J. Biol. Chem. 282, 7939–7949 (2007).

Shimada, H., Hirai, K., Simamura, E. & Pan, J. Mitochondrial NADH-quinone oxidoreductase of the outer membrane is responsible for paraquat cytotoxicity in rat livers. Arch. Biochem. Biophys. 351, 75–81 (1998).

Yee, C., Yang, W. & Hekimi, S. The intrinsic apoptosis pathway mediates the pro-longevity response to mitochondrial ROS in C. elegans. Cell 157, 897–909 (2014).

Shukla, A.K. et al. Heat shock protein-70 (Hsp-70) suppresses paraquat-induced neurodegeneration by inhibiting JNK and caspase-3 activation in Drosophila model of Parkinson's disease. PLoS One 9, e98886 (2014).

Rao, S.S. et al. Suberoylanilide hydroxamic acid attenuates paraquat-induced pulmonary fibrosis by preventing Smad7 from deacetylation in rats. J. Thorac. Dis. 8, 2485–2494 (2016).

Sun, I.O., Shin, S.H., Yoon, H.J. & Lee, K.Y. Predicting the probability of survival in acute paraquat poisoning. Kidney Res. Clin. Pract. 35, 102–106 (2016).

Birsoy, K. et al. An essential role of the mitochondrial electron transport chain in cell proliferation is to enable aspartate synthesis. Cell 162, 540–551 (2015).

Wang, M. et al. Three-dimensional structure of NADPH-cytochrome P450 reductase: prototype for FMN- and FAD-containing enzymes. Proc. Natl. Acad. Sci. USA 94, 8411–8416 (1997).

Dierick, H.A., Adam, A.N., Escara-Wilke, J.F. & Glover, T.W. Immunocytochemical localization of the Menkes copper transport protein (ATP7A) to the trans-Golgi network. Hum. Mol. Genet. 6, 409–416 (1997).

Petris, M.J. & Mercer, J.F. The Menkes protein (ATP7A; MNK) cycles via the plasma membrane both in basal and elevated extracellular copper using a C-terminal di-leucine endocytic signal. Hum. Mol. Genet. 8, 2107–2115 (1999).

He, L., Vasiliou, K. & Nebert, D.W. Analysis and update of the human solute carrier (SLC) gene superfamily. Hum. Genomics 3, 195–206 (2009).

Rhee, S.G., Chang, T.S., Jeong, W. & Kang, D. Methods for detection and measurement of hydrogen peroxide inside and outside of cells. Mol. Cells 29, 539–549 (2010).

Robb, E.L. et al. Selective superoxide generation within mitochondria by the targeted redox cycler MitoParaquat. Free Radic. Biol. Med. 89, 883–894 (2015).

Huang, C.P., Fofana, M., Chan, J., Chang, C.J. & Howell, S.B. Copper transporter 2 regulates intracellular copper and sensitivity to cisplatin. Metallomics 6, 654–661 (2014).

Krall, J., Bagley, A.C., Mullenbach, G.T., Hallewell, R.A. & Lynch, R.E. Superoxide mediates the toxicity of paraquat for cultured mammalian cells. J. Biol. Chem. 263, 1910–1914 (1988).

Kuo, Y.M., Zhou, B., Cosco, D. & Gitschier, J. The copper transporter CTR1 provides an essential function in mammalian embryonic development. Proc. Natl. Acad. Sci. USA 98, 6836–6841 (2001).

Zelko, I.N., Mariani, T.J. & Folz, R.J. Superoxide dismutase multigene family: a comparison of the CuZn-SOD (SOD1), Mn-SOD (SOD2), and EC-SOD (SOD3) gene structures, evolution, and expression. Free Radic. Biol. Med. 33, 337–349 (2002).

Van Remmen, H. et al. Multiple deficiencies in antioxidant enzymes in mice result in a compound increase in sensitivity to oxidative stress. Free Radic. Biol. Med. 36, 1625–1634 (2004).

Saito, M., Thomas, C.E. & Aust, S.D. Paraquat and ferritin-dependent lipid peroxidation. J. Free Radic. Biol. Med. 1, 179–185 (1985).

Han, J.F., Wang, S.L., He, X.Y., Liu, C.Y. & Hong, J.Y. Effect of genetic variation on human cytochrome p450 reductase-mediated paraquat cytotoxicity. Toxicol. Sci. 91, 42–48 (2006).

Kelner, M.J. & Bagnell, R. Paraquat resistance associated with reduced NADPH reductase in an energy-dependent paraquat-accumulating cell line. Arch. Biochem. Biophys. 274, 366–374 (1989).

Clejan, L. & Cederbaum, A.I. Synergistic interactions between NADPH-cytochrome P-450 reductase, paraquat, and iron in the generation of active oxygen radicals. Biochem. Pharmacol. 38, 1779–1786 (1989).

Dinis-Oliveira, R.J. et al. Paraquat exposure as an etiological factor of Parkinson's disease. Neurotoxicology 27, 1110–1122 (2006).

Ishihara, Y., Shiba, D. & Shimamoto, N. Enhancement of DMNQ-induced hepatocyte toxicity by cytochrome P450 inhibition. Toxicol. Appl. Pharmacol. 214, 109–117 (2006).

Ran, F.A. et al. Genome engineering using the CRISPR-Cas9 system. Nat. Protoc. 8, 2281–2308 (2013).

Cong, L. et al. Multiplex genome engineering using CRISPR/Cas systems. Science 339, 819–823 (2013).

Wang, T., Wei, J.J., Sabatini, D.M. & Lander, E.S. Genetic screens in human cells using the CRISPR-Cas9 system. Science 343, 80–84 (2014).
Acknowledgements
We thank the Genome Technology Core of the Whitehead Institute for deep sequencing the genomic DNA samples. We thank the Flow Cytometry Core of Northwestern University for providing the BD LSRFortessa cell analyzer to assess cell viability. We are grateful to M.P. Murphy (University of Cambridge) for providing us MitoParaquat. This work was supported by a National Institute of Aging grant (5P01AG049665) to N.S.C. C.R.R. was supported by a National Institutes of Health postdoctoral training grant (T32 HL076139-11). H.K. was supported by a National Institutes of Health pre-doctoral training grant (T32 CA9560-30). K.B. was supported by grants from the National Institutes of Health (K22 CA1936600), a Searle Scholar Award, an Irma T. Hirschl/Monique Weill–Caulier Trust Award, and the Sidney Kimmel Foundation. D.M.S. is an investigator of the Howard Hughes Medical Institute.
Ethics declarations
Competing interests
The authors declare no competing financial interests.
Supplementary information
Supplementary Results, Supplementary Tables 1–2, Supplementary Figures 1–10 (PDF 22728 kb)
About this article
Cite this article
Reczek, C., Birsoy, K., Kong, H. et al. A CRISPR screen identifies a pathway required for paraquat-induced cell death. Nat Chem Biol 13, 1274–1279 (2017). https://doi.org/10.1038/nchembio.2499
Received:

Accepted:

Published:

Issue Date:

DOI: https://doi.org/10.1038/nchembio.2499