Abstract
We describe Scaffold Hunter, a highly interactive computer-based tool for navigation in chemical space that fosters intuitive recognition of complex structural relationships associated with bioactivity. The program reads compound structures and bioactivity data, generates compound scaffolds, correlates them in a hierarchical tree-like arrangement, and annotates them with bioactivity. Brachiation along tree branches from structurally complex to simple scaffolds allows identification of new ligand types. We provide proof of concept for pyruvate kinase.
Access options
Subscribe to Journal
Get full journal access for 1 year
$59.00
only $4.92 per issue
All prices are NET prices.
VAT will be added later in the checkout.
Tax calculation will be finalised during checkout.
Rent or Buy article
Get time limited or full article access on ReadCube.
from$8.99
All prices are NET prices.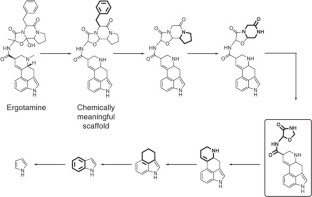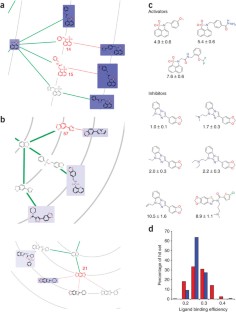 References
1

Roberts, G., Myatt, G.J., Johnson, W.P., Cross, K.P. & Blower, P.E. Jr. J. Chem. Inf. Comput. Sci. 40, 1302–1314 (2000).

2

Oprea, T.I. & Gottfries, J. J. Comb. Chem. 3, 157–166 (2001).

3

Larsson, J., Gottfries, J., Bohlin, L. & Backlund, A. J. Nat. Prod. 68, 985–991 (2005).

4

Larsson, J., Gottfries, J., Muresan, S. & Backlund, A. J. Nat. Prod. 70, 789–794 (2007).

5

Paolini, G.V., Shapland, R.H.B., van Hoorn, W.P., Mason, J.S. & Hopkins, A.L. Nat. Biotechnol. 24, 805–815 (2006).

6

Bemis, G.W. & Murcko, M.A. J. Med. Chem. 39, 2887–2893 (1996).

7

Schuffenhauer, A. et al. J. Chem. Inf. Model. 47, 47–58 (2007).

8

Koch, M.A. et al. Proc. Natl. Acad. Sci. USA 102, 17272–17277 (2005).

9

Nören-Müller, A. et al. Proc. Natl. Acad. Sci. USA 103, 10606–10611 (2006).

10

Olah, M. et al. Chemical Biology: from Small Molecules to Systems Biology and Drug Design (eds. Schreiber, S.L., Kapoor, T.M. & Wess, G.) 760–786 (Wiley-VCH, Weinheim, Germany, 2007).

11

Inglese, J. et al. Proc. Natl. Acad. Sci. USA 103, 11473–11478 (2006).

12

Schulz, W. Chem. Eng. News 74, 43–44 (1996).

13

Lipinski, C.A., Lombardo, F., Dominy, B.W. & Feeney, P.J. Adv. Drug Deliv. Rev. 46, 3–26 (2001).

14

Verheij, H.J. Mol. Divers. 10, 377–388 (2006).

15

Reynolds, C.H., Tounge, B.A. & Bembenek, S.D. J. Med. Chem. 51, 2432–2438 (2008).
Acknowledgements
We thank the members of the project group PG504—namely A.B. Ahmed, A. Arndt, P. Büdenbender, V. Bembenek, A. Gorecki, N. Kriege, S. Rakov, M. Rex, G. Schrader, H. Wagner, A. Wiesniewski and C. Yücel—for their enthusiasm and commitment. This work was supported by the Max Planck Society, the State of North-Rhine Westphalia, the European Union Fonds for Regional Development, and the German Federal Ministry for Education and Research through the German National Genome Research Network-Plus (NGFN-Plus, grant number BMBF 01GS08102 to D.R. and H.W.). Part of this work was supported by US National Institutes of Health grant 1U54MH084690 (to T.I.O.). Software was generously supplied by Openeye (OEChem) and Accelrys/SciTegic (PipelinePilot). S.W. is grateful to Novartis for a PhD scholarship.
Ethics declarations
Competing interests
T.I.O. is the founder and CEO of Sunset Molecular Discovery LLC, and cofounder of Drug4Cast LLC; both companies provide services related to the pharmaceutical sector. T.I.O. also serves on the scientific advisory board for ChemDiv, Inc.
Supplementary information
About this article
Cite this article
Wetzel, S., Klein, K., Renner, S. et al. Interactive exploration of chemical space with Scaffold Hunter. Nat Chem Biol 5, 581–583 (2009). https://doi.org/10.1038/nchembio.187
Received:

Accepted:

Published:

Issue Date: