The use of mechanical force to break and build chemical bonds in polymers can enable transformations that cannot be conducted using stimuli such as light and heat. Now, an insulating polymer has been mechanically unzipped to create a semiconducting polymer with extended regions of conjugation.
Access options
Subscribe to Journal
Get full journal access for 1 year
$59.00
only $4.92 per issue
All prices are NET prices.
VAT will be added later in the checkout.
Tax calculation will be finalised during checkout.
Rent or Buy article
Get time limited or full article access on ReadCube.
from$8.99
All prices are NET prices.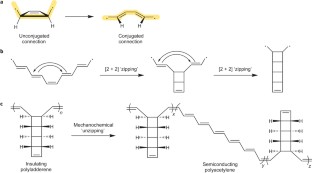 References
1

Ong, M. T., Leiding, J., Tao, H., Virshup, A. M. & Martínez, T. J. J. Am. Chem. Soc. 131, 6377–6379 (2009).

2

Ribas-Arino, J. & Marx, D. Chem. Rev. 112, 5412–5487 (2012).

3

Hickenboth, C. R. et al. Nature 446, 423–427 (2007).

4

Yang, Q. Z. et al. Nat. Nanotech. 4, 302–306 (2009).

5

Wang, Q., Gossweiler, G. R., Craig, S. L. & Zhao, X. Nat. Commun. 5, 4899 (2014).

6

Black, A. L., Lenhardt, J. M. & Craig, S. L. J. Mater. Chem. 21, 1655–1663 (2011).

7

Chen, Z. et al. Science 357, 475–479 (2017).

8

Kryger, M. J., Munaretto, A. M. & Moore, J. S. J. Am. Chem. Soc. 133, 18992–18998 (2011).

9

Ramirez, A. L. B. et al. Nat. Chem. 5, 757–761 (2013).
About this article
Cite this article
Craig, S. Up another rung. Nature Chem 9, 1154–1155 (2017). https://doi.org/10.1038/nchem.2902
Further reading
Brandon H. Bowser

,

Shu Wang

,

Tatiana B. Kouznetsova

,

Haley K. Beech

,

Bradley D. Olsen

,

Michael Rubinstein

&

Stephen L. Craig

Journal of the American Chemical Society (2021)

Emilia Izak-Nau

,

Davide Campagna

,

Christoph Baumann

&

Robert Göstl

Polymer Chemistry (2020)

Yu. I. Golovin

,

N. L. Klyachko

,

Al. O. Zhigachev

,

S. L. Gribanovskii

,

M. V. Efremova

,

A. G. Majouga

&

A. V. Kabanov

Russian Metallurgy (Metally) (2019)