Self-sorting events in supramolecular assembly lead to complex systems that are attractive for the design of functional materials, but have remained difficult to understand and control. Now, the growth of self-sorted supramolecular nanofibres has been elucidated by direct imaging through real-time in situ confocal microscopy.
Access options
Subscribe to Journal
Get full journal access for 1 year
$59.00
only $4.92 per issue
All prices are NET prices.
VAT will be added later in the checkout.
Tax calculation will be finalised during checkout.
Rent or Buy article
Get time limited or full article access on ReadCube.
from$8.99
All prices are NET prices.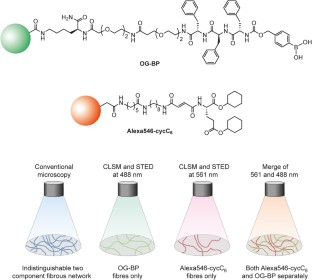 References
1

Stupp, S. I. & Palmer, L. C. Chem. Mater. 26, 507–518 (2014).

2

Onogi, S. et al., Nature Chem. 8, 743–752 (2016).

3

Buerkle, L. E. & Rowan, S. J. Chem. Soc. Rev. 41, 6089–6102 (2012).

4

Safont-Sempere, M. M., Fernández, G. & Würthner, F. Chem. Rev. 111, 5784–5814 (2011).

5

Philp D. & Stoddart, J. F. Angew. Chem. Int. Ed. Engl. 35, 1154–1196 (1996).

6

Escuder, B. & Miravet, J. F. Functional Molecular Gels (Royal Society of Chemistry, 2013).

7

Raeburn, J. & Adams, D. J. Chem. Commun. 51, 5170–5180 (2015).

8

Sugiyasu, K., Kawano, S.-i., Fujita, N. & Shinkai, S. Chem. Mater. 20, 2863–2865 (2008).
About this article
Cite this article
Draper, E., Adams, D. Self-sorting shows its true colours. Nature Chem 8, 737–738 (2016). https://doi.org/10.1038/nchem.2539