A fundamental challenge in systems chemistry is to engineer the emergence of complex behaviour. The collective structures of metal cyanide chains have now been interpreted in the same manner as the myriad of magnetic phases displayed by frustrated spin systems, highlighting a symbiotic approach between systems chemistry and magnetism.
Access options
Subscribe to Journal
Get full journal access for 1 year
$59.00
only $4.92 per issue
All prices are NET prices.
VAT will be added later in the checkout.
Tax calculation will be finalised during checkout.
Rent or Buy article
Get time limited or full article access on ReadCube.
from$8.99
All prices are NET prices.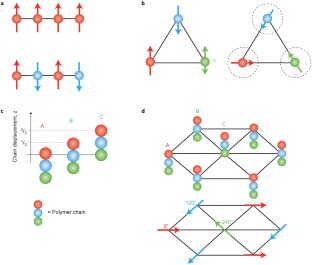 References
1

Balazs, A. C. & Epstein, I. R. Science 325, 1632–1634 (2009).

2

Rasmussen, S. et al. Science 303, 963–965 (2004).

3

Mattia, E. & Otto, S. Nature Nanotech. 10, 111–119 (2015).

4

Nitschke, J. R. Nature 462, 736–738 (2009).

5

Szostak, J. W., Bartel, D. P. & Luisi, P. L. Nature 409, 387–309 (2001).

6

Cairns, A. B. et al. Nature Chem. 8, 442–447 (2016).

7

Lee, S.-H. et al. Nature 418, 856–858 (2002).

8

Harris, M. J., Bramwell, S. T., McMorrow, D. F., Zeiske, T. & Godfrey, K. W. Phys. Rev. Lett. 79, 2554–2557 (1997).

9

Mühlbauer, S. et al. Science 323, 915–919 (2009).
Acknowledgements
We thank the Leverhulme Trust for an award (RPG-2013-343) to support L.C.
About this article
Cite this article
Clark, L., Lightfoot, P. All in a spin. Nature Chem 8, 402–404 (2016). https://doi.org/10.1038/nchem.2510