Abstract
Individual risk markers for depression and anxiety disorders have been identified but the explicit pathways that link genes and environment to these markers remain unknown. Here we examined the explicit interactions between the brain-derived neurotrophic factor (BDNF) Val66Met gene and early life stress (ELS) exposure in brain (amygdala–hippocampal–prefrontal gray matter volume), body (heart rate), temperament and cognition in 374 healthy European volunteers assessed for depression and anxiety symptoms. Brain imaging data were based on a subset of 89 participants. Multiple regression analysis revealed main effects of ELS for body arousal (resting heart rate, P=0.005) and symptoms (depression and anxiety, P<0.001) in the absence of main effects for BDNF. In addition, significant BDNF–ELS interactions indicated that BDNF Met carriers exposed to greater ELS have smaller hippocampal and amygdala volumes (P=0.013), heart rate elevations (P=0.0002) and a decline in working memory (P=0.022). Structural equation path modeling was used to determine if this interaction predicts anxiety and depression by mediating effects on the brain, body and cognitive measures. The combination of Met carrier status and exposure to ELS predicted reduced gray matter in hippocampus (P<0.001), and associated lateral prefrontal cortex (P<0.001) and, in turn, higher depression (P=0.005). Higher depression was associated with poorer working memory (P=0.005), and slowed response speed. The BDNF Met–ELS interaction also predicted elevated neuroticism and higher depression and anxiety by elevations in body arousal (P<0.001). In contrast, the combination of BDNF V/V genotype and ELS predicted increases in gray matter of the amygdala (P=0.003) and associated medial prefrontal cortex (P<0.001), which in turn predicted startle-elicited heart rate variability (P=0.026) and higher anxiety (P=0.026). Higher anxiety was linked to verbal memory, and to impulsivity. These effects were specific to the BDNF gene and were not evident for the related 5HTT-LPR polymorphism. Overall, these findings are consistent with the correlation of depression and anxiety, yet suggest that partially differentiated gene–brain cognition pathways to these syndromes can be identified, even in a nonclinical sample. Such findings may aid establishing an evidence base for more tailored intervention strategies.
This is a preview of subscription content
Access options
Subscribe to Journal
Get full journal access for 1 year
$119.00
only $9.92 per issue
All prices are NET prices.
VAT will be added later in the checkout.
Tax calculation will be finalised during checkout.
Buy article
Get time limited or full article access on ReadCube.
$32.00
All prices are NET prices.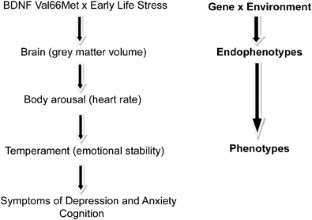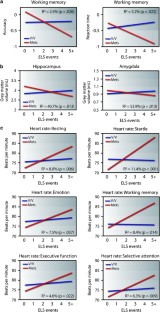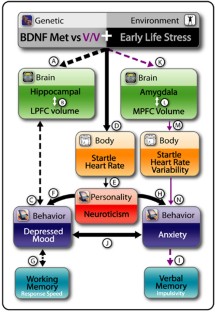 References
Gordon E . Integrating genomics and neuromarkers for the era of brain-related personalized medicine. Personalized Medicine 2007; 4: 201–215.

Kemp AH, Gordon E, Rush AJ, Williams LM . Improving the prediction of treatment response in depression: Integration of clinical, cognitive, psychophysiological, neuroimaging and genetic measures. CNS Spectrums 2008; 13: 1066–1086.

Hasler G, Drevets WC, Manji HK, Charney DS . Discovering endophenotypes for major depression. Neuropsychopharmacology 2004; 29: 1765–1781.

Gatt JM, Clark CR, Kemp AH, Liddell BJ, Dobson-Stone C, Kuan SA et al. A genotype–endophenotype–phenotype path model of depressed mood: integrating cognitive and emotional markers. J Integr Neurosci 2007; 6: 75–104.

Gatt JM, Kuan SA, Dobson-Stone C, Paul RH, Joffe RT, Kemp AH et al. Association between BDNF Val66Met polymorphism and trait depression is mediated via resting EEG alpha band activity. Biol Psychol 2008; 79: 275–284.

Williams LM, Gordon E . The dynamic organization of the emotional brain: responsivity, stability and instability. Neuroscientist 2007; 13: 349–370.

Williams LM, Gatt JM, Hatch A, Palmer DM, Nagy M, Rennie C et al. The Integrate model of emotion, thinking, feeling and self regulation. An application to the 'paradox of aging'. J Integr Neurosci 2008; 7: 367–404.

Gordon E . Integrative Neuroscience. Neuropsychopharmacology 2003; 28: S2–S8.

Clark LA, Watson D . Tripartite model of anxiety and depression: psychometric evidence and taxonomic implications. J Abnorm Psychol 1991; 100: 316–336.

Mineka S, Watson D, Clark LA . Comorbidity of anxiety and unipolar mood disorders. Annu Rev Psychol 1998; 49: 377–412.

Lovibond SH, Lovibond PF . Manual for the Depression Anxiety Stress Scales. Psychology Foundation: Sydney, 1995.

Kendler KS, Gardner CO, Prescott CA . Toward a comprehensive developmental model for major depression in women. Am J Psychiatry 2002; 159: 1133–1145.

Kendler KS, Kuhn J, Prescott CA . The interrelationship of neuroticism, sex, and stressful life events in the prediction of episodes of major depression. Am J Psychiatry 2004; 161: 631–636.

Kessler RC . The effects of stressful life events on depression. Annu Rev Psychol 1997; 48: 191–214.

Caspi A, Sugden K, Moffitt TE, Taylor A, Craig IW, Harrington H et al. Influence of life stress on depression: moderation by a polymorphism in the 5-HTT gene. Science 2003; 301: 386–389.

Wilhelm K, Mitchell PB, Niven H, Finch A, Wedgewood L, Scimone A et al. Life events, first depression onset and the serotonin transporter gene. Br J Psychiatry 2006; 188: 210–215.

Kaufman J, Yang B-Z, Douglas-Palumberi H, Houshyar S, Lipschitz D, Krystal JH et al. Social supports and serotonin transporter gene moderate depression in maltreated children. Proc Natl Acad Sci 2004; 101: 17316–17321.

Mann JJ, Huang Y-Y, Underwood MD, Kassir SA, Oppenheim S, Kelly TM et al. A serotonin transporter gene promoter polymorphism (5-HTTLPR) and prefrontal cortical binding in major depression and suicide. Arch Gen Psychiatry 2000; 57: 729–738.

Nemeroff CB, Vale WW . The neurobiology of depression: inroads to treatment and new drug discovery. J Clin Psychiatry 2005; 66: 5–13.

Urani A, Chourbaji S, Gass P . Mutant mouse models of depression: candidate genes and current mouse lines. Neurosci Biobehav Rev 2005; 29: 805–828.

Munafò MR, Clark T, Flint J . Does measurement instrument moderate the association between the serotonin transporter gene and anxiety-related personality traits? A meta-analysis. Mol Psychiatry 2005; 10: 415–419.

Pezawas L, Meyer-Lindenberg A, Goldman AL, Verchinski BA, Chen G, Kolachana BS et al. Evidence of biologic epistasis between BDNF and SLC6A4 and implications for depression. Mol Psychiatry 2008; 13: 709–716.

Kaufman J, Yang B-Z, Douglas-Palumberi H, Grasso D, Lipschitz D, Houshyar S et al. Brain-derived neurotrophic factor-5-HTTLPR gene interactions and environmental modifiers of depression in children. Biol Psychiatry 2006; 59: 673–680.

Jiang X, Xu K, Hoberman J, Tian F, Marko AJ, Waheed JF et al. BDNF variation and mood disorders: a novel functional promoter polymorphism and val66met are associated with anxiety but have opposing effects. Neuropsychopharmacology 2005; 30: 1353–1361.

Hwang J-P, Tsai S-J, Hong C-J, Yang C-H, Lirng J-F, Yang Y-M . The Val66Met polymorphism of the brain-derived neurotrophic factor gene is associated with geriatric depression. Neurobiol Aging 2006; 27: 1834–1837.

Chen Z-Y, Jing D, Bath KG, Ieraci A, Khan T, Siao C-J et al. Genetic variant BDNF (Val66Met) polymorphism alters anxiety-related behavior. Science 2006; 314: 140–143.

Lang UE, Hellweg R, Kalus P, Bajbouj M, Lenzen KP, Sander T et al. Association of a functional BDNF polymorphism and anxiety-related personality traits. Psychopharmacology 2005; 180: 95–99.

Carney RM, Saunders RD, Freedland KE, Stein P, Rich MW, Jaffe AS . Association of depression with reduced heart rate variability in coronary artery disease. Am J Cardiol 1995; 76: 562–564.

Dawson ME, Schell A, Braaten JR, Catania JJ . Diagnostic utility of autonomic measures for major depressive disorders. Psychiatry Res 1985; 15: 261–270.

Pole N . The psychophysiology of posttraumatic stress disorder: a meta-analysis. Psychol Bull 2007; 133: 725–746.

Fraguas Jr R, Marci C, Fava M, Iosifescu DV, Bankier B, Loh R et al. Autonomic reactivity to induced emotion as potential predictor of response to antidepressant treatment. Psychiatry Res 2007; 151: 169–172.

Greaves-Lord K, Ferdinand RF, Sondeijker FE, Dietrich A, Oldehinkel AJ, Rosmalen JG et al. Testing the tripartite model in young adolescents: is hyperarousal specific for anxiety and not depression? J Affect Disord 2007; 102: 55–63.

Brown TA, Chorpita BF, Barlow DH . Structural relationships among dimensions of the DSM-IV anxiety and mood disorders and dimensions of negative affect, positive affect, and autonomic arousal. J Abnorm Psychol 1998; 107: 179–192.

Shalev AY, Freedman S, Peri T, Brandes D, Sahar T, Orr SP et al. Prospective study of posttraumatic stress disorder and depression following trauma. Am J Psychiatry 1998; 155: 630–637.

Fullerton J, Cubin M, Tiwari H, Wang C, Bomhra A, Davidson S et al. Linkage analysis of extremely discordant and concordant sibling pairs identifies quantitative-trait loci that influence variation in the human personality trait neuroticism. Am J Hum Genet 2003; 72: 879–890.

Heim C, Nemeroff CB . The impact of early adverse experiences on brain systems involved in the pathophysiology of anxiety and affective disorders. Biol Psychiatry 1999; 46: 1509–1522.

Mayberg HS . Defining the neural circuitry of depression: toward a new nosology with therapeutic implications. Biol Psychiatry 2007; 61: 729–730.

Drevets WC . Neuroimaging studies of mood disorders. Biol Psychiatry 2000; 48: 813–829.

Bremner JD, Narayan M, Anderson ER, Staib LH, Miller HL, Charney DS . Hippocampal volume reduction in major depression. Am J Psychiatry 2000; 157: 115–117.

Von Gunten A, Fox NC, Cipolotti L, Ron MA . A volumetric study of hippocampus and amygdala in depressed patients with subjective memory problems. J Neuropsychiatry Clin Neurosci 2000; 12: 493–498.

Sheline YI, Gado MH, Price JL . Amygdala core nuclei volumes are decreased in recurrent major depression. Neuroreport 1998; 9: 2023–2028.

Landro NI, Stiles TC, Sletvold H . Neuropsychological function in nonpsychotic unipolar major depression. Neuropsychiatry Neuropsychol Behav Neurol 2001; 14: 233–240.

De Bellis MD, Keshavan MS, Shifflett H, Iyengar S, Beers SR, Hall J et al. Brain structures in pediatric maltreatment-related posttraumatic stress disorder: a sociodemographically matched study. Biol Psychiatry 2002; 52: 1066–1078.

De Geus EJC, van't Ent D, Wolfensberger SPA, Heutink P, Hoogendijk WJG, Boomsma DI et al. Intrapair differences in hippocampal volume in monozygotic twins discordant for the risk for anxiety and depression. Biol Psychiatry 2007; 61: 1062–1071.

Gilbertson MW, Shenton ME, Ciszewski A, Kasai K, Lasko NB, Orr SP et al. Smaller hippocampal volume predicts pathologic vulnerability to psychological trauma. Nat Neurosci 2002; 5: 1242–1247.

Black IR . Trophic regulation of synaptic plasticity. J Neurobiol 1999; 41: 108–118.

Conner JM, Lauterborn JC, Yan Q, Gall CM, Varon S . Distribution of brain-derived neurotrophic factor (BDNF) protein and mRNA in the normal adult rat CNS: evidence for anterograde axonal transport. J Neurosci 1997; 17: 2295–2313.

Rattiner LM, Davis M, French CT, Ressler KJ . Brain-derived neurotrophic factor and tyrosine kinase receptor B involvement in amygdala-dependent fear conditioning. J Neurosci 2004; 24: 4796–4806.

Karege F, Bondolfi G, Gervasoni N, Schwald M, Aubry J-M, Bertschy G . Low brain-derived neurotrophic factor (BDNF) levels in serum of depressed patients probably results from lowered platelet BDNF release unrelated to platelet reactivity. Biol Psychiatry 2005; 57: 1068–1072.

Karege F, Perret G, Bondolfi G, Schwald M, Bertschy G, Aubry J-M . Decreased serum brain-derived neurotrophic factor levels in major depressed patients. Psychiatry Res 2002; 109: 143–148.

Shimizu E, Hashimoto K, Okamura N, Koike K, Komatsu N, Kumakiri C et al. Alterations of serum levels of brain-derived neurotrophic factor (BDNF) in depressed patients with or without antidepressants. Biol Psychiatry 2003; 54: 70–75.

Egan MF, Kojima M, Callicott JH, Goldberg TE, Kolachana BS, Bertolino A et al. The BDNF val66met polymorphism affects activity-dependent secretion of BDNF and human memory and hippocampal function. Cell 2003; 112: 257–269.

Pezawas L, Verchinski BA, Mattay VS, Callicott JH, Kolachana BS, Straub RE et al. The brain-derived neurotrophic factor val66met polymorphism and variation in human cortical morphology. J Neurosci 2004; 10: 10099–10102.

Schofield PRS, Williams LM, Paul RH, Gatt JM, Brown K, Luty A et al. Disturbances in task-relevant information processing associated with the brain-derived neurotrophic factor Val66Met polymorphism: evidence from cognition, the P300 endophenotype and neuroimaging. Biol Psychol 2009; published online 11 June 2008 (in press).

Joffe RT, Gatt JM, Kemp AH, Grieve S, Dobson-Stone C, Kuan S et al. Brain derived neurotrophic factor Val66Met polymorphism, the five factor model of personality and hippocampal volume: implications for depressive illness. Hum Brain Mapp 2009; published online 16 September 2008 (in press).

Duman RS, Malberg J, Thome J . Neural plasticity to stress and antidepressant treatment. Biol Psychiatry 1999; 46: 1181–1191.

Carney RM, Freedland KE, Veith RC . Depression, the autonomic nervous system, and coronary heart disease. Psychosom Med 2005; 67: S29–S33.

Heim C, Owens MJ, Plotsky PM, Nemeroff CB . The role of early adverse life events in the etiology of depression and posttraumatic stress disorder. Ann NY Acad Sci 1997; 821: 194–207.

Tomarken AJ, Waller NG . Structural equation modeling: strengths, limitations, and misconceptions. Annu Rev Clin Psychol 2005; 1: 31–65.

Carmelli D, Swan GE, DeCarli C, Reed T . Quantitative genetic modelling of regional brain volumes and cognitive performance in older male twins. Biol Psychol 2002; 61: 139–155.

Boomsma DI, van Baal GC, Orlebeke JF . Genetic influences on respiratory sinus arrhythmia across different task conditions. Acta Genet Med Gemellol (Roma) 1990; 39: 181–191.

Ormel J, Rosmalen J, Farmer A . Neuroticism: a non-informative marker of vulnerability to psychopathology. Soc Psychiatry Psychiatric Epidemiol 2004; 39: 906–912.

Babor TF, Higgins-Biddle JC, Saunders JB, Monteiro MG . AUDIT—The Alcohol Use Disorders Identification Test: Guidelines for Use in Primary Care. World Health Organization, Geneva, 2001.

Heatherton TF, Kozlowski LT, Frecker RC, Fagerström KO . The Fagerström test for nicotine dependence: a revision of the Fagerström tolerance questionnaire. Br J Addict 1991; 86: 1119–1127.

Cohen RA, Paul RH, Stroud L, McCaffrey J, Sweet L, Hitsman B, Gunstad J et al. Early life stress and adult emotional experience: An international perspective. The International J of Psychiatry in Medicine 2006; 36: 35–52.

Costa P, McCrae R . NEO PI-R Professional Manual. Psychological Assessment Resources Inc.: Odessa, FL, 1992.

Williams LM, Simms E, Clark CR, Paul RH, Rowe D, Gordon E . The test–retest reliability of a standardized neurocognitive and neurophysiological test battery: 'NeuroMarker'. Int J Neurosci 2005; 115: 1605–1630.

Paul RH, Lawrence J, Williams LM, Clark CR, Cooper N, Gordon E . The validity of 'IntegNeuro': a new computerized and standardized battery of neurocognitive tests. Int J Neurosci 2005; 115: 1549–1567.

Clark CR, Paul RH, Williams LM, Arns M, Fallahpour K, Handmer C et al. Standardized assessment of cognitive functioning during development and aging using an automated touchscreen battery. Arch Clin Neuropsychology 2006; 21: 449–467.

Rowe DL, Cooper NJ, Liddell BJ, Clark CR, Gordon E, Williams LM . Brain structure and brain function correlates of general and social cognition. J Integr Neurosci 2007; 6: 35–74.

Ashburner J, Friston KJ . Voxel-based morphometry—the methods. Neuroimage 2000; 11: 805–821.

Grieve S, Clark CR, Williams LM, Gordon E . Limbic and paralimbic preservation with aging. Hum Brain Mapp 2005; 25: 391–401.

Friston KJ, Holmes AP, Poline JB, Price CJ, Frith CD . Detecting activations in PET and fMRI: levels of inference and power. Neuroimage 1996; 4: 223–235.

Tzourio-Mazoyer N, Landeau B, Papathanassiou D, Crivello F, Etard O, Delcroix N et al. Automated anatomical labelling of activations in SPM using a macroscopic anatomical parcellation of the MNI MRI single subject brain. Neuroimage 2002; 15: 273–289.

Arbuckle JL, Wothke W . AMOS 4.0 User's Guide. SPSS Inc.: Chicago, 1999.

Byrne BM . Structural Equation Modeling with AMOS: Basic Concepts, Applications, and Programming. Lawrence Erlbaum Associates: New Jersey, 2001.

Bollen KA . Structural Equations with Latent Variables. Wiley: New York, 1989.

Sobel ME . Asymptotic confidence intervals for indirect effects in structural equation models. In: S Leinhardt (ed). Sociological Methodology. American Sociological Association: Washington, DC, 1982, pp 290–312.

Pierson A, Partiot A, Jouvent R, Bungener C, Martinerie J, Renault B et al. Loss of control of pre-motor activation in anxious agitated and impulsive depressives. A clinical and ERP study. Prog Neuropsychopharmacol Biol Psychiatry 1994; 18: 1037–1050.

Gillespie N, Whitefield J, Williams B, Heath A, Martin N . The relationship between stressful life events, the serotonin (5-HTTLPR) genotype and major depression. Psychol Med 2005; 35: 101–111.

Surtees PG, Wainwright NW, Willis-Owen SA, Luben R, Day NE, Flint J . Social adversity, the serotonin transporter (5-HTTLPR) polymorphism and major depressive disorder. Biol Psychiatry 2005; 59: 224–229.

Kemp AH, Hopkinson PJ, Stephan BCM, Clark CR, Gordon E, Bryant RA et al. Predicting severity of non-clinical depression: Preliminary findings using an integrated approach. J Integrative Neuroscience 2006; 5: 89–110.

Vythilingam M, Heim C, Newport J, Miller AH, Anderson E, Bronen R et al. Childhood trauma associated with smaller hippocampal volume in women with major depression. Am J Psychiatry 2002; 159: 2072–2080.

Angelucci F, Brene S, Mathe AA . BDNF in schizophrenia, depression and corresponding animal models. Mol Psychiatry 2005; 10: 345–352.

Vyas A, Mitra R, Rao BSS, Chattarji S . Chronic stress induces contrasting patterns of dendritic remodeling in hippocampal and amygdaloid neurons. J Neurosci 2002; 22: 6810–6818.

De Bellis MD, Casey BJ, Dahl RE, Birmaher B, Williamson DE, Thomas KM et al. A pilot study of amygdala volumes in pediatric generalized anxiety disorder. Biol Psychiatry 2000; 48: 51–57.

Juranek J, Filipek PA, Berenji GR, Modahl C, Osann K, Spence MA . Association between amygdala volume and anxiety level: magnetic resonance imaging (MRI) study in autistic children. J Child Neurol 2006; 21: 1051–1058.

Kemble ED, Blanchard DC, Blanchard RJ . Effects of regional amygdaloid lesions on flight and defensive behaviors of wild black rats (Rattus rattus). Physiol Behav 1990; 48: 1–5.

Friedman BH, Thayer JF . Autonomic balance revisited: panic anxiety and heart rate variability. J Psychosomatic Res 1998; 44: 133–151.

Donovan M, Lin MI, Wiegn P, Ringstedt T, Kraemer R, Hahn R et al. Brain derived neurotrophic factor is an endothelial cell survival factor required for intramyocardial vessel stabilization. Development 2000; 127: 4531–4540.

Rademakers R, Cruts M, van Broeckhoven C . The role of tau (MAPT) in frontotemporal dementia and related tauopathies. Hum Mutat 2004; 24: 277–295.

Itoh K, Hashimoto K, Kumakiri C, Shimizu E, Iyo M . Association between brain-derived neurotrophic factor 196 G/A polymorphism and personality traits in healthy subjects. Am J Med Genet B 2004; 124B: 61–63.

Duman R . Novel therapeutic approaches beyond the serotonin receptor. Biol Psychiatry 1998; 44: 324–335.
Acknowledgements
This project was supported by an ARC-linkage grant (LP0455104), with Brain Resource as industry partner. LMW had full access to all of the data in the study and takes responsibility for the integrity of the data and the accuracy of the data analysis. LMW holds a peer-reviewed Pfizer foundation Senior Research Fellowship, and PRS held an NHMRC Senior Principal Research Fellowship (no. 157209). CBN was supported by NIMH MH-42088, MH-52899 and MH-39415. CDS was supported by a European Molecular Biology Organisation postdoctoral fellowship (ALTF 166-2004). AHK holds an NHMRC Peter Doherty Fellowship (no. 358770). We acknowledge the support of the Brain Resource International Database (under the auspices of Brain Resource, www.brainresource.com) for use of normative data. We thank the individuals who gave their time to participate in the database. Access to the database for scientific purposes was administered independently through the scientific network (BRAINnet, www.brainnet.net), which is coordinated independently of the commercial operations of BR. We also thank Scott Norrie (scottnorrie@hotmail.com) for graphical design.
Additional information
Disclosure/conflict of interest
Brain Resource Ltd (BR) was the industry partner on the ARC-linkage grant that funded this study, but had no further role in design or implementation of the project. EG is the CEO of BR, and holds significant equity and stock options in the company (however, scientific decisions about access to the Brain Resource International Database are made through an independently administered network of scientists; BRAINnet, www.brainnet.net). PRS and JMG hold stock options, and LMW is a small equity holder in BR. JMG is employed as a postdoctoral researcher on the ARC-linkage grant that funded this project. LMW, RHP, JMG and AHK have received fees from BR for consultancies unrelated to this study. CBN is a member of the scientific advisory board of American Foundation for Suicide Prevention (AFSP), Johnson and Johnson, Forest Laboratories, AstraZeneca, Quintiles, Janssen/Ortho-McNeil and PharmaNeuroboost. He holds equity and/or stock options in Corept, CeNeRx, Reevax and NovaDel Pharma and PharmaNeuroboost. CBN is on the board of directors for AFSP, George West Mental Health Foundation, NovaDel Pharma and Mt Cook Pharma. His patents include method and devices for transdermal delivery of lithium (US 6,375,990 B1) and method to estimate serotonin and norepinephrine transporter occupancy after drug treatment using patient or animal serum (provisional filing April 2001).
Author Contributions
JMG undertook the statistical analyses, with a leading role in developing the structural equation model and theoretical approach, and was responsible for all sections of each draft of this paper. LMW developed the project, its theoretical basis and experimental design, with significant input into interpretation of analyses and each draft of the paper. PRS and RHP were principal investigators and EG, partner investigator, in developing the project and design. EG was responsible for establishing the testing platforms used in this study. CBN and RB contributed significantly to the theoretical basis of this study, and to interpretation of analyses. CD-S and PRS performed the DNA genotyping. All authors have contributed to the final paper.
Supplementary Information accompanies the paper on the Molecular Psychiatry website (http://www.nature.com/mp)
Supplementary information
About this article
Cite this article
Gatt, J., Nemeroff, C., Dobson-Stone, C. et al. Interactions between BDNF Val66Met polymorphism and early life stress predict brain and arousal pathways to syndromal depression and anxiety. Mol Psychiatry 14, 681–695 (2009). https://doi.org/10.1038/mp.2008.143
Received:

Revised:

Accepted:

Published:

Issue Date:

DOI: https://doi.org/10.1038/mp.2008.143
Keywords
depression-anxiety

BDNF Val66Met

early life stress

hippocampal gray matter

heart rate

cognition