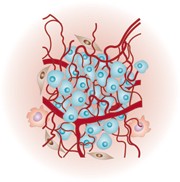 It is now well accepted that hormones influence the initiation and progression of cancer; however, it took almost a century of research to move from early observations that hormone-ablative surgery benefits some cancer patients to the development of the first drug against an endocrine target. Although hormones are now implicated in several cancers, the study of the relationship between oestrogen and breast cancer has yielded the most important milestones.
Back in 1915, the first suggestion that a hormone was involved in tumorigenesis came from Abbie Lathrop and Leo Loeb, who reported the influence of internal secretions from the corpus luteum (ovarian follicles) on the development of spontaneous tumours in mice. Their small but landmark study showed that tumour incidence was delayed and reduced from 60–90% to 9% in female mice castrated before 6 months of age. As it was already known that the corpus luteum secreted an uncharacterized substance that induced growth of the breast during pregnancy, the authors speculated that this chemical might be involved in tumour formation. Eight years later, Edgar Allen and Edward Doisy identified this substance as oestrogen.
Over the next 25 years, the research of Abraham Lilienfeld, Brian McMahon, Philip Cole and others into the epidemiological relationship between female reproduction and breast cancer lent weight to the hypothesis that oestrogen was a carcinogen. However, it was the discovery of the oestrogen receptor (ER) by Elwood Jensen in 1958, and his pioneering study in 1971 on the effect of adrenalectomy on human breast cancer, that truly revolutionized this field.
Jensen studied breast cancer patients to correlate the level of ER expression on tumours with the response to hormone-ablative surgery. He found that breast tumours fell into two categories — ER-rich and ER-poor — and patients who had tumours with a high level of ER expression were more responsive to hormone-ablative therapy. This led Jensen to propose that the ER status of a tumour could predict the response to therapy.
Although this evidence for the role of the ER in breast tumours raised the possibility of developing anti-oestrogenic cancer drugs, the pharmaceutical industry was instead focusing on anti-oestrogenic compounds as contraceptives. One such candidate was ICI,46,474, which was a non-steroidal anti-oestrogen described by Michael Harper and Arthur Walpole in 1967. They published the first detailed study of the anti-oestrogenic effects of ICI,46,474 on the reproductive cycle of rats, and found it to be a safer version of known anti-oestrogens. When the development of ICI,46,474 as a contraceptive ultimately stalled, Walpole convinced Imperial Chemical Industries to market it for the treatment of breast cancer. Yet clinicians were slow to adopt the drug, and it was not until V. Craig Jordan showed that it could prevent mammary tumours in mice that they were finally persuaded to undertake the clinical studies that ultimately led to the 1973 approval of ICI,46,474 as tamoxifen.
Still, the value of tamoxifen in preventing human breast cancer was not realized until it was studied as an adjuvant to breast cancer surgery. Following a trial showing that treatment with tamoxifen after surgery reduced the incidence of contralateral breast cancer, a large-scale Breast Cancer Prevention Trial was started in 1992 by Bernard Fisher and colleagues to study the drug as a chemopreventative agent. The results were surprisingly positive — tamoxifen caused a 50% reduction in the incidence of breast cancer — which supported its use as a prophylactic drug in high-risk breast cancer patients.
Since then, tamoxifen has paved the way for research into the design of selective hormone-modulating drugs for a range of different tumour types. The successful development of these drugs might well be the first of many more milestones in this field.
References
ORIGINAL RESEARCH PAPERS
Lathrop, A. E. C. & Loeb, L. Further investigations on the origin of tumors in mice. III. On the part played by internal secretion in the spontaneous development of tumors. J. Cancer Res. 1, 1–19 (1915)

Jensen, E. V. et al. Estrogen receptors and breast cancer response to adrenalectomy. Natl Cancer Inst. Monogr. 34, 55–70 (1971)

Harper, M. J. K. & Walpole, A. L. A new derivative of triphenylethylene: effect on implantation and mode of action in rats. J. Reprod. Fert. 13, 101–119 (1967)

Fisher, B. et al. Tamoxifen for the prevention of breast cancer: report of the national surgical adjuvant breast and bowel project P-1 study. J. Natl Cancer Inst. 90, 1371–1388 (1998)
FURTHER READING
Jordan, V. C. Tamoxifen: a most unlikely pioneering medicine. Nat. Rev. Drug Discov. 2, 205–213 (2003)
About this article
Cite this article
Owens, J. The enemy within. Nat Rev Cancer 6 (Suppl 1), S10 (2006). https://doi.org/10.1038/nrc1847
Published:

Issue Date:

DOI: https://doi.org/10.1038/nrc1847