Abstract
Prognostic gene expression signatures have been proposed as clinical tools to clarify therapeutic options in acute myeloid leukemia (AML). However, these signatures rely on measuring large numbers of genes and often perform poorly when applied to independent cohorts or those with older patients. Long intergenic non-coding RNAs (lincRNAs) are emerging as important regulators of cell identity and oncogenesis, but knowledge of their utility as prognostic markers in AML is limited. Here we analyze transcriptomic data from multiple cohorts of clinically annotated AML patients and report that (i) microarrays designed for coding gene expression can be repurposed to yield robust lincRNA expression data, (ii) some lincRNA genes are located in close proximity to hematopoietic coding genes and show strong expression correlations in AML, (iii) lincRNA gene expression patterns distinguish cytogenetic and molecular subtypes of AML, (iv) lincRNA signatures composed of three or four genes are independent predictors of clinical outcome and further dichotomize survival in European Leukemia Net (ELN) risk groups and (v) an analytical tool based on logistic regression analysis of quantitative PCR measurement of four lincRNA genes (LINC4) can be used to determine risk in AML.
Relevant articles
Open Access articles citing this article.
Sina Neyazi

,

Michelle Ng

…

Jan-Henning Klusmann

Molecular and Cellular Pediatrics Open Access 20 May 2022

Arantxa Carrasco-Leon

,

Teresa Ezponda

…

Xabier Agirre

Leukemia Open Access 17 February 2021

Hui Chen

,

Lingjun Li

…

Qingping Jiang

BMC Cancer Open Access 12 February 2021
Access options
Subscribe to this journal
Receive 12 print issues and online access
$259.00 per year
only $21.58 per issue
Rent or buy this article
Get just this article for as long as you need it
$39.95
Prices may be subject to local taxes which are calculated during checkout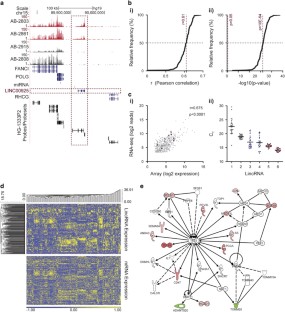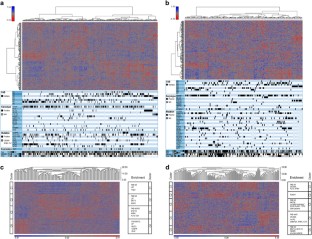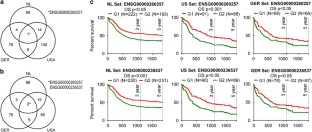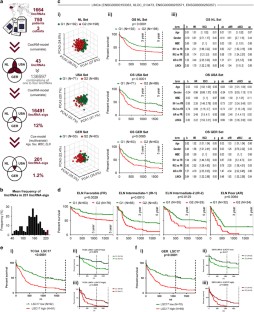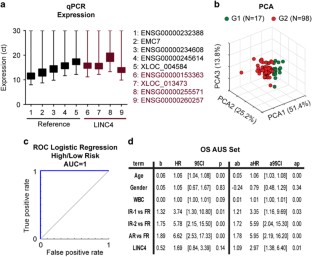 References
Dohner K, Dohner H . Molecular characterization of acute myeloid leukemia. Haematologica 2008; 93: 976–982.

Grimwade D, Walker H, Oliver F, Wheatley K, Harrison C, Harrison G et al. The importance of diagnostic cytogenetics on outcome in AML: analysis of 1612 patients entered into the MRC AML 10 trial. The Medical Research Council Adult and Children's Leukaemia Working Parties. Blood 1998; 92: 2322–2333.

Thiede C, Koch S, Creutzig E, Steudel C, Illmer T, Schaich M et al. Prevalence and prognostic impact of NPM1 mutations in 1485 adult patients with acute myeloid leukemia (AML). Blood 2006; 107: 4011–4020.

Frohling S, Schlenk RF, Breitruck J, Benner A, Kreitmeier S, Tobis K et al. Prognostic significance of activating FLT3 mutations in younger adults (16 to 60 years) with acute myeloid leukemia and normal cytogenetics: a study of the AML Study Group Ulm. Blood 2002; 100: 4372–4380.

Preudhomme C, Sagot C, Boissel N, Cayuela JM, Tigaud I, de Botton S et al. Favorable prognostic significance of CEBPA mutations in patients with de novo acute myeloid leukemia: a study from the Acute Leukemia French Association (ALFA). Blood 2002; 100: 2717–2723.

Grimwade D, Hills RK, Moorman AV, Walker H, Chatters S, Goldstone AH et al. Refinement of cytogenetic classification in acute myeloid leukemia: determination of prognostic significance of rare recurring chromosomal abnormalities among 5876 younger adult patients treated in the United Kingdom Medical Research Council trials. Blood 2010; 116: 354–365.

Dohner H, Estey EH, Amadori S, Appelbaum FR, Buchner T, Burnett AK et al. Diagnosis and management of acute myeloid leukemia in adults: recommendations from an international expert panel, on behalf of the European LeukemiaNet. Blood 2010; 115: 453–474.

Metzeler KH, Becker H, Maharry K, Radmacher MD, Kohlschmidt J, Mrozek K et al. ASXL1 mutations identify a high-risk subgroup of older patients with primary cytogenetically normal AML within the ELN Favorable genetic category. Blood 2011; 118: 6920–6929.

Metzeler KH, Maharry K, Radmacher MD, Mrozek K, Margeson D, Becker H et al. TET2 mutations improve the new European LeukemiaNet risk classification of acute myeloid leukemia: a Cancer and Leukemia Group B study. J Clin Oncol 2011; 29: 1373–1381.

Kihara R, Nagata Y, Kiyoi H, Kato T, Yamamoto E, Suzuki K et al. Comprehensive analysis of genetic alterations and their prognostic impacts in adult acute myeloid leukemia patients. Leukemia 2014; 28: 1586–1595.

Kellis M, Wold B, Snyder MP, Bernstein BE, Kundaje A, Marinov GK et al. Defining functional DNA elements in the human genome. Proc Natl Acad Sci USA 2014; 111: 6131–6138.

Shen XH, Qi P, Du X . Long non-coding RNAs in cancer invasion and metastasis. Mod Pathol 2015; 28: 4–13.

Ulitsky I, Bartel DP . lincRNAs: genomics, evolution, and mechanisms. Cell 2013; 154: 26–46.

Zhang X, Lian Z, Padden C, Gerstein MB, Rozowsky J, Snyder M et al. A myelopoiesis-associated regulatory intergenic noncoding RNA transcript within the human HOXA cluster. Blood 2009; 113: 2526–2534.

Rinn JL, Kertesz M, Wang JK, Squazzo SL, Xu X, Brugmann SA et al. Functional demarcation of active and silent chromatin domains in human HOX loci by noncoding RNAs. Cell 2007; 129: 1311–1323.

Bertani S, Sauer S, Bolotin E, Sauer F . The noncoding RNA Mistral activates Hoxa6 and Hoxa7 expression and stem cell differentiation by recruiting MLL1 to chromatin. Mol Cell 2011; 43: 1040–1046.

Benetatos L, Hatzimichael E, Dasoula A, Dranitsaris G, Tsiara S, Syrrou M et al. CpG methylation analysis of the MEG3 and SNRPN imprinted genes in acute myeloid leukemia and myelodysplastic syndromes. Leuk Res 2010; 34: 148–153.

Emmrich S, Streltsov A, Schmidt F, Thangapandi VR, Reinhardt D, Klusmann JH . LincRNAs MON and MIR100HG act as oncogenes in acute megakaryoblastic leukemia. Mol Cancer 2014; 13: 171.

Garzon R, Volinia S, Papaioannou D, Nicolet D, Kohlschmidt J, Yan PS et al. Expression and prognostic impact of lncRNAs in acute myeloid leukemia. Proc Natl Acad Sci USA 2014; 111: 18679–18684.

Verhaak RG, Wouters BJ, Erpelinck CA, Abbas S, Beverloo HB, Lugthart S et al. Prediction of molecular subtypes in acute myeloid leukemia based on gene expression profiling. Haematologica 2009; 94: 131–134.

Cancer Genome Atlas Research N. Genomic and epigenomic landscapes of adult de novo acute myeloid leukemia. N Engl J Med 2013; 368: 2059–2074.

Li Z, Herold T, He C, Valk PJ, Chen P, Jurinovic V et al. Identification of a 24-gene prognostic signature that improves the European LeukemiaNet risk classification of acute myeloid leukemia: an international collaborative study. J Clin Oncol 2013; 31: 1172–1181.

Friedberg EC . The Writing Life of James D. Watson. Cold Spring Harbor Laboratory Press: Cold Spring Harbor, NY, USA, 2005; xvii, 193.

Johnson WE, Li C, Rabinovic A . Adjusting batch effects in microarray expression data using empirical Bayes methods. Biostatistics 2007; 8: 118–127.

Michelhaugh SK, Lipovich L, Blythe J, Jia H, Kapatos G, Bannon MJ . Mining Affymetrix microarray data for long noncoding RNAs: altered expression in the nucleus accumbens of heroin abusers. J Neurochem 2011; 116: 459–466.

Eisenberg E, Levanon EY . Human housekeeping genes, revisited. Trends Genet 2013; 29: 569–574.

Mercer TR, Dinger ME, Sunkin SM, Mehler MF, Mattick JS . Specific expression of long noncoding RNAs in the mouse brain. Proc Natl Acad Sci USA 2008; 105: 716–721.

Cabili MN, Trapnell C, Goff L, Koziol M, Tazon-Vega B, Regev A et al. Integrative annotation of human large intergenic noncoding RNAs reveals global properties and specific subclasses. Genes Dev 2011; 25: 1915–1927.

Liao Q, Liu C, Yuan X, Kang S, Miao R, Xiao H et al. Large-scale prediction of long non-coding RNA functions in a coding-non-coding gene co-expression network. Nucleic Acids Res 2011; 39: 3864–3878.

Beck D, Diffner E, Gudgin E, Thoms J, Knezevic K, Pridans C et al. Activity of a heptad of transcription factors is associated with stem cell programs and clinical outcome in acute myeloid leukemia. Blood 2013; 121: 2289–2300.

Alvarez-Dominguez JR, Hu W, Gromatzky AA, Lodish HF . Long noncoding RNAs during normal and malignant hematopoiesis. Int J Hematol 2014; 99: 531–541.

Ng SW, Mitchell A, Kennedy JA, Chen WC, McLeod J, Ibrahimova N et al. A 17-gene stemness score for rapid determination of risk in acute leukaemia. Nature 2016; 540: 433–437.

Bullinger L, Valk PJ . Gene expression profiling in acute myeloid leukemia. J Clin Oncol 2005; 23: 6296–6305.

Miller BG, Stamatoyannopoulos JA . Integrative meta-analysis of differential gene expression in acute myeloid leukemia. PLoS ONE 2010; 5: e9466.

Bullinger L, Dohner K, Bair E, Frohling S, Schlenk RF, Tibshirani R et al. Use of gene-expression profiling to identify prognostic subclasses in adult acute myeloid leukemia. N Engl J Med 2004; 350: 1605–1616.

Radmacher MD, Marcucci G, Ruppert AS, Mrozek K, Whitman SP, Vardiman JW et al. Independent confirmation of a prognostic gene-expression signature in adult acute myeloid leukemia with a normal karyotype: a Cancer and Leukemia Group B study. Blood 2006; 108: 1677–1683.

Metzeler KH, Hummel M, Bloomfield CD, Spiekermann K, Braess J, Sauerland MC et al. An 86-probe-set gene-expression signature predicts survival in cytogenetically normal acute myeloid leukemia. Blood 2008; 112: 4193–4201.

Chen L, Kostadima M, Martens JHA, Canu G, Garcia SP, Turro E et al. Transcriptional diversity during lineage commitment of human blood progenitors. Science 2014; 345: 1251033.

Barretina J, Caponigro G, Stransky N, Venkatesan K, Margolin AA, Kim S et al. The Cancer Cell Line Encyclopedia enables predictive modelling of anticancer drug sensitivity. Nature 2012; 483: 603–607.

Swerdlow SH, Campo E, Pileri SA, Harris NL, Stein H, Siebert R et al. The 2016 revision of the World Health Organization classification of lymphoid neoplasms. Blood 2016; 127: 2375–2390.

Dohner H, Estey E, Grimwade D, Amadori S, Appelbaum FR, Buchner T et al. Diagnosis and management of AML in adults: 2017 ELN recommendations from an international expert panel. Blood 2016; 129: 424–447.

Dohner H, Weisdorf DJ, Bloomfield CD . Acute myeloid leukemia. N Engl J Med 2015; 373: 1136–1152.

Clark MB, Mercer TR, Bussotti G, Leonardi T, Haynes KR, Crawford J et al. Quantitative gene profiling of long noncoding RNAs with targeted RNA sequencing. Nat Methods 2015; 12: 339–342.
Acknowledgements
This work was supported by research grants, fellowships and scholarships from the National Health and Medical Research Council of Australia (JP, JWHW, DB, RJD'A, HSS, LBT and IDL), Australian Research Council (JWHW), Cancer Institute NSW (DB), Cure Cancer Australia Foundation (DB), Anthony Rothe Memorial Trust (JAIT and DB), Ian Potter Foundation (DB), UNSW Australia (YH and DC), the Translational Cancer Research Network of the Cancer Institute of NSW (DB, YH and DC) and the Wilhelm-Sander-Stiftung (TH). Biospecimens and/ or clinical data were provided by the South Australian Cancer Research Biobank (SACRB), which is supported by the Cancer Council SA Beat Cancer Project, Medvet Laboratories Pty Ltd and the Government of South Australia. We thank Diana Iarossi, Silke Danner and Ing Soo Tiong for maintaining the Acute Leukaemia Laboratory AML database and Ruud Delwel and Peter Valk for helpful discussion and the provision of expression and clinical data from the Dutch-Belgian Hemato-Oncology Cooperative Group.
Author contributions
DB, JAIT, CP, TH, AS, JO, LB, YH, DC, AB, MB, MP, performed research, contributed to study design, analysed and interpreted data; CH, XZ, BJH, AS, J-H K, WEB, BW, TB, WH, SKB, LBT, HSS, IDL, RJD'A. provided vital reagents and data, DB, JWHW and JEP designed the study and wrote the paper.
Ethics declarations
Competing interests
The authors declare no conflict of interest.
About this article
Cite this article
Beck, D., Thoms, J., Palu, C. et al. A four-gene LincRNA expression signature predicts risk in multiple cohorts of acute myeloid leukemia patients. Leukemia 32, 263–272 (2018). https://doi.org/10.1038/leu.2017.210
Received:

Revised:

Accepted:

Published:

Issue Date:

DOI: https://doi.org/10.1038/leu.2017.210