Abstract
A hallmark of bone marrow changes with aging is the increase in adipocyte composition, but how this impacts development of multiple myeloma (MM) is unknown. Here, we report the role of the adipokine leptin as master regulator of anti-myeloma tumor immunity by modulating the invariant natural killer T (iNKT) cell function. A marked increase in serum leptin levels and leptin receptor (LR) expression on iNKT cells in MM patients and the 5T33 murine MM model was observed. MM cells and leptin synergistically counteracted anti-tumor functionality of both murine and human iNKT cells. In vivo blockade of LR signaling combined with iNKT stimulation resulted in superior anti-tumor protection. This was linked to persistent IFN-γ secretion upon repeated iNKT cell stimulation and a restoration of the dynamic antigen-induced motility arrest as observed by intravital microscopy, thereby showing alleviation of iNKT cell anergy. Overall our data reveal the LR axis as novel therapeutic target for checkpoint inhibition to treat MM.
Relevant articles
Open Access articles citing this article.
Rui Liu

,

Dandan Gao

…

Aili He

BMC Endocrine Disorders Open Access 25 January 2022

Francesca A. Ververs

,

Suzanne E. Engelen

…

Henk S. Schipper

Scientific Reports Open Access 11 October 2021

Lennart Zabeau

,

Joris Wauman

…

Jan Tavernier

Cellular and Molecular Life Sciences Open Access 18 January 2019
Access options
Subscribe to Journal
Get full journal access for 1 year
$119.00
only $9.92 per issue
All prices are NET prices.
VAT will be added later in the checkout.
Tax calculation will be finalised during checkout.
Buy article
Get time limited or full article access on ReadCube.
$32.00
All prices are NET prices.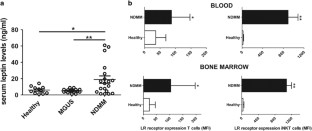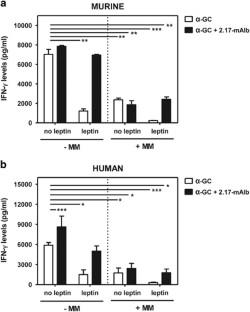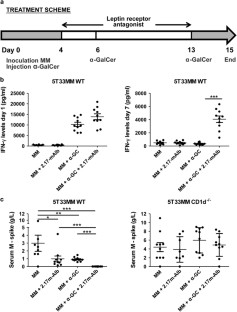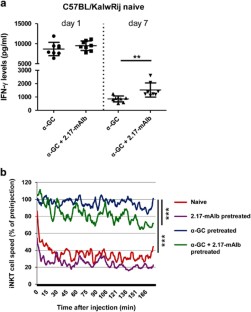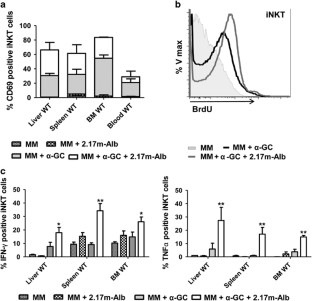 References
Rajkumar SV, Kumar S . Multiple myeloma: diagnosis and treatment. Mayo Clin Proc 2016; 91: 101–119.

Lemaire M, Deleu S, De Bruyne E, Van Valckenborgh E, Menu E, Vanderkerken K . The Microenvironment and molecular biology of the multiple myeloma tumor. Adv Cancer Res 2011; 110: 19–42.

Caers J, Deleu S, Belaid Z, De Raeve H, Van Valckenborgh E, De Bruyne E et al. Neighboring adipocytes participate in the bone marrow microenvironment of multiple myeloma cells. Leukemia 2007; 21: 1580–1584.

Naveiras O, Nardi V, Wenzel PL, Fahey F, Daley GQ . Bone marrow adipocytes as negative regulators of the hematopoietic microenvironment. Nature 2009; 460: 259–263.

Mathis D, Shoelson S . Immunometabolism: an emerging frontier. Nat Rev Immunol 2011; 11: 81.

Schipper HS, Rakhshandehroo M, Van De Graff SFJ, Venken K, Koppen A, Stienstra R et al. Natural killer T cells in adipose tissue prevent insulin resistance. J Clin Invest 2012; 122: 3343–3354.

Huh JY, Kim I, Park J, Hwang J, Lee S, Sohn H et al. A novel function of adipocytes in lipid antigen presentation to iNKT Cells. Mol Cell Biol 2013; 33: 328–339.

Favreau M, Vanderkerken K, Elewaut D, Venken K, Menu E . Does an NKT-cell-based immunotherapeutic approach have a future in multiple myeloma ? Oncotarget 2016; 7: 23128–23140.

Dhodapkar MV, Geller MD, Chang DH, Shimizu K, Fujii S-I, Dhodapkar KM et al. A reversible defect in natural killer T cell function characterizes the progression of premalignant to malignant multiple myeloma. J Exp Med 2003; 197: 1667–1676.

Nur H, Fostier K, Aspeslagh S, Renmans W, Bertrand E, Leleu X . Preclinical evaluation of invariant natural killer T cells in the 5T33 multiple myeloma model. PLoS One 2013; 8: e65075.

Chan a C, Neeson P, Leeansyah E, Tainton K, Quach H, Prince HM et al. Natural killer T cell defects in multiple myeloma and the impact of lenalidomide therapy. Clin Exp Immunol 2014; 175: 49–58.

Dhodapkar MV, Richter J . Harnessing natural killer T (NKT) cells in human myeloma: Progress and challenges. Clin Immunol 2011; 140: 160–166.

Spanoudakis E, Hu M, Naresh K, Terpos E, Melo V, Reid A et al. Regulation of multiple myeloma survival and progression by CD1d. Blood 2009; 113: 2498–2507.

Vanderkerken K, Croucher P . Multiple myeloma biology: lessons from the 5TMM models. Immunol Rev 2003; 194: 196–206.

Lutz MB, Kukutsch N, Ogilvie ALJ, Roßner S, Koch F, Romani N et al. An advanced culture method for generating large quantities of highly pure dendritic cells from mouse bone marrow. J Immunol Methods 1999; 223: 77–92.

Jacques P, Venken K, Beneden K, Van, Hammad H, Seeuws S, Drennan MB et al. Invariant natural killer T cells are natural regulators of murine spondylarthritis. Arthritis Rheum 2010; 62: 988–999.

Govindarajan S, Elewaut D, Drennan M . An optimized method for isolating and expanding invariant natural killer T cells from mouse spleen. J Vis Exp 2015; 105: e53256.

Zabeau L, Verhee A, Catteeuw D, Faes L, Seeuws S, Decruy T et al. Selection of non-competitive leptin antagonists using a random nanobody-based approach. Biochem J 2011; 441: 425–434.

Radl J, De Glopper E, Schuit HRE, Zucher C . Idiopathic paraproteinemia: II. transplantation of the paraprotein-producing clone from old to young C57BL/KaLwRij mice. J Immunol 1979; 122: 609–613.

Venken K, Seeuws S, Zabbeau L, Jacques P, Decruy T et al. A bidirectional crosstalk between iNKT cells and adipocytes mediated by leptin modulates susceptibility for T cell mediated hepatitis. J Hepatol 2014; 60: 175–182.

Vanderkerken K, De Raeve H, Goes E, Van Meirvenne S, Radl J, Van Riet I et al. Organ involvement and phenotypic adhesion profile of 5T2 and 5T33 myeloma cells in the C57BL/KaLwRij mouse. Br J Cancer 1997; 76: 451–460.

Radl J, De Glopper E, Schuit HR, Zurcher C . Idiopathic paraproteinemia. II. Transplantation of the paraprotein-producing clone from old to young C57BL/KaLwRij mice. J Immunol 1979; 122: 609–613.

Singh AK, Gaur P, Das SN . Natural killer T cell anergy, co-stimulatory molecules and immunotherapeutic interventions. Hum Immunol 2014; 75: 250–260.

Iyoda T, Ushida M, Kimura Y, Minamino K, Hayuka A, Yokohata S et al. Invariant NKT cell anergy is induced by a strong TCR-mediated signal plus co-stimulation. Int Immunol 2010; 22: 905–913.

Parekh VV, Lalani S, Kim S, Halder R, Azuma M, Yagita H et al. PD-1/PD-L blockade prevents anergy induction and enhances the anti-tumor activities of glycolipid-activated invariant NKT cells. J Immunol 2009; 182: 2816–2826.

Velázquez P, Cameron TO, Kinjo Y, Nagarajan N, Kronenberg M, Dustin ML . Cutting edge: activation by innate cytokines or microbial antigens can cause arrest of natural killer T cell patrolling of liver sinusoids. J Immunol 2016; 180: 2024–2028.

Geissmann F, Cameron TO, Sidobre S, Manlongat N, Kronenberg M, Briskin MJ et al. Intravascular immune surveillance by CXCR6+ NKT cells patrolling liver sinusoids. PLoS Biol 2005; 3: e113.

Mattarollo SR, West AC, Steegh K, Duret H, Paget C, Martin B et al. NKT cell adjuvant-based tumor vaccine for treatment of myc oncogene-driven mouse B-cell lymphoma. Blood 2012; 120: 3019–3029.

Lynch L, Shea DO, Winter DC, Geoghegan J, Doherty GD, O'Farrelly C . Invariant NKT cells and CD1d+cells amass in human omentum and are depleted in patients with cancer and obesity. Eur J Immunol 2009; 39: 1893–1901.

Ji Y, Sun S, Xu A, Bhargava P, Yang L, Lam KSL et al. Activation of natural killer T cells promotes M2 macrophage polarization in adipose tissue and improves systemic glucose tolerance via interleukin-4 (IL-4)/STAT6 protein signaling axis in obesity. J Biol Chem 2012; 287: 13561–13571.

Lynch L . Adipose invariant natural killer T cells. Immunology 2014; 142: 337–346.

Merico F, Bergui L, Gregoretti MG, Ghia P, Aimo G, Lindley IJ et al. Cytokines involved in the progression of multiple myeloma. Clin Exp Immunol 1993; 92: 27–31.

Atanackovic D, Hildebrandt Y, Templin J, Cao Y, Keller C, Panse J et al. Role of interleukin 16 in multiple myeloma. J Natl Cancer Inst 2012; 104: 1005–1020.

Lee C, Oh J, Park J, Choi J, Bae E, Lee H et al. TNF α mediated IL-6 secretion is regulated by JAK/STAT pathway but not by MEK phosphorylation and AKT phosphorylation in U266 multiple myeloma cells. Biomed Res Int 2013; 12: 580135.

Parekh VV, Wilson MT, Olivares-villagómez D, Singh AK, Wu L, Wang C et al. Glycolipid antigen induces long-term natural killer T cell anergy in mice. J Clin Invest 2005; 115: 2572–2583.

Rush CM, Millington OR, Hutchison S, Bryson K, Brewer JM, Garside P . Characterization of CD4+ T-cell-dendritic cell interactions during secondary antigen exposure in tolerance and priming. Immunology 2009; 128: 463–471.

Mullen M, Gonzalez-Perez R . Leptin-induced JAK/STAT signaling and cancer growth. Vaccines 2016; 4: E26.

Procaccini C, De Rosa V, Galgani M, Carbone F, Cassano S, Greco D et al. Leptin-induced mTOR activation defines a specific molecular and transcriptional signature controlling CD4+ effector T cell responses. J Immunol 2012; 189: 2941–2953.

El-Masry O, Al-Sakkaf K, Brown B, Dobson P . Differential crosstalk between the AMPK and PI3K/Akt pathways in breast cancer cells of differing genotypes: leptin inhibits the effectiveness of AMPK activation. Oncol Rep 2015; 34: 1675–1680.

Wauman J, Tavernier J . Leptin receptor signaling: pathways to leptin resistance. Front Biosci 2011; 16: 2771–2793.

Wu J, Shin J, Xie D, Wang H, Gao J, Zhong X-P . Tuberous sclerosis 1 promotes invariant NKT cell anergy and inhibits invariant NKT cell-mediated antitumor immunity. J Immunol 2014; 192: 2643–2650.

Ramakrishnan V, D'Souza A . Signaling pathways and emerging therapies in multiple myeloma. Curr Hematol Malig Rep 2016; 11: 156–164.

Ikeda S, Okamoto T, Okano S, Umemoto Y, Tagawa T, Morodomi Y et al. PD-L1 Is upregulated by simultaneous amplification of the PD-L1 and JAK2 genes in non-small cell lung cancer. J Thorac Oncol 2016; 11: 62–71.
Acknowledgements
We thank Carine Seynaeve, Sofie Seghers, Tine Decruy, Nadia Schryvers and Nathalie Jouy for expert technical assistance and SVC for generating the glycolipid antigens. MF is a doctoral fellow supported by KotK, EM is post-doctoral fellow supported by AXA Research Foundation. DG is post-doctoral fellow supported by Fonds voor Wetenschappelijk Onderzoek Vlaanderen (FWO-Vl) and Stichting Tegen Kanker. K Venken is post-doctoral fellow of FWO-Vl. JT is recipient of European Research Council (ERC) Advanced Grant. SF is supported by FWO-Vl. DE is supported by FWO-Vl, Stichting Tegen Kanker, Research Council of Ghent University and interuniversity Attraction Pole grant Devrepair from Belspo Agency (project P7/07). This project received funding from Kom op Tegen Kanker, Stichting Tegen Kanker FWO-Vl and EU's seventh framework program under EC-GA no. 305266 'MIAMI'.
Ethics declarations
Competing interests
The authors declare no conflict of interest.
Supplementary information
About this article
Cite this article
Favreau, M., Menu, E., Gaublomme, D. et al. Leptin receptor antagonism of iNKT cell function: a novel strategy to combat multiple myeloma. Leukemia 31, 2678–2685 (2017). https://doi.org/10.1038/leu.2017.146
Received:

Revised:

Accepted:

Published:

Issue Date:

DOI: https://doi.org/10.1038/leu.2017.146