Access options
Access options
Subscribe to Journal
Get full journal access for 1 year
$1,224.00
only $102.00 per issue
All prices are NET prices.
VAT will be added later in the checkout.
Rent or Buy article
Get time limited or full article access on ReadCube.
from$8.99
All prices are NET prices.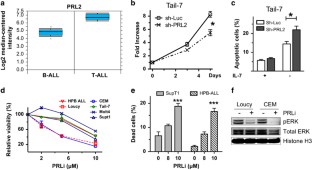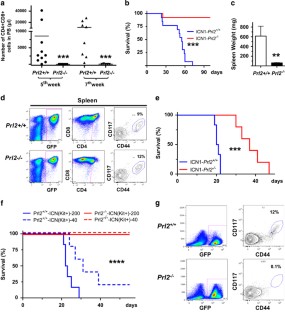 References
1

Ribera JM, Oriol A . Acute lymphoblastic leukemia in adolescents and young adults. Hematol Oncol Clin North Am 2009; 23: 1033–1042.

2

Weng AP, Ferrando AA, Lee W, Morris JP, Silverman LB, Sanchez-Irizarry C et al. Activating mutations of NOTCH1 in human T cell acute lymphoblastic leukemia. Science 2004; 306: 269–271.

3

Pui CH, Evans WE . Treatment of acute lymphoblastic leukemia. N Engl J Med 2006; 354: 166–178.

4

Paganin M, Ferrando A . Molecular pathogenesis and targeted therapies for NOTCH1-induced T-cell acute lymphoblastic leukemia. Blood Rev 2011; 25: 83–90.

5

Bessette DC, Qiu D, Pallen CJ . PRL PTPs: mediators and markers of cancer progression. Cancer Metastasis Rev 2008; 27: 231–252.

6

Kobayashi M, Chen S, Gao R, Bai Y, Zhang ZY, Liu Y . Phosphatase of regenerating liver in hematopoietic stem cells and hematological malignancies. Cell Cycle 2014; 13: 2827–2835.

7

Juric D, Lacayo NJ, Ramsey MC, Racevskis J, Wiernik PH, Rowe JM et al. Differential gene expression patterns and interaction networks in BCR-ABL-positive and -negative adult acute lymphoblastic leukemias. J Clin Oncol 2007; 25: 1341–1349.

8

Yagi T, Morimoto A, Eguchi M, Hibi S, Sako M, Ishii E et al. Identification of a gene expression signature associated with pediatric AML prognosis. Blood 2003; 102: 1849–1856.

9

Haferlach T, Kohlmann A, Wieczorek L, Basso G, Kronnie GT, Béné MC et al. Clinical utility of microarray-based gene expression profiling in the diagnosis and subclassification of leukemia: report from the International Microarray Innovations in Leukemia Study Group. J Clin Oncol 2010; 28: 2529–2537.

10

Dong Y, Zhang L, Zhang S, Bai Y, Chen H, Sun X et al. Phosphatase of regenerating liver 2 (PRL2) is essential for placental development by down-regulating PTEN (phosphatase and tensin homologue deleted on chromosome 10) and activating Akt protein. J Biol Chem 2012; 287: 32172–32179.

11

Kobayashi M, Bai Y, Dong Y, Yu H, Chen S, Gao R et al. PRL2/PTP4A2 phosphatase is important for hematopoietic stem cell self-renewal. Stem Cells 2014; 32: 1956–1967.

12

Hardy S, Uetani N, Wong N, Kostantin E, Labbé DP, Bégin LR et al. The protein tyrosine phosphatase PRL-2 interacts with the magnesium transporter CNNM3 to promote oncogenesis. Oncogene 2015; 34: 986–995.

13

Bai Y, Yu ZH, Liu S, Zhang L, Zhang RY, Zeng LF et al. Novel anticancer agents based on targeting the trimer interface of the PRL phosphatase. Cancer Res 2016; 76: 4805–4815.

14

Aster JC, Xu L, Karnell FG, Patriub V, Pui JC, Pear WS . Essential roles for ankyrin repeat and transactivation domains in induction of T-cell leukemia by notch1. Mol Cell Biol 2000; 20: 7505–7515.

15

Schubbert S, Cardenas A, Chen H, Garcia C, Guo W, Bradner J et al. Targeting the MYC and PI3K pathways eliminates leukemia-initiating cells in T-cell acute lymphoblastic leukemia. Cancer Res 2014; 74: 7048–7059.

16

Rothenberg EV . Transcriptional control of early T and B cell developmental choices. Annu Rev Immunol 2014; 32: 283–321.
Acknowledgements
This work was supported in part by National Institutes of Health Grant CA69202 (Z-YZ), Department of Defense Grant W81XWH-13-1-0187 (YL), a St Baldrick's Foundation Scholar Award (YL), an Elsa Pardee Foundation New Investigator Award (YL), an Alex's Lemonade Stand Foundation Grant (YL), a Children's Leukemia Research Association Grant (YL), a Leukemia Research Foundation grant (YL), and American Cancer Society Institutional Research Grants (YL and MK). This work was supported in part by a Project Development Team within the ICTSI NIH/NCRR Grant Number UL1TR001108.
Author contributions
MK, YB, Z-YZ and YL designed the research. MK, YB, SC, RG, CY and WC performed the research. MK and YL analyzed the data and performed the statistical analysis. AAC and JC provided reagents to the study. MK and YL wrote the manuscript. All authors read, comment on and approved the manuscript.
Ethics declarations
Competing interests
The authors declare no conflict of interest.
Supplementary information
Further reading
Serge Hardy

,

Elie Kostantin

,

Teri Hatzihristidis

,

Yevgen Zolotarov

,

Noriko Uetani

&

Michel L. Tremblay

The FEBS Journal (2018)

M Kobayashi

,

S Chen

,

Y Bai

,

C Yao

,

R Gao

,

X-J Sun

,

C Mu

,

T A Twiggs

,

Z-H Yu

,

H S Boswell

,

M C Yoder

,

R Kapur

,

J C Mulloy

,

Z-Y Zhang

&

Y Liu

Leukemia (2017)

Michihiro Kobayashi

,

Sarah C. Nabinger

,

Yunpeng Bai

,

Momoko Yoshimoto

,

Rui Gao

,

Sisi Chen

,

Chonghua Yao

,

Yuanshu Dong

,

Lujuan Zhang

,

Sonia Rodriguez

,

Yumi Yashiro-Ohtani

,

Warren S. Pear

,

Nadia Carlesso

,

Mervin C. Yoder

,

Reuben Kapur

,

Mark H. Kaplan

,

Hugo Daniel Lacorazza

,

Zhong-Yin Zhang

&

Yan Liu

STEM CELLS (2017)