Relevant articles
Open Access articles citing this article.
Ulysses Tsz Fung Lam

,

Bryan Kok Yan Tan

…

Ee Sin Chen

Epigenetics & Chromatin Open Access 18 May 2022

Ko Sato

,

Amarjeet Kumar

…

Toru Sengoku

Nature Communications Open Access 15 November 2021

Jin Woo Park

,

Joo-Young Kang

…

Sang-Beom Seo

Communications Biology Open Access 21 August 2020
Access options
Subscribe to Journal
Get full journal access for 1 year
$119.00
only $9.92 per issue
All prices are NET prices.
VAT will be added later in the checkout.
Tax calculation will be finalised during checkout.
Buy article
Get time limited or full article access on ReadCube.
$32.00
All prices are NET prices.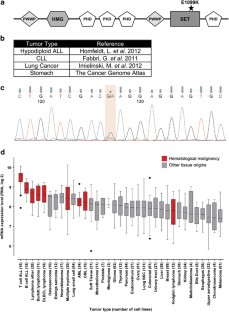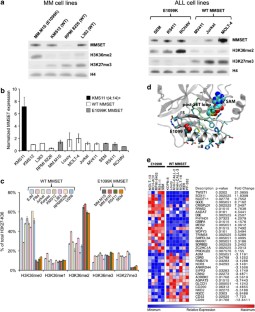 References
Inaba H, Greaves M, Mullighan CG . Acute lymphoblastic leukaemia. Lancet 2013; 381: 1943–1955.

Zhang J, Ding L, Holmfeldt L, Wu G, Heatley SL, Payne-Turner D et al. The genetic basis of early T-cell precursor acute lymphoblastic leukaemia. Nature 2012; 481: 157–163.

van Haaften G, Dalgliesh GL, Davies H, Chen L, Bignell G, Greenman C et al. Somatic mutations of the histone H3K27 demethylase gene UTX in human cancer. Nature Genet 2009; 41: 521–523.

Martinez-Garcia E, Popovic R, Min DJ, Sweet SM, Thomas PM, Zamdborg L et al. The MMSET histone methyl transferase switches global histone methylation and alters gene expression in t(4;14) multiple myeloma cells. Blood 2011; 117: 211–220.

Hudlebusch HR, Santoni-Rugiu E, Simon R, Ralfkiaer E, Rossing HH, Johansen JV et al. The histone methyltransferase and putative oncoprotein MMSET is overexpressed in a large variety of human tumors. Clin Cancer Res 2011; 17: 2919–2933.

Barretina J, Caponigro G, Stransky N, Venkatesan K, Margolin AA, Kim S et al. The Cancer Cell Line Encyclopedia enables predictive modelling of anticancer drug sensitivity. Nature 2012; 483: 603–607.

Imielinski M, Berger AH, Hammerman PS, Hernandez B, Pugh TJ, Hodis E et al. Mapping the hallmarks of lung adenocarcinoma with massively parallel sequencing. Cell 2012; 150: 1107–1120.

Fabbri G, Rasi S, Rossi D, Trifonov V, Khiabanian H, Ma J et al. Analysis of the chronic lymphocytic leukemia coding genome: role of NOTCH1 mutational activation. J Exp Med 2011; 208: 1389–1401.

Holmfeldt L, Wei L, Diaz-Flores E, Walsh M, Zhang J, Ding L et al. The genomic landscape of hypodiploid acute lymphoblastic leukemia. Nature Gen 2013; 45: 242–252.

Beguelin W, Popovic R, Teater M, Jiang Y, Bunting KL, Rosen M et al. EZH2 is required for germinal center formation and somatic ezh2 mutations promote lymphoid transformation. Cancer Cell 2013; 23: 677–692.

Yuan W, Xu M, Huang C, Liu N, Chen S, Zhu B . H3K36 methylation antagonizes PRC2-mediated H3K27 methylation. J Biol Chemistry 2011; 286: 7983–7989.

Zheng Y, Sweet SM, Popovic R, Martinez-Garcia E, Tipton JD, Thomas PM et al. Total kinetic analysis reveals how combinatorial methylation patterns are established on lysines 27 and 36 of histone H3. Proc Natl Acad Sci USA 2012; 109: 13549–13554.

Xiao B, Jing C, Wilson JR, Walker PA, Vasisht N, Kelly G et al. Structure and catalytic mechanism of the human histone methyltransferase SET7/9. Nature 2003; 421: 652–656.

Ezponda T, Popovic R, Shah MY, Martinez-Garcia E, Zheng Y, Min DJ et al. The histone methyltransferase MMSET/WHSC1 activates TWIST1 to promote an epithelial-mesenchymal transition and invasive properties of prostate cancer. Oncogene 2013; 32: 2882–2890.

Qiao Q, Li Y, Chen Z, Wang M, Reinberg D, Xu RM . The structure of NSD1 reveals an autoregulatory mechanism underlying histone H3K36 methylation. J Biol Chem 2011; 286: 8361–8368.
Ethics declarations
Competing interests
The authors declare no conflict of interest.
About this article
Cite this article
Oyer, J., Huang, X., Zheng, Y. et al. Point mutation E1099K in MMSET/NSD2 enhances its methyltranferase activity and leads to altered global chromatin methylation in lymphoid malignancies. Leukemia 28, 198–201 (2014). https://doi.org/10.1038/leu.2013.204
Published:

Issue Date:

DOI: https://doi.org/10.1038/leu.2013.204