Access options
Subscribe to Journal
Get full journal access for 1 year
$119.00
only $9.92 per issue
All prices are NET prices.
VAT will be added later in the checkout.
Tax calculation will be finalised during checkout.
Buy article
Get time limited or full article access on ReadCube.
$32.00
All prices are NET prices.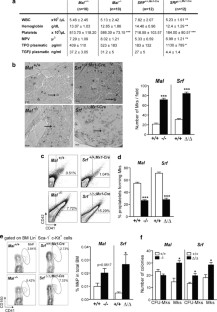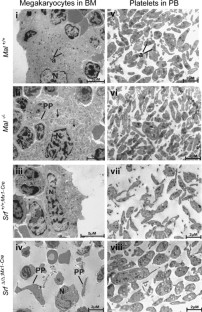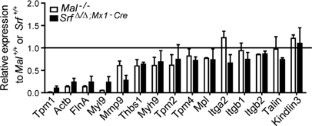 References
Miralles F, Posern G, Zaromytidou AI, Treisman R . Actin dynamics control SRF activity by regulation of its coactivator MAL. Cell 2003; 113: 329–342.

Vartiainen MK, Guettler S, Larijani B, Treisman R . Nuclear actin regulates dynamic subcellular localization and activity of the SRF cofactor MAL. Science 2007; 316: 1749–1752.

Mercher T, Coniat MB, Monni R, Mauchauffe M, Khac FN, Gressin L et al. Involvement of a human gene related to the Drosophila spen gene in the recurrent t(1;22) translocation of acute megakaryocytic leukemia. Proc Natl Acad Sci USA 2001; 98: 5776–5779.

Ma Z, Morris SW, Valentine V, Li M, Herbrick JA, Cui X et al. Fusion of two novel genes, RBM15 and MKL1, in the t(1;22)(p13;q13) of acute megakaryoblastic leukemia. Nat Genet 2001; 28: 220–221.

Gilles L, Bluteau D, Boukour S, Chang Y, Zhang Y, Robert T et al. MAL/SRF complex is involved in platelet formation and megakaryocyte migration by regulating MYL9 (MLC2) and MMP9. Blood 2009; 114: 4221–4232.

Cheng EC, Luo Q, Bruscia EM, Renda MJ, Troy JA, Massaro SA et al. Role for MKL1 in megakaryocytic maturation. Blood 2009; 113: 2826–2834.

Miano JM, Long X, Fujiwara K . Serum response factor: master regulator of the actin cytoskeleton and contractile apparatus. Am J Physiol Cell Physiol 2007; 292: C70–C81.

Sun Y, Boyd K, Xu W, Ma J, Jackson CW, Fu A et al. Acute myeloid leukemia-associated Mkl1 (Mrtf-a) is a key regulator of mammary gland function. Mol Cell Biol 2006; 26: 5809–5826.

Li S, Chang S, Qi X, Richardson JA, Olson EN . Requirement of a myocardin-related transcription factor for development of mammary myoepithelial cells. Mol Cell Biol 2006; 26: 5797–5808.

Parlakian A, Tuil D, Hamard G, Tavernier G, Hentzen D, Concordet JP et al. Targeted inactivation of serum response factor in the developing heart results in myocardial defects and embryonic lethality. Mol Cell Biol 2004; 24: 5281–5289.

Kuhn R, Schwenk F, Aguet M, Rajewsky K . Inducible gene targeting in mice. Science 1995; 269: 1427–1429.

Medjkane S, Perez-Sanchez C, Gaggioli C, Sahai E, Treisman R . Myocardin-related transcription factors and SRF are required for cytoskeletal dynamics and experimental metastasis. Nat Cell Biol 2009; 11: 257–268.

Leon C, Eckly A, Hechler B, Aleil B, Freund M, Ravanat C et al. Megakaryocyte-restricted MYH9 inactivation dramatically affects hemostasis while preserving platelet aggregation and secretion. Blood 2007; 110: 3183–3191.

Eckly A, Strassel C, Freund M, Cazenave JP, Lanza F, Gachet C et al. Abnormal megakaryocyte morphology and proplatelet formation in mice with megakaryocyte-restricted MYH9 inactivation. Blood 2009; 113: 3182–3189.

Larson MK, Watson SP . Regulation of proplatelet formation and platelet release by integrin alpha IIb beta3. Blood 2006; 108: 1509–1514.

Sabri S, Foudi A, Boukour S, Franc B, Charrier S, Jandrot-Perrus M . Deficiency in the Wiskott-Aldrich protein induces premature proplatelet formation and platelet production in the bone marrow compartment. Blood 2006; 108: 134–140.

Somogyi K, Rorth P . Evidence for tension-based regulation of Drosophila MAL and SRF during invasive cell migration. Dev Cell 2004; 7: 85–93.

Lane WJ, Dias S, Hattori K, Heissig B, Choy M, Rabbany SY et al. Stromal-derived factor 1-induced megakaryocyte migration and platelet production is dependent on matrix metalloproteinases. Blood 2000; 96: 4152–4159.

Jude CD, Gaudet JJ, Speck NA, Ernst P . Leukemia and hematopoietic stem cells: balancing proliferation and quiescence. Cell Cycle 2008; 7: 586–591.

Sun Q, Chen G, Streb JW, Long X, Yang Y, Stoeckert Jr CJ et al. Defining the mammalian CArGome. Genome Res 2006; 16: 197–207.

Pronk CJ, Rossi DJ, Månsson R, Attema JL, Norddahl GL, Chan CK et al. Elucidation of the phenotypic, functional, and molecular topography of a myeloerythroid progenitor cell hierarchy. Cell Stem Cell 2007; 1: 428–442.
Acknowledgements
We thank L Gilles for technical advices. J Di Santo (Institut Pasteur, Paris, France) provided the Mx1-Cre mice. Funding from INSERM, ARC, LNCC (équipes labelisées OAB and WV) and INCa supported this work. CR was funded by a fellowship from the FRM and the SFH. GE was funded by an ARC/INCa grant. SB is funded by a fellowship from the INCa.
Ethics declarations
Competing interests
The authors declare no conflict of interest.
Supplementary information
About this article
Cite this article
Ragu, C., Boukour, S., Elain, G. et al. The serum response factor (SRF)/megakaryocytic acute leukemia (MAL) network participates in megakaryocyte development. Leukemia 24, 1227–1230 (2010). https://doi.org/10.1038/leu.2010.80
Published:

Issue Date:

DOI: https://doi.org/10.1038/leu.2010.80
This article is cited by
Congxing Lin
Anna Hindes
Tatiana Efimova

Journal of Investigative Dermatology (2013)

Laboratory Investigation (2010)