Abstract
Bone marrow DNA was screened for isocitrate dehydrogenase (IDH) mutations in 200 patients with chronic (n=166) or blast (n=34) phase myeloproliferative neoplasms (MPN). Included among the former were 77 patients with primary myelofibrosis (PMF), 47 essential thrombocythemia and 38 polycythemia vera (PV). Nine IDH mutations (5 IDH1 and 4 IDH2) were detected; mutational frequencies were ∼21% (7 of 34) for blast-phase MPN and ∼4% (3 of 77) for PMF. IDH mutations were seen in only 1 of 12 paired chronic-blast-phase samples and in none of 27 concurrently studied acute myeloid leukemia (AML) patients without antecedent MPN. IDH1 mutations included R132C (n=4; two post-PMF AML, one post-PV AML and one PMF) and R132S (n=1; post-PMF AML). IDH2 mutations included R140Q (n=3; one post-PMF AML, one post-PV AML and one PMF) and a novel R140W (n=1; mutation found in both chronic- and blast-phase samples). The entire study cohort was also screened for JAK2 and MPL mutations and JAK2V617F was found in three IDH-mutated cases (two PMF and one PV). This study shows a relatively high incidence of IDH mutations in blast-phase MPN, regardless of JAK2 mutational status, and the occurrence of similar mutations in chronic-phase PMF.
Relevant articles
Open Access articles citing this article.
Daniele Mannina

,

Anita Badbaran

…

Nicolaus Kröger

Bone Marrow Transplantation Open Access 19 January 2022

Ayalew Tefferi

,

Mythri Mudireddy

…

Alessandro M. Vannucchi

Leukemia Open Access 02 February 2018

Cell & Bioscience Open Access 03 August 2017
Access options
Subscribe to Journal
Get full journal access for 1 year
$119.00
only $9.92 per issue
All prices are NET prices.
VAT will be added later in the checkout.
Tax calculation will be finalised during checkout.
Buy article
Get time limited or full article access on ReadCube.
$32.00
All prices are NET prices.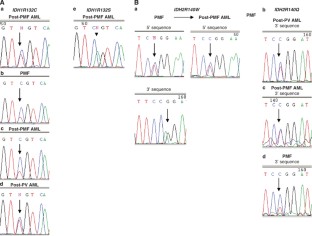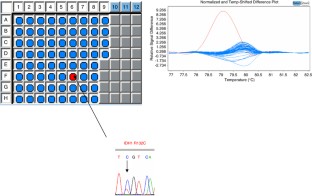 References
Parsons DW, Jones S, Zhang X, Lin JC, Leary RJ, Angenendt P et al. An integrated genomic analysis of human glioblastoma multiforme. Science 2008; 321: 1807–1812.

Yan H, Parsons DW, Jin G, McLendon R, Rasheed BA, Yuan W et al. IDH1 and IDH2 mutations in gliomas. N Engl J Med 2009; 360: 765–773.

Bleeker FE, Lamba S, Leenstra S, Troost D, Hulsebos T, Vandertop WP et al. IDH1 mutations at residue p.R132 (IDH1(R132)) occur frequently in high-grade gliomas but not in other solid tumors. Hum Mutat 2009; 30: 7–11.

Park SW, Chung NG, Han JY, Eom HS, Lee JY, Yoo NJ et al. Absence of IDH2 codon 172 mutation in common human cancers. Int J Cancer 2009; 125: 2485–2486.

Mardis ER, Ding L, Dooling DJ, Larson DE, McLellan MD, Chen K et al. Recurring mutations found by sequencing an acute myeloid leukemia genome. N Engl J Med 2009; 361: 1058–1066.

Chou WC, Hou HA, Chen CY, Tang JL, Yao M, Tsay W et al. Distinct clinical and biological characteristics in adult acute myeloid leukemia bearing isocitrate dehydrogenase 1 (IDH1) mutation. Blood 2010; 115: 2749–2754.

Ward PS, Patel J, Wise DR, Abdel-Wahab O, Bennett BD, Coller HA et al. The common feature of leukemia-associated IDH1 and IDH2 mutations is a neomorphic enzyme activity converting alpha-ketoglutarate to 2-hydroxyglutarate. Cancer Cell 2010; 17: 225–234.

Green A, Beer P . Somatic mutations of IDH1 and IDH2 in the leukemic transformation of myeloproliferative neoplasms. N Engl J Med 2010; 362: 369–370.

Vardiman JW, Thiele J, Arber DA, Brunning RD, Borowitz MJ, Porwit A et al. The 2008 revision of the World Health Organization (WHO) classification of myeloid neoplasms and acute leukemia: rationale and important changes. Blood 2009; 114: 937–951.

Watanabe T, Nobusawa S, Kleihues P, Ohgaki H . IDH1 mutations are early events in the development of astrocytomas and oligodendrogliomas. Am J Pathol 2009; 174: 1149–1153.

Nobusawa S, Watanabe T, Kleihues P, Ohgaki H . IDH1 mutations as molecular signature and predictive factor of secondary glioblastomas. Clin Cancer Res 2009; 15: 6002–6007.

Ruan GR, Jiang B, Li LD, Niu JH, Li JL, Xie M et al. MPL W515L/K mutations in 343 Chinese adults with JAK2V617F mutation-negative chronic myeloproliferative disorders detected by a newly developed RQ-PCR based on TaqMan MGB probes. Hematol Oncol 2009; 28: 33–39.

Tefferi A, Lasho TL, Huang J, Finke C, Mesa RA, Li CY et al. Low JAK2V617F allele burden in primary myelofibrosis, compared to either a higher allele burden or unmutated status, is associated with inferior overall and leukemia-free survival. Leukemia 2008; 22: 756–761.

Xu X, Zhao J, Xu Z, Peng B, Huang Q, Arnold E et al. Structures of human cytosolic NADP-dependent isocitrate dehydrogenase reveal a novel self-regulatory mechanism of activity. J Biol Chem 2004; 279: 33946–33957.

Zhao S, Lin Y, Xu W, Jiang W, Zha Z, Wang P et al. Glioma-derived mutations in IDH1 dominantly inhibit IDH1 catalytic activity and induce HIF-1alpha. Science 2009; 324: 261–265.

Dang L, White DW, Gross S, Bennett BD, Bittinger MA, Driggers EM et al. Cancer-associated IDH1 mutations produce 2-hydroxyglutarate. Nature 2009; 462: 739–744.

Gross S, Cairns RA, Minden MD, Driggers EM, Bittinger MA, Jang HG et al. Cancer-associated metabolite 2-hydroxyglutarate accumulates in acute myelogenous leukemia with isocitrate dehydrogenase 1 and 2 mutations. J Exp Med 2010; 207: 339–344.
Acknowledgements
AP was partially supported by a research grant from the Henry J Predolin Foundation.
Ethics declarations
Competing interests
The authors declare no conflict of interest.
About this article
Cite this article
Pardanani, A., Lasho, T., Finke, C. et al. IDH1 and IDH2 mutation analysis in chronic- and blast-phase myeloproliferative neoplasms. Leukemia 24, 1146–1151 (2010). https://doi.org/10.1038/leu.2010.77
Received:

Accepted:

Published:

Issue Date:

DOI: https://doi.org/10.1038/leu.2010.77
Keywords
IDH

isocitrate dehydrogenase

mutations