Abstract
Alkylphospholipids and alkylphosphocholines (APCs) are promising antitumor agents, which target the plasma membrane and affect multiple signal transduction networks. We investigated the therapeutic potential of erucylphosphohomocholine (ErPC3), the first intravenously applicable APC, in human acute myelogenous leukemia (AML) cells. ErPC3 was tested on AML cell lines, as well as AML primary cells. At short (6–12 h) incubation times, the drug blocked cells in G2/M phase of the cell cycle, whereas, at longer incubation times, it decreased survival and induced cell death by apoptosis. ErPC3 caused JNK 1/2 activation as well as ERK 1/2 dephosphorylation. Pharmacological inhibition of caspase-3 or a JNK 1/2 inhibitor peptide markedly reduced ErPC3 cytotoxicity. Protein phosphatase 2A downregulation by siRNA opposed ERK 1/2 dephosphorylation and blunted the cytotoxic effect of ErPC3. ErPC3 was cytotoxic to AML primary cells and reduced the clonogenic activity of CD34+ leukemic cells. ErPC3 induced a significant apoptosis in the compartment (CD34+ CD38Low/Neg CD123+) enriched in putative leukemia-initiating cells. This conclusion was supported by ErPC3 cytotoxicity on AML blasts showing high aldehyde dehydrogenase activity and on the side population of AML cell lines and blasts. These findings indicate that ErPC3 might be a promising therapeutic agent for the treatment of AML patients.
Relevant articles
Open Access articles citing this article.
Shariq S. Ansari

,

Ashwini K. Sharma

…

Martin R. Berger

Cell Death & Disease Open Access 20 February 2018

Justine Rudner

,

Carola-Ellen Ruiner

…

Verena Jendrossek

Radiation Oncology Open Access 16 November 2010
Access options
Subscribe to this journal
Receive 12 print issues and online access
$259.00 per year
only $21.58 per issue
Rent or buy this article
Get just this article for as long as you need it
$39.95
Prices may be subject to local taxes which are calculated during checkout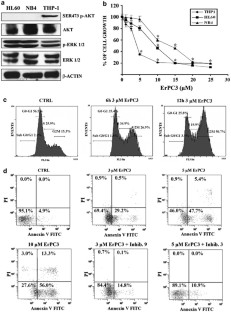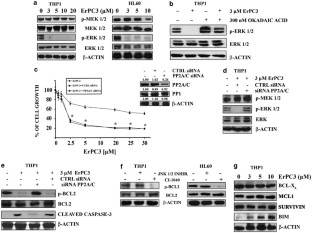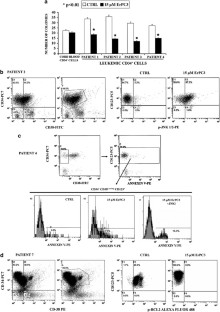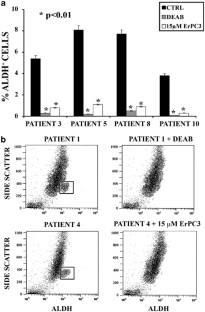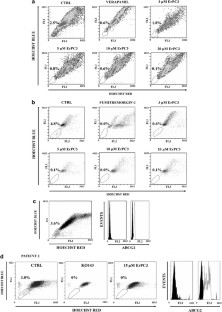 References
van Blitterswijk WJ, Verheij M . Anticancer alkylphospholipids: mechanisms of action, cellular sensitivity and resistance, and clinical prospects. Curr Pharm Design 2008; 14: 2061–2074.

Berger MR, Muschiol C, Schmahl D, Eibl HJ . New cytostatics with experimentally different toxic profiles. Cancer Treat Rev 1987; 14: 307–317.

van der Luit AH, Vink SR, Klarenbeek JB, Perrissoud D, Solary E, Verheij M et al. A new class of anticancer alkylphospholipids uses lipid rafts as membrane gateways to induce apoptosis in lymphoma cells. Mol Cancer Ther 2007; 6: 2337–2345.

Gajate C, Mollinedo F . Edelfosine and perifosine induce selective apoptosis in multiple myeloma by recruitment of death receptors and downstream signaling molecules into lipid rafts. Blood 2007; 109: 711–719.

Steelman LS, Abrams SL, Whelan J, Bertrand FE, Ludwig DE, Basecke J et al. Contributions of the Raf/MEK/ERK, PI3K/PTEN/Akt/mTOR and Jak/STAT pathways to leukemia. Leukemia 2008; 22: 686–707.

McCubrey JA, Steelman LS, Abrams SL, Bertrand FE, Ludwig DE, Basecke J et al. Targeting survival cascades induced by activation of Ras/Raf/MEK/ERK, PI3K/PTEN/Akt/mTOR and Jak/STAT pathways for effective leukemia therapy. Leukemia 2008; 22: 708–722.

Vogler WR, Berdel WE, Olson AC, Winton EF, Heffner LT, Gordon DS . Autologous bone marrow transplantation in acute leukemia with marrow purged with alkyl-lysophospholipid. Blood 1992; 80: 1423–1429.

Andreesen R, Modolell M, Weltzien HU, Eibl H, Common HH, Lohr GW et al. Selective destruction of human leukemic cells by alkyl-lysophospholipids. Cancer Res 1978; 38: 3894–3899.

Vogler WR, Olson AC, Okamoto S, Somberg LB, Glasser L . Experimental studies on the role of alkyl lysophospholipids in autologous bone marrow transplantation. Lipids 1987; 22: 919–924.

Eibl H . Miltefosine for visceral leishmaniasis. New Engl J Med 2000; 342: 894–895.

Gills JJ, Dennis PA . Perifosine: update on a novel Akt inhibitor. Curr Oncol Rep 2009; 11: 102–110.

Mitsiades CS, Hideshima T, Chauhan D, McMillin DW, Klippel S, Laubach JP et al. Emerging treatments for multiple myeloma: beyond immunomodulatory drugs and bortezomib. Semin Hematol 2009; 46: 166–175.

Korkaya H, Paulson A, Charafe-Jauffret E, Ginestier C, Brown M, Dutcher J et al. Regulation of mammary stem/progenitor cells by PTEN/Akt/β-catenin signaling. PLoS Biol 2009; 7: e1000121.

Papa V, Tazzari PL, Chiarini F, Cappellini A, Ricci F, Billi AM et al. Proapoptotic activity and chemosensitizing effect of the novel Akt inhibitor perifosine in acute myelogenous leukemia cells. Leukemia 2008; 22: 147–160.

Tazzari PL, Tabellini G, Ricci F, Papa V, Bortul R, Chiarini F et al. Synergistic proapoptotic activity of recombinant TRAIL plus the Akt inhibitor Perifosine in acute myelogenous leukemia cells. Cancer Res 2008; 68: 9394–9403.

Georgieva MC, Konstantinov SM, Topashka-Ancheva M, Berger MR . Combination effects of alkylphosphocholines and gemcitabine in malignant and normal hematopoietic cells. Cancer Lett 2002; 182: 163–174.

Jendrossek V, Erdlenbruch B, Hunold A, Kugler W, Eibl H, Lakomek M . Erucylphosphocholine, a novel antineoplastic ether lipid, blocks growth and induces apoptosis in brain tumor cell lines in vitro. Int J Oncol 1999; 14: 15–22.

Fiegl M, Lindner LH, Juergens M, Eibl H, Hiddemann W, Braess J . Erufosine, a novel alkylphosphocholine, in acute myeloid leukemia: single activity and combination with other antileukemic drugs. Cancer Chemother Pharmacol 2008; 62: 321–329.

Horn S, Bergholz U, Jucker M, McCubrey JA, Trumper L, Stocking C et al. Mutations in the catalytic subunit of class IA PI3K confer leukemogenic potential to hematopoietic cells. Oncogene 2008; 27: 4096–4106.

Fala F, Blalock WL, Tazzari PL, Cappellini A, Chiarini F, Martinelli G et al. Proapoptotic activity and chemosensitizing effect of the novel Akt inhibitor (2S)-1-(1H-Indol-3-yl)-3-[5-(3-methyl-2H-indazol-5-yl)pyridin-3-yl]oxyprop an2-amine (A443654) in T-cell acute lymphoblastic leukemia. Mol Pharmacol 2008; 74: 884–895.

Nyakern M, Tazzari PL, Finelli C, Bosi C, Follo MY, Grafone T et al. Frequent elevation of Akt kinase phosphorylation in blood marrow and peripheral blood mononuclear cells from high-risk myelodysplastic syndrome patients. Leukemia 2006; 20: 230–238.

Follo MY, Finelli C, Bosi C, Martinelli G, Mongiorgi S, Baccarani M et al. PI-PLCβ-1 and activated Akt levels are linked to azacitidine responsiveness in high-risk myelodysplastic syndromes. Leukemia 2008; 22: 198–200.

Follo MY, Finelli C, Mongiorgi S, Clissa C, Bosi C, Martinelli G et al. PKR is activated in MDS patients and its subcellular localization depends on disease severity. Leukemia 2008; 22: 2267–2269.

Silva A, Yunes JA, Cardoso BA, Martins LR, Jotta PY, Abecasis M et al. PTEN posttranslational inactivation and hyperactivation of the PI3K/Akt pathway sustain primary T cell leukemia viability. J Clin Invest 2008; 118: 3762–3774.

Chiarini F, Del Sole M, Mongiorgi S, Gaboardi GC, Cappellini A, Mantovani I et al. The novel Akt inhibitor, perifosine, induces caspase-dependent apoptosis and downregulates P-glycoprotein expression in multidrug-resistant human T-acute leukemia cells by a JNK-dependent mechanism. Leukemia 2008; 22: 1106–1116.

Renner AG, Dos Santos C, Recher C, Bailly C, Creancier L, Kruczynski A et al. Polo-like kinase 1 is overexpressed in acute myeloid leukemia and its inhibition preferentially targets the proliferation of leukemic cells. Blood 2009; 114: 659–662.

Chiarini F, Fala F, Tazzari PL, Ricci F, Astolfi A, Pession A et al. Dual inhibition of class IA phosphatidylinositol 3-kinase and mammalian target of rapamycin as a new therapeutic option for T-cell acute lymphoblastic leukemia. Cancer Res 2009; 69: 3520–3528.

Park S, Chapuis N, Bardet V, Tamburini J, Gallay N, Willems L et al. PI-103, a dual inhibitor of class I A phosphatidylinositide 3-kinase and mTOR, has antileukemic activity in AML. Leukemia 2008; 22: 1698–1706.

Cheung AM, Wan TS, Leung JC, Chan LY, Huang H, Kwong YL et al. Aldehyde dehydrogenase activity in leukemic blasts defines a subgroup of acute myeloid leukemia with adverse prognosis and superior NOD/SCID engrafting potential. Leukemia 2007; 21: 1423–1430.

Riccioni R, Senese M, Diverio D, Riti V, Buffolino S, Mariani G et al. M4 and M5 acute myeloid leukaemias display a high sensitivity to Bortezomib-mediated apoptosis. Br J Haematol 2007; 139: 194–205.

Cabana R, Frolova EG, Kapoor V, Thomas RA, Krishan A, Telford WG . The minimal instrumentation requirements for Hoechst side population analysis: stem cell analysis on low-cost flow cytometry platforms. Stem Cells 2006; 24: 2573–2581.

Borsello T, Clarke PG, Hirt L, Vercelli A, Repici M, Schorderet DF et al. A peptide inhibitor of c-Jun N-terminal kinase protects against excitotoxicity and cerebral ischemia. Nat Med 2003; 9: 1180–1186.

Barr RK, Kendrick TS, Bogoyevitch MA . Identification of the critical features of a small peptide inhibitor of JNK activity. J Biol Chem 2002; 277: 10987–10997.

Chen R, Kang VH, Chen J, Shope JC, Torabinejad J, DeWald DB et al. A monoclonal antibody to visualize PtdIns(3,4,5)P(3) in cells. J Histochem Cytochem 2002; 50: 697–708.

Hayakawa M, Kaizawa H, Moritomo H, Koizumi T, Ohishi T, Okada M et al. Synthesis and biological evaluation of 4-morpholino-2-phenylquinazolines and related derivatives as novel PI3 kinase p110α inhibitors. Bioorgan Med Chem 2006; 14: 6847–6858.

Billottet C, Grandage VL, Gale RE, Quattropani A, Rommel C, Vanhaesebroeck B et al. A selective inhibitor of the p110δ isoform of PI 3-kinase inhibits AML cell proliferation and survival and increases the cytotoxic effects of VP16. Oncogene 2006; 25: 6648–6659.

Kondapaka SB, Singh SS, Dasmahapatra GP, Sausville EA, Roy KK . Perifosine, a novel alkylphospholipid, inhibits protein kinase B activation. Mol Cancer Ther 2003; 2: 1093–1103.

Wang PY, Liu P, Weng J, Sontag E, Anderson RG . A cholesterol-regulated PP2A/HePTP complex with dual specificity ERK1/2 phosphatase activity. EMBO J 2003; 22: 2658–2667.

Kim SH, Markham JA, Weiler IJ, Greenough WT . Aberrant early-phase ERK inactivation impedes neuronal function in fragile X syndrome. Proc Natl Acad Sci USA 2008; 105: 4429–4434.

Chen L, Liu L, Yin J, Luo Y, Huang S . Hydrogen peroxide-induced neuronal apoptosis is associated with inhibition of protein phosphatase 2A and 5, leading to activation of MAPK pathway. Int J Biochem Cell Biol 2009; 41: 1284–1295.

Deng X, Gao F, May WS . Protein phosphatase 2A inactivates Bcl2′s antiapoptotic function by dephosphorylation and up-regulation of Bcl2-p53 binding. Blood 2009; 113: 422–428.

Deng X, Xiao L, Lang W, Gao F, Ruvolo P, May Jr WS . Novel role for JNK as a stress-activated Bcl2 kinase. J Biol Chem 2001; 276: 23681–23688.

Deng X, Ruvolo P, Carr B, May Jr WS . Survival function of ERK1/2 as IL-3-activated, staurosporine-resistant Bcl2 kinases. Proc Natl Acad Sci USA 2000; 97: 1578–1583.

Nishioka C, Ikezoe T, Yang J, Yokoyama A . Inhibition of MEK signaling enhances the ability of cytarabine to induce growth arrest and apoptosis of acute myelogenous leukemia cells. Apoptosis 2009; 14: 1108–1120.

Kumar P, Coltas IK, Kumar B, Chepeha DB, Bradford CR, Polverini PJ . Bcl-2 protects endothelial cells against gamma-radiation via a Raf-MEK-ERK-survivin signaling pathway that is independent of cytochrome c release. Cancer Res 2007; 67: 1193–1202.

Zhang W, Konopleva M, Ruvolo VR, McQueen T, Evans RL, Bornmann WG et al. Sorafenib induces apoptosis of AML cells via Bim-mediated activation of the intrinsic apoptotic pathway. Leukemia 2008; 22: 808–818.

Rambal AA, Panaguiton ZL, Kramer L, Grant S, Harada H . MEK inhibitors potentiate dexamethasone lethality in acute lymphoblastic leukemia cells through the pro-apoptotic molecule BIM. Leukemia 2009; 23: 1744–1754.

Buitrago CG, Pardo VG, de Boland AR, Boland R . Activation of RAF-1 through Ras and protein kinase C alpha mediates 1α,25(OH)2-vitamin D3 regulation of the mitogen-activated protein kinase pathway in muscle cells. J Biol Chem 2003; 278: 2199–2205.

Tsao CC, Nica AF, Kurinna SM, Jiffar T, Mumby M, Ruvolo PP . Mitochondrial protein phosphatase 2A regulates cell death induced by simulated ischemia in kidney NRK-52E cells. Cell Cycle 2007; 6: 2377–2385.

Bardet V, Tamburini J, Ifrah N, Dreyfus F, Mayeux P, Bouscary D et al. Single cell analysis of phosphoinositide 3-kinase/Akt and ERK activation in acute myeloid leukemia by flow cytometry. Haematologica 2006; 91: 757–764.

Misaghian N, Ligresti G, Steelman LS, Bertrand FE, Basecke J, Libra M et al. Targeting the leukemic stem cell: the Holy Grail of leukemia therapy. Leukemia 2009; 23: 25–42.

Pearce DJ, Taussig D, Simpson C, Allen K, Rohatiner AZ, Lister TA et al. Characterization of cells with a high aldehyde dehydrogenase activity from cord blood and acute myeloid leukemia samples. Stem Cells 2005; 23: 752–760.

Hess DA, Meyerrose TE, Wirthlin L, Craft TP, Herrbrich PE, Creer MH et al. Functional characterization of highly purified human hematopoietic repopulating cells isolated according to aldehyde dehydrogenase activity. Blood 2004; 104: 1648–1655.

Mirabelli P, Di Noto R, Lo Pardo C, Morabito P, Abate G, Gorrese M et al. Extended flow cytometry characterization of normal bone marrow progenitor cells by simultaneous detection of aldehyde dehydrogenase and early hematopoietic antigens: implication for erythroid differentiation studies. BMC Physiol 2008; 8: 13.

Shukla S, Sauna ZE, Ambudkar SV . Evidence for the interaction of imatinib at the transport-substrate site(s) of the multidrug-resistance-linked ABC drug transporters ABCB1 (P-glycoprotein) and ABCG2. Leukemia 2008; 22: 445–447.

Bleau AM, Hambardzumyan D, Ozawa T, Fomchenko EI, Huse JT, Brennan CW et al. PTEN/PI3K/Akt pathway regulates the side population phenotype and ABCG2 activity in glioma tumor stem-like cells. Cell Stem Cell 2009; 4: 226–235.

Wulf GG, Wang RY, Kuehnle I, Weidner D, Marini F, Brenner MK et al. A leukemic stem cell with intrinsic drug efflux capacity in acute myeloid leukemia. Blood 2001; 98: 1166–1173.

Ho MM, Ng AV, Lam S, Hung JY . Side population in human lung cancer cell lines and tumors is enriched with stem-like cancer cells. Cancer Res 2007; 67: 4827–4833.

Allen JD, van Loevezijn A, Lakhai JM, van der Valk M, van Tellingen O, Reid G et al. Potent and specific inhibition of the breast cancer resistance protein multidrug transporter in vitro and in mouse intestine by a novel analogue of fumitremorgin C. Mol Cancer Ther 2002; 1: 417–425.

Kugler W, Erdlenbruch B, Otten K, Jendrossek V, Eibl H, Lakomek M . MAP kinase pathways involved in glioblastoma response to erucylphosphocholine. Int J Oncol 2004; 25: 1721–1727.

Gallay N, Dos Santos C, Cuzin L, Bousquet M, Simmonet Gouy V, Chaussade C et al. The level of AKT phosphorylation on threonine 308 but not on serine 473 is associated with high-risk cytogenetics and predicts poor overall survival in acute myeloid leukaemia. Leukemia 2009; 23: 1029–1038.

Mogi M, Yang J, Lambert JF, Colvin GA, Shiojima I, Skurk C et al. Akt signaling regulates side population cell phenotype via Bcrp1 translocation. J Biol Chem 2003; 278: 39068–39075.

Lagadinou ED, Ziros PG, Tsopra OA, Dimas K, Kokkinou D, Thanopoulou E et al. c-Jun N-terminal kinase activation failure is a new mechanism of anthracycline resistance in acute myeloid leukemia. Leukemia 2008; 22: 1899–1908.

McCubrey JA, Abrams SL, Ligresti G, Misaghian N, Wong EW, Steelman LS et al. Involvement of p53 and Raf/MEK/ERK pathways in hematopoietic drug resistance. Leukemia 2008; 22: 2080–2090.

Brandwein JM, Leber BF, Howson-Jan K, Schimmer AD, Schuh AC, Gupta V et al. A phase I study of tipifarnib combined with conventional induction and consolidation therapy for previously untreated patients with acute myeloid leukemia aged 60 years and over. Leukemia 2009; 23: 631–634.
Acknowledgements
This work was supported by grants from Fondazione del Monte di Bologna e Ravenna and Progetti Strategici Università di Bologna EF 2006 to AMM. JAM was supported in part by a grant from the National Institutes of Health (USA) (R01098195).
Ethics declarations
Competing interests
The authors declare no conflict of interest.
Supplementary information
About this article
Cite this article
Martelli, A., Papa, V., Tazzari, P. et al. Erucylphosphohomocholine, the first intravenously applicable alkylphosphocholine, is cytotoxic to acute myelogenous leukemia cells through JNK- and PP2A-dependent mechanisms. Leukemia 24, 687–698 (2010). https://doi.org/10.1038/leu.2010.32
Received:

Revised:

Accepted:

Published:

Issue Date:

DOI: https://doi.org/10.1038/leu.2010.32
Keywords
MEK/ERK signaling

PP2A

apoptosis

caspases

leukemia-initiating cells