Abstract
IREM-1 is an inhibitory cell surface receptor with an unknown function and is expressed on myeloid cell lineages, including cell lines derived from acute myeloid leukemia (AML) patients. We have generated a series of monoclonal antibodies (mAbs) against the extracellular domain of IREM-1 and further assessed its expression in normal and AML cells. IREM-1 was restricted to cells from myeloid origin and extensive expression analysis in primary cells obtained from AML patients showed IREM-1 expression in leukemic blasts of 72% (39/54) of samples. We therefore searched for specific IREM-1 mAbs with activity in functional complement-dependent cytotoxicity (CDC) and antibody-dependent cellular cytotoxicity (ADCC). Lead mAbs against IREM-1 showed specific cytotoxic activity against a variety of AML-derived cell lines and freshly isolated blasts from AML patients. Internalization of mAbs upon IREM-1 binding was also shown. In vivo anticancer activity of lead mAbs was observed in an established HL-60 xenograft model with a tumor growth delay of up to 40% and in a model using primary human AML cells, where treatment with anti-IREM-1 mAb resulted in a significant reduction of engrafted human cells. These results demonstrate IREM-1 as a potential novel target for immunotherapy of AML.
Relevant articles
Open Access articles citing this article.
Mehri Bemani Naeini

,

Vanessa Bianconi

…

Amirhossein Sahebkar

Cellular & Molecular Biology Letters Open Access 26 March 2020

Blood Cancer Journal Open Access 03 February 2017
Access options
Subscribe to this journal
Receive 12 print issues and online access
$259.00 per year
only $21.58 per issue
Rent or buy this article
Get just this article for as long as you need it
$39.95
Prices may be subject to local taxes which are calculated during checkout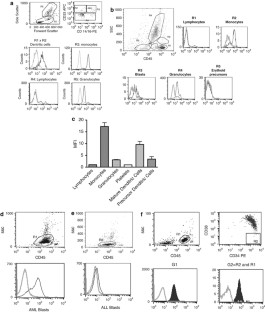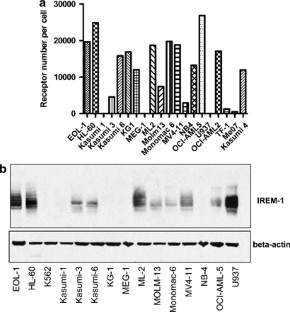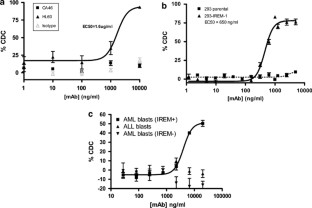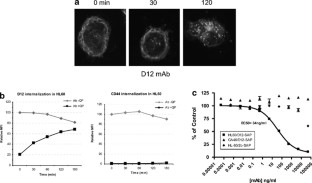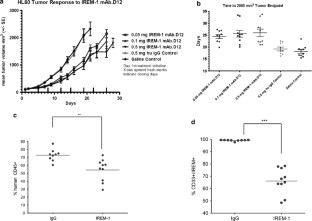 References
Ravandi F, Burnett AK, Agura ED, Kantarjian HM . Progress in the treatment of acute myeloid leukemia. Cancer 2007; 110: 1900–1910.

Doepfner KT, Boller D, Arcaro A . Targeting receptor tyrosine kinase signaling in acute myeloid leukemia. Crit Rev Oncol Hematol 2007; 63: 215–230.

Pratz K, Levis M . Incorporating FLT3 inhibitors into acute myeloid leukemia treatment regimens. Leuk Lymphoma 2008; 49: 852–863.

Giles F, Estey E, O′Brien S . Gemtuzumab ozogamicin in the treatment of acute myeloid leukemia. Cancer 2003; 98: 2095–2104.

Tsimberidou AM, Giles FJ, Estey E, O′Brien S, Keating MJ, Kantarjian HM . The role of gemtuzumab ozogamicin in acute leukaemia therapy. Br J Haematol 2006; 132: 398–409.

Alvarez-Errico D, Aguilar H, Kitzig F, Brckalo T, Sayos J, Lopez-Botet M . IREM-1 is a novel inhibitory receptor expressed by myeloid cells. Eur J Immunol 2004; 34: 3690–3701.

Sui L, Li N, Liu Q, Zhang W, Wan T, Wang B et al. IgSF13, a novel human inhibitory receptor of the immunoglobulin superfamily, is preferentially expressed in dendritic cells and monocytes. Biochem Biophys Res Commun 2004; 319: 920–928.

Marquez JA, Galfre E, Dupeux F, Flot D, Moran O, Dimasi N . The crystal structure of the extracellular domain of the inhibitor receptor expressed on myeloid cells IREM-1. J Mol Biol 2007; 367: 310–318.

Alvarez-Errico D, Sayos J, Lopez-Botet M . The IREM-1 (CD300f) inhibitory receptor associates with the p85alpha subunit of phosphoinositide 3-kinase. J Immunol 2007; 178: 808–816.

Vitale C, Romagnani C, Puccetti A, Olive D, Costello R, Chiossone L et al. Surface expression and function of p75/AIRM-1 or CD33 in acute myeloid leukemias: engagement of CD33 induces apoptosis of leukemic cells. Proc Natl Acad Sci USA 2001; 98: 5764–5769.

Jordan CT . The leukemic stem cell. Best Pract Res Clin Haematol 2007; 20: 13–18.

Caron PC, Co MS, Bull MK, Avdalovic NM, Queen C, Scheinberg DA . Biological and immunological features of humanized M195 (anti-CD33) monoclonal antibodies. Cancer Res 1992; 52: 6761–6767.

Jilani I, Estey E, Huh Y, Joe Y, Manshouri T, Yared M et al. Differences in CD33 intensity between various myeloid neoplasms. Am J Clin Pathol 2002; 118: 560–566.

Bakker AB, van den Oudenrijn S, Bakker AQ, Feller N, van Meijer M, Bia JA et al. C-type lectin-like molecule-1: a novel myeloid cell surface marker associated with acute myeloid leukemia. Cancer Res 2004; 64: 8443–8450.

Legrand O, Perrot JY, Baudard M, Cordier A, Lautier R, Simonin G et al. The immunophenotype of 177 adults with acute myeloid leukemia: proposal of a prognostic score. Blood 2000; 96: 870–877.

Kossman SE, Scheinberg DA, Jurcic JG, Jimenez J, Caron PC . A phase I trial of humanized monoclonal antibody HuM195 (anti-CD33) with low-dose interleukin 2 in acute myelogenous leukemia. Clin Cancer Res 1999; 5: 2748–2755.

Jurcic J . Ab therapy of AML: native anti-CD33 Ab and drug conjugates. Cytotherapy 2007; 10: 7–12.

Voisin T, El Firar A, Rouyer-Fessard C, Gratio V, Laburthe M . A hallmark of immunoreceptor, the tyrosine-based inhibitory motif ITIM, is present in the G protein-coupled receptor OX1R for orexins and drives apoptosis: a novel mechanism. Faseb J 2008; 22: 1993–2002.

Can I, Tahara-Hanaoka S, Hitomi K, Nakano T, Nakahashi-Oda C, Kurita N et al. Caspase-independent cell death by CD300LF (MAIR-V), an inhibitory immunoglobulin-like receptor on myeloid cells. J Immunol 2008; 180: 207–213.

Walter RB, Raden BW, Kamikura DM, Cooper JA, Bernstein ID . Influence of CD33 expression levels and ITIM-dependent internalization on gemtuzumab ozogamicin-induced cytotoxicity. Blood 2005; 105: 1295–1302.

Wu H, Windmiller DA, Wang L, Backer JM . YXXM motifs in the PDGF-beta receptor serve dual roles as phosphoinositide 3-kinase binding motifs and tyrosine-based endocytic sorting signals. J Biol Chem 2003; 278: 40425–40428.

Kohler G, Milstein C . Continuous cultures of fused cells secreting antibody of predefined specificity. Nature 1975; 256: 495–497.

Ausubel FM, Brent R, Kingston RE, Moore DD, Seidman JG, Smith JA et al. Current Protocols in Molecular Biology. John Wiley & Sons, 2005.

Robinson JP, Darzynkiewicz Z, Dobrucki J, Hyun W, Nolan J, Orfao A et al. Current Protocols in Cytometry. John Wiley & Sons, 2006.

Canziani GA, Klakamp S, Myszka DG . Kinetic screening of antibodies from crude hybridoma samples using Biacore. Anal Biochem 2004; 325: 301–307.

Bonifacino JS, Dasso M, Harford JB, Lippincott-Schwartz J, Yamada KM . Current Protocols in Cell Biology. John Wiley & Sons, 2003.

Korver W, Singh S, Liu S, Zhao X, Yonkovich S, Sweeney A et al. The lymphoid cell surface receptor NTB-A: a novel monoclonal antibody target for leukaemia and lymphoma therapeutics. Br J Haematol 2007; 137: 307–318.

Coleman EJ, Brooks KJ, Smallshaw JE, Vitetta ES . The Fc portion of UV3, an anti-CD54 monoclonal antibody, is critical for its antitumor activity in SCID mice with human multiple myeloma or lymphoma cell lines. J Immunother 2006; 29: 489–498.

Naumovski L, Ramos J, Sirisawad M, Chen J, Thiemann P, Lecane P et al. Sapphyrins induce apoptosis in hematopoietic tumor-derived cell lines and show in vivo antitumor activity. Mol Cancer Ther 2005; 4: 968–976.

Walter RB, Boyle KM, Appelbaum FR, Bernstein ID, Pagel JM . Simultaneously targeting CD45 significantly increases cytotoxicity of the anti-CD33 immunoconjugate, gemtuzumab ozogamicin, against acute myeloid leukemia (AML) cells and improves survival of mice bearing human AML xenografts. Blood 2008; 111: 4813–4816.
Acknowledgements
WK, XZ, SS, CP, JZ, MLG, SS, SY, SL, XZ, NT, CZ and DG performed experiments; WK, XZ, MLG, CTJ, JG, EDH and AA designed the studies, wrote and critically revised the manuscript.
About this article
Cite this article
Korver, W., Zhao, X., Singh, S. et al. Monoclonal antibodies against IREM-1: potential for targeted therapy of AML. Leukemia 23, 1587–1597 (2009). https://doi.org/10.1038/leu.2009.99
Received:

Revised:

Accepted:

Published:

Issue Date:

DOI: https://doi.org/10.1038/leu.2009.99
Keywords
acute myeloid leukemia

antibody therapy

minimal residual disease
This article is cited by
Mehri Bemani Naeini
Vanessa Bianconi
Amirhossein Sahebkar

Cellular & Molecular Biology Letters (2020)

Blood Cancer Journal (2017)

Annals of Hematology (2011)