Abstract
Chronic lymphocytic leukemia (CLL) is uniquely characterized by the existence of subsets of cases with quasi-identical, 'stereotyped' B-cell receptors (BCRs). Herein we investigate this stereotypy in 2662 patients with CLL, the largest series yet, using purpose-built bioinformatics methods based on sequence pattern discovery. Besides improving the identification of 'stereotyped' cases, we demonstrate that CLL actually consists of two different categories, based on the BCR repertoire, with important biological and ontogenetic differences. The first (∼30% of cases) shows a very restricted repertoire and is characterized by BCR stereotypy (clustered cases), whereas the second includes cases with heterogeneous BCRs (nonclustered cases). Eleven major CLL clusters were identified with antigen-binding sites defined by just a few critically positioned residues, regardless of the actual immunoglobulin (IG) variable gene used. This situation is closely reminiscent of the receptors expressed by cells participating in innate immune responses. On these grounds, we argue that whereas CLL cases with heterogeneous BCRs likely derive from the conventional B-cell pool, cases with stereotyped BCRs could derive from progenitor cells evolutionarily adapted to particular antigenic challenges, perhaps intermediate between a true innate immune system and the conventional adaptive B-cell immune system, functionally similar to what has been suggested previously for mouse B1 cells.
Relevant articles
Open Access articles citing this article.
Monica Colombo

,

Davide Bagnara

…

Franco Fais

Molecular Medicine Open Access 10 March 2020

Alejandro Medina

,

Cristina Jiménez

…

Ramón García-Sanz

Blood Cancer Journal Open Access 06 February 2020

Dawit A. Yohannes

,

Tobias L. Freitag

…

Päivi Saavalainen

Scientific Reports Open Access 21 December 2017
Access options
Subscribe to Journal
Get full journal access for 1 year
$119.00
only $9.92 per issue
All prices are NET prices.
VAT will be added later in the checkout.
Tax calculation will be finalised during checkout.
Buy article
Get time limited or full article access on ReadCube.
$32.00
All prices are NET prices.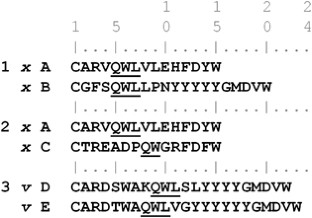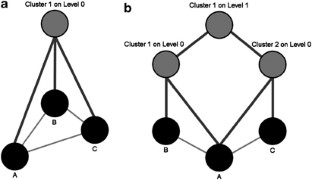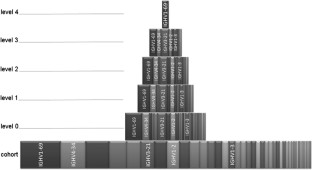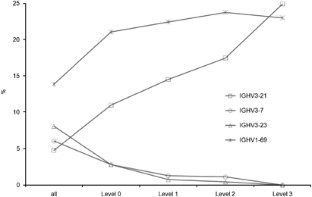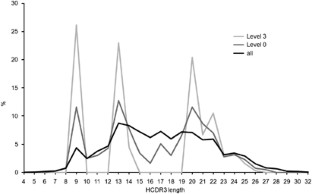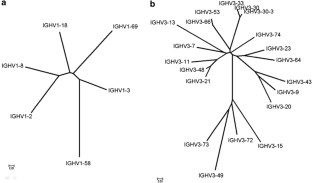 References
Chiorazzi N, Ferrarini M . B-cell chronic lymphocytic leukemia: lessons learned from studies of the B cell antigen receptor. Annu Rev Immunol 2003; 21: 841–894.

Schroeder Jr HW, Dighiero G . The pathogenesis of chronic lymphocytic leukemia: analysis of the antibody repertoire. Immunol Today 1994; 15: 288–294.

Johnson TA, Rassenti LZ, Kipps TJ . Ig VH1 genes expressed in B-cell chronic lymphocytic leukemia exhibit distinctive molecular features. J Immunol 1997; 158: 235–246.

Fais F, Ghiotto F, Hashimoto S, Sellars B, Valetto A, Allen SL et al. Chronic lymphocytic leukemia B cells express restricted sets of mutated and unmutated antigen receptors. J Clin Invest 1998; 102: 1515–1525.

Xu JL, Davis MM . Diversity in the CDR3 region of V(H) is sufficient for most antibody specificities. Immunity 2000; 13: 37–45.

Zemlin M, Klinger M, Link J, Zemlin C, Bauer K, Engler GA et al. Expressed murine and human CDR-H3 intervals of equal length exhibit distinct repertoires that differ in their amino acid composition and predicted range of structures. J Mol Biol 2005; 334: 733–749.

Tobin G, Thunberg U, Johnson A, Eriksson I, Söderberg O, Karlsson K et al. Chronic lymphocytic leukemias utilizing the VH3-21 gene display highly restricted Vlambda2-14 gene use and homologous CDR3s: implicating recognition of a common antigen epitope. Blood 2003; 101: 4952–4957.

Ghiotto F, Fais F, Valetto A, Albesiano E, Hashimoto S, Dono M et al. Remarkably similar antigen receptors among a subset of patients with chronic lymphocytic leukemia. J Clin Invest 2004; 113: 1008–1016.

Widhopf 2nd GF, Rassenti LZ, Toy TL, Gribben JG, Wierda WG, Kipps TJ . Chronic lymphocytic leukemia B cells of more than 1% of patients express virtually identical immunoglobulins. Blood 2004; 104: 2499–2504.

Messmer BT, Albesiano E, Efremov DG, Ghiotto F, Allens SL, Kolitz J et al. Multiple distinct sets of stereotyped antigen receptors indicate a role for antigen in promoting chronic lymphocytic leukemia. J Exp Med 2004; 200: 519–525.

Tobin G, Thunberg U, Karlsson K, Murray F, Laurell A, Willander K et al. Subsets with restricted immunoglobulin gene rearrangement features indicate a role for antigen selection in the development of chronic lymphocytic leukemia. Blood 2004; 104: 2879–2885.

Ghia P, Stamatopoulos K, Belessi C, Moreno C, Stella S, Guida G et al. Geographic patterns and pathogenetic implications of IGHV gene usage in chronic lymphocytic leukemia: the lesson of the IGHV3-21 gene. Blood 2005; 105: 1678–1685.

Stamatopoulos K, Belessi C, Moreno C, Boudjograh M, Guida G, Smilevska T et al. Over 20% of patients with chronic lymphocytic leukemia carry stereotyped receptors: pathogenetic implications and clinical correlations. Blood 2007; 109: 259–270.

Murray F, Darzentas N, Hadzidimitriou A, Tobin G, Boudjogra M, Scielzo C et al. Stereotyped patterns of somatic hypermutation in subsets of patients with chronic lymphocytic leukemia: implications for the role of antigen selection in leukemogenesis. Blood 2008; 111: 1524–1533.

Tobin G, Thunberg U, Johnson A, Thörn I, Söderberg O, Hultdin M et al. Somatically mutated Ig V(H)3-21 genes characterize a new subset of chronic lymphocytic leukemia. Blood 2002; 99: 2262–2264.

Thorselius M, Krober A, Murray F, Thunberg U, Tobin G, Bühler A et al. Strikingly homologous immunoglobulin gene rearrangements and poor outcome in VH3-21-utilizing chronic lymphocytic leukemia independent of geographical origin and mutational status. Blood 2006; 107: 2889–2894.

Bomben R, Dal Bo M, Capello D, Forconi F, Maffei R, Laurenti L et al. Molecular and clinical features of chronic lymphocytic leukaemia with stereotyped B cell receptors: results from an Italian multicentre study. Br J Haematol 2009; 144: 492–506.

Altschul SF, Madden TL, Schäffer AA, Zhang J, Zhang Z, Miller W et al. Gapped BLAST and PSI-BLAST: a new generation of protein database search programs. Nucleic Acids Res 1997; 25: 3389–3402.

Rigoutsos I, Floratos A . Combinatorial pattern discovery in biological sequences: the TEIRESIAS algorithm. Bioinformatics 1998; 14: 55–67.

Darzentas N, Rigoutsos I, Ouzounis CA . Sensitive detection of sequence similarity using combinatorial pattern discovery: a challenging study of two distantly related protein families. Proteins 2005; 61: 926–937.

Pommie C, Levadoux S, Sabatier R, Lefranc G, Lefranc MP . IMGT standardized criteria for statistical analysis of immunoglobulin V-REGION amino acid properties. J Mol Recognit 2004; 17: 17–32.

Henikoff S, Henikoff JG . Performance evaluation of amino acid substitution matrices. Proteins 1993; 17: 49–61.

Enright AJ, Ouzounis CA . BioLayout—an automatic graph layout algorithm for similarity visualization. Bioinformatics 2001; 17: 853–854.

Tamura K, Dudley J, Nei M, Kumar S . MEGA4: Molecular Evolutionary Genetics Analysis (MEGA) software version 4.0. Mol Biol Evol 2007; 24: 1596–1599.

Kirkham PM, Schroeder Jr HW . Antibody structure and the evolution of immunoglobulin V gene segments. Semin Immunol 1994; 6: 347–360.

Vargas-Madrazo E, Lara-Ochoa F, Ramirez-Benites MC, Almagro JC . Evolution of the structural repertoire of the human V(H) and Vkappa germline genes. Int Immunol 1997; 9: 1801–1815.

Ghia P, Chiorazzi N, Stamatopoulos K . Microenvironmental influences in chronic lymphocytic leukaemia: the role of antigen stimulation. J Intern Med 2008; 264: 549–562.

Kostareli E, Hadzidimitriou A, Stavroyianni N, Darzentas N, Athanasiadou A, Gounari M et al. Molecular evidence for EBV and CMV persistence in a subset of patients with chronic lymphocytic leukemia expressing stereotyped IGHV4-34 B-cell receptors. Leukemia 2009; 23: 919–924.

Seidl KJ, MacKenzie JD, Wang D, Kantor AB, Kabat EA, Herzenberg LA . Frequent occurrence of identical heavy and light chain Ig rearrangements. Int Immunol 1997; 9: 689–702.

Kantor AB, Merrill CE, Herzenberg LA, Hillson JL . An unbiased analysis of V(H)-D-J(H) sequences from B-1a, B-1b, and conventional B cells. J Immunol 1997; 158: 1175–1186.

Tornberg UC, Holmberg D . B-1a, B-1b and B-2 B cells display unique VHDJH repertoires formed at different stages of ontogeny and under different selection pressures. EMBO J 1995; 14: 1680–1689.

Davies DR, Cohen GH . Interactions of protein antigens with antibodies. Proc Natl Acad Sci USA 1996; 93: 7–12.

Ohlin M, Zouali M . The human antibody repertoire to infectious agents: implications for disease pathogenesis. Mol Immunol 2003; 40: 1–11.

Ohlin M, Borrebaeck CAK . Characteristics of human antibody repertoires following active immune responses in vivo. Mol Immunol 1996; 33: 583–592.

Barrios Y, Jirholt P, Ohlin M . Length of the antibody heavy chain complementarity determining region 3 as a specificity-determining factor. J Mol Recognit 2004; 17: 332–338.

Martin DA, Bradl H, Collins TJ, Roth E, Jack H-M, Wu GE . Selection of Ig μ heavy chains by complementarity determining region 3 length and amino acid composition. J Immunol 2003; 171: 4663–4671.

Lamminmäki U, Westerlund-Karlsson A, Toivola M, Saviranta P . Modulating the binding properties of an anti-17beta-estradiol antibody by systematic mutation combinations. Protein Sci 2003; 12: 2549–2558.

de Bono B, Madera M, Chothia C . VH gene segments in the mouse and human genomes. J Mol Biol 2004; 342: 131–143.

Hardy RR . B-1 B cell development. J Immunol 2006; 177: 2749–2754.

Yan XJ, Albesiano E, Zanesi N, Yancopoulos S, Sawyer A, Romano E et al. B cell receptors in TCL1 transgenic mice resemble those of aggressive, treatment-resistant human chronic lymphocytic leukemia. Proc Natl Acad Sci USA 2006; 103: 11713–11718.

Bichi R, Shinton SA, Martin ES, Koval A, Calin GA, Cesari R et al. Human chronic lymphocytic leukemia modeled in mouse by targeted TCL1 expression. Proc Natl Acad Sci USA 2002; 99: 6955–6960.

Mercolino TJ, Locke AL, Afshari A, Sasser D, Travis WW, Arnold LW et al. Restricted immunoglobulin variable region gene usage by normal Ly-1 (CD5+) B cells that recognize phosphatidyl choline. J Exp Med 1989; 169: 1869–1877.

Clarke S, McCray S . VH CDR3-dependent positive selection of murine VH12-expressing B cells in the neonate. Eur J Immunol 1993; 23: 3327–3334.

Wang H, Clarke SH . Positive selection focuses the VH12 B-cell repertoire towards a single B1 specificity with survival function. Immunol Rev 2004; 197: 51–59.
Acknowledgements
We thank Prof Marie-Paule Lefranc and Dr Veronique Giudicelli, Laboratoire d'Immunogenetique Moleculaire, LIGM, Universite Montpellier II, Montpellier, France, for their enormous support and help with the large-scale immunoglobulin sequence analysis throughout this project. We also thank Prof Göran Roos, Department of Medical Biosciences, Umeå University, Sweden; Prof Christer Sundström, Department of Genetics and Pathology, Uppsala University, Sweden; Dr Mats Merup, Department of Medicine, Karolinska University Hospital, Huddinge, Sweden; Dr Lyda Osorio, Department of Microbiology, Tumour and Cell Biology, Karolinska Institutet, Stockholm, Sweden; Dr Karin Karlsson, Department of Hematology, Lund University Hospital, Lund, Sweden and Prof Juhani Vilpo, Laboratory Centre, Tampere University Hospital, Tampere, Finland for providing samples and clinical data concerning Swedish and Finnish CLL patients. We also acknowledge the contribution of Dr Tatjana Smilevska, Dr Gerard Tobin, Dr Ulf Thunberg, Maria Norberg, Arifin Kaderi, Ingrid Thörn and Kerstin Willander to the sequence analysis. This work was supported by the General Secretariat for Research and Technology of Greece (INA-GENOME and ENTER programs); the BioSapiens Network of Excellence (contract number LSHG-CT-2003–503265); the Swedish Cancer Society; the Swedish Research Council, Medical Faculty of Uppsala University, Uppsala University Hospital; the Lion's Cancer Research Foundation, Uppsala, Sweden; the Associazione Italiana per la Ricerca sul Cancro—AIRC, Milano, Italy; Progetto Integrato Oncologia, Italian Ministry of Health, Rome, Italy; Fondazione Anna Villa e Felice Rusconi, Varese, Italy; Project C03/10 from 'Redes Temáticas de Investigación Cooperativa', Ministerio de Sanidad y Consumo (2003), Spain and the José Carreras International Foundation Against Leukemia (CR/07 and EM/07).
About this article
Cite this article
Darzentas, N., Hadzidimitriou, A., Murray, F. et al. A different ontogenesis for chronic lymphocytic leukemia cases carrying stereotyped antigen receptors: molecular and computational evidence. Leukemia 24, 125–132 (2010). https://doi.org/10.1038/leu.2009.186
Received:

Revised:

Accepted:

Published:

Issue Date:

DOI: https://doi.org/10.1038/leu.2009.186
Keywords
CLL

B-cell receptor

stereotypy

pattern

repertoire