Abstract
Dasatinib is an inhibitor of BCR-ABL and SRC-family kinases for patients with imatinib-resistant or -intolerant chronic myelogenous leukemia (CML). In this international phase II trial, dasatinib was administered orally (70 mg twice daily) to patients with myeloid blast phase (MBP, n=109) or lymphoid blast phase (LBP, n=48) CML. After a minimum follow-up of 12 months (range 0.03–20.7 months), major hematologic responses were induced in 34% (MBP-CML) and 35% (LBP-CML) of patients. Major cytogenetic responses were attained in 33% (MBP-CML) and 52% (LBP-CML) of patients and complete cytogenetic responses were attained in 26 and 46%, respectively. Median progression-free survival was 6.7 (MBP-CML) and 3.0 (LBP-CML) months. Median overall survival was 11.8 (MBP-CML) and 5.3 (LBP-CML) months. Overall, dasatinib had acceptable tolerability. Fluid retention events were more frequent in the MBP-CML than the LBP-CML cohort: pleural effusion occurred in 36 and 13% (all grades) and 15 and 6% (grades 3/4), respectively. Other non-hematologic side effects were primarily grade 1/2; grade 3/4 events were recorded in ⩽6% of patients, except febrile neutropenia (15%). Cytopenias were noted in the majority of patients, and were manageable with dose interruptions/reductions. Dasatinib is associated with a promising rate of response in this high-risk population.
Relevant articles
Open Access articles citing this article.
Monika Dudzisz-Śledź

,

Elżbieta Bylina

…

Piotr Rutkowski

Drugs & Aging Open Access 02 March 2021

Zhenhong Luo

,

Miao Gao

…

Wenli Feng

Journal of Experimental & Clinical Cancer Research Open Access 28 May 2019
Access options
Subscribe to this journal
Receive 12 print issues and online access
$259.00 per year
only $21.58 per issue
Rent or buy this article
Get just this article for as long as you need it
$39.95
Prices may be subject to local taxes which are calculated during checkout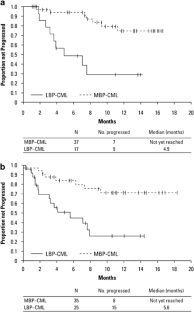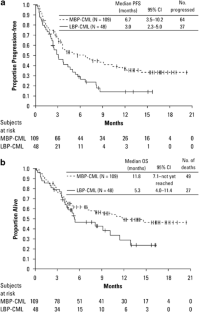 References
Derderian PM, Kantarjian HM, Talpaz M, O'Brien S, Cork A, Estey E et al. Chronic myelogenous leukemia in the lymphoid blastic phase: characteristics, treatment response, and prognosis. Am J Med 1993; 94: 69–74.

Hochhaus A, La Rosée P . Imatinib therapy in chronic myelogenous leukemia: strategies to avoid and overcome resistance. Leukemia 2004; 18: 1321–1331.

Sacchi S, Kantarjian HM, O'Brien S, Cortes J, Rios MB, Giles FJ et al. Chronic myelogenous leukemia in nonlymphoid blastic phase: analysis of the results of first salvage therapy with three different treatment approaches for 162 patients. Cancer 1999; 86: 2632–2641.

Wadhwa J, Szydlo RM, Apperley JF, Chase A, Bua M, Marin D et al. Factors affecting duration of survival after onset of blastic transformation of chronic myeloid leukemia. Blood 2002; 99: 2304–2309.

Sawyers CL, Hochhaus A, Feldman E, Goldman JM, Miller CB, Ottmann OG et al. Imatinib induces hematologic and cytogenetic responses in patients with chronic myelogenous leukemia in myeloid blast crisis: results of a phase II study. Blood 2002; 99: 3530–3539.

Ottmann OG, Druker BJ, Sawyers CL, Goldman JM, Reiffers J, Silver RT et al. A phase 2 study of imatinib in patients with relapsed or refractory Philadelphia chromosome-positive acute lymphoid leukemias. Blood 2002; 100: 1965–1971.

Soverini S, Martinelli G, Rosti G, Bassi S, Amabile M, Poerio A et al. ABL mutations in late chronic phase chronic myeloid leukemia patients with up-front cytogenetic resistance to imatinib are associated with a greater likelihood of progression to blast crisis and shorter survival: a study by the GIMEMA Working Party on Chronic Myeloid Leukemia. J Clin Oncol 2005; 23: 4100–4109.

Lombardo LJ, Lee FY, Chen P, Norris D, Barrish JC, Behnia K et al. Discovery of N-(2-chloro-6-methyl-phenyl)-2-(6-(4-(2-hydroxyethyl)-piperazin-1-yl)-2-methylpyrimidin-4-ylamino)thiazole-5-carboxamide (BMS-354825), a dual Src/Abl kinase inhibitor with potent antitumor activity in preclinical assays. J Med Chem 2004; 47: 6658–6661.

Talpaz M, Shah NP, Kantarjian H, Donato N, Nicoll J, Paquette R et al. Dasatinib in imatinib-resistant Philadelphia chromosome-positive leukemias. N Engl J Med 2006; 354: 2531–2541.

Cortes J, Rousselot P, Kim DW, Ritchie E, Hamerschlak N, Coutre S et al. Dasatinib induces complete hematologic and cytogenetic responses in patients with imatinib-resistant or -intolerant chronic myeloid leukemia in blast crisis. Blood 2007; 109: 3207–3213.

Clopper C, Pearson E . The use of confidence or fiducial limits illustrated in the case of the binomial. Biometrika 1934; 26: 404–413.

Hochhaus A, Baccarani M, Deininger M, Apperley JF, Lipton JH, Goldberg SL et al. Dasatinib induces durable cytogenetic responses in patients with chronic myelogenous leukemia in chronic phase with resistance or intolerance to imatinib. Leukemia 2008; 22: 1200–1206.

Guilhot F, Apperley J, Kim DW, Bullorsky EO, Baccarani M, Roboz GJ et al. Dasatinib induces significant hematologic and cytogenetic responses in patients with imatinin-resistant or -intolerant chronic myeloid leukemia. Blood 2007; 109: 4143–4150.

O'Hare T, Walters DK, Stoffregen EP, Jia T, Manley PW, Mestan J et al. In vitro activity of Bcr-Abl inhibitors AMN107 and BMS-354825 against clinically relevant imatinib-resistant Abl kinase domain mutants. Cancer Res 2005; 65: 4500–4505.

Shah NP, Tran C, Lee FY, Chen P, Norris D, Sawyers CL et al. Overriding imatinib resistance with a novel ABL kinase inhibitor. Science 2004; 305: 399–401.

Radich JP . The biology of CML blast crisis. Hematology (Am Soc Hematol Educ Program) 2007; 2007: 384–391.

Wilson MB, Schreiner SJ, Choi HJ, Kamens J, Smithgall TE . Selective pyrrolo-pyrimidine inhibitors reveal a necessary role for Src family kinases in Bcr-Abl signal transduction and oncogenesis. Oncogene 2002; 21: 8075–8088.

Klejman A, Schreiner SJ, Nieborowska-Skorska M, Slupianek A, Wilson M, Smithgall TE et al. The Src family kinase Hck couples BCR/ABL to STAT5 activation in myeloid leukemia cells. EMBO J 2002; 21: 5766–5774.

Lionberger JM, Wilson MB, Smithgall TE . Transformation of myeloid leukemia cells to cytokine independence by Bcr-Abl is suppressed by kinase-defective Hck. J Biol Chem 2000; 275: 18581–18585.

Meyn III MA, Wilson MB, Abdi FA, Fahey N, Schiavone AP, Wu J et al. Src family kinases phosphorylate the Bcr-Abl SH3-SH2 region and modulate Bcr-Abl transforming activity. J Biol Chem 2006; 281: 30907–30916.

Hu Y, Swerdlow S, Duffy TM, Weinmann R, Lee FY, Li S . Targeting multiple kinase pathways in leukemic progenitors and stem cells is essential for improved treatment of Ph+ leukemia in mice. Proc Natl Acad Sci USA 2006; 103: 16870–16875.

Donato NJ, Wu JY, Stapley J, Gallick G, Lin H, Arlinghaus R et al. BCR-ABL independence and LYN kinase overexpression in chronic myelogenous leukemia cells selected for resistance to STI571. Blood 2003; 101: 690–698.

Ptasznik A, Nakata Y, Kalota A, Emerson SG, Gewirtz AM . Short interfering RNA (siRNA) targeting the Lyn kinase induces apoptosis in primary, and drug-resistant, BCR-ABL1(+) leukemia cells. Nat Med 2004; 10: 1187–1189.

Dai Y, Rahmani M, Corey SJ, Dent P, Grant S . A Bcr/Abl-independent, Lyn-dependent form of imatinib mesylate (STI-571) resistance is associated with altered expression of Bcl-2. J Biol Chem 2004; 279: 34227–34239.

Ito T, Tanaka H, Kimura A . Establishment and characterization of a novel imatinib-sensitive chronic myeloid leukemia cell line MYL, and an imatinib-resistant subline MYL-R showing overexpression of Lyn. Eur J Haematol 2007; 78: 417–431.

Quintás-Cardama A, Kantarjian H, O'Brien S, Borthakur G, Bruzzi J, Munden R et al. Pleural effusion in patients with chronic myelogenous leukemia treated with dasatinib after imatinib failure. J Clin Oncol 2007; 25: 3908–3914.

Heuchel R, Berg A, Tallquist M, Ahlen K, Reed RK, Rubin K et al. Platelet-derived growth factor beta receptor regulates interstitial fluid homeostasis through phosphatidylinositol-3′ kinase signaling. Proc Natl Acad Sci USA 1999; 96: 11410–11415.

de Lavallade H, Punnialingam S, Milojkovic D, Bua M, Khorashad JS, Gabriel IH et al. Pleural effusions in patients with chronic myeloid leukaemia treated with dasatinib may have an immune-mediated pathogenesis. Br J Haematol 2008; 141: 745–747.

Sneed TB, Kantarjian HM, Talpaz M, O'Brien S, Rios MB, Bekele BN et al. The significance of myelosuppression during therapy with imatinib mesylate in patients with chronic myelogenous leukemia in chronic phase. Cancer 2004; 100: 116–121.

Druker BJ, Guilhot F, O'Brien SG, Gathmann I, Kantarjian H, Gattermann N et al. Five-year follow-up of patients receiving imatinib for chronic myeloid leukemia. N Engl J Med 2006; 355: 2408–2417.
Acknowledgements
We acknowledge the key contributions made by the remaining primary investigators of this trial: JJ Garcia (Argentina); T Hughes, B Van Leeuwen (Australia); P Valent (Austria); G Verhoef (Belgium); CA De Souza, PE Dorlhiac-Llacer (Brazil); P Laneuville (Canada); K Porkka (Finland); G Marit, J Reiffers, F Maloisel, J-L Harrousseau (France); MC Müller (molecular analyses), T Fischer (Germany); A Nagler (Israel); F Ferrara (Italy); J-H Lee (South Korea); W Schroyens (The Netherlands); P Caguioa (Philippines); B Simonsson, M Ekblom (Sweden); A Gratwohl (Switzerland); P-M Chen (Taiwan); S Jootar (Thailand); T Holyoake (UK); A Rapoport, R Larson, C Schiffer, R Stone, A Greco, S Goldberg, K Bhalla, S Petersdorf, P Emanuel (USA). This study was supported by research funding from Bristol-Myers Squibb. Professional writing and editorial assistance, funded by Bristol-Myers Squibb, was provided by Gardiner-Caldwell US.
Additional information
Data contained within this article were presented at the American Society of Hematology Annual Meeting in Orlando, FL, 9–12 December 2006.
About this article
Cite this article
Cortes, J., Kim, DW., Raffoux, E. et al. Efficacy and safety of dasatinib in imatinib-resistant or -intolerant patients with chronic myeloid leukemia in blast phase. Leukemia 22, 2176–2183 (2008). https://doi.org/10.1038/leu.2008.221
Received:

Revised:

Accepted:

Published:

Issue Date:

DOI: https://doi.org/10.1038/leu.2008.221
Keywords
dasatinib

chronic myeloid leukemia

blast phase

BCR-ABL

SRC

imatinib resistance