Abstract
The risk that lowering blood pressure (BP) excessively increases the incidence of cardiovascular disease—the J-shaped phenomenon—has been a matter of concern endorsed by many experts, particularly in patients with coronary heart disease and diabetes. The results of the Action to Control Cardiovascular Risk in Type 2 Diabetes (ACCORD) trial strengthened the idea that it may be futile to lower BP more intensively in patients with diabetes. Nevertheless, there seems to be no direct J-shaped relation between BP-lowering treatment and outcome. Patients with normal or low BP and high or very high cardiovascular risk could have their BP reduced further by treatment. Placebo-controlled clinical trials of BP-lowering agents in patients with BP within normal values and concomitant cardiovascular disease demonstrated consistent reduction of recurrent and newer cardiovascular events. The use of BP agents in such conditions, as in patients with coronary artery disease, heart failure, diabetes and in patients recovered from a stroke has been endorsed by guidelines. Although is likely that there is a J-shaped relationship of BP with outcomes in cohort studies, clinical trials that tested more intensive versus standard goals and clinical trials done with patients with low BP demonstrated that the J-shaped phenomenon should not be a concern in the treatment of high BP.
This is a preview of subscription content
Access options
Subscribe to Journal
Get full journal access for 1 year
$119.00
only $9.92 per issue
All prices are NET prices.
VAT will be added later in the checkout.
Tax calculation will be finalised during checkout.
Buy article
Get time limited or full article access on ReadCube.
$32.00
All prices are NET prices.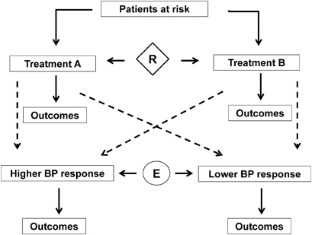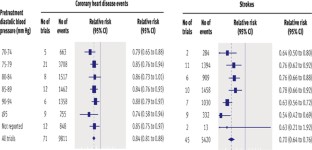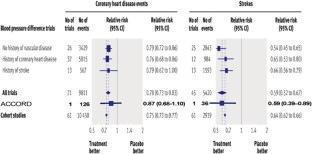 References
Anderson TW . Re-examination of some of the Framingham blood pressure data. Lancet 1978; 2: 1139–1141.

Stewart IM . Relation of reduction in pressure to first myocardial infarction in patients receiving treatment for severe hypertension. Lancet 1979; 1: 861–865.

Cruickshank JM, Thorp JM, Zacharias FJ . Benefits and potential harm of lowering high blood pressure. Lancet 1987; 1: 581–584.

Farnett L, Mulrow CD, Linn WD, Lucey CR, Tuley MR . The J-curve phenomenon and the treatment of hypertension. Is there a point beyond which pressure reduction is dangerous? JAMA 1991; 265: 489–495.

Lindblad U, Rastam L, Ryden L, Ranstam J, Isacsson SO, Berglund G . Control of blood pressure and risk of first acute myocardial infarction: Skaraborg hypertension project. BMJ 1994; 308: 681–686.

Owens P, O'Brien E . Hypotension in patients with coronary disease: can profound hypotensive events cause myocardial ischaemic events? Heart 1999; 82: 477–481.

Hansson L, Zanchetti A, Carruthers SG, Dahlof B, Elmfeldt D, Julius S et al. Effects of intensive blood-pressure lowering and low-dose aspirin in patients with hypertension: principal results of the Hypertension Optimal Treatment (HOT) randomised trial. HOT Study Group. Lancet 1998; 351: 1755–1762.

Chobanian AV, Bakris GL, Black HR, Cushman WC, Green LA, Izzo JL Jr et al. The seventh report of the Joint National Committee on prevention, detection, evaluation, and treatment of high blood pressure: The JNC 7 Report. JAMA 2003; 289: 2560–2571.

Mancia G, Laurent S, Agabiti-Roseic E, Ambrosioni E, Burnier M, Caulfield MJ et al. Reappraisal of European guidelines on hypertension management: a European Society of Hypertension Task Force document. J Hypertens 2009; 27: 2121–2158.

Cruickshank JM . Antihypertensive treatment and the J-curve. Cardiovasc Drugs Ther 2000; 14: 373–379.

ACCORD Study Group, Cushman WC,, Evans GW, Byington RP, Goff DC Jr, Grimm RH Jr et al. Effects of intensive blood-pressure control in type 2 diabetes mellitus. N Engl J Med 2010; 362: 1575–1585.

Chobanian AV . Mixed messages on blood pressure goals. Hypertension 2011; 57: 1039–1040.

Mizuno R, Fujimoto S, Saito Y, Okamoto Y . Optimal antihypertensive level for improvement of coronary microvascular dysfunction: the lower, the better? Hypertension 2012; 60: 326–332.

Lewington S, Clarke R, Qizilbash N, Peto R, Collins R . Age-specific relevance of usual blood pressure to vascular mortality: a meta-analysis of individual data for one million adults in 61 prospective studies. Lancet 2002; 360: 1903–1913.

Fuchs FD, Fuchs SC, Moreira LB, Gus M . Proof of concept in cardiovascular risk: the paradoxical findings in blood pressure and lipid abnormalities. Vasc Health Risk Manag 2012; 8: 437–442.

Law MR, Morris JK, Wald NJ . Use of blood pressure lowering drugs in the prevention of cardiovascular disease: meta-analysis of 147 randomised trials in the context of expectations from prospective epidemiological studies. BMJ 2009; 338: B1665.

Beckett NS, Peters R, Fletcher AE, Staessen JA, Liu L, Dumitrascu D et al HYVET Study Group. Treatment of hypertension in patients 80 years of age or older. N Engl J Med 2008; 358: 1887–1898.

Langer RD, Ganiats TG, Barrett-Connor E . Paradoxical survival of elderly men with high blood pressure. BMJ 1989; 298: 1356–1358.

Okumiya K, Matsubayashi K, Wada T, Fujisawa M, Osaki Y, Doi Y et al. A U-shaped association between home systolic blood pressure and four-year mortality in community-dwelling older men. J Am Geriatr Soc 1999; 47: 1415–1421.

Werle MH, Moriguchi E, Fuchs SC, Bruscato NM, de Carli W, Fuchs FD . Risk factors for cardiovascular disease in the very elderly: results of a cohort study in a city in southern Brazil. Eur J Cardiovasc Prev Rehabil 2011; 18: 369–377.

Glynn RJ, L'Italien GJ, Sesso HD, Jackson EA, Buring JE . Development of predictive models for long-term cardiovascular risk associated with systolic and diastolic blood pressure. Hypertension 2002; 39: 105–110.

Psaty BM, Furberg CD, Kuller LH, Cushman M, Savage PJ, Levine D et al. Association between blood pressure level and the risk of myocardial infarction, stroke, and total mortality: the cardiovascular health study. Arch Intern Med 2001; 161: 1183–1192.

van Bemmel T, Holman ER, Gussekloo J, Blauw GJ, Bax JJ, Westendorp RG . Low blood pressure in the very old, a consequence of imminent heart failure: the Leiden 85-plus Study. J Hum Hypertens 2009; 23: 27–32.

Odden MC, Peralta CA, Haan MN, Covinsky KE . Rethinking the association of high blood pressure with mortality in elderly adults: the impact of frailty. Arch Intern Med 2012; 172: 1162–1168.

Messerli FH, Mancia G, Conti CR, Hewkin AC, Kupfer S, Champion A et al. Dogma disputed: can aggressively lowering blood pressure in hypertensive patients with coronary artery disease be dangerous? Ann Intern Med 2006; 144: 884–893.

Kai H, Ueno T, Kimura T, Adachi H, Furukawa Y, Kita T et al CREDO-Kyoto Investigators. Low DBP may not be an independent risk for cardiovascular death in revascularized coronary artery disease patients. J Hypertens 2011; 29: 1889–1896.

Davis EM, Appel LJ, Wang X, Greene T, Astor BC, Rahman M et al African American Study of Kidney Disease and Hypertension Research Collaborative Group. Limitations of analyses based on achieved blood pressure: lessons from the African American study of kidney disease and hypertension trial. Hypertension 2011; 57: 1061–1068.

Fuchs FD . Blood pressure-lowering drugs: essential therapy for some patients with normal blood pressure. Expert Rev Cardiovasc Ther 2004; 2: 771–775.

The Heart Outcomes Prevention Evaluation Study Investigators. Effects of ramipril on cardiovascular and microvascular outcomes in people with diabetes mellitus: results of the HOPE study and MICRO-HOPE substudy. Lancet 2000; 355: 253–259.

Yusuf S, Sleight P, Pogue J, Bosch J, Davies R, Dagenais G and The Heart Outcomes Prevention Evaluation Study Investigators. Effects of an angiotensin-converting-enzyme inhibitor, ramipril, on cardiovascular events in high-risk patients. N Engl J Med 2000; 342: 145–153.

Fox KM and EURopean trial on reduction of cardiac events with Perindopril in stable coronary Artery disease Investigators. Efficacy of perindopril in reduction of cardiovascular events among patients with stable coronary artery disease: randomised, double-blind, placebo-controlled, multicentre trial (the EUROPA study). Lancet 2003; 362: 782–788.

PROGRESS Collaborative Group. Randomised trial of a perindopril-based blood-pressure-lowering regimen among 6105 individuals with previous stroke or transient ischaemic attack. Lancet 2001; 358: 1033–1041.

The SOLVD investigators. Effect of enalapril on mortality and development of heart failure in asymptomatic patients with reduced left ventricular ejection fractions. N Eng J Med 1992; 327: 685–691.

The SOLVD investigators. Effect of enalapril on survival in patients with reduced left ventricular ejection fractions and congestive heart failure. N Eng J Med 1991; 325: 669–677.

Pfeffer MA, Braunwald E, Moye LA, Basta L, Brown EJ Jr, Cuddy TE et al. Effect of captopril on mortality and morbidity in patients with left ventricular dysfunction after myocardial infarction: results of the Survival and Ventricular Enlargement Trial. The SAVE Investigators. N Eng J Med 1992; 327: 669–677.

Thompson AM, Hu T, Eshelbrenner CL, Reynolds K, He J, Bazzano LA . Antihypertensive treatment and secondary prevention of cardiovascular disease events among persons without hypertension: a meta-analysis. JAMA 2011; 305: 913–922.

Fuchs FD, Fuchs SC, Moreira LB, Gus M, Nóbrega AC, Poli-de-Figueiredo CE et al. Prevention of hypertension in patients with pre-hypertension: protocol for the PREVER-prevention trial. Trials 2011; 12: 65.

The CONSENSUS Trial Study Group. Effects of enalapril on mortality in severe congestive heart failure. N Eng J Med 1987; 316: 1429–1435.

Reboldi G, Gentile G, Angeli F, Ambrosio G, Mancia G, Verdecchia P . Effects of intensive blood pressure reduction on myocardial infarction and stroke in diabetes: a meta-analysis in 73,913 patients. J Hypertens 2011; 29: 1253–1269.

McBrien K, Rabi DM, Campbell N, Barnieh L, Clement F, Hemmelgarn BR et al. Intensive and standard blood pressure targets in patients with type 2 diabetes mellitus: systematic review and meta-analysis. Arch Intern Med 2012; 172: 1296–1303.

Smith SC Jr, Benjamin EJ, Bonow RO, Braun LT, Creager MA, Franklin BA et al World Heart Federation and the Preventive Cardiovascular Nurses Association. AHA/ACCF Secondary Prevention and Risk Reduction Therapy for Patients with Coronary and other Atherosclerotic Vascular Disease: 2011 update: a guideline from the American Heart Association and American College of Cardiology Foundation. Circulation 2011; 124: 2458–2473.
Acknowledgements
This study was supported, in part, by the National Institute of Science and Technology for Health Technology Assessment (IATS)—CNPq/Brazil.
Ethics declarations
Competing interests
The authors declare no conflict of interest.
About this article
Cite this article
Fuchs, F., Fuchs, S. Blood pressure targets in the treatment of high blood pressure: a reappraisal of the J-shaped phenomenon. J Hum Hypertens 28, 80–84 (2014). https://doi.org/10.1038/jhh.2013.78
Received:

Revised:

Accepted:

Published:

Issue Date:

DOI: https://doi.org/10.1038/jhh.2013.78
Keywords
J-shaped phenomenon

blood pressure treatment

blood pressure targets