Abstract
Data from in vitro and animal experiments suggest that progressive endothelial damage with subsequent activation of coagulation and inflammation have a key role in hypertensive crisis. However, clinical investigations are scarce. We hypothesized that hypertensive emergencies are associated with enhanced inflammation, endothelial- and coagulation activation. Thus, we enrolled 60 patients admitted to an emergency department in a prospective, cross-sectional study. We compared markers of coagulation, fibrinolysis (prothrombin fragment F1+2, plasmin–antiplasmin complexes, plasmin-activator inhibitor, tissue plasminogen activator), platelet- and endothelial activation and inflammation (P-selectin, C-reactive protein, leukocyte counts, fibrinogen, soluble vascular adhesion molecule-1, intercellular adhesion molecule-1, myeloperoxidase and asymmetric dimethylarginine) between hypertensive emergencies, urgencies and normotensive patients. In hypertensive emergencies, markers of inflammation and endothelial activation were significantly higher as compared with urgencies and controls (P<0.05). Likewise, plasmin–antiplasmin complexes were 75% higher in emergencies as compared with urgencies (P<0.001), as were tissue plasminogen-activator levels (∼30%; P<0.05) and sP-selectin (∼40%; P<0.05). In contrast, similar levels of all parameters were found between urgencies and controls. We consistently observed elevated markers of thrombogenesis, fibrinolysis and inflammation in hypertensive emergencies as compared with urgencies. Further studies will be needed to clarify if these alterations are cause or consequence of target organ damage.
Relevant articles
Open Access articles citing this article.
Flavia Mariana Valente

,

Days Oliveira de Andrade

…

José Fernando Vilela-Martin

BMC Cardiovascular Disorders Open Access 12 March 2020
Access options
Subscribe to this journal
Receive 12 digital issues and online access to articles
$119.00 per year
only $9.92 per issue
Rent or buy this article
Get just this article for as long as you need it
$39.95
Prices may be subject to local taxes which are calculated during checkout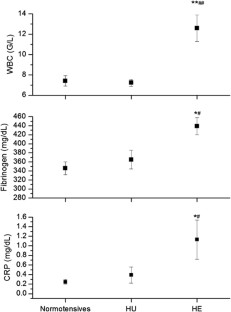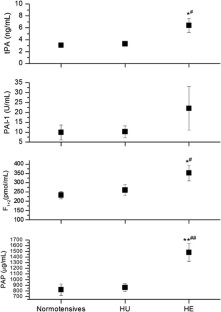 References
Zampaglione B, Pascale C, Marchisio M, Cavallo-Perin P . Hypertensive urgencies and emergencies. Prevalence and clinical presentation. Hypertension 1996; 27: 144–147.

Vilela-Martin JF, Vaz-de-Melo RO, Kuniyoshi CH, Abdo AN, Yugar-Toledo JC . Hypertensive crisis: clinical-epidemiological profile. Hypertens Res 2011; 34: 367–371.

The fifth report of the Joint National Committee on Detection, Evaluation, and Treatment of High Blood Pressure (JNC V). Arch Intern Med 1993; 153: 154–183.

Vaughan CJ, Delanty N . Hypertensive emergencies. Lancet 2000; 356: 411–417.

Marik PE, Varon J . Hypertensive crises: challenges and management. Chest 2007; 131: 1949–1962.

van den Born BJ, Lowenberg EC, van der Hoeven NV, de Laat B, Meijers JC, Levi M et al. Endothelial dysfunction, platelet activation, thrombogenesis and fibrinolysis in patients with hypertensive crisis. J Hypertens 2011; 29: 922–927.

Lip GY, Edmunds E, Hee FL, Blann AD, Beevers DG . A cross-sectional, diurnal, and follow-up study of platelet activation and endothelial dysfunction in malignant phase hypertension. Am J Hypertens 2001; 14: 823–828.

Bellomo R, Ronco C, Kellum JA, Mehta RL, Palevsky P . Acute renal failure - definition, outcome measures, animal models, fluid therapy and information technology needs: the Second International Consensus Conference of the Acute Dialysis Quality Initiative (ADQI) Group. Crit Care 2004; 8: R204–R212.

Jilma B, Eichler HG, Breiteneder H, Wolzt M, Aringer M, Graninger W et al. Effects of 17 beta-estradiol on circulating adhesion molecules. J Clin Endocrinol Metab 1994; 79: 1619–1624.

Mittermayer F, Namiranian K, Pleiner J, Schaller G, Wolzt M . Acute Escherichia coli endotoxaemia decreases the plasma l-arginine/asymmetrical dimethylarginine ratio in humans. Clin Sci (Lond) 2004; 106: 577–581.

Derhaschnig U, Bergmair D, Marsik C, Schlifke I, Wijdenes J, Jilma B . Effect of interleukin-6 blockade on tissue factor-induced coagulation in human endotoxemia. Crit Care Med 2004; 32: 1136–1140.

Pernerstorfer T, Stohlawetz P, Hollenstein U, Dzirlo L, Eichler HG, Kapiotis S et al. Endotoxin-induced activation of the coagulation cascade in humans: effect of acetylsalicylic acid and acetaminophen. Arterioscler Thromb Vasc Biol 1999; 19: 2517–2523.

Derhaschnig U, Schweeger-Exeli I, Marsik C, Cardona F, Minuz P, Jilma B . Effects of aspirin and NO-aspirin (NCX 4016) on platelet function and coagulation in human endotoxemia. Platelets 2010; 21: 320–328.

Kaya MG, Yarlioglues M, Gunebakmaz O, Gunturk E, Inanc T, Dogan A . Platelet activation and inflammatory response in patients with non-dipper hypertension. Atherosclerosis 2010; 209: 278–282.

Holm S . A simple sequentially rejective multiple test procedure. Scand J Stat 1979; 6: 65–70.

Lip GY, Blann AD . Endothelium and fibrinolysis in hypertension: important facets of a prothrombotic state? Hypertension 2008; 52: 218–219.

Thuillez C, Richard V . Targeting endothelial dysfunction in hypertensive subjects. J Hum Hypertens 2005; 19: S21–S25.

Thiele S, Britz S, Landsiedel L, Wallaschofski H, Lohmann T . Short-term changes in hsCRP and NT-proBNP levels in hypertensive emergencies. Horm Metab Res 2008; 40: 561–565.

Boos CJ, Lip GY . Elevated high-sensitive C-reactive protein, large arterial stiffness and atherosclerosis: a relationship between inflammation and hypertension? J Hum Hypertens 2005; 19: 511–513.

Venugopal SK, Devaraj S, Yuhanna I, Shaul P, Jialal I . Demonstration that C-reactive protein decreases eNOS expression and bioactivity in human aortic endothelial cells. Circulation 2002; 106: 1439–1441.

DeSouza CA, Dengel DR, Macko RF, Cox K, Seals DR . Elevated levels of circulating cell adhesion molecules in uncomplicated essential hypertension. Am J Hypertens 1997; 10: 1335–1341.

Coppolino G, Bolignano D, Campo S, Loddo S, Teti D, Buemi M . Circulating progenitor cells after cold pressor test in hypertensive and uremic patients. Hypertens Res 2008; 31: 717–724.

Verhaar MC, Beutler JJ, Gaillard CA, Koomans HA, Fijnheer R, Rabelink TJ . Progressive vascular damage in hypertension is associated with increased levels of circulating P-selectin. J Hypertens 1998; 16: 45–50.

Walpola PL, Gotlieb AI, Cybulsky MI, Langille BL . Expression of ICAM-1 and VCAM-1 and monocyte adherence in arteries exposed to altered shear stress. Arterioscler Thromb Vasc Biol 1995; 15: 2–10.

Schindhelm RK, van der Zwan LP, Teerlink T, Scheffer PG . Myeloperoxidase: a useful biomarker for cardiovascular disease risk stratification? Clin Chem 2009; 55: 1462–1470.

Vita JA, Brennan ML, Gokce N, Mann SA, Goormastic M, Shishehbor MH et al. Serum myeloperoxidase levels independently predict endothelial dysfunction in humans. Circulation 2004; 110: 1134–1139.

Osanai T, Saitoh M, Sasaki S, Tomita H, Matsunaga T, Okumura K . Effect of shear stress on asymmetric dimethylarginine release from vascular endothelial cells. Hypertension 2003; 42: 985–990.

Pasini AF, Garbin U, Stranieri C, Boccioletti V, Mozzini C, Manfro S et al. Nebivolol treatment reduces serum levels of asymmetric dimethylarginine and improves endothelial dysfunction in essential hypertensive patients. Am J Hypertens 2008; 21: 1251–1257.

Sonmez A, Celebi G, Erdem G, Tapan S, Genc H, Tasci I et al. Plasma apelin and ADMA levels in patients with essential hypertension. Clin Exp Hypertens 2010; 32: 179–183.

Lin MC, Almus-Jacobs F, Chen HH, Parry GC, Mackman N, Shyy JY et al. Shear stress induction of the tissue factor gene. J Clin Invest 1997; 99: 737–744.

Silverman MD, Waters CR, Hayman GT, Wigboldus J, Samet MM, Lelkes PI . Tissue factor activity is increased in human endothelial cells cultured under elevated static pressure. Am J Physiol 1999; 277: C233–C242.

Nadar S, Blann AD, Lip GY . Platelet morphology and plasma indices of platelet activation in essential hypertension: effects of amlodipine-based antihypertensive therapy. Ann Med 2004; 36: 552–557.

Sechi LA, Novello M, Colussi G, Di FA, Chiuch A, Nadalini E et al. Relationship of plasma renin with a prothrombotic state in hypertension: relevance for organ damage. Am J Hypertens 2003; 21: 1347–1353.

Spencer CG, Gurney D, Blann AD, Beevers DG, Lip GY . Von Willebrand factor, soluble P-selectin, and target organ damage in hypertension: a substudy of the Anglo-Scandinavian Cardiac Outcomes Trial (ASCOT). Hypertension 2002; 40: 61–66.

Hrafnkelsdottir T, Wall U, Jern C, Jern S . Impaired capacity for endogenous fibrinolysis in essential hypertension. Lancet 1998; 352: 1597–1598.

Ridderstrale W, Ulfhammer E, Jern S, Hrafnkelsdottir T . Impaired capacity for stimulated fibrinolysis in primary hypertension is restored by antihypertensive therapy. Hypertension 2006; 47: 686–691.

Camera M, Frigerio M, Toschi V, Brambilla M, Rossi F, Cottell DC et al. Platelet activation induces cell-surface immunoreactive tissue factor expression, which is modulated differently by antiplatelet drugs. Arterioscler Thromb Vasc Biol 2003; 23: 1690–1696.

Mazzolai L, Silacci P, Bouzourene K, Daniel F, Brunner H, Hayoz D . Tissue factor activity is upregulated in human endothelial cells exposed to oscillatory shear stress. Thromb Haemost 2002; 87: 1062–1068.

Nishimura H, Tsuji H, Masuda H, Nakagawa K, Nakahara Y, Kitamura H et al. Angiotensin II increases plasminogen activator inhibitor-1 and tissue factor mRNA expression without changing that of tissue type plasminogen activator or tissue factor pathway inhibitor in cultured rat aortic endothelial cells. Thromb Haemost 1997; 77: 1189–1195.

Stohlawetz P, Horvath M, Pernerstorfer T, Nguyen H, Vondrovec B, Robisch A et al. Effects of nitric oxide on platelet activation during plateletpheresis and in vivo tracking of biotinylated platelets in humans. Transfusion 1999; 39: 506–514.

Crabos M, Bertschin S, Buhler FR, Rogg H, Evequoz D, Eberhard M et al. Identification of AT1 receptors on human platelets and decreased angiotensin II binding in hypertension. J Hypertens Suppl 1993; 11: S230–S231.

Larsson PT, Schwieler JH, Wallen NH . Platelet activation during angiotensin II infusion in healthy volunteers. Blood Coagul Fibrinolysis 2000; 11: 61–69.

Gkaliagkousi E, Passacquale G, Douma S, Zamboulis C, Ferro A . Platelet activation in essential hypertension: implications for antiplatelet treatment. Am J Hypertens 2010; 23: 229–236.

Lip GY, Li-Saw-Hee FL . Does hypertension confer a hypercoagulable state? J Hypertens 1998; 16: 913–916.
Acknowledgements
We thank Mrs Karin Petroczi and Astrid Fabry for their valuable laboratory work. This project was partly supported by a research grant (Number 701) of the Austrian Heart Funds dedicated to UD.
Ethics declarations
Competing interests
The authors declare no conflicts of interest.
About this article
Cite this article
Derhaschnig, U., Testori, C., Riedmueller, E. et al. Hypertensive emergencies are associated with elevated markers of inflammation, coagulation, platelet activation and fibrinolysis. J Hum Hypertens 27, 368–373 (2013). https://doi.org/10.1038/jhh.2012.53
Received:

Revised:

Accepted:

Published:

Issue Date:

DOI: https://doi.org/10.1038/jhh.2012.53
Keywords
coagulation

fibrinolysis

urgency

hypertensive emergency

inflammation