Abstract
The benefits of aerobic exercise (AE) training on blood pressure (BP) and arterial stiffness are well established, but the effects of resistance training are less well delineated. The purpose of this study was to determine the impact of resistance vs aerobic training on haemodynamics and arterial stiffness. Thirty pre- or stage-1 essential hypertensives (20 men and 10 women), not on any medications, were recruited (age: 48.2±1.3 years) and randomly assigned to 4 weeks of either resistance (RE) or AE training. Before and after training, BP, arterial stiffness (pulse wave velocity (PWV)) and vasodilatory capacity (VC) were measured. Resting systolic BP (SBP) decreased following both training modes (SBP: RE, pre 136±2.9 vs post 132±3.4; AE, pre 141±3.8 vs post 136±3.4 mm Hg, P=0.005; diastolic BP: RE, pre 78±1.3 vs post 74±1.6; AE, pre 80±1.6 vs post 77±1.7 mm Hg, P=0.001). Central PWV increased (P=0.0001) following RE (11±0.9–12.7±0.9 m s−1) but decreased after AE (12.1±0.8–11.1±0.8 m s−1). Peripheral PWV also increased (P=0.013) following RE (RE, pre 11.5±0.8 vs post 12.5±0.7 m s−1) and decreased after AE (AE, pre 12.6±0.8 vs post 11.6±0.7 m s−1). The VC area under the curve (VCAUC) increased more with RE than that with AE (RE, pre 76±8.0 vs post 131.1±11.6; AE, pre 82.7±8.0 vs post 110.1±11.6 ml per min per s per 100 ml, P=0.001). Further, peak VC (VCpeak) increased more following resistance training compared to aerobic training (RE, pre 17±1.9 vs post 25.8±2.1; AE, pre 19.2±8.4 vs post 22.9±8.4 ml per min per s per 100 ml, P=0.005). Although both RE and AE training decreased BP, the change in pressure may be due to different mechanisms.
Relevant articles
Open Access articles citing this article.
Raphael S. N. da Silva

,

Diego S. da Silva

…

Maximiliano I. Schaun

Systematic Reviews Open Access 13 August 2022

Nikita Rowley

,

Steve Mann

…

Alfonso Jimenez

BMC Public Health Open Access 02 August 2018
Access options
Subscribe to Journal
Get full journal access for 1 year
$119.00
only $9.92 per issue
All prices are NET prices.
VAT will be added later in the checkout.
Tax calculation will be finalised during checkout.
Buy article
Get time limited or full article access on ReadCube.
$32.00
All prices are NET prices.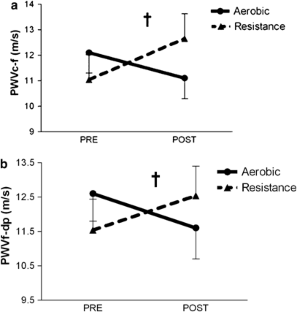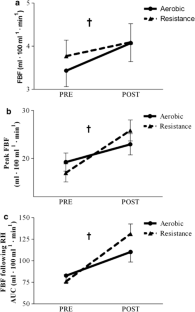 References
Chobanian AV, Bakris GL, Black HR, Cushman WC, Green LA, Izzo Jr JL et al. Seventh report of the Joint National Committee on Prevention, Detection, Evaluation, and Treatment of High Blood Pressure. Hypertension 2003; 42: 1206–1252.

Pescatello LS, Franklin BA, Fagard R, Farquhar WB, Kelley GA, Ray CA . American College of Sports Medicine position stand. Exercise and hypertension. Med Sci Sports Exerc 2004; 36: 533–553.

Kelley G, McClellan P . Antihypertensive effects of aerobic exercise. A brief meta-analytic review of randomized controlled trials. Am J Hypertens 1994; 7: 115–119.

Seals DR, Silverman HG, Reiling MJ, Davy KP . Effect of regular aerobic exercise on elevated blood pressure in postmenopausal women. Am J Cardiol 1997; 80: 49–55.

Zhang B, Sakai T, Noda K, Kiyonaga A, Tanaka H, Shindo M et al. Multivariate analysis of the prognostic determinants of the depressor response to exercise therapy in patients with essential hypertension. Circ J 2003; 67: 579–584.

Pollock ML, Franklin BA, Balady GJ, Chaitman BL, Fleg JL, Fletcher B et al. AHA Science Advisory. Resistance exercise in individuals with and without cardiovascular disease: benefits, rationale, safety, and prescription: an advisory from the Committee on Exercise, Rehabilitation, and Prevention, Council on Clinical Cardiology, American Heart Association; position paper endorsed by the American College of Sports Medicine. Circulation 2000; 101: 828–833.

Hurley BF, Roth SM . Strength training in the elderly: effects on risk factors for age-related diseases. Sports Med 2000; 30: 249–268.

Layne JE, Nelson ME . The effects of progressive resistance training on bone density: a review. Med Sci Sports Exerc 1999; 31: 25–30.

Fielding RA . The role of progressive resistance training and nutrition in the preservation of lean body mass in the elderly. J Am Coll Nutr 1995; 14: 587–594.

Kelley G . Dynamic resistance exercise and resting blood pressure in adults: a meta-analysis. J Appl Physiol 1997; 82: 1559–1565.

Miyachi M, Kawano H, Sugawara J, Takahashi K, Hayashi K, Yamazaki K et al. Unfavorable effects of resistance training on central arterial compliance: a randomized intervention study. Circulation 2004; 110: 2858–2863.

Bertovic DA, Waddell TK, Gatzka CD, Cameron JD, Dart AM, Kingwell BA . Muscular strength training is associated with low arterial compliance and high pulse pressure. Hypertension 1999; 33: 1385–1391.

Casey DP, Beck DT, Braith RW . Progressive resistance training without volume increases does not alter arterial stiffness and aortic wave reflection. Exp Biol Med (Maywood) 2007; 232: 1228–1235.

Rakobowchuk M, McGowan CL, de Groot PC, Hartman JW, Phillips SM, MacDonald MJ . Endothelial function of young healthy males following whole body resistance training. J Appl Physiol 2005; 98: 2185–2190.

Kokkinos PF, Narayan P, Papademetriou V . Exercise as hypertension therapy. Cardiol Clin 2001; 19: 507–516.

Benetos A, Waeber B, Izzo J, Mitchell G, Resnick L, Asmar R et al. Influence of age, risk factors, and cardiovascular and renal disease on arterial stiffness: clinical applications. Am J Hypertens 2002; 15: 1101–1108.

Berry KL, Cameron JD, Dart AM, Berry KL, Cameron JD, Dart AM et al. Large-artery stiffness contributes to the greater prevalence of systolic hypertension in elderly women. J Am Geriatr Soc 2004; 52: 368–373.

Higashi Y, Sasaki S, Kurisu S, Yoshimizu A, Sasaki N, Matsuura H et al. Regular aerobic exercise augments endothelium-dependent vascular relaxation in normotensive as well as hypertensive subjects: role of endothelium-derived nitric oxide. Circulation 1999; 100: 1194–1202.

Higashi Y, Yoshizumi M . Exercise and endothelial function: role of endothelium-derived nitric oxide and oxidative stress in healthy subjects and hypertensive patients. Pharmacol Ther 2004; 102: 87–96.

Clarkson P, Montgomery HE, Mullen MJ, Donald AE, Powe AJ, Bull T et al. Exercise training enhances endothelial function in young men. J Am Coll Cardiol 1999; 33: 1379–1385.

McGowan CL, Levy AS, Millar PJ, Safar ME, Giannattasio C, Cockcroft J et al. Acute vascular responses to isometric handgrip exercise and effects of training in persons medicated for hypertension. Am J Physiol Heart Circ Physiol 2006; 291: H1797–H1802.

Katch F, Michael ED, Horvath SM . Estimation of body volume by underwater weighing: description of a simple method. J Appl Physiol 1967; 23: 811–813.

Van Bortel LM, Duprez D, Starmans-Kool MJ, Safar ME, Giannattasio C, Cockcroft J et al. Clinical applications of arterial stiffness, Task Force III: recommendations for user procedures. Am J Hypertens 2002; 15: 445–452.

Kirkendall WM, Feinleib M, Freis ED, Mark AL . Recommendations for human blood pressure determination by sphygmomanometers. Subcommittee of the AHA Postgraduate Education Committee. Stroke 1981; 12: 555A–564A.

Guelen I, Westerhof BE, Van Der Sar GL, Van Montfrans GA, Kiemeneij F, Wesseling KH et al. Finometer, finger pressure measurements with the possibility to reconstruct brachial pressure. Blood Press Monit 2003; 8: 27–30.

Wilmore JH, Stanforth PR, Gagnon J, Rice T, Mandel S, Leon AS et al. Heart rate and blood pressure changes with endurance training: the HERITAGE Family Study. Med Sci Sports Exerc 2001; 33: 107–116.

Hagberg JM, Montain SJ, Martin III WH, Ehsani AA . Effect of exercise training in 60- to 69-year-old persons with essential hypertension. Am J Cardiol 1989; 64: 348–353.

Van Hoof R, Macor F, Lijnen P, Staessen J, Thijs L, Vanhees L et al. Effect of strength training on blood pressure measured in various conditions in sedentary men. Int J Sports Med 1996; 17: 415–422.

Fagard R . Exercise is good for your blood pressure: effects of endurance training and resistance training. Clin Exp Pharmacol Physiol 2006; 33: 853–856.

Kelley GA, Kelley KS . Progressive resistance exercise and resting blood pressure: a meta-analysis of randomized controlled trials. Hypertension 2000; 35: 838–843.

Braith RW, Stewart KJ . Resistance exercise training: its role in the prevention of cardiovascular disease. Circulation 2006; 113: 2642–2650.

Cononie CC, Graves JE, Pollock ML, Phillips MI, Sumners C, Hagberg JM . Effect of exercise training on blood pressure in 70- to 79-yr-old men and women. Med Sci Sports Exerc 1991; 23: 505–511.

Cortez-Cooper MY, DeVan AE, Anton MM, Farrar RP, Beckwith KA, Todd JS et al. Effects of high intensity resistance training on arterial stiffness and wave reflection in women. Am J Hypertens 2005; 18: 930–934.

Whelton SP, Chin A, Xin X, He J . Effect of aerobic exercise on blood pressure: a meta-analysis of randomized, controlled trials. Ann Intern Med 2002; 136: 493–503.

Seals DR . Habitual exercise and the age-associated decline in large artery compliance. Exerc Sport Sci Rev 2003; 31: 68–72.

Tanaka H, Dinenno FA, Monahan KD, Clevenger CM, DeSouza CA, Seals DR . Aging, habitual exercise, and dynamic arterial compliance. Circulation 2000; 102: 1270–1275.

Cameron JD, Rajkumar C, Kingwell BA, Jennings GL, Dart AM . Higher systemic arterial compliance is associated with greater exercise time and lower blood pressure in a young older population. J Am Geriatr Soc 1999; 47: 653–656.

Kraft KA, Arena R, Arrowood JA, Fei DY . High aerobic capacity does not attenuate aortic stiffness in hypertensive subjects. Am Heart J 2007; 154: 976–982.

Ferrier KE, Waddell TK, Gatzka CD, Cameron JD, Dart AM, Kingwell BA . Aerobic exercise training does not modify large-artery compliance in isolated systolic hypertension. Hypertension 2001; 38: 222–226.

Westhoff TH, Franke N, Schmidt S, Vallbracht-Israng K, Meissner R, Yildirim H et al. Too old to benefit from sports? The cardiovascular effects of exercise training in elderly subjects treated for isolated systolic hypertension. Kidney Blood Press Res 2007; 30: 240–247.

DeVan AE, Anton MM, Cook JN, Neidre DB, Cortez-Cooper MY, Tanaka H . Acute effects of resistance exercise on arterial compliance. J Appl Physiol 2005; 98: 2287–2291.

Rakobowchuk M, McGowan CL, de Groot PC, Bruinsma D, Hartman JW, Phillips SM et al. Effect of whole body resistance training on arterial compliance in young men. Exp Physiol 2005; 90: 645–651.

Peake JM, Nosaka K, Muthalib M, Suzuki K . Systemic inflammatory responses to maximal versus submaximal lengthening contractions of the elbow flexors. Exerc Immunol Rev 2006; 12: 72–85.

Margonis K, Fatouros IG, Jamurtas AZ, Nikolaidis MG, Douroudos I, Chatzinikolaou A et al. Oxidative stress biomarkers responses to physical overtraining: implications for diagnosis. Free Radic Biol Med 2007; 43: 901–910.

Izzo Jr JL, Taylor AA . The sympathetic nervous system and baroreflexes in hypertension and hypotension. Curr Hypertens Rep 1999; 1: 254–263.

Carter JR, Ray CA, Downs EM, Cooke WH . Strength training reduces arterial blood pressure but not sympathetic neural activity in young normotensive subjects. J Appl Physiol 2003; 94: 2212–2216.

Shoemaker JK, Herr MD, Sinoway LI . Dissociation of muscle sympathetic nerve activity and leg vascular resistance in humans. Am J Physiol Heart Circ Physiol 2000; 279: H1215–H1219.

Figueroa A, Kingsley JD, McMillan V, Panton LB . Resistance exercise training improves heart rate variability in women with fibromyalgia. Clin Physiol Funct Imaging 2008; 28: 49–54.

Heffernan KS, Fahs CA, Shinsako KK, Jae SY, Fernhall B . Heart rate recovery and heart rate complexity following resistance exercise training and detraining in young men. Am J Physiol Heart Circ Physiol 2007; 293: H3180–H3186.

Otsuki T, Maeda S, Iemitsu M, Saito Y, Tanimura Y, Sugawara J et al. Postexercise heart rate recovery accelerates in strength-trained athletes. Med Sci Sports Exerc 2007; 39: 365–370.

Roman MJ, Pini R, Pickering TG, Devereux RB . Non-invasive measurements of arterial compliance in hypertensive compared with normotensive adults. J Hypertens (Suppl) 1992; 10: S115–S118.

Rizzoni D, Palombo C, Porteri E, Muiesan ML, Kozàkovà M, La Canna G et al. Relationships between coronary flow vasodilator capacity and small artery remodelling in hypertensive patients. J Hypertens 2003; 21: 625–631.

Olson TP, Dengel DR, Leon AS, Schmitz KH . Moderate resistance training and vascular health in overweight women. Med Sci Sports Exerc 2006; 38: 1558–1564.

Arce Esquivel AA, Welsch MA . High and low volume resistance training and vascular function. Int J Sports Med 2007; 28: 217–221.

Green DJ, Bilsborough W, Naylor LH, Reed C, Wright J, O'Driscoll G et al. Comparison of forearm blood flow responses to incremental handgrip and cycle ergometer exercise: relative contribution of nitric oxide. J Physiol 2005; 562: 617–628.

Moriguchi J, Itoh H, Harada S, Takeda K, Hatta T, Nakata T et al. Low frequency regular exercise improves flow-mediated dilatation of subjects with mild hypertension. Hypertens Res 2005; 28: 315–321.

Rubanyi GM, Romero JC, Vanhoutte PM . Flow-induced release of endothelium-derived relaxing factor. Am J Physiol 1986; 250: H1145–H1149.

Martin CM, Beltran-Del-Rio A, Albrecht A, Lorenz RR, Joyner MJ . Local cholinergic mechanisms mediate nitric oxide-dependent flow-induced vasorelaxation in vitro. Am J Physiol 1996; 270: H442–H446.

Koller A, Huang A, Sun D, Kaley G . Exercise training augments flow-dependent dilation in rat skeletal muscle arterioles. Role of endothelial nitric oxide and prostaglandins. Circ Res 1995; 76: 544–550.

Busse R, Edwards G, Feletou M, Fleming I, Vanhoutte PM, Weston AH . EDHF: bringing the concepts together. Trends Pharmacol Sci 2002; 23: 374–380.

American College of Sports Medicine Position Stand. The recommended quantity and quality of exercise for developing and maintaining cardiorespiratory and muscular fitness, and flexibility in healthy adults. Med Sci Sports Exerc 1998; 30: 975–991.
About this article
Cite this article
Collier, S., Kanaley, J., Carhart, R. et al. Effect of 4 weeks of aerobic or resistance exercise training on arterial stiffness, blood flow and blood pressure in pre- and stage-1 hypertensives. J Hum Hypertens 22, 678–686 (2008). https://doi.org/10.1038/jhh.2008.36
Received:

Revised:

Accepted:

Published:

Issue Date:

DOI: https://doi.org/10.1038/jhh.2008.36
Keywords
exercise

vasculature

arterial stiffness