Abstract
Obesity is increasing at an alarming rate throughout the world, particularly among children. Epidemiological and experimental data have suggested that suboptimal nutrition and growth during prenatal and/or postnatal life can have a significant role in the development of obesity and related diseases. Similarly, exposure to malnutrition during perinatal life can result in lifelong metabolic disorders. Although the precise biological mechanisms governing metabolic programming have not been fully elucidated, there is growing evidence that obesity and other metabolic diseases may result from a change in the underlying developmental program of the hypothalamic pathways that regulate energy balance. The hypothalamus undergoes tremendous growth beginning in the embryonic period and continuing through adolescence, and an alteration in perinatal nutrition can affect various developmental processes, including neurogenesis and axon growth, which can lead to abnormal hypothalamic development. Metabolic hormones, particularly leptin, are capable of transmitting signals to the developing hypothalamus in response to alterations in the nutritional environment and may underlie potential maladaptive responses to early metabolic perturbations. A better understanding of the optimal perinatal hormonal and nutritional environment during hypothalamic development may help ameliorate and reverse the metabolic malprogramming of the fetus and/or neonate.
This is a preview of subscription content
Access options
Subscribe to Journal
Get full journal access for 1 year
We are sorry, but there is no personal subscription option available for your country.
Rent or Buy article
Get time limited or full article access on ReadCube.
from$8.99
All prices are NET prices.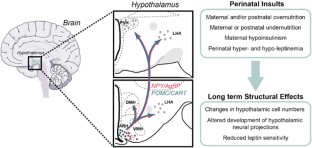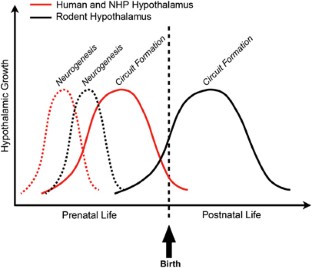 References
1

Ebbeling CB, Pawlak DB, Ludwig DS . Childhood obesity: public-health crisis, common sense cure. Lancet 2002; 360: 473–482.

2

Wang Y, Beydoun MA, Liang L, Caballero B, Kumanyika SK . Will all Americans become overweight or obese? Estimating the progression and cost of the US obesity epidemic. Obesity (Silver Spring) 2008; 16: 2323–2330.

3

Centers for Disease Control and Prevention (CDC). Estimated county-level prevalence of diabetes and obesity - United States, 2007. MMWR Morb Mortal Wkly Rep 2009; 58: 1259–1263.

4

Whitaker RC, Wright JA, Pepe MS, Seidel KD, Dietz WH . Predicting obesity in young adulthood from childhood and parental obesity. N Engl J Med 1997; 337: 869–873.

5

Serdula MK, Ivery D, Coates RJ, Freedman DS, Williamson DF, Byers T . Do obese children become obese adults? A review of the literature. Prev Med 1993; 22: 167–177.

6

Levin B . Metabolic imprinting: critical impact of the perinatal environment on the regulation of energy homeostasis. Phil Trans R Soc Lond B 2006; 361: 1107–1121.

7

Plagemann A . Perinatal nutrition and hormone-dependent programming of food intake. Horm Res 2006; 65: 83–89.

8

McMillen IC, Robinson JS . Developmental origins of the metabolic syndrome: prediction, plasticity, and programming. Physiol Rev 2005; 85: 571–633.

9

Godfrey KM, Gluckman PD, Hanson MA . Developmental origins of metabolic disease: life course and intergenerational perspectives. Trends in Endocrinol Metab 2010; 21: 199–205.

10

Sullivan EL, Grove KL . Metabolic imprinting in obesity. Forum Nutr 2010; 63: 186–194.

11

Elmquist JK, Coppari R, Balthasar N, Ichinose M, Lowell BB . Identifying hypothalamic pathways controlling food intake, body weight, and glucose homeostasis. J Comp Neurol 2005; 493: 63–71.

12

Sawchenko PE . Toward a new neurobiology of energy balance, appetite, and obesity: the anatomists weigh in. J Comp Neurol 1998; 402: 435–441.

13

Saper C, Chou T, Elmquist JK . The need to feed: homeostatic and hedonic control of eating. Neuron 2002; 36: 199–211.

14

Berthoud HR . Homeostatic and non-homeostatic pathways involved in the control of food intake and energy balance. Obesity 2006; 14: 197S–200S.

15

Horvath TL, Bruning JC . Developmental programming of the hypothalamus: a matter of fat. Nat Med 2006; 12: 52–53.

16

Bouret SG . Early life origins of obesity: role of hypothalamic programming. J Pediatr Gastroenterol Nutr 2009; 48: S31–S38.

17

Martin-Gronert MS, Ozanne SE . Programming of appetite and type 2 diabetes. Early Hum Dev 2005; 81: 981–988.

18

Markakis EA . Development of the neuroendocrine hypothalamus. Front Neuroendocrinol 2002; 23: 257–291.

19

Bouret SG . Development of hypothalamic neural networks controlling appetite. In: Elmadfa I (ed). Forum of Nutrition, vol. 63. Karger: Basel, 2010, pp 84–93.

20

Altman J, Bayer SA . The development of the rat hypothalamus. Adv Anat Embryol Cell Biol 1986; 100: 1–178.

21

Ishii Y, Gibbons MB, Bouret SG . Neurogenic actions of leptin on hypothalamic structures involved in feeding regulation. Proceedings of the 39th Annual Meeting of the Society For Neuroscience; 20 October 2009, Chicago, IL, USA, poster 669.16/EE69.

22

Padilla SL, Carmody JS, Zeltser LM . POMC-expressing progenitors give rise to antagonistic neuronal populations in hypothalamic feeding circuits. Nat Med 2010; 16: 403–405.

23

Keyser A . Development of the hypothalamus in mammals. In: Morgane PJ, Panksepp J (eds). Anatomy of the Hypothalamus. New York, 1979, pp 65–136.

24

van Eerdenburg FJ, Rakic P . Early neurogenesis in the anterior hypothalamus of the rhesus monkey. Brain Res Dev Brain Res 1994; 79: 290–296.

25

Bugnon C, Fellmann D, Bresson JL, Clavequin MC . Immunocytochemical study of the ontogenesis of the CRH-containing neuroglandular system in the human hypothalamus. C R Seances Acad Sci 1982; 294: 491–496.

26

Burford GD, Robinson IC . Oxytocin, vasopressin and neurophysins in the hypothalamo-neurohypophysial system of the human fetus. J Endocrinol 1982; 95: 403–408.

27

Ackland J, Ratter S, Bourne GL, Rees LH . Characterization of immunoreactive somatostatin in human fetal hypothalamic tissue. Regul Pept 1983; 5: 95–101.

28

Mai JK, Lensing-Hohn S, Ende AA, Safroniew MV . Developmental organization of neurophysin neurons in the human brain. J Comp Neurol 1997; 385: 477–489.

29

Koutcherov Y, Mai JK, Ashwell KW, Paxinos G . Organization of human hypothalamus in fetal development. J Comp Neurol 2002; 446: 301–324.

30

McClellana KM, Parker KL, Tobet SA . Development of the ventromedial nucleus of the hypothalamus. Front Neuroendocrinol 2006; 27: 193–209.

31

Bouret SG, Draper SJ, Simerly RB . Formation of projection pathways from the arcuate nucleus of the hypothalamus to hypothalamic regions implicated in the neural control of feeding behavior in mice. J Neurosci 2004; 24: 2797–2805.

32

Matsumoto A, Arai Y . Developmental changes in synaptic formation in the hypothalamic arcuate nucleus of female rats. Cell Tissue Res 1976; 14: 143–156.

33

Melnick I, Pronchuck N, Cowley MA, Grove KL, Colmers WF . Developmental switch in neuropeptide Y and melanocortin effects in the paraventricular nucleus of the hypothalamus. Neuron 2007; 56: 1103–1115.

34

Grayson BE, Allen SE, Billes SK, Williams SM, Smith MS, Grove KL . Prenatal development of hypothalamic neuropeptide systems in the nonhuman primate. Neuroscience 2006; 143: 975–986.

35

Johnson K, Posner SF, Biermann J, Cordero JF, Atrash HK, Parker CS et al. Recommendations to improve preconception health and health care--United States. A report of the CDC/ATSDR Preconception Care Work Group and the Select Panel on Preconception Care. MMWR Recomm Rep 2006; 55: 1–23.

36

Kirk SL, Samuelsson AM, Argenton M, Dhonye H, Kalamatianos T, Poston L et al. Maternal obesity induced by diet in rats permanently influences central processes regulating food intake in offspring. PLoS One 2009; 4: e5870.

37

Chen H, Simar D, Morris MJ . Hypothalamic neuroendocrine circuitry is programmed by maternal obesity: interaction with postnatal nutritional environment. PLoS One 2009; 4: e6259.

38

Chang G-Q, Gaysinskaya V, Karatayev O, Leibowitz SF . Maternal high-fat diet and fetal programming: increased proliferation of hypothalamic peptide-producing neurons that increase risk for overeating and obesity. J Neurosci 2008; 28: 12107–12119.

39

Levin BE, Dunn-Meynell AA, Balkan B, Keesey RE . Selective breeding for diet-induced obesity and resistance in Sprague-Dawley rats. Am J Physiol Regul Integr Comp Physiol 1997; 273: R725–R730.

40

Ricci MR, Levin BE . Ontogeny of diet-induced obesity in selectively bred Sprague-Dawley rats. Am J Physiol Regul Integr Comp Physiol 2003; 285: R610–R618.

41

Levin BE, Dunn-Meynell AA, Ricci MR, Cummings DE . Abnormalities of leptin and ghrelin regulation in obesity-prone juvenile rats. Am J Physiol Endocrinol Metab 2003; 285: E949–E957.

42

Grayson BE, Levasseur PR, Williams SM, Smith MS, Marks DL, Grove KL . Changes in melanocortin expression and inflammatory pathways in fetal offspring of nonhuman primates fed a high-fat diet. Endocrinology 2010; 151: 1622–1632.

43

Bouret SG, Gorski JN, Patterson CM, Chen S, Levin BE, Simerly RB . Hypothalamic neural projections are permanently disrupted in diet-induced obese rats. Cell Metab 2008; 7: 179–185.

44

LaBelle DR, Cox JM, Dunn-Meynell AA, Levin BE, Flanagan-Cato LM . Genetic and dietary effects on dendrites in the rat hypothalamic ventromedial nucleus. Physiol Behav 2009; 98: 511–516.

45

Horvath TL, Sarman B, Garcia-Cáceres C, Enriori PJ, Sotonyi P, Shanabrough M et al. Synaptic input organization of the melanocortin system predicts diet-induced hypothalamic reactive gliosis and obesity. Proc Natl Acad Sci USA 2010; 107: 14875–14880.

46

Steculorum SM, Bouret SG . Maternal diabetes compromises the organization of hypothalamic feeding circuits and impairs leptin sensitivity in offspring. Endocrinology 2011; 152: 4171–4179.

47

Yura S, Itoh H, Sagawa N, Yamamoto H, Masuzaki H, Nakao K et al. Role of premature leptin surge in obesity resulting from intrauterine undernutrition. Cell Metab 2005; 1: 371–378.

48

Cripps RL, Martin-Gronert MS, Archer ZA, Hales CN, Mercer JG, Ozanne SE . Programming of hypothalamic neuropeptide gene expression in rats by maternal dietary protein content during pregnancy and lactation. Clin Sci (Lond) 2009; 117: 85–93.

49

Coupe B, Amarger V, Grit I, Benani A, Parnet P . Nutritional programming affects hypothalamic organization and early response to leptin. Endocrinology 2010; 151: 702–713.

50

Vickers MH, Breier BH, Cutfield WS, Hofman PL, Gluckman PD . Fetal origins of hyperphagia, obesity, and hypertension and postnatal amplification by hypercaloric nutrition. Am J Physiol Endocrinol Metab 2000; 279: E83–E87.

51

Garcia AP, Palou M, Priego T, Sánchez J, Palou A, Pic C . Moderate caloric restriction during gestation results in lower arcuate nucleus NPY- and alpha MSH-neurons and impairs hypothalamic response to fed/fasting conditions in weaned rats. Diabetes Obes Metab 2010; 12: 403–413.

52

Gressens P, Muaku SM, Besse L, Nsegbe E, Gallego J, Delpech B et al. Maternal protein restriction early in rat pregnancy alters brain development in the progeny. Brain Res Dev Brain Res 1997; 103: 21–35.

53

Plagemann A, Harder T, Rake A, Melchior K, Rohde W, Dörner G . Hypothalamic nuclei are malformed in weanling offspring of low protein malnourished rat dams. J Nutr 2000; 130: 2582–2589.

54

Lemke G . Glial control of neuronal development. Annu Rev Neurosci 2001; 24: 87–105.

55

Delahaye F, Breton C, Risold PY, Enache M, Dutriez-Casteloot I, Laborie C et al. Maternal perinatal undernutrition drastically reduces postnatal leptin surge and affects the development of arcuate nucleus proopiomelanocortin neurons in neonatal male rat pups. Endocrinology 2008; 149: 470–475.

56

Davidowa H, Plagemann A . Decreased inhibition by leptin of hypothalamic arcuate neurons in neonatally overfed young rats. Neuroreport 2000; 11: 2795–2798.

57

Glavas MM, Kirigiti MA, Xiao XQ, Enriori PJ, Fisher SK, Evans AE et al. Early overnutrition results in early-onset arcuate leptin resistance and increased sensitivity to high-fat diet. Endocrinology 2010; 151: 1598–1610.

58

Bouret SG, Burt-Solorzano C, Wang C-H, Simerly RB . Impact of neonatal nutrition on development of brain metabolic circuits in mice. Proceedings of the 37th Annual Meeting of the Society For Neuroscience; 4 November 2007, San Diego, CA, USA, poster 300.21/VV8.

59

Plagemann A, Harder T, Rake A, Melchior K, Rohde W, Dörner G . Increased number of galanin-neurons in the paraventricular hypothalamic nucleus of neonatally overfed weanling rats. Brain Res 1999; 818: 160–163.

60

Davidowa H, Li Y, Plagemann A . Altered responses to orexigenic (AGRP, MCH) and anorexigenic (a-MSH, CART) neuropeptides of paraventricular hypothalamic neurons in early postnatally overfed rats. Eur J Neurosci 2003; 18: 613–621.

61

Plagemann A, Harder T, Rake A, Waas T, Melchior K, Ziska T et al. Observations on the orexigenic hypothalamic neuropeptide Y-system in neonatally overfed weanling rats. J Neuroendocrinol 1999; 11: 541–546.

62

Caron E, Ciofi P, Prevot V, Bouret SG . Alteration in neonatal nutrition causes perturbations in hypothalamic neural circuits controlling reproductive function. J Neurosci 2012; 32: 1186–1194.

63

Vickers MH, Gluckman PD, Coveny AH, Hofman PL, Cutfield WS, Gertler A et al. Neonatal leptin treatment reverses developmental programming. Endocrinology 2005; 146: 4211–4216.

64

Bouret SG, Draper SJ, Simerly RB . Trophic action of leptin on hypothalamic neurons that regulate feeding. Science 2004; 304: 108–110.

65

Caron E, Sachot C, Prevot V, Bouret SG . Distribution of leptin-sensitive cells in the postnatal and adult mouse brain. J Comp Neurol 2010; 518: 459–476.

66

Bouret SG, Bates SH, Chen S, Myers MG, Simerly RB . Distinct roles for specific leptin receptor signals in the development of hypothalamic feeding circuits. J Neurosci 2012; 32: 1244–1252.

67

Patterson CM, Bouret SG, Park S, Irani BG, Dunn-Meynell AA, Levin BE . Large litter rearing enhances leptin sensitivity and protects selectively bred diet-induced obese rats from becoming obese. Endocrinology 2010; 151: 4270–4279.

68

Patterson CM, Bouret SG, Dunn-Meynell AA, Levin BE . Three weeks of postweaning exercise in DIO rats produces prolonged increases in central leptin sensitivity and signaling. Am J Physiol Regul Integr Comp Physiol 2009; 296: R537–R548.

69

Eriksson J, Taimela S, Koivisto VA . Exercise and the metabolic syndrome. Diabetologia 1997; 40: 125–135.

70

Applegate EA, Upton DE, Stern JS . Exercise and detraining: effect on food intake, adiposity and lipogenesis in osborne-mendel rats made obese by a high fat diet. J Nutr 1984; 114: 447–459.
Acknowledgements
I thank the members of my laboratory for their active participation in the studies discussed in this review. Research in my laboratory has been funded by grants from the National Institute of Health (Grant DK84142), the 'Fondation pour la Recherche Médicale' and Institut Danone, the EU FP7 integrated project (Grant Agreement No. 266408, 'Full4Health'), and the 'Agence Nationale de la Recherche' (Grants ANR-08-JCJC-0055-01 and ANR-11-BSV1-021-02).
Ethics declarations
Competing interests
The author declares no conflict of interest.
Additional information
This article was published as part of a supplement funded with an unrestricted educational contribution from Desjardins Sécurité Financière.
About this article
Cite this article
Bouret, S. Nutritional programming of hypothalamic development: critical periods and windows of opportunity. Int J Obes Supp 2, S19–S24 (2012). https://doi.org/10.1038/ijosup.2012.17
Keywords
hormone

hypothalamus

development

critical periods

leptin

nutrition