Abstract
Background/Objectives:
Growing evidence suggests that antibiotic use is associated with childhood body mass index (BMI), potentially via mechanisms mediated by gut microbiome alterations. Less is known on the potential role of prenatal antimicrobial use in offspring obesity risk. We examined whether prenatal antibiotic or antifungal use was associated with BMI at the age of 2 years in 527 birth cohort participants.
Methods/Subjects:
Antimicrobial use was obtained from the prenatal medical record. Height and weight were measured at the age of 2 years. Overweight/obesity was defined as a BMI ⩾85th percentile.
Results:
A total of 303 (57.5%) women used antibiotics and 101 (19.2%) used antifungals during pregnancy. Prenatal antifungal use was not associated with child BMI at the age of 2 years. In the fully adjusted model, prenatal antibiotic use was associated with a 0.20±0.10 (P=0.046) higher mean BMI Z-score at the age of 2 years. Associations between prenatal antibiotic use and childhood BMI varied by trimester of exposure, with first or second-trimester exposure more strongly associated with larger BMI at the age of 2 years for both BMI Z-score (interaction P=0.032) and overweight/obesity (interaction P=0.098) after covariate adjustment.
Conclusions:
Prenatal antibiotic, but not antifungal, use is associated with larger BMI at the age of 2 years; associations were stronger for antibiotic exposures in earlier trimesters. Future studies examining whether these associations are due to alterations in the maternal and/or infant microbiome are necessary. Children who are overweight at the age of 2 years are at higher risk for being overweight as they age; prenatal antibiotic use is a potentially modifiable exposure that could reduce childhood obesity.
Relevant articles
Open Access articles citing this article.
Tine Jess

,

Camilla S. Morgen

…

Kristine H. Allin

Scientific Reports Open Access 08 August 2019

Mingyu Zhang

,

Moira K. Differding

…

Noel T. Mueller

Annals of Clinical Microbiology and Antimicrobials Open Access 21 June 2019

Yvonne Vallès

&

M. Pilar Francino

Current Environmental Health Reports Open Access 29 September 2018
Access options
Subscribe to Journal
Get full journal access for 1 year
$119.00
only $9.92 per issue
All prices are NET prices.
VAT will be added later in the checkout.
Tax calculation will be finalised during checkout.
Buy article
Get time limited or full article access on ReadCube.
$32.00
All prices are NET prices.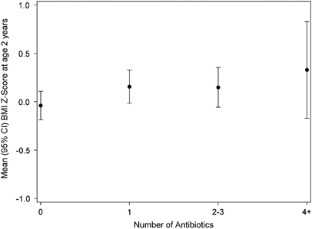 References
Skinner AC, Perrin EM, Skelton JA . Prevalence of obesity and severe obesity in US children, 1999-2014. Obesity 2016; 24: 1116–1123.

Mitchell AA, Gilboa SM, Werler MM, Kelley KE, Louik C, Hernandez-Diaz S . Medication use during pregnancy, with particular focus on prescription drugs: 1976-2008. Am J Obstet Gynecol 2011; 205: 51.e1–8.

Riley EH, Fuentes-Afflick E, Jackson RA, Escobar GJ, Brawarsky P, Schreiber M et al. Correlates of prescription drug use during pregnancy. J Women Health 2005; 14: 401–409.

Modi SR, Collins JJ, Relman DA . Antibiotics and the gut microbiota. J Clin Invest 2014; 124: 4212–4218.

Cox LM, Yamanishi S, Sohn J, Alekseyenko AV, Leung JM, Cho I et al. Altering the intestinal microbiota during a critical developmental window has lasting metabolic consequences. Cell 2014; 158: 705–721.

Riley LW, Raphael E, Faerstein E . Obesity in the United States - dysbiosis from exposure to low-dose antibiotics? Front Public Health 2013; 1: 69.

Angelakis E, Merhej V, Raoult D . Related actions of probiotics and antibiotics on gut microbiota and weight modification. Lancet Infect Dis 2013; 13: 889–899.

Cho I, Yamanishi S, Cox L, Methe BA, Zavadil J, Li K et al. Antibiotics in early life alter the murine colonic microbiome and adiposity. Nature 2012; 488: 621–626.

Saari A, Virta LJ, Sankilampi U, Dunkel L, Saxen H . Antibiotic exposure in infancy and risk of being overweight in the first 24 months of life. Pediatrics 2015; 135: 617–626.

Bailey LC, Forrest CB, Zhang P, Richards TM, Livshits A, DeRusso PA . Association of antibiotics in infancy with early childhood obesity. JAMA Pediatrics 2014; 168: 1063–1069.

Mueller NT, Whyatt R, Hoepner L, Oberfield S, Dominguez-Bello MG, Widen EM et al. Prenatal exposure to antibiotics, cesarean section and risk of childhood obesity. Int J Obes 2015; 39: 665–670.

Mor A, Antonsen S, Kahlert J, Holsteen V, Jorgensen S, Holm-Pedersen J et al. Prenatal exposure to systemic antibacterials and overweight and obesity in Danish schoolchildren: a prevalence study. Int J Obes 2015; 39: 1450–1455.

Poulsen MN, Pollak J, Bailey-Davis L, Hirsch AG, Glass TA, Schwartz BS . Associations of prenatal and childhood antibiotic use with child body mass index at age 3 years. Obesity 2017; 25: 438–444.

Parfrey LW, Walters WA, Knight R . Microbial eukaryotes in the human microbiome: ecology, evolution, and future directions. Front Microbiol 2011; 2: 153.

Headley J, Northstone K, Simmons H, Golding J . Medication use during pregnancy: data from the Avon Longitudinal Study of Parents and Children. Eur J Clin Pharmacol 2004; 60: 355–361.

Liu MB, Xu SR, He Y, Deng GH, Sheng HF, Huang XM et al. Diverse vaginal microbiomes in reproductive-age women with vulvovaginal candidiasis. PLoS ONE 2013; 8: e79812.

Cassidy-Bushrow AE, Wegienka G, Havstad S, Levin AM, Lynch SV, Ownby DR et al. Does pet-keeping modify the association of delivery mode with offspring body size? Matern Child Health J 2015; 19: 1426–1433.

Wegienka G, Havstad S, Zoratti EM, Kim H, Ownby DR, Johnson CC . Combined effects of prenatal medication use and delivery type are associated with eczema at age 2 years. Clin Exp Allergy 2015; 45: 660–668.

Stensballe LG, Simonsen J, Jensen SM, Bonnelykke K, Bisgaard H . Use of antibiotics during pregnancy increases the risk of asthma in early childhood. J Pediatr 2013; 162: 832–838.e3.

Etebu E, Arikekpar I . Antibiotics: classification and mechanisms of action with emphasis on molecular perspectives. Int J Appl Microbiol Biotechnol Res 2016; 4: 90–101.

Kohanski MA, Dwyer DJ, Collins JJ . How antibiotics kill bacteria: from targets to networks. Nat Rev Microbiol 2010; 8: 423–435.

Korpela K, Salonen A, Virta LJ, Kekkonen RA, Forslund K, Bork P et al. Intestinal microbiome is related to lifetime antibiotic use in Finnish pre-school children. Nat Commun 2016; 7: 10410.

Oken E, Kleinman KP, Rich-Edwards J, Gillman MW . A nearly continuous measure of birth weight for gestational age using a United States national reference. BMC Pediatr 2003; 3: 6.

Sanchez BN, Hu H, Litman HJ, Tellez-Rojo MM . Statistical methods to study timing of vulnerability with sparsely sampled data on environmental toxicants. Environ Health Perspect 2011; 119: 409–415.

Curtis LH, Hammill BG, Eisenstein EL, Kramer JM, Anstrom KJ . Using inverse probability-weighted estimators in comparative effectiveness analyses with observational databases. Med Care 2007; 45 (10 Supl 2): S103–S107.

Serdula MK, Ivery D, Coates RJ, Freedman DS, Williamson DF, Byers T . Do obese children become obese adults? A review of the literature. Prev Med 1993; 22: 167–177.

Stokholm J, Schjorring S, Eskildsen CE, Pedersen L, Bischoff AL, Folsgaard N et al. Antibiotic use during pregnancy alters the commensal vaginal microbiota. Clin Microbiol Infect 2014; 20: 629–635.

Dominguez-Bello MG, Costello EK, Contreras M, Magris M, Hidalgo G, Fierer N et al. Delivery mode shapes the acquisition and structure of the initial microbiota across multiple body habitats in newborns. Proc Natl Acad Sci USA 2010; 107: 11971–11975.

Kalliomaki M, Collado MC, Salminen S, Isolauri E . Early differences in fecal microbiota composition in children may predict overweight. Am J Clin Nutr 2008; 87: 534–538.

Fak F, Ahrne S, Molin G, Jeppsson B, Westrom B . Microbial manipulation of the rat dam changes bacterial colonization and alters properties of the gut in her offspring. Am J Physiol Gastrointest Liver Physiol 2008; 294: G148–G154.

Aloisio I, Mazzola G, Corvaglia LT, Tonti G, Faldella G, Biavati B et al. Influence of intrapartum antibiotic prophylaxis against group B Streptococcus on the early newborn gut composition and evaluation of the anti-Streptococcus activity of Bifidobacterium strains. Appl Microbiol Biotechnol 2014; 98: 6051–6060.

Azad MB, Konya T, Persaud RR, Guttman DS, Chari RS, Field CJ et al. Impact of maternal intrapartum antibiotics, method of birth and breastfeeding on gut microbiota during the first year of life: a prospective cohort study. BJOG 2016; 123: 983–993.

Penders J, Thijs C, Vink C, Stelma FF, Snijders B, Kummeling I et al. Factors influencing the composition of the intestinal microbiota in early infancy. Pediatrics 2006; 118: 511–521.

Aagaard K, Riehle K, Ma J, Segata N, Mistretta TA, Coarfa C et al. A metagenomic approach to characterization of the vaginal microbiome signature in pregnancy. PLoS One 2012; 7: e36466.

Romero R, Hassan SS, Gajer P, Tarca AL, Fadrosh DW, Nikita L et al. The composition and stability of the vaginal microbiota of normal pregnant women is different from that of non-pregnant women. Microbiome 2014; 2: 4.

Koren O, Goodrich JK, Cullender TC, Spor A, Laitinen K, Backhed HK et al. Host remodeling of the gut microbiome and metabolic changes during pregnancy. Cell 2012; 150: 470–480.

Porter TE . Development and function of the fetal endocrine system. In: Bazer FW (ed). Endocrinology of Pregnancy. Humana Press: Totowa, NJ, USA, 1998, pp 387–405.

Symonds ME, Mostyn A, Pearce S, Budge H, Stephenson T . Endocrine and nutritional regulation of fetal adipose tissue development. J Endocrinol 2003; 179: 293–299.

Delisle H . Programming of chronic disease by impaired fetal nutrition. Evidence and Implications for Policy and Intervention Strategies. World Health Organization: Suzia, Switzerland, 2002.

Aykut V, Celik U, Celik B . The destructive effects of antibiotics on the amniotic membrane ultrastructure. Int Ophthalmol 2015; 35: 381–385.

Konkel L . Lasting impact of an ephemeral organ: the role of the placenta in fetal programming. Environ Health Perspect 2016; 124: A124–A129.

Aagaard K, Ma J, Antony KM, Ganu R, Petrosino J, Versalovic J . The placenta harbors a unique microbiome. Sci Transl Med 2014; 6: 237ra65.

Mueller NT, Rifas-Shiman SL, Blaser MJ, Gillman MW, Hivert MF . Association of prenatal antibiotics with foetal size and cord blood leptin and adiponectin. Pediatr Obes 2017; 12: 129–136.

Mantzoros CS, Rifas-Shiman SL, Williams CJ, Fargnoli JL, Kelesidis T, Gillman MW . Cord blood leptin and adiponectin as predictors of adiposity in children at 3 years of age: a prospective cohort study. Pediatrics 2009; 123: 682–689.

Gerber JS, Bryan M, Ross RK, Daymont C, Parks EP, Localio AR et al. Antibiotic exposure during the first 6 months of life and weight gain during childhood. JAMA 2016; 315: 1258–1265.

Nobel YR, Cox LM, Kirigin FF, Bokulich NA, Yamanishi S, Teitler I et al. Metabolic and metagenomic outcomes from early-life pulsed antibiotic treatment. Nat Commun 2015; 6: 7486.

Turta O, Rautava S . Antibiotics, obesity and the link to microbes - what are we doing to our children? BMC Med 2016; 14: 57.

Li DK, Chen H, Ferber J, Odouli R . Infection and antibiotic use in infancy and risk of childhood obesity: a longitudinal birth cohort study. Lancet Diabetes Endocrinol 2017; 5: 18–25.

Blaser M . Antibiotic overuse: stop the killing of beneficial bacteria. Nature 2011; 476: 393–394.

Martinez de Tejada B . Antibiotic use and misuse during pregnancy and delivery: benefits and risks. Int J Environ Res Public Health 2014; 11: 7993–8009.
Acknowledgements
This study was supported by the National Institutes of Health (R01 AI050681, R01 HL113010, R01 HD082147 and P01 AI089473) and the Fund for Henry Ford Hospital.
Ethics declarations
Competing interests
The authors declare no conflict of interest.
About this article
Cite this article
Cassidy-Bushrow, A., Burmeister, C., Havstad, S. et al. Prenatal antimicrobial use and early-childhood body mass index. Int J Obes 42, 1–7 (2018). https://doi.org/10.1038/ijo.2017.205
Received:

Revised:

Accepted:

Published:

Issue Date:

DOI: https://doi.org/10.1038/ijo.2017.205