Abstract
A chronic mismatch of caregiver responsiveness to infant-feeding cues, such as feeding when the infant is not hungry, is hypothesized to have a role in the development of overweight by impairing an infant's response to internal states of hunger and satiation. Although this concept of mismatch or discordance has long been acknowledged in scholarly writings, a systematic assessment of the evidence supporting the role of discordant responsiveness during infant feeding in the early origins of overweight is lacking. This review was undertaken to assess evidence for this hypothesized relationship between discordant responsiveness in feeding and overweight in infancy and toddlerhood, framed within the larger social-environmental context of the infant–caregiver dyad. A systematic method was used to extract articles from three databases of the medical, psychology and nursing fields. The quality of evidence collected was assessed using Oxford University Centre for Evidence Based Medicine's level of evidence and through a narrative review. The systematic search resulted in only nine original research studies, which met a priori inclusion/exclusion criteria. Several studies provide support for the conceptual model, but most were cross-sectional or lower quality prospective studies. The need for consistent definitions, improved measures and longitudinal work is discussed. In conclusion, this review reveals preliminary support for the proposed role of discordant responsiveness in infant/child overweight and at the same time highlights the need for rigorous investigation of responsive feeding interactions in the first years of life.
Relevant articles
Open Access articles citing this article.
Fenghua Zhao

,

Yijie Sun

…

Scott Rozelle

BMC Public Health Open Access 07 March 2023

Sofia De Rosso

,

Camille Riera-Navarro

…

Sophie Nicklaus

BMC Public Health Open Access 08 December 2022

Erika Hernandez

,

Justin A. Lavner

…

Jennifer S. Savage

International Journal of Behavioral Nutrition and Physical Activity Open Access 01 October 2022
Access options
Subscribe to this journal
Receive 12 print issues and online access
$259.00 per year
only $21.58 per issue
Rent or buy this article
Get just this article for as long as you need it
$39.95
Prices may be subject to local taxes which are calculated during checkout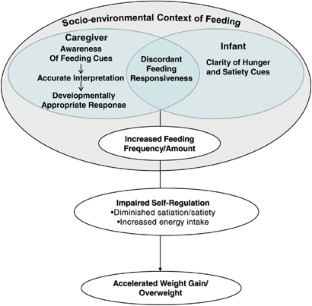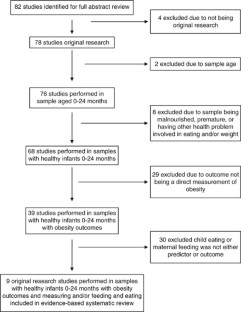 References
Kral TV, Stunkard AJ, Berkowitz RI, Stallings VA, Brown DD, Faith MS . Daily food intake in relation to dietary energy density in the free-living environment: a prospective analysis of children born at different risk of obesity. Am J Clin Nutr 2007; 86: 41–47.

Stettler N, Iotova V . Early growth patterns and long-term obesity risk. Curr Opin Clin Nutr 2010; 13: 294–299.

Harrington JW, Nguyen VQ, Paulson JF, Garland R, Pasquinelli L, Lewis D . Identifying the 'tipping point' age for overweight pediatric patients. Clin Pediatr (Phila) 2010; 49: 638–643.

Stettler N, Kumanyika SK, Katz SH, Zemel BS, Stallings VA . Rapid weight gain during infancy and obesity in young adulthood in a cohort of African Americans. Am J Clin Nutr 2003; 77: 1374–1378.

Monteiro POA, Victora CG . Rapid growth in infancy and childhood and obesity in later life—a systematic review. Obesity Rev 2005; 6: 143–154.

Wells JC, Chomtho S, Fewtrell MS . Programming of body composition by early growth and nutrition. Proc Nutr Soc 2007; 66: 423–434.

Shonkoff JP, Phillips De . From Neurons to Neighborhoods: the Science of Early Childhood Development. National Academy Press: Washington, DC, 2000.

Ogden CL, Carroll MD, Curtin LR, Lamb MM, Flegal KM . Prevalence of high body mass index in US children and adolescents, 2007–2008. JAMA 2010; 303: 242–249.

Scaglioni S, Agostoni C, Notaris RD, Radaelli G, Radice N, Valenti M . et al. Early macronutrient intake and overweight at five years of age. Int J Obes Relat Metab Disord 2000; 24: 777–781.

Mellbin T, Vuille JC . Relationship of weight gain in infancy to subcutaneous fat and relative weight at 10 1/2 years of age. Br J Prev Soc Med 1976; 30: 239–243.

Mei Z, Grummer-Strawn LM, Scanlon KS . Does overweight in infancy persist through the preschool years? An analysis of CDC Pediatric Nutrition Surveillance System data. Soz Praventivmed 2003; 48: 161–167.

Stettler N, Zemel BS, Kumanyika S, Stallings VA . Infant weight gain and childhood overweight status in a multicenter, cohort study. Pedatrics 2002; 109: 194–199.

Reilly JJ, Armstrong J, Dorosty AR, Emmett PM, Ness A, Rogers I et al. Early life risk factors for obesity in childhood: cohort study. BMJ 2005; 330: 1357.

Dennison BA, Edmunds LS, Stratton HH, Pruzek RM . Rapid infant weight gain predicts childhood overweight. Obesity 2006; 14: 491–499.

Dubois L, Girard M . Early determinants of overweight at 4.5 years in a population-based longitudinal study. Int J Obes 2006; 30: 610–617.

Karaolis-Danckert N, Buyken AE, Bolzenius K, Perim de Faria C, Lentze MJ, Kroke A . Rapid growth among term children whose birth weight was appropriate for gestational age has a longer lasting effect on body fat percentage than on body mass index. Am J Clin Nutr 2006; 84: 1449–1455.

Blair NJ, Thompson JMD, Black PN, Becroft DMO, Clark PM, Han DY et al. Risk factors for obesity in 7-year-old European children: the Auckland Birthweight Collaborative Study. Arch Dis Child 2007; 92: 866–871.

Stettler N, Kumanyika S, Katz SH, Zemel BS, Stallings VA . Rapid early infancy weight gain and obesity in African American adults. Circulation 2003; 107: E7002.

Stettler N, Stallings VA, Troxel AB, Zhao J, Schinnar R, Nelson SE et al. Weight gain in the first week of life and overweight in adulthood: a cohort study of European American subjects fed infant formula. Circulation 2005; 111: 1897–1903.

Monteiro POA, Victora CG, Barros FC, Monteiro LMA . Birth size, early childhood growth, and adolescent obesity in a Brazilian birth cohort. Int J Obes 2003; 27: 1274–1282.

Ekelund U, Ong K, Linne Y, Neovius M, Brage S, Dunger DB et al. Upward weight percentile crossing in infancy and early childhood independently predicts fat mass in young adults: the Stockholm Weight Development Study (SWEDES). Am J Clin Nutr 2006; 83: 324–330.

Stettler N, Iotova V . Early growth patterns and long-term obesity risk. Curr Opin Clin Nutr Metab Care 2010; 13: 294–299.

Ong KK, Emmett PM, Noble S, Ness A, Dunger DB, Team AS . Dietary energy intake at the age of 4 months predicts postnatal weight gain and childhood body mass index. Pedatrics 2006; 117: e503–e508.

Lamb ME, Easterbrooks MA . Individual differences in parental sensitivity: origins, components, and consequences. In: Lamb ME, Sherrod LR, (eds). Infant Social Cognition: Empirical and Theoretical Considerations. Erlbaum: Hillsdale, NJ, 1981; 127–153.

Ziv Y, Cassidy J . Maternal responsiveness to infant irritability: the contribution of Crockenberg and Smith's 'Antecedents of mother-infant interaction and infant irritability in the first 3 months of life'. Infant Behav Dev 2002; 25: 16–20.

Feldman R, Greenbaum CW, Yirmiya N . Mother-infant affect synchrony as an antecedent of the emergence of self-control. Dev Psychol 1999; 35: 223–231.

Bronson MB . Self-regulation in Early Childhood: Nature and Nurture. The Guilford Press: New York, NY, 2000.

Green JA, Gustafson GE, Irwin JR, Kalinowski LL, Wood RM . Infant crying: acoustics, perception, and communication. Early Dev Parenting 1995; 4: 161–175.

Ainsworth MDS, Bell SM . Some Contemporary Patterns of Mother-infant Interaction in the Feeding Situation Stimulation in Early Infancy. Academic Press: New York, 1969.

Bell SM, Ainsworth MD . Infant crying and maternal responsiveness. Child Dev 1972; 43: 1171–1190.

Bornstein MH, Tamis-LeMonda CS . Maternal responsiveness and cognitive development in children. New Dir Child Dev 1989; 1989: 49–61.

Goldberg S . Social competence in infancy: a model of parent–infant interaction. Merrill-Palmer Quart 1977; 23: 163–177.

Vallotton CD . Do infants influence their quality of care? Infants' communicative gestures predict caregivers' responsiveness. Infant Behav Dev 2009; 32: 351–365.

Wright P, Fawcett J, Crow R . The development of differences in the feeding behaviour of bottle and breast fed human infants from birth to two months. Behav Process 1980; 5: 1–20.

Wright P . Development of feeding behavior in early infancy: implications for obesity. Health Bull 1981; 39: 197–205.

Fomon SJ, Filer LJ, Thomas LN, Rogers RR, Proksch AM . Relationship between formula concentration and rate of growth of normal infants. J Nutr 1969; 98: 241–254.

Fomon SJ, Filmer LJ, Thomas LN, Anderson TA, Nelson SE . Influence of formula concentration on caloric intake and growth of normal infants. Acta Paediatric Scandinavia 1975; 64: 172–181.

Kent JC, Mitoulas LR, Cregan MD, Ramsay DT, Doherty DA, Hartmann PE . Volume and frequency of breastfeedings and fat content of breast milk throughout the day. Pedatrics 2006; 117: e387–e395.

Fox MK, Devaney B, Reidy K, Razafindrakoto C, Ziegler P . Relationship between portion size and energy intake among infants and toddlers: evidence of self-regulation. J Am Diet Assoc 2006; 106 (1S): 77–83.

Wright P . Learning experiences in feeding behaviour during infancy. J Psychosom Res 1988; 32: 613–619.

Costanzo PR, Woody EZ . Domain-specific parenting styles and their impact on the child's development of a particular deviance: the example of obesity proneness. J Soc Clin Psychol 1985; 4: 425–445.

Bruch H . Eating Disorders: Obesity, Anorexia Nervosa, and the Person Within. Basic Books: New York, 1973.

Birch LL, Fisher JO . Development of eating behaviors among children and adolescents. Pediatrics 1998; 101: 539–549.

Engle PL, Bentley ME, Pelto G . The role of care in nutrition programmes:current research a research agenda. Proc Nutr Soc 2000; 59: 25–35.

Bornstein MH . Sensitive periods in development: structural characteristics and causal interpretations. Psychol Bull 1989; 105: 179–197.

Dewey K . Guiding principles for complementary feeding of the breastfed child. PAHO/WHO: Washington, DC, 2003. http://www.who.int/nutrition/publications/guiding_principles_compfeeding_breastfed.pdf.

Bronfenbrenner U . Ecology of the family as a context for human development: research perspectives. Dev Psychol 1986; 22: 723–742.

Taveras EM, Gillman MW, Kleinman K, Rich-Edwards JW, Rifas-Shiman SL . Racial/ethnic differences in early-life risk factors for childhood obesity. Pediatrics 2010; 125: 686–695.

World Health Organization U. Global Strategy for Infant and Young Child Feeding. WHO: Geneva, 2003.

Burdette HL, Whitaker RC, Hall WC, Daniels SR . Maternal infant-feeding style and children's adiposity at 5 years of age. Arch Pediatr Adolesc Med 2006; 160: 513–520.

Susin LR, Giugliani ER, Kummer SC, Maciel M, Simon C, da Silveira LC . Does parental breastfeeding knowledge increase breastfeeding rates? Birth 1999; 26: 149–156.

Centre for Evidence-Based Medicine OU. Levels of evidence and grades of recommendation. Available at: http://www.cebm.net/levels_of_evidence.asp. (Accessed 9 January 2009) 2009.

Mogan J . Parental weight and its relation to infant feeding patterns and infant obesity. Int J Nurs Stud 1986; 23: 255–264.

Francis LA, Birch LL . Maternal weight status modulates the effects of restriction on daughters' eating and weight. Int J Obes Relat Metab Disord 2005; 29: 942–949.

Kavanagh KF, Cohen RJ, Heinig MJ, Dewey KG . Educational intervention to modify bottle-feeding behaviors among formula-feeding mothers in the WIC program: impact on infant formula intake and weight gain. J Nutr Educ Behav 2008; 40: 244–250.

Rybski DA, Almli CR, Gisel EG, Powers J, Maurer Jr M . Sucking behaviors of normal 3-day-old female neonates during a 24-h period. Dev Psychobiol 1984; 17: 79–86.

Birch LL, Deysher M . Caloric compensation and sensory specific satiety: Evidence for self regulation of food intake by young children. Appetite 1986; 7: 323–331.

Birch LL, Deysher M . Conditioned and unconditioned caloric compensation: evidence for self-regulation of food intake by young children. Learn Motiv 1985; 16: 341–355.

Fomon S . Nutrition of Normal Infants. Mosby-Year Books: St Louis, Missouri, 1993.

Saxon TF, Gollapalli A, Mitchell MW, Stanko S . Demand feeding or schedule feeding: infant growth from birth to 6 months. J Reprod Infant Psychol 2002; 20: 89–100.

Kalies H, Heinrich J, Borte N, Schaaf B, von Berg A, von Kries R et al. The effect of breastfeeding on weight gain in infants: results of a birth cohort study. Eur J Med Res 2005; 10: 36–42.

Farrow C, Blissett J . Does maternal control during feeding moderate early infant weight gain? Pediatrics 2006; 118: e293–e298.

Wolke D, Skuse D . The management of infant feeding problems. In: Cooper P, Stein A (eds). Feeding Problems and Eating Disorders in Children and Adolescents. Harwood: Chur, Switzerland, 1992; 27–59.

Li R, Fein SB, Grummer-Strawn LM . Association of breastfeeding intensity and bottle-emptying behaviors at early infancy with infants' risk for excess weight at late infancy. Pediatrics 2008; 122 (Suppl 2): S77–S84.

Worobey J, Lopez MI, Hoffman DJ . Maternal behavior and infant weight gain in the first year. J Nutr Educ Behav 2009; 41: 169–175.

Kramer MS, Barr RG, Leduc DG, Boisjoly C, Pless IB . Maternal psychological determinants of infant obesity. Development and testing of two new instruments. J Chronic Dis 1983; 36: 329–335.

Barnard K . Caregiver/Parent-child Interaction Feeding Manual. University of Washington School of Nursing: Seattle, WA, 1994. NCAST Publications.

Hodges EA, Houck GM, Kindermann T . Reliability of the Nursing Child Assessment Feeding Scale during toddlerhood. Issues Compr Pediatr Nurs 2007; 30: 109–130.

Dubois S, Hill DE, Beaton GH . An examination of factors believed to be associated with infantile obesity. Am J Clin Nutr 1979; 32: 1997–2004.

Baughcum AE, Powers SW, Johnson SB, Chamberlin LA, Deeks CM, Jain A et al. Maternal feeding practices and beliefs and their relationship to overweight in early childhood. J Dev Behav Pediatr 2001; 22: 391–408.

Birch LL, Fisher JO, Castro CN, Grimm-Thomas K, Sawyer R, Johnson SL . Confirmatory factor analysis of the Child Feeding Questionnaire: a measure of parental attitudes, beliefs and practices about child feeding and obesity proneness. Appetite 2001; 36: 201–210.

Faith MS, Scanlon KS, Birch LL, Francis LA, Sherry B . Parent-child feeding strategies and their relationships to child eating and weight status. Obes Res 2004; 12: 1711–1722.

Spruijt-Metz D, Lindquist CH, Birch LL, Fisher JO, Goran MI . Relation between mothers' child-feeding practices and children's adiposity. Am J Clin Nutr 2002; 75: 581–586.

Sacco LM, Bentley ME, Carby-Shields K, Borja JB, Goldman BD . Assessment of infant feeding styles among low-income African-American mothers: comparing reported and observed behaviors. Appetite 2007; 49: 131–140.

Groer MW . Differences between exclusive breastfeeders, formula-feeders, and controls: a study of stress, mood, and endocrine variables. Biol Res Nurs 2005; 7: 106–117.

Farrow CV, Blissett JM . Is maternal psychopathology related to obesigenic feeding practices at 1 year? Obes Res 2005; 13: 1999–2005.

Swain JE, Lorberbaum JP, Kose S, Strathearn L . Brain basis of early parent-infant interactions: psychology, physiology, and in vivo functional neuroimaging studies. J Child Psychol Psychiatry 2007; 48: 262–287.

Kumanyika SK . Environmental influences on childhood obesity: ethnic and cultural influences in context. Physiol Behav 2008; 94: 61–70.

Taveras EM, Gillman MW, Kleinman K, Rich-Edwards JW, Rifas-Shiman SL . Racial/ethnic differences in early-life risk factors for childhood obesity. Pediatrics 2010; 125: 686–695.
Acknowledgements
This work was supported by the NIH K01 DK 61319-01 (Fisher), USDA 2005-55215-6 16726 (Johnson), NIH DK 56350 (Hodges), RWJF 66523 (Hodges) and Nestle Infant Nutrition (Fisher).
Ethics declarations
Competing interests
The authors declare no conflict of interest.
About this article
Cite this article
DiSantis, K., Hodges, E., Johnson, S. et al. The role of responsive feeding in overweight during infancy and toddlerhood: a systematic review. Int J Obes 35, 480–492 (2011). https://doi.org/10.1038/ijo.2011.3
Received:

Revised:

Accepted:

Published:

Issue Date:

DOI: https://doi.org/10.1038/ijo.2011.3
Keywords
infant

feeding behavior

responsiveness

appetite regulation

self-regulation

overweight