Abstract
Objective:
To assess the effects of fish (lean or oily) and fish oil consumption on blood lipid concentration during weight loss.
Design:
Randomized, controlled 8-week trial of energy-restricted diet varying in fish and fish oil content. Subjects, 324 men and women, aged 20–40 years, body mass index 27.5–32.5 kg m−2, from Iceland, Spain and Ireland, were randomized to one of four groups: (1) control (sunflower oil capsules, no seafood), (2) cod diet (3 × 150 g week−1), (3) salmon diet (3 × 150 g week−1), (4) fish oil (DHA/EPA capsules, no seafood). The macronutrient composition of the diets was similar between the groups and the capsule groups were single-blinded.
Measurements:
Total cholesterol (TC), high-density lipoprotein (HDL) and low-density lipoprotein cholesterol, triacylglycerol (TG) and anthropometrics were measured at baseline and end point.
Results:
The difference in logTG lowering between the control group and the cod diet, salmon diet and fish oil from baseline to end point was −0.036 (95% CI −0.079 to 0.006), −0.060 (−0.101 to −0.018) and −0.037 (−0.079 to 0.006), respectively. Reduction in TC was about 0.2 mmol l−1 greater in the fish groups (cod and salmon) than in the control group, but only of borderline significance when adjusting for weight loss. HDL tended to decrease less in the diet groups consuming a significant amount of n-3 fatty acids (salmon and fish oil).
Conclusion:
Weight-loss diet including oily fish resulted in greater TG reduction than did a diet without fish or fish oil. Controlled trials using whole fish as a test meal are encouraged to be able to elucidate the role of different constituents of fish for human health.
Relevant articles
Open Access articles citing this article.
Marianne Bratlie

,

Ingrid V. Hagen

…

Oddrun Anita Gudbrandsen

European Journal of Nutrition Open Access 27 October 2020

Martin Root

,

Scott R Collier

…

Megan C McGinn

Nutrition Journal Open Access 08 April 2013

Roger A Vaughan

,

Randi Garcia-Smith

…

Kristina A Trujillo

Lipids in Health and Disease Open Access 30 October 2012
Access options
Subscribe to Journal
Get full journal access for 1 year
$119.00
only $9.92 per issue
All prices are NET prices.
VAT will be added later in the checkout.
Tax calculation will be finalised during checkout.
Buy article
Get time limited or full article access on ReadCube.
$32.00
All prices are NET prices.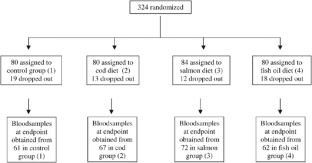 References
Kromhout D, Bosschieter EB, de Lezenne Coulander C . The inverse relation between fish consumption and 20-year mortality form coronary heart disease. N Engl J Med 1985; 312: 1205–1209.

Daviglus ML, Stamler J, Orencia AJ, Dyer AR, Liu K, Greenland P et al. Fish consumption and the 30-year risk of fatal myocardial infarction. N Engl J Med 1997; 336: 1046–1053.

Burr ML, Fehily AM, Gilbert JF, Rogers S, Holliday RM, Sweetnam PM et al. Effects of changes in fat, fish and fibre intakes on death and myocardial reinfarction:diet and reinfarction trial (DART). Lancet 1989; 2: 757–761.

Bao DQ, Mori TA, Burke V, Puddey IB, Beilin LJ . Effects of dietary fish and weight reduction on ambulatory blood pressure in overweight hypertensives. Hypertension 1998; 32: 710–717.

Mori TA, Bao DQ, Burke V, Puddey IB, Watts GF, Beilin LJ . Dietary fish as a major component of a weight-loss diet: effect on serum lipids, glucose, and insulin metabolism in overweight hypertensive subjects. Am J Clin Nut 1999; 70: 817–825.

Krebs JD, Browning LM, McLean NK, Rothwell JL, Mishra GD, Moore CS et al. Additive benefits of long-chain n-3 polyunsaturated fatty acids and weight-loss in the management of cardiovascular disease risk in overweight hyperinsulinaemic women. Int J Obes (Lond) 2006; 30: 1535–1544.

Haugaard SB, Madsbad S, Hoy CE, Vaag A . Dietary intervention increases n-3 long-chain polyunsaturated fatty acids in skeletal muscle membrane phospholipids of obese subjects. Implications for insulin sensitivity. Clin Endocrinol (Oxf) 2006; 64: 169–178.

Kunesová M, Braunerová R, Hlavatý P, Tvrzická E, Stanková B, Skrha J et al. The influence of n-3 polyunsaturated fatty acids and very low calorie diet during a short-term weight reducing regimen on weight loss and serum fatty acid composition in severely obese women. Physiol Res 2006; 55: 63–72.

Harris WS . n-3 fatty acids and serum lipoproteins: human studies. Am J Clin Nutr 1997; 65: 1645S–1654S.

Yahia DA, Madani S, Prost E, Prost J, Bouchenak M, Belleville J . Tissue antioxidant status differs in spontaneously hypertensive rats fed fish protein or casein. J Nutr 2003; 133: 479–482.

Lavigne C, Tremblay F, Asselin G, Jacques H, Marette A . Prevention of skeletal muscle insulin resistance by dietary cod protein in high fat-fed rats. Am J Physiol Endocrinol Metab 2001; 281: E62–E71.

Tremblay F, Lavigne C, Jacques H, Marette A . Dietary cod protein restores insulin-induced activation of phosphatidylinositol 3-kinase/Akt and GLUT4 translocation to the T-tubules in skeletal muscle of high-fat-fed obese rats. Diabetes 2003; 52: 29–37.

Demonty I, Deshaies Y, Lamarche B, Jacques H . Cod protein lowers the hepatic triacylglycerol secretion rate in rats. J Nutr 2003; 133: 1398–1402.

Gascon A, Jacques H, Moorjani S, Deshaies Y, Brun LD, Julien P . Plasma lipoprotein profile and lipolytic activities in response to the substitution of lean white fish for other animal protein sources in premenopausal women. Am J Clin Nutr 1996; 63: 315–321.

Moore CS, Bryant SP, Mishra GD, Krebs JD, Browning LM, Miller GJ et al. Oily fish reduces plasma triacylglycerols: a primary prevention study in overweight men and women. Nutrition 2006; 22: 1012–1024.

Thorsdottir I, Birgisdottir BE, Halldorsdottir S, Geirsson RT . Association of fish and fish liver oil intake in pregnancy with infant size at birth among women of normal weight before pregnancy in a fishing community. Am J Epidemiol 2004; 160: 460–465.

AOAC. Official Methods of Analysis, 16th, 4th Revision, Vol I e II. Association of Official Analytical Chemistry, AOAC International: Washington, DC, 1998.

Bandarra NM, Batista I, Nunes ML, Empis JM, Christie WW . Seasonal changes in lipid composition of sardine Sardina pilchardus. J Fd Sci 1997; 62: 40–43.

Weihrauch JL, Posati LP, Anderson BA, Exler J . Lipid conversion factors for calculating fatty acids contents in foods. JAOCS 1977; 54: 36–40.

Harris JA, Benedict FG . A Biometric Study of Basal Metabolism in Man. Carnegie Institute of Washington, 1919. Publication No. 279: Washington, DC.

van der Ploeg GE, Gunn SM, Withers RT, Modra AC, Keeves JP, Chatterton BE . Predicting the resting metabolic rate of young Australian males. Eur J Clin Nutr 2001; 55: 145–152.

Salvino RM, Dechicco RS, Seidner DL . Perioperative nutrition support: who and how. Cleve Clin J Med 2004; 71: 345–351.

Becker W, Brugard-Konde A, Ohlander EM, Lyhne N, Pedersen AN, Aro A et al. Nordic Nutrition Recommendations 2004. Integrating nutrition and physical activity. 4th edn. Nordic Council of Ministers: Copenhagen, 2004.

Ferro-Luzzi A, Garza C, Haas J, Habicht JP, Himes J, Pradilla A et al. Physical status: the use and interpretation of anthropometry. Report of a WHO expert committee. World Health Organ Tech Rep Ser 1995; 854: 1–452.

Thorsdottir I, Tomasson H, Gunnarsdottir I, Gisladottir E, Kiely M, Parra MD et al. Randomized trial of weight-loss-diets for young adults varying in fish and fish oil content. Int J Obes (Lond) 31: 1560–1566.

Whelton SP, He J, Whelton PK, Muntner P . Meta-analysis of observational studies on fish intake and coronary heart disease. Am J Cardiol 2004; 93: 1119–1123.

He K, Song Y, Daviglus ML, Liu K, Van Horn L, Dyer AR et al. Accumulated evidence on fish consumption and coronary heart disease mortality: a meta-analysis of cohort studies. Circulation 2004; 109: 2705–2711.

Savige GS . Candidate foods in the Asia-Pacific region for cardiovascular protection: fish, fruit and vegetables. Asia Pacific J Clin Nutr 2001; 10: 134–137.

Chan DC, Watts GF, Mori TA, Barret HR, Redgrave TG, Beilin LJ . Randomized controlled trial of the effect of n-3 fatty acid supplementation on the metabolism of apolipoprotein B-100 and chylomicron remnants in men with visceral obesity. Am J Clin Nutr 2003; 77: 300–307.

Goodnight SH . The fish oil puzzle. Science and Medicine 1996; 3: 42–51.

Kang JX, Leaf A . Prevention of fatal cardiac arrhythmias by polyunsaturated fatty acids. Am J Clin Nutr 2000; 71: 202S–207S.

Singleton CB, Walker BD, Campbell TJ . N-3 polyunsaturated fatty acids and cardiac mortality. Aust N Z J Med 2000; 30: 246–251.

Schubert R, Kitz R, Beermann C, Rose MA, Baer PC, Zielen S et al. Influence of low-dose polyunsaturated fatty acids supplementation on the inflammatory response of healthy adults. Nutrition 2007; 23: 724–730. Epub 2007 July 30.

Hooper L, Thompson RL, Harrison RA, Summerbell CD, Ness AR, Moore HJ et al. Risks and benefits of omega 3 fats for mortality, cardiovascular disease, and cancer: systematic review. BMJ 2006; 332: 752–760. Epub 2006 March 24.

Balk EM, Lichtenstein AH, Chung M, Kupelnick B, Chew P, Lau J . Effects of omega-3 fatty acids on serum markers of cardiovascular disease risk: a systematic review. Atherosclerosis 2006; 189: 19–30. Epub 2006 March 10.

Kris-Etherton PM, Harris WS, Appel LJ, American Heart Association. Nutrition Committee. Fish consumption, fish oil, omega-3 fatty acids, and cardiovascular disease. Circulation 2002; 106: 2747–2757.

Iritani N, Narita R, Fujita T, Tanaka T . Effects of dietary fish protein, soybean protein and casein on cholesterol turnover in rats. J Nutr Sci Vitaminol (Tokyo) 1985; 31: 385–392.

Wergedahl H, Liaset B, Gudbrandsen OA, Lied E, Espe M, Muna Z et al. Fish protein hydrolysate reduces plasma total cholesterol, increases the proportion of HDL cholesterol, and lowers acyl-CoA:cholesterol acyltransferase activity in liver of Zucker rats. J Nutr 2004; 134: 1320–1327.

Beauchesne-Rondeau E, Gascon A, Bergeron J, Jacques H . Plasma lipids and lipoproteins in hypercholesterolemic men fed a lipid-lowering diet containing lean beef, lean fish, or poultry. Am J Clin Nutr 2003; 77: 587–593.

Petersen M, Taylor MA, Saris WH, Verdich C, Toubro S, Macdonald I et al. Randomized, multi-center trial of two hypo-energetic diets in obese subjects: high- versus low-fat content. Int J Obes (Lond) 2006; 30: 552–560.

Nordmann AJ, Nordmann A, Briel M, Keller U, Yancy Jr WS, Brehm BJ et al. Effects of low-carbohydrate vs low-fat diets on weight loss and cardiovascular risk factors: a meta-analysis of randomized controlled trials. Arch Intern Med 2006; 166: 285–293.
Acknowledgements
The YOUNG study is part of the SEAFOODplus Integrated Project, which is funded by the EC through the 6th Framework Programme Contract No FOOD-CT-2004-506359. We thank the staff, from the participating research units, for their valuable help during data collection.
About this article
Cite this article
Gunnarsdottir, I., Tomasson, H., Kiely, M. et al. Inclusion of fish or fish oil in weight-loss diets for young adults: effects on blood lipids. Int J Obes 32, 1105–1112 (2008). https://doi.org/10.1038/ijo.2008.64
Received:

Revised:

Accepted:

Published:

Issue Date:

DOI: https://doi.org/10.1038/ijo.2008.64
Keywords
overweight

fish proteins

n-3 fatty acids

weight loss

lipids

human