Abstract
This study aimed to determine whether patients with persistent erectile dysfunction (ED), minimum 12 months after radical prostatectomy (RP), experienced a better recovery of erectile function (EF) with pelvic floor muscle training (PFMT) compared with patients without this intervention. Second, we aimed to investigate the effect of PFMT on climacturia. All patients, who underwent RP, with persistent ED of minimum 1 year post operation were eligible. The treatment group started PFMT immediately at 12 months post operation and the control group started at 15 months after RP. All patients received PFMT during 3 months. The sample size needed to detect with 80% power a 6 points-difference regarding the EF-domain of the International Index of Erectile Function (IIEF), was at least 12 subjects per group. Patients were evaluated using the IIEF and questioned regarding climacturia. Differences between groups at 15 months were evaluated with Mann–Whitney U-test and Fisher's exact test. As a result, the treatment group had a significantly better EF than the control group at 15 months after surgery (P=0.025). Other subdomains of the IIEF remained constant for both groups. The effect of PFMT was maintained during follow-up. At 15 months, a significantly higher percentage of patients in the treatment group showed an improvement regarding climacturia (P=0.004).
Access options
Subscribe to this journal
Receive 8 print issues and online access
$259.00 per year
only $32.38 per issue
Rent or buy this article
Get just this article for as long as you need it
$39.95
Prices may be subject to local taxes which are calculated during checkout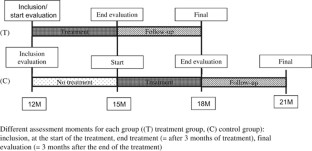 References
NIH Consensus Conference. Impotence. NIH Consensus Development Panel on Impotence. JAMA 1993; 270: 83–90.

Ficarra V, Novara G, Ahlering TE, Costello A, Eastham JA, Graefen M et al. Systematic review and meta-analysis of studies reporting potency rates after robot-assisted radical prostatectomy. Eur Urol 2012; 62: 418–430.

Hatzimouratidis K, Hatzichristou D . Phosphodiesterase type 5 inhibitors: the day after. Eur Urol 2007; 51: 75–89.

Colpi G, Negri L, Scroppo F, Grugnetti C . Perineal floor rehabilitation: a new treatment for venogenic impotence. J Endocrinol Invest 1994; 17: 34.

Claes H, Baert L . Pelvic floor exercise versus surgery in the treatment of impotence. Br J Urol 1993; 71: 52–57.

Stief CG, Weller E, Noack T, Djamilian MH, Meschi M, Truss M et al. [Functional electromyostimulation of the penile corpus cavernosum (FEMCC)]. Initial results of a new therapeutic option of erectile dysfunction. Der Urol Ausg A 1996; 35: 321–325.

Van Kampen M, De Weerdt W, Claes H, Feys H, De Maeyer M, Van Poppel H . Treatment of erectile dysfunction by perineal exercise, electromyographic biofeedback, and electrical stimulation. Phys Ther 2003; 83: 536–543.

Dorey G, Speakman M, Feneley R, Swinkels A, Dunn C, Ewings P . Randomised controlled trial of pelvic floor muscle exercises and manometric biofeedback for erectile dysfunction. Br J Gen Pract 2004; 54: 819–825.

Sighinolfi MC, Rivalta M, Mofferdin A, Micali S, De Stefani S, Bianchi G . Potential effectiveness of pelvic floor rehabilitation treatment for postradical prostatectomy incontinence, climacturia, and erectile dysfunction: a case series. J Sex Med 2009; 6: 3496–3499.

Prota C, Gomes C, Ribeiro L, de Bessa JJ, Nakano E, Dall'Oglio M et al. Early postoperative pelvic-floor biofeedback improves erectile function in men undergoing radical prostatectomy: a prospective, randomized, controlled trial. Int J Impot Res 2012; 24: 174–178.

Choi JM, Nelson CJ, Stasi J, Mulhall JP . Orgasm associated incontinence (climacturia) following radical pelvic surgery: rates of occurrence and predictors. J Urol 2007; 177: 2223–2226.

Guay A, Seftel AD . Sexual foreplay incontinence in men with erectile dysfunction after radical prostatectomy: a clinical observation. Int J Impot Res 2008; 20: 199–201.

Tsivian M, Mayes JM, Krupski TL, Mouraviev V, Donatucci CF, Polascik TJ . Altered male physiologic function after surgery for prostate cancer: couple perspective. Int Braz J Urol 2009; 35: 673–682.

Rosen RC, Riley A, Wagner G, Osterloh IH, Kirkpatrick J, Mishra A . The international index of erectile function (IIEF): a multidimensional scale for assessment of erectile dysfunction. Urology 1997; 49: 822–830.

Goldstein I, Lue TF, Padma-Nathan H, Rosen RC, Steers WD, Wicker PA . Oral sildenafil in the treatment of erectile dysfunction. N Engl J Med 1998; 338: 1397–1404.

Geraerts I, Van Poppel H, Devoogdt N, Joniau S, Van Cleynenbreugel B, De Groef A et al. Influence of preoperative and postoperative pelvic floor muscle training (PFMT) compared with postoperative PFMT on urinary incontinence after radical prostatectomy: a randomized controlled trial. Eur Urol 2013; 64: 766–772.

Mostafa ME, Senbel AM, Mostafa T . Effect of chronic low-dose tadalafil on penile cavernous tissues in diabetic rats. Urology 2013; 81: 1253–1260.

Padma-Nathan H, McCullough AR, Levine LA, Lipshultz LI, Siegel R, Montorsi F et al. Randomized, double-blind, placebo-controlled study of postoperative nightly sildenafil citrate for the prevention of erectile dysfunction after bilateral nerve-sparing radical prostatectomy. Int J Impot Res 2008; 20: 479–486.

Montorsi F, Brock G, Lee J, Shapiro J, Van Poppel H, Graefen M et al. Effect of nightly versus on-demand vardenafil on recovery of erectile function in men following bilateral nerve-sparing radical prostatectomy. Eur Urol 2008; 54: 924–931.

Mulhall JP, Burnett AL, Wang R, McVary KT, Moul JW, Bowden CH et al. A phase 3, placebo controlled study of the safety and efficacy of avanafil for the treatment of erectile dysfunction after nerve sparing radical prostatectomy. J Urol 2013; 189: 2229–2236.

Montorsi F, Brock G, Stolzenburg J-U, Mulhall J, Moncada I, Patel HRH et al. Effects of tadalafil treatment on erectile function recovery following bilateral nerve-sparing radical prostatectomy: a randomised placebo-controlled study (REACTT). Eur Urol 2014; 65: 587–596.

Pavlovich CP, Levinson AW, Su L-M, Mettee LZ, Feng Z, Bivalacqua TJ et al. Nightly vs on-demand sildenafil for penile rehabilitation after minimally invasive nerve-sparing radical prostatectomy: results of a randomized double-blind trial with placebo. BJU Int 2013; 112: 844–851.

Rosen RC, Allen KR, Ni X, Araujo AB . Minimal clinically important differences in the erectile function domain of the international index of erectile function scale. Eur Urol 2011; 60: 1010–1016.
Acknowledgements
We acknowledge Miss K Sterckx and Miss H Lemkens for their help in the data collection. No funding was obtained for this study.
Ethics declarations
Competing interests
The authors declare no conflict of interest.
About this article
Cite this article
Geraerts, I., Van Poppel, H., Devoogdt, N. et al. Pelvic floor muscle training for erectile dysfunction and climacturia 1 year after nerve sparing radical prostatectomy: a randomized controlled trial. Int J Impot Res 28, 9–13 (2016). https://doi.org/10.1038/ijir.2015.24
Received:

Revised:

Accepted:

Published:

Issue Date:

DOI: https://doi.org/10.1038/ijir.2015.24