Abstract
Aims
Optometrists are becoming increasingly involved in the co-management of glaucoma patients as the burden on the Hospital Eye Service continues to escalate. The aim of this study was to assess the agreement between specially trained optometrists and glaucoma-specialist consultant ophthalmologists in their management of glaucoma patients.
Methods
Four optometrists examined 23–25 patients each and the clinical findings, up to the point of dilation, were documented in the hospital records. The optometrist, and one of two consultant ophthalmologists, then independently examined and documented the optic-disc appearance before recording their decisions regarding the stability and management of the patient on a specially designed proforma. Percentage agreement was calculated together with kappa or weighted kappa statistics, where appropriate.
Results
Agreement between consultants and optometrists in evaluating glaucoma stability was 68.5% (kappa (κ)=0.42–0.50) for visual fields, 64.5% (weighted κ=0.17–0.31) for optic discs, and 84.5% (weighted κ=0.55–0.60) for intraocular pressures. Agreement regarding medical management was 96.5% (κ=0.73–0.81) and for other glaucoma management decisions, including timing of follow-up, referral to a consultant ophthalmologist, and discharge, was 72% (weighted κ=0.65). This agreement increased to 90% following a retrospective independent then consensus review between the two consultants and when qualified agreements were included. Of the 47 glaucoma and non-glaucoma queries generated during the study, 42 resulted in a change of management.
Conclusion
Confirming the ability of optometrists to make appropriate decisions regarding the stability and management of glaucoma patients is essential if their involvement is to continue to develop to meet the demand of an aging population.
Access options
Subscribe to Journal
Get full journal access for 1 year
$411.00
only $34.25 per issue
All prices are NET prices.
VAT will be added later in the checkout.
Rent or Buy article
Get time limited or full article access on ReadCube.
from$8.99
All prices are NET prices.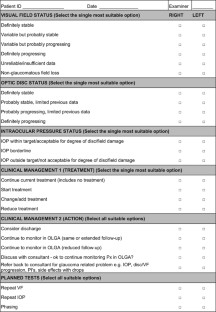 References
1

National Patient Safety Agency. Rapid response report: preventing delay to follow up for patients with glaucoma. NPSA/2009/RRR004. 11-6-2009.

2

National Institute for Health and Clinical Excellence. Glaucoma: diagnosis and management of chronic open-angle glaucoma and ocular hypertension 2009.

3

Marks J . An optometric led glaucoma assessment service. Optom Pract 2007; 8: 57–62.

4

Banes MJ, Culham LE, Bunce C, Xing W, Viswanathan A, Garway-Heath DF . Agreement between optometrists and ophthalmologists on clinical management decisions for patients with glaucoma. Br J Ophthalmol 2006; 90: 579–585.

5

Henson DB, Spencer AF, Harper R, Cadman EJ . Community refinement of glaucoma referrals. Eye 2002; 16: 1–6.

6

Bourne RRA, French KA, Chang L, Borman AD, Hingorani M, Newsom WD . Can a community optometrist-based referral refinement scheme reduce false-positive glaucoma hospital referrals without compromising quality of care? The community and hospital allied glaucoma network evaluation scheme (CHANGES). Eye 2010; 24: 881–887.

7

Devarajan N, Williams GS, Hopes M, O'Sullivan D, Jones D . The Carmarthenshire glaucoma referral refinement scheme, a safe and efficient screening service. Eye 2011; 25: 43–49.

8

Azuara-Blanco A, Burr J, Thomas R, Maclennan G, McPherson S . The accuracy of accredited glaucoma optometrists in the diagnosis and treatment recommendation for glaucoma. Br J Ophthalmol 2007; 91: 1639–1643.

9

Gray SF, Spry PGD, Brookes ST, Peters TJ, Spencer IC, Baker IA et al. The Bristol shared care glaucoma study: outcome at follow up at 2 years. Br J Ophthalmol 2000; 84: 456–463.

10

Syam P, Rughani K, Vardy SJ, Rimmer T, Fitt A, Husain T et al. The Peterborough scheme for community specialist optometrists in glaucoma: a feasibility study. Eye 2010; 24: 1156–1164.

11

Ho S, Vernon SA . Decision making in chronic glaucoma – optometrists vs ophthalmologists in a shared care service. Ophthalmic Physiol Opt 2011; 31(2): 168–173.

12

Kelly S, Rimmer T, Bailey C, Gibson J, Sparrow JM . New to Follow up (N:F) Ratios in Ophthalmology Outpatient Services. The Royal College of Ophthalmologists London, 2011.

13

Tuck MW, Crick RP . The projected increase in glaucoma due to an ageing population. Ophthalmic Physiol Opt 2003; 23: 175–179.

14

Vernon SA, Adair A . Shared care in glaucoma: a study of secondary care lead schemes in England. Eye 2010; 24: 265–269.

15

Feinstein AR, Cicchetti DV . High agreement but low kappa: I. The problems of two paradoxes. J Clin Epidemiol 1990; 43(6): 543–549.

16

Viswanathan AC, Crabb DP, McNaught AI, Westcott MC, Kamal D, Garway-Heath DF et al. Interobserver agreement on visual field progression in glaucoma: a comparison of methods. Br J Ophthalmol 2003; 87: 726–730.

17

Chauhan BC, Hutchinson DM, Artes PH, Caprioli J, Jonas JB, LeBlanc RP et al. Optic disc progression in glaucoma: comparison of confocal scanning laser tomography to optic disc photographs in a prospective study. Invest Ophthalmol Vis Sci 2009; 50: 1682–1691.

18

Jampel HD, Friedman D, Quigley H, Vitale S, Miller R, Knezevich F et al. Agreement among glaucoma specialists in assessing progressive disc changes from photographs in open-angle glaucoma patients. Am J Ophthalmol 2009; 147(1): 39–44.
Acknowledgements
We would like to thank the College of Optometrists, and in particular, Beverley Hancock, who provided the extremely valued services of the statistician, Dr Sayeed Haque, under the iPRO scheme. We would also like to thank Professor D Henson for his comments on the manuscript.
Ethics declarations
Competing interests
The authors declare no conflict of interest.
About this article
Cite this article
Marks, J., Harding, A., Harper, R. et al. Agreement between specially trained and accredited optometrists and glaucoma specialist consultant ophthalmologists in their management of glaucoma patients. Eye 26, 853–861 (2012) doi:10.1038/eye.2012.58
Received

Accepted

Published

Issue Date
Keywords
glaucoma

shared care

specialist optometrist

glaucoma-specialist consultant ophthalmologist

agreement