Abstract
Background/Objectives:
In Austria, iodine deficiency has been considered to be eliminated owing to table salt fortification with iodine, but whether this also applies to pregnant women is unclear. Even mild iodine deficiency during gestation may lead to neurocognitive sequelae in the offspring.
Subjects/Methods:
This is a cross-sectional investigation of urinary iodine excretion in 246 pregnant women (first trimester n=2, second trimester n=53, third trimester n=191, gestational diabetes mellitus n=115, no gestational diabetes mellitus n=131). The iodine content of morning spot urine samples was determined using inductively coupled plasma mass spectrometry.
Results:
Pregnant women in the Vienna area had a median urinary iodine concentration (UIC) of 87 μg/l. Only 13.8% of the cohort were in the recommended range of 150–249 μg/l, whereas 21.5% had a UIC of 0–49 μg/l, 40.2% had a UIC of 50–99 μg/l and 19.5% had a UIC of 100–149 μg/l. In all, 4.9% had a UIC over 250 μg/l. A total of 137 women of foreign origin had a significantly higher iodine excretion compared with Austrian-born women. Maternal or gestational age had no influence on UIC. Although 79 women on iodine supplementation had a significantly higher iodine concentration compared with women without iodine supplementation (97.3 vs 80.1 μg/l, P=0,006), their UIC was below the recommended range, indicating that doses of 100–150 μg per day are not sufficient to normalize iodine excretion. Sodium and iodine concentrations in the urine were tightly correlated (R=0.539, n=61), suggesting that low intake of iodized salt might contribute to insufficient iodine supply.
Conclusions:
This study shows that pregnant women in the Vienna area have a potentially clinically significant iodine deficiency and that currently recommended doses of iodine supplementation may not be sufficient.
Relevant articles
Open Access articles citing this article.
Carola Deischinger

,

Michael Krebs

&

Alexandra Kautzky-Willer

Journal für Klinische Endokrinologie und Stoffwechsel Open Access 12 July 2022

Yixuan Lin

,

Diqun Chen

…

Zhihui Chen

Nutrition Journal Open Access 23 February 2021

Firas Azzeh

&

Bassem Refaat

BMC Pregnancy and Childbirth Open Access 22 June 2020
Access options
Subscribe to Journal
Get full journal access for 1 year
$119.00
only $9.92 per issue
All prices are NET prices.
VAT will be added later in the checkout.
Tax calculation will be finalised during checkout.
Buy article
Get time limited or full article access on ReadCube.
$32.00
All prices are NET prices.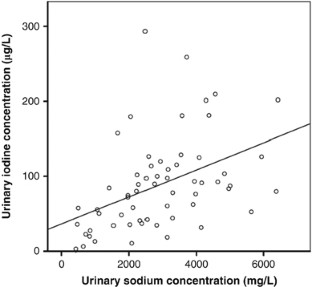 References
Berbel P, Obregón MJ, Bernal J, Escobar del Rey F . Morreale de Escobar G. Iodine supplementation during pregnancy: a public health challenge. Trends Endocrinol Metab 2007; 18: 338–343.

Zimmermann MB . Iodine deficiency. Endocr Rev 2009; 30: 376–408.

Zimmermann B . The role of iodine in human growth and development. Semin Cell Dev Biol 2011; 22: 645–652.

World Health Organization United Nations Children's Fund, International Council for the Control of Iodine Deficiency Disorders, Assessment of iodine deficiency disorders and monitoring their elimination: A guide for programme managers. 3rd edition 2007.

Williams GR . Neurodevelopmental and neurophysiological actions of thyroid hormone. J Neuroendocrinol 2008; 20: 784–794.

Morreale de Escobar G, Obregon MJ, Escobar del Rey F . Role of thyroid hormone during early brain development. Eur J Endocrinol 2004; 151: U25–U37.

Berbel P, Mestre JL, Santamaría A, Palazón I, Franco A, Graells M et al. Delayed neurobehavioral development in children born to pregnant women with mild hypothyroxinemia during the first month of gestation: the importance of early iodine supplementation. Thyroid 2009; 19: 511–519.

Hynes KL, Otahal P, Hay I, Burgess JR . Mild iodine deficiency during pregnancy is associated with reduced educational outcomes in the offspring: 9-year follow-up of the gestational iodine cohort. J Clin Endocrinol Metab 2013; 98: 1954–1962.

Bath SC, Steer CD, Golding J, Emmett P, Rayman MP . Effect of inadequate iodine status in UK pregnant women on cognitive outcomes in their children: results from the Avon Longitudinal Study of Parents and Children (ALSPAC). Lancet 2013; 382: 331–337.

Zimmermann MB . Nutrition: are mild maternal iodine deficiency and child IQ linked? Nat Rev Endocrinol 2013; 9: 505–506.

Stagnaro-Green A, Abalovich M, Alexander E, Azizi F, Mestman J, Negro R et al. Guidelines of the American Thyroid Association for the diagnosis and management of thyroid disease during pregnancy and postpartum. Thyroid 2011; 21: 1081–1125.

De Groot L, Abalovich M, Alexander EK, Amino N, Barbour L, Cobin RH et al. Management of thyroid dysfunction during pregnancy and postpartum: an Endocrine Society clinical practice guideline. J Clin Endocrinol Metab 2012; 97: 2543–2565.

Sager M . Mengen- und Spurenelemente in österreichischen Hühnereiern. Ernährung/Nutrition 2011; 35: 53–58.

Office of Dietary Supplements, National Institute of Health Dietary supplement fact sheet: Iodine. Available at http://ods.od.nih.gov/factsheets/Iodine-HealthProfessional/ Accessed February 2014.

Sager M, Hobegger M . Contents of elements in raw milk from three regions in lower Austria. Ernährung/Nutrition 2013; 37: 277–290.

Bundesgesetz über den Verkehr mit Speisesalz (Speisesalzgesetz) - BGBl. Nr. 112/1963 and BGBl. Nr. 288/1990. https://www.ris.bka.gv.at/GeltendeFassung.wxe?Abfrage=Bundesnormen&Gesetzesnummer=10010311.

Lind P, Klima G, Wakonig P, Wawschinek O, Eber O . [Urinary excretion of iodide and incidence of goiter in Styria—studies 20 years after the introduction of compulsory iodinated salt prophylaxis]. Acta Med Austriaca 1985; 12: 45–50.

Gallowitsch HJ, Mikosch P, Kresnik E, Gomez I, Plöb J, Pipam W et al. [Thyroid volume and iodine supply of 6 to 17 year old students. Results 3 years after the introduction of increased iodized salt]. Nuklearmedizin 1994; 33: 235–238.

Heinisch M, Kumnig G, Asböck D, Mikosch P, Gallowitsch HJ, Kresnik E et al. Goiter prevalence and urinary iodide excretion in a formerly iodine-deficient region after introduction of statutory iodization of common salt. Thyroid 2002; 12: 809–814.

Zimmermann MB, Andersson M . Prevalence of iodine deficiency in Europe in 2010. Ann Endocrinol (Paris) 2011; 72: 164–166.

Elmadfa I . Österr. Ernährungsbericht 2012; 1, Auflage: Wien, Austria.

Wagner B, Karup SB, Raber W, Schneider B, Nowotny P, Waldhäusl W et al. [Preventive iodine administration and iodine excretion in the Vienna area and in the forest quarter]. Wien Klin Wochenschr 1998; 110: 751–754.

Azizi F, Aminorroya A, Hedayati M, Rezvanian H, Amini M, Mirmiran P . Urinary iodine excretion in pregnant women residing in areas with adequate iodine intake. Public Health Nutr 2003; 6: 95–98.

Gowachirapant S, Winichagoon P, Wyss L, Tong B, Baumgartner J, Melse-Boonstra A et al. Urinary iodine concentrations indicate iodine deficiency in pregnant Thai women but iodine sufficiency in their school-aged children. J Nutr 2009; 139: 1169–1172.

Oguz Kutlu A, Kara C . Iodine deficiency in pregnant women in the apparently iodine-sufficient capital city of Turkey. Clin Endocrinol 2012; 77: 615–620.

Sager M . Microwave-assisted digestion of organic materials with KClO3/HNO3 for the analysis of trace metals and non metals. Anal Chem Indian J 2011; 10: 2.

Women in Austria 2011 (Registry census 2011) STATcube - Statistical database of Statistics Austria (database on the Internet) (accessed 29 July 2014). Available from http://statcube.at/superwebguest/login.do?guest=guest&db=deregz_rzpers.

Elmadfa I, Meyer AL . Vitamins for the first 1000 days: preparing for life. Int J Vitam Nutr Res 2012; 82: 342–347.

Charlton K, Yeatman H, Lucas C, Axford S, Gemming L, Houweling F et al. Poor knowledge and practices related to iodine nutrition during pregnancy and lactation in Australian women: pre- and post-iodine fortification. Nutrients 2012; 4: 1317–1327.

Brantsæter AL, Abel MH, Haugen M, Meltzer HM . Risk of suboptimal iodine intake in pregnant norwegian women. Nutrients 2013; 5: 424–440.

Gahche JJ, Bailey RL, Mirel LB, Dwyer JT . The prevalence of using iodine-containing supplements is low among reproductive-age women, NHANES 1999–2006. J Nutr 2013; 143: 872–877.

Leung AM, Braverman LE, Pearce EN . A dietary iodine questionnaire: correlation with urinary iodine and food diaries. Thyroid 2007; 17: 755–762.

Pedersen KM, Laurberg P, Iversen E, Knudsen PR, Gregersen HE, Rasmussen OS et al. Amelioration of some pregnancy-associated variations in thyroid function by iodine supplementation. J Clin Endocrinol Metab 1993; 77: 1078–1083.

Liesenkötter KP, Göpel W, Bogner U, Stach B, Grüters A . Earliest prevention of endemic goiter by iodine supplementation during pregnancy. Eur J Endocrinol 1996; 134: 443–448.

Caldwell KL, Pan Y, Mortensen ME, Makhmudov A, Merrill L, Moye J . Iodine status in pregnant women in the National Children's Study and in U.S. women (15-44 Years), National Health and Nutrition Examination Survey 2005-2010. Thyroid 2013; 23: 927–937.

Bath SC, Rayman MP . Iodine deficiency in the UK: an overlooked cause of impaired neurodevelopment? Proc Nutr Soc 2013; 72: 226–235.

Al-Attas OS, Al-Daghri NM, Alkharfy KM, Alokail MS, Al-Johani NJ, Abd-Alrahman SH et al. Urinary iodine is associated with insulin resistance in subjects with diabetes mellitus type 2. Exp Clin Endocrinol Diabetes 2012; 120: 618–622.

Stilwell G, Reynolds PJ, Parameswaran V, Blizzard L, Greenaway TM, Burgess JR . The influence of gestational stage on urinary iodine excretion in pregnancy. J Clin Endocrinol Metab 2008; 93: 1737–1742.

Ainy E, Ordookhani A, Hedayati M, Azizi F . Assessment of intertrimester and seasonal variations of urinary iodine concentration during pregnancy in an iodine-replete area. Clin Endocrinol 2007; 67: 577–581.

Smyth PP . Variation in iodine handling during normal pregnancy. Thyroid 1999; 9: 637–642.

Mian C, Vitaliano P, Pozza D, Barollo S, Pitton M, Callegari G et al. Iodine status in pregnancy: role of dietary habits and geographical origin. Clin Endocrinol 2009; 70: 776–780.

Sager M . Über die Elementzusammensetzung von in Österreich erhältlichen Fertiggerichten und Wurstwaren. Ernährung/Nutrition 2010; 34: 57–64.

Recommended iodine levels in salt and guidelines for monitoring their adequacy and effectiveness. WHO reference number: WHO/NUT/96.13 1996.

WHO Guideline: Sodium Intake for Adults and Children. World Health Organization (WHO): Geneva, Switzerland, 2012.

Whelton PK, Appel LJ, Sacco RL, Anderson CA, Antman EM, Campbell N et al. Sodium, blood pressure, and cardiovascular disease: further evidence supporting the American Heart Association sodium reduction recommendations. Circulation 2012; 126: 2880–2889.

Tayie FA, Jourdan K . Hypertension, dietary salt restriction, and iodine deficiency among adults. Am J Hypertens 2010; 23: 1095–1102.

Simpson FO, Thaler BI, Paulin JM, Phelan EL, Cooper GJ . Iodide excretion in a salt-restriction trial. N Z Med J 1984; 97: 890–893.

Johner SA, Thamm M, Nöthlings U, Remer T . Iodine status in preschool children and evaluation of major dietary iodine sources: a German experience. Eur J Nutr 2012; 52: 1711–1719.

Charlton KE, Jooste PL, Steyn K, Levitt NS, Ghosh A . A lowered salt intake does not compromise iodine status in Cape Town, South Africa, where salt iodization is mandatory. Nutrition 2013; 29: 630–634.
Ethics declarations
Competing interests
The authors declare no conflict of interest.
About this article
Cite this article
Lindorfer, H., Krebs, M., Kautzky-Willer, A. et al. Iodine deficiency in pregnant women in Austria. Eur J Clin Nutr 69, 349–354 (2015). https://doi.org/10.1038/ejcn.2014.253
Received:

Revised:

Accepted:

Published:

Issue Date:

DOI: https://doi.org/10.1038/ejcn.2014.253