Abstract
Background/objective:
To investigate the extent of baseline psychosocial characterisation of subjects in published dietary randomised controlled trials (RCTs) for weight loss.
Subjects/methods:
Systematic review of adequately sized (n⩾10) RCTs comprising ⩾1 diet-alone arm for weight loss were included for this systematic review. More specifically, trials included overweight (body mass index >25 kg/m2) adults, were of duration ⩾8 weeks and had body weight as the primary outcome. Exclusion criteria included specific psychological intervention (for example, Cognitive Behaviour Therapy (CBT)), use of web-based tools, use of supplements, liquid diets, replacement meals and very-low calorie diets. Physical activity intervention was restricted to general exercise only (not supervised or prescribed, for example, VO2 maximum level).
Results:
Of 176 weight-loss RCTs published during 2008–2010, 15 met selection criteria and were assessed for reported psychological characterisation of subjects. All studies reported standard characterisation of clinical and biochemical characteristics of subjects. Eleven studies reported no psychological attributes of subjects (three of these did exclude those taking psychoactive medication). Three studies collected data on particular aspects of psychology related to specific research objectives (figure scale rating, satiety and quality-of-life). Only one study provided a comprehensive background on psychological attributes of subjects.
Conclusion:
Better characterisation in behaviour-change interventions will reduce potential confounding and enhance generalisability of such studies.
Relevant articles
Open Access articles citing this article.
Cesar I. Fernandez-Lazaro

,

Estefanía Toledo

…

Miguel A. Martínez González

European Journal of Nutrition Open Access 30 November 2021

Julie B. Wang

,

John P. Pierce

…

Loki Natarajan

Annals of Behavioral Medicine Open Access 20 June 2015
Access options
Subscribe to Journal
Get full journal access for 1 year
$119.00
only $9.92 per issue
All prices are NET prices.
VAT will be added later in the checkout.
Tax calculation will be finalised during checkout.
Buy article
Get time limited or full article access on ReadCube.
$32.00
All prices are NET prices.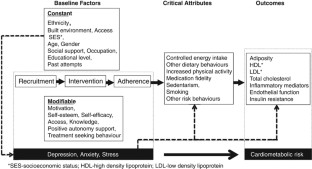 References
Bays H, Blonde L, Rosenson R . Adiposopathy: how do diet, exercise and weight loss drug therapies improve metabolic disease in overweight patients? Expert Rev Cardiovasc Ther 2006; 4: 871–895.

Sarti C, Gallagher J . The metabolic syndrome: prevalence, CHD risk, and treatment. J Diabetes Complications 2006; 20: 121–132.

WRCF/AICR. Food, Nutrition and the Prevention of Cancer: a Global Perspective. American Institute for Cancer Research: Washington, DC, 1997.

Anandacoomarasamy A, Caterson I, Sambrook P, Fransen M, March L . The impact of obesity on the musculoskeletal system. Int J Obes (Lond) 2008; 32: 211–222.

Barrera AZ, Torres LD, Munoz RF . Prevention of depression: the state of the science at the beginning of the 21st Century. Int Rev Psychiatry 2007; 19: 655–670.

Van der Kooy K, van Hout H, Marwijk H, Marten H, Stehouwer C, Beekman A . Depression and the risk for cardiovascular diseases: systematic review and meta analysis. Int J Geriatr Psychiatry 2007; 22: 613–626.

Wagner JA, Tennen H . History of major depressive disorder and diabetes outcomes in diet- and tablet-treated post-menopausal women: a case control study. Diabet Med 2007; 24: 211–216.

Goldstein LB, Adams R, Alberts MJ, Appel LJ, Brass LM, Bushnell CD et al. Primary prevention of ischemic stroke: a guideline from the American Heart Association/American Stroke Association Stroke Council. Stroke 2006; 37: 1583–1633.

Teychenne M, Ball K, Salmon J . Associations between physical activity and depressive symptoms in women. Int J Behav Nutr Phys Act 2008; 5: 27.

Rondina Rde C, Gorayeb R, Botelho C . Psychological characteristics associated with tobacco smoking behavior. J Bras Pneumol 2007; 33: 592–601.

Simon GE, Ludman EJ, Linde JA, Operskalski BH, Ichikawa L, Rohde P et al. Association between obesity and depression in middle-aged women. Gen Hosp Psychiatry 2008; 30: 32–39.

Kamphuis MH, Geerlings MI, Tijhuis MA, Giampaoli S, Nissinen A, Grobbee DE et al. Physical inactivity, depression, and risk of cardiovascular mortality. Med Sci Sports Exerc 2007; 39: 1693–1699.

Cosgrove MP, Sargeant LA, Griffin SJ . Does depression increase the risk of developing type 2 diabetes? Occup Med (Lond) 2008; 58: 7–14.

Baune BT, Adrian I, Arolt V, Berger K . Associations between major depression, bipolar disorders, dysthymia and cardiovascular diseases in the general adult population. Psychother Psychosom 2006; 75: 319–326.

de Wit LM, Fokkema M, van Straten A, Lamers F, Cuijpers P, Penninx BW . Depressive and anxiety disorders and the association with obesity, physical, and social activities. Depress Anxiety 2010; 27: 1057–1065.

Hansel A, Hong S, Camara RJ, von Kanel R . Inflammation as a psychophysiological biomarker in chronic psychosocial stress. Neurosci Biobehav Rev 2010; 35: 115–121.

Leonard BE . The concept of depression as a dysfunction of the immune system. Curr Immunol Rev 6: 205–212.

Sacks FM, Bray GA, Carey VJ, Smith SR, Ryan DH, Anton SD et al. Comparison of weight-loss diets with different compositions of fat, protein, and carbohydrates. N Engl J Med 2009; 360: 859–873.

Khairova RA, Machado-Vieira R, Du J, Manji HK . A potential role for pro-inflammatory cytokines in regulating synaptic plasticity in major depressive disorder. Int J Neuropsychopharmacol 2009; 12: 561–578.

Spulber S, Schultzberg M . Connection between inflammatory processes and transmittor function-Modulatory effects of interleukin-1. Prog Neurobiol 2010; 90: 256–262.

Libby P, Okamoto Y, Rocha VZ, Folco E . Inflammation in atherosclerosis: transition from theory to practice. Circ J 2010; 74: 213–220.

Dockray S, Steptoe A . Positive affect and psychobiological processes. Neurosci Biobehav Rev 2010; 35: 69–75.

Annesi JJ, Whitaker AC . Psychological factors discriminating between successful and unsuccessful weight loss in a behavioral exercise and nutrition education treatment. Int J Behav Med 2010; 17: 168–175.

Luyster FS, Hughes JW, Gunstad J . Depression and anxiety symptoms are associated with reduced dietary adherence in heart failure patients treated with an implantable cardioverter defibrillator. J Cardiovasc Nurs 2009; 24: 10–17.

Somerset S, Graham L, Markwell K . The impact of depression symptoms on the conduct of a diet trial in overweight subjects. Clin Nutr 2011; 30: 593–598.

Portney LG, MP W . Foundations of Clinical Research. Applications to Practice. Pearson Prentice Hall: New Jersey, 2009.

Leonard BE, Myint A . The psychoneuroimmunology of depression. Hum Psychopharmacol 2009; 24: 165–175.

Abete I, Parra D, Crujeiras AB, Goyenechea E, Martinez JA . Specific insulin sensitivity and leptin responses to a nutritional treatment of obesity via a combination of energy restriction and fatty fish intake. J Hum Nutr Diet 2008; 21: 591–600.

de Luis DA, Aller R, Izaola O, Sagrado MG, Conde R . Influence of Lys656Asn polymorphism of leptin receptor gene on leptin response secondary to two hypocaloric diets: a randomized clinical trial. Ann Nutr Metab 2008; 52: 209–214.

de Luis DA, Aller R, Izaola O, Sagrado MG, Conde R . Influence of Ala54Thr polymorphism of fatty acid-binding protein 2 on weight loss and insulin levels secondary to two hypocaloric diets: a randomized clinical trial. Diabetes Res Clin Pract 2008; 82: 113–118.

de Luis DA, Gonzalez Sagrado M, Aller R, Izaola O, Conde R . Influence of Trp64Arg polymorphism of beta 3-adrenoreceptor gene on insulin resistance, adipocytokines and weight loss secondary to two hypocaloric diets. Ann Nutr Metab 2009; 54: 104–110.

Wilson GT, Schlam TR . The transtheoretical model and motivational interviewing in the treatment of eating and weight disorders. Clin Psychol Rev 2004; 24: 361–378.

Legenbauer L, de Zwaan M, Benecke A, Mühlhans B, Petrak F, Herpertz S . Depression and anxiety: their predictive function for weight loss in obese individuals. Obes Facts 2009; 2: 227–234.

Rutledge T, Groesz LM, Savu M . Psychiatric factors and weight loss patterns following gastric bypass surgery in a veteran opulation. Obes Surg 2011; 21: 29–35.

Dennis EA, Dengo AL, Comber DL, Flack KD, Savla J, Davy KP et al. Water consumption increases weight loss during a hypocaloric diet intervention in middle-aged and older adults. Obesity (Silver Spring) 2010; 18: 300–307.

Evangelista LS, Heber D, Li Z, Bowerman S, Hamilton MA, Fonarow GC . Reduced body weight and adiposity with a high-protein diet improves functional status, lipid profiles, glycemic control, and quality of life in patients with heart failure: a feasibility study. J Cardiovasc Nurs 2009; 24: 207–215.

Fitzgibbon ML, Stolley M, Schiffer L, Sharp L, Singh V, Van Horn L et al. Obesity reduction black intervention trial (orbit): design and baseline characteristics. J Womens Health (Larchmt) 2008; 17: 1099–1110.

Vander Wal JS, Gupta A, Khosla P, Dhurandhar NV . Egg breakfast enhances weight loss. Int J Obes (Lond) 2008; 32: 1545–1551.

Kim D . Blues from the neighborhood? Neighborhood characteristics and depression. Epidemiol Rev 2008; 30: 101–117.

Franz MJ, VanWormer JJ, Crain AL, Boucher JL, Histon T, Caplan W et al. Weight-loss outcomes: a systematic review and meta-analysis of weight-loss clinical trials with a minimum 1-year follow-up. J Am Diet Assoc 2007; 107: 1755–1767.

Fabricatore AN, Wadden TA, Moore RH, Butryn ML, Gravallese EA, Erondu NE et al. Attrition from randomized controlled trials of pharmacological weight loss agents: a systematic review and analysis. Obes Rev 2009; 10: 333–341.

Salmon P . Effects of physical exercise on anxiety, depression, and sensitivity to stress: a unifying theory. Clin Psych Rev 2001; 21: 33–61.

Ryan RM, Deci EL . Self-determination theory and the facilitation of intrinsic motivation, social development, and well-being. Am Psychol 2000; 55: 68–78.

Prochaska JO, Velicer WF, Rossi JS, Goldstein MG, Marcus BH, Rakowski W et al. Stages of change and decisional balance for 12 problem behaviors. Health Psychol 1994; 13: 39–46.

Brogan A, Hevey D . Eating styles in the morbidly obese: restraint eating, but not emotional and external eating, predicts dietary behaviour. Psych Health 2013; doi:10.1080/08870446.2012.760033.

Hainer V, Kunesova M, Bellisle F, Hill M, Braunerova R, Wagenknecht M . Psychobehavioral and nutritional predictors of weight loss in obese women treated with sibutramine. Int J Obes 2005; 29: 208–216.

Werrij M, Jansen A, Mulkens S, Elgersma H, Ament A, Hospers H . Adding cognitive therapy to dietetic treatment is associated with less relapse in obesity. J Psych Res 2009; 67: 315–324.

Lejeune M, van Aggel-Leijssen D, van Baak M, Westerterp-Plantenga M . Effects of dietary restraint vs exercise during weight maintenance in obese men. Eur J Clin Nutr 2003; 57: 1338–1344.

Phelan S, Liu T, Gorin A, Lowe M, Hogan J, Fava J et al. What distinguishes weight-loss maintainers from the treatment-seeking obese? analysis of environmental, behavioral, and psychosocial variables in diverse populations. Ann Behav Med 2009; 38: 94–104.

DiMatteo MR, Lepper HS, Croghan TW . Depression is a risk factor for noncompliance with medical treatment: meta-analysis of the effects of anxiety and depression on patient adherence. Arch Intern Med 2000; 160: 2101–2107.

Wing RR, Phelan S, Tate D . The role of adherence in mediating the relationship between depression and health outcomes. J Psych Res 2002; 53: 877–881.

Mefferd K, Nichols JF, Pakiz B, Rock CL . A cognitive behavioral therapy intervention to promote weight loss improves body composition and blood lipid profiles among overweight breast cancer survivors. Breast Cancer Res Treat 2007; 104: 145–152.

Rodriguez-Hernandez H, Morales-Amaya UA, Rosales-Valdez R, Rivera-Hinojosa F, Rodriguez-Moran M, Guerrero-Romero F . Adding cognitive behavioural treatment to either low-carbohydrate or low-fat diets: differential short-term effects. Br J Nutr 2009; 102: 1847–1853.

Tsiros MD, Sinn N, Brennan L, Coates AM, Walkley JW, Petkov J et al. Cognitive behavioral therapy improves diet and body composition in overweight and obese adolescents. Am J Clin Nutr 2008; 87: 1134–1140.

Mota-Pereira J, Silverio J, Carvalho S, Ribeiro JC, Fonte D, Ramos J . Moderate exercise improves depression parameters in treatment-resistant patients with major depressive disorder. J Psychiatr Res 2011; 45: 1005–1011.

Stathopoulou G, Powers MB, Berry AC, Smits JAJ, Otto MW . Exercise interventions for mental health: a quantitative and qualitative review. Clin Psych Sci Pract 2006; 13: 179–193.

Rippe JM, Price JM, Hess SA, Kline G, DeMers KA, Damitz S et al. Improved psychological well-being, quality of life, and health practices in moderately overweight women participating in a 12-week structured weight loss program. Obes Res 1998; 6: 208–218.

Janssen I, Katzmarzyk PT, Ross R . Waist circumference and not body mass index explains obesity-related health risk. Am J Clin Nutr 2004; 79: 379–384.

Abete I, Parra D, Crujeiras AB, Goyenechea E, Martinez JA . Specific insulin sensitivity and leptin responses to a nutritional treatment of obesity via a combination of energy restriction and fatty fish intake. J Human Nutr Dietet 2008; 21: 591–600.

Blumenthal JA, Babyak MA, Hinderliter A, Watkins LL, Craighead L, Lin P et al. Effects of the DASH diet alone and in combination with exercise and weight loss on blood pressure and cardiovascular biomarkers in men and women with high blood pressure. Arch Int Med 2010; 170: 126–135.

Greenberg I, Stampfer MJ, Schwarzfuchs D, Shai I . Adherence and success in long-term weight loss diets: the dietary intervention randomized controlled trial (DIRECT). J Am Coll Nutr 2009; 28: 159–168.

Tay J, Brinkworth GD, Noakes M, Keogh J, Clifton PM . Metabolic effects of weight loss on a very-low-carbohydrate diet compared with an isocaloric high-carbohydrate diet in abdominally obese subjects. J Am Coll Cardiol 2008; 51: 59–67.

Frisch S, Zittermann A, Berthold HK, Gotting C, Kuhn J, Kleesiek K et al. Randomized controlled trial on the efficacy of carbohydrate-reduced or fat-reduced diets in patients attending a telemedically guided weight loss program. Cardiovasc Diabetol 2009; 8: 36.

Ramel A, Jonsdottir M, Thorsdottir I . Consumption of cod and weight loss in young overweight and obese adults on an energy reduced diet for 8-weeks. Nutr Metab Cardiovasc Dis 2009; 19: 690–696.

Alhassan S, Kim S, Bersamin A, King AC, Gardner CD . Dietary adherence and weight loss success among overweight women: Results from the A TO Z weight loss study. Int J Obes (Lond) 2008; 32: 985–991.
Ethics declarations
Competing interests
The authors declare no conflicts of interest.
About this article
Cite this article
Somerset, S., Markwell, K. & Al-Foraih, M. A systematic review of baseline psychosocial characterisation in dietary randomised controlled trials for weight loss. Eur J Clin Nutr 67, 697–702 (2013). https://doi.org/10.1038/ejcn.2013.77
Received:

Revised:

Accepted:

Published:

Issue Date:

DOI: https://doi.org/10.1038/ejcn.2013.77
Keywords
diet

weight loss

randomised controlled trial

psychological factors
This article is cited by
Cesar I. Fernandez-Lazaro
Estefanía Toledo
Miguel A. Martínez González

European Journal of Nutrition (2022)

Julie B. Wang
John P. Pierce
Loki Natarajan

Annals of Behavioral Medicine (2015)