Abstract
Epidemiologic studies have suggested that magnesium intake may be associated with a decreased risk of colorectal cancer (CRC), but the findings have been inconsistent. We aimed to assess this association by conducting a meta-analysis of prospective studies. We performed a literature search on PubMed database through July 2012 to identify prospective studies of magnesium intake in relation to CRC risk. Reference lists of the retrieved articles were also reviewed. A random-effects model was used to compute the summary risk estimates. Eight prospective studies containing 338 979 participants and 8000 CRC cases met the inclusion criteria. The summary relative risk (RR) for the highest vs lowest category of magnesium intake for CRC was 0.89 (95% CI, 0.79–1.00), with little evidence of heterogeneity. Restricting the analysis to six studies that have adjusted for calcium intake yielded a similar result. For colon and rectal cancer, the pooled RR was 0.81 (95% CI, 0.70–0.93) and 0.94 (95% CI, 0.72–1.24), respectively. In the dose–response analyses, the summary RRs for an increment of magnesium intake of 50 mg/day for colorectal, colon and rectal cancer were, respectively, 0.95 (95% CI, 0.89–1.00), 0.93 (95% CI, 0.88–0.99) and 0.93 (95% CI, 0.83–1.04), and there was some evidence of heterogeneity; omitting one study that substantially contributed to the heterogeneity yielded generally similar results, but with low heterogeneity. We detected no indication of publication bias. On the basis of the findings of this meta-analysis, a higher magnesium intake seems to be associated with a modest reduction in the risk of CRC, in particular, colon cancer.
Relevant articles
Open Access articles citing this article.
Heng Li

,

Xiaonan Feng

…

Chun Yang

Biological Trace Element Research Open Access 25 August 2022
Access options
Subscribe to Journal
Get full journal access for 1 year
$119.00
only $9.92 per issue
All prices are NET prices.
VAT will be added later in the checkout.
Tax calculation will be finalised during checkout.
Buy article
Get time limited or full article access on ReadCube.
$32.00
All prices are NET prices.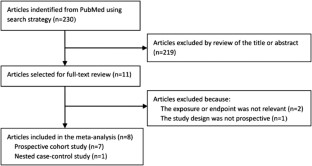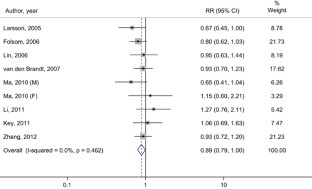 References
Ferlay J, Autier P, Boniol M, Heanue M, Colombet M, Boyle P . Estimates of the cancer incidence and mortality in Europe in 2006. Ann Oncol 2007; 18: 581–592.

Siegel R, Ward E, Brawley O, Jemal A . Cancer statistics, 2011: the impact of eliminating socioeconomic and racial disparities on premature cancer deaths. CA Cancer J Clin 2011; 61: 212–236.

Kushi LH, Doyle C, McCullough M, Rock CL, Demark-Wahnefried W, Bandera EV et al. American Cancer Society Guidelines on nutrition and physical activity for cancer prevention: reducing the risk of cancer with healthy food choices and physical activity. CA Cancer J Clin 2012; 62: 30–67.

Platz EA, Willett WC, Colditz GA, Rimm EB, Spiegelman D, Giovannucci E . Proportion of colon cancer risk that might be preventable in a cohort of middle-aged US men. Cancer Causes Control 2000; 11: 579–588.

Wolf FI, Trapani V . Cell (patho)physiology of magnesium. Clin Sci (Lond) 2008; 114: 27–35.

Saris NE, Mervaala E, Karppanen H, Khawaja JA, Lewenstam A . Magnesium. An update on physiological, clinical and analytical aspects. Clin Chim Acta 2000; 294: 1–26.

Hartwig A . Role of magnesium in genomic stability. Mutat Res 2001; 475: 113–121.

Mori H, Morishita Y, Mori Y, Yoshimi N, Sugie S, Tanaka T . Effect of magnesium hydroxide on methylazoxymethanol acetate-induced epithelial proliferation in the large bowels of rats. Cancer Lett 1992; 62: 43–48.

Mori H, Morishita Y, Shinoda T, Tanaka T . Preventive effect of magnesium hydroxide on carcinogen-induced large bowel carcinogenesis in rats. Basic Life Sci 1993; 61: 111–118.

Wang A, Yoshimi N, Tanaka T, Mori H . Inhibitory effects of magnesium hydroxide on c-myc expression and cell proliferation induced by methylazoxymethanol acetate in rat colon. Cancer Lett 1993; 75: 73–78.

Wang A, Yoshimi N, Tanaka T, Mori H . The inhibitory effect of magnesium hydroxide on the bile acid-induced cell proliferation of colon epithelium in rats with comparison to the action of calcium lactate. Carcinogenesis 1994; 15: 2661–2663.

Dong JY, Xun P, He K, Qin LQ . Magnesium intake and risk of type 2 diabetes: meta-analysis of prospective cohort studies. Diabetes Care 2011; 34: 2116–2122.

Luo J, Chlebowski R, Liu S, McGlynn KA, Parekh N, White DL et al. Diabetes mellitus as a risk factor for gastrointestinal cancers among postmenopausal women. Cancer Causes Control 2012; 23: 1599–1605.

Giovannucci E, Harlan DM, Archer MC, Bergenstal RM, Gapstur SM, Habel LA et al. Diabetes and cancer: a consensus report. CA Cancer J Clin 2010; 60: 207–221.

Hartz A, He T, Ross JJ . Risk factors for colon cancer in 150,912 postmenopausal women. Cancer Causes Control 2012 e-pub ahead of print 2 August 2012.

Chacko SA, Sul J, Song Y, Li X, LeBlanc J, You Y et al. Magnesium supplementation, metabolic and inflammatory markers, and global genomic and proteomic profiling: a randomized, double-blind, controlled, crossover trial in overweight individuals. Am J Clin Nutr 2011; 93: 463–473.

Wu K, Feskanich D, Fuchs CS, Chan AT, Willett WC, Hollis BW et al. Interactions between plasma levels of 25-hydroxyvitamin D, insulin-like growth factor (IGF)-1 and C-peptide with risk of colorectal cancer. PLoS One 2011; 6: e28520.

Pisani P . Hyper-insulinaemia and cancer, meta-analyses of epidemiological studies. Arch Physiol Biochem 2008; 114: 63–70.

Larsson SC, Bergkvist L, Wolk A . Magnesium intake in relation to risk of colorectal cancer in women. JAMA 2005; 293: 86–89.

Folsom AR, Hong CP . Magnesium intake and reduced risk of colon cancer in a prospective study of women. Am J Epidemiol 2006; 163: 232–235.

Lin J, Cook NR, Lee IM, Manson JE, Buring JE, Zhang SM . Total magnesium intake and colorectal cancer incidence in women. Cancer Epidemiol Biomarkers Prev 2006; 15: 2006–2009.

van den Brandt PA, Smits KM, Goldbohm RA, Weijenberg MP . Magnesium intake and colorectal cancer risk in the Netherlands Cohort Study. Br J Cancer 2007; 96: 510–513.

Ma E, Sasazuki S, Inoue M, Iwasaki M, Sawada N, Takachi R et al. High dietary intake of magnesium may decrease risk of colorectal cancer in Japanese men. J Nutr 2010; 140: 779–785.

Li K, Kaaks R, Linseisen J, Rohrmann S . Dietary calcium and magnesium intake in relation to cancer incidence and mortality in a German prospective cohort (EPIC-Heidelberg). Cancer Causes Control 2011; 22: 1375–1382.

Key TJ, Appleby PN, Masset G, Brunner EJ, Cade JE, Greenwood DC et al. Vitamins, minerals, essential fatty acids and colorectal cancer risk in the United Kingdom Dietary Cohort Consortium. Int J Cancer 2011 e-pub ahead of print 3 December 2011; 131: E320–E325.

Zhang X, Giovannucci EL, Wu K, Smith-Warner SA, Fuchs CS, Pollak M et al. Magnesium intake, plasma C-peptide, and colorectal cancer incidence in US women: a 28-year follow-up study. Br J Cancer 2012; 106: 1335–1341.

Stroup DF, Berlin JA, Morton SC, Olkin I, Williamson GD, Rennie D et al. Meta-analysis of observational studies in epidemiology: a proposal for reporting. Meta-analysis Of Observational Studies in Epidemiology (MOOSE) group. JAMA 2000; 283: 2008–2012.

DerSimonian R, Laird N . Meta-analysis in clinical trials. Control Clin Trials 1986; 7: 177–188.

Greenland S, Longnecker MP . Methods for trend estimation from summarized dose-response data, with applications to meta-analysis. Am J Epidemiol 1992; 135: 1301–1309.

Orsini N, Bellocco R, Greenland S . Generalized least squares for trend estimation of summarized dose-respose data. Stata J 2006; 6: 40–57.

Higgins JP, Thompson SG . Quantifying heterogeneity in a meta-analysis. Stat Med 2002; 21: 1539–1558.

Egger M, Davey Smith G, Schneider M . Minder C. Bias in meta-analysis detected by a simple, graphical test. BMJ 1997; 315: 629–634.

Norman DA, Fordtran JS, Brinkley LJ, Zerwekh JE, Nicar MJ, Strowig SM et al. Jejunal and ileal adaptation to alterations in dietary calcium: changes in calcium and magnesium absorption and pathogenetic role of parathyroid hormone and 1,25-dihydroxyvitamin D. J Clin Invest 1981; 67: 1599–1603.

Macquart-Moulin G, Riboli E, Cornee J, Charnay B, Berthezene P, Day N . Case-control study on colorectal cancer and diet in Marseilles. Int J Cancer 1986; 38: 183–191.

Tuyns AJ, Haelterman M, Kaaks R . Colorectal cancer and the intake of nutrients: oligosaccharides are a risk factor, fats are not. A case-control study in Belgium. Nutr Cancer 1987; 10: 181–196.

Benito E, Stiggelbout A, Bosch FX, Obrador A, Kaldor J, Mulet M et al. Nutritional factors in colorectal cancer risk: a case-control study in Majorca. Int J Cancer 1991; 49: 161–167.

Zaridze DG, Filipchenko VV . [The role of nutrition in the etiology of cancer of the large intestine]. Vopr Onkol 1991; 37: 152–158.

Dai Q, Shrubsole MJ, Ness RM, Schlundt D, Cai Q, Smalley WE et al. The relation of magnesium and calcium intakes and a genetic polymorphism in the magnesium transporter to colorectal neoplasia risk. Am J Clin Nutr 2007; 86: 743–751.

Wiklund L, Pousette J, George M . Magnesium intake, drinking water, and risk of colorectal cancer. JAMA 2005; 293: 2599 author reply.
Acknowledgements
This study was funded by the Priority Academic Program Development of Jiangsu Higher Education Institutions (PAPD).
Ethics declarations
Competing interests
The authors declare no conflict of interest.
About this article
Cite this article
Chen, GC., Pang, Z. & Liu, QF. Magnesium intake and risk of colorectal cancer: a meta-analysis of prospective studies. Eur J Clin Nutr 66, 1182–1186 (2012). https://doi.org/10.1038/ejcn.2012.135
Received:

Revised:

Accepted:

Published:

Issue Date:

DOI: https://doi.org/10.1038/ejcn.2012.135
Keywords
prospective studies

colorectal cancer

magnesium

meta-analysis