Abstract
Background
/Objectives:Mushrooms contain very little or any vitamin D2 but are abundant in ergosterol, which can be converted into vitamin D2 by ultraviolet (UV) irradiation. Our objective was to investigate the bioavailability of vitamin D2 from vitamin D2-enhanced mushrooms by UV-B in humans, and comparing it with a vitamin D2 supplement.
Subjects/Methods:
Fresh mushrooms were irradiated with an UV-B dose of 1.5 J/cm2, increasing vitamin D2 content from <1 to 491 μg/100 g and made to an experimental soup. In this 5-week, single-blinded, randomized, placebo-controlled trial, 26 young subjects with serum 25-hydroxyvitamin D (25OHD) ⩽50 nmol/l were randomly assigned into three groups ((a) mushroom, (b) supplement and (c) placebo). They received during winter (a) 28 000 IU (700 μg) vitamin D2 via the experimental soup, or (b) 28 000 IU vitamin D2 via a supplement or (c) placebo, respectively.
Results:
After 2 weeks, serum 25OHD was significantly higher in the mushroom than in the placebo group (P=0.001). The serum 25OHD concentrations in the mushroom and supplement groups rose significantly and similarly over the study period by 3.9 nmol/l (95% confidence interval (95% CI): 2.9, 4.8) and by 4.7 nmol/l per week (95% CI: 3.8, 5.7), respectively.
Conclusions:
We are the first to demonstrate in humans that the bioavailability of vitamin D2 from vitamin D2-enhanced button mushrooms via UV-B irradiation was effective in improving vitamin D status and not different to a vitamin D2 supplement. This trial was registered at http://germanctr.de as DRKS00000195.
This is a preview of subscription content
Access options
Subscribe to Journal
Get full journal access for 1 year
$119.00
only $9.92 per issue
All prices are NET prices.
VAT will be added later in the checkout.
Tax calculation will be finalised during checkout.
Buy article
Get time limited or full article access on ReadCube.
$32.00
All prices are NET prices.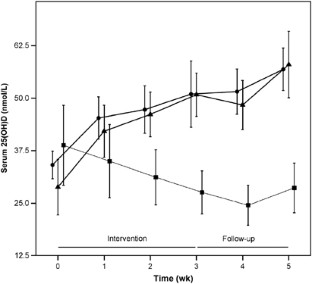 References
Armas LA, Dowell S, Akhter M, Duthuluru S, Huerter C, Hollis BW et al. (2007). Ultraviolet-B radiation increases serum 25-hydroxyvitamin D levels: the effect of UVB dose and skin color. J Am Acad Dermatol 57, 588–593.

Armas LA, Hollis BW, Heaney RP (2004). Vitamin D2 is much less effective than vitamin D3 in humans. J Clin Endocrinol Metab 89, 5387–5391.

Biancuzzo RM, Young A, Bibuld D, Cai MH, Winter MR, Klein EK et al. (2010). Fortification of orange juice with vitamin D(2) or vitamin D(3) is as effective as an oral supplement in maintaining vitamin D status in adults. Am J Clin Nutr 91, 1621–1626.

Calvo MS, Whiting SJ, Barton CN (2005). Vitamin D intake: a global perspective of current status. J Nutr 135, 310–316.

Chapuy MC, Preziosi P, Maamer M, Arnaud S, Galan P, Hercberg S et al. (1997). Prevalence of vitamin D insufficiency in an adult normal population. Osteoporos Int 7, 439–443.

Clemens TL, Adams JS, Henderson SL, Holick MF (1982). Increased skin pigment reduces the capacity of skin to synthesise vitamin D3. Lancet 1, 74–76.

Cranney A, Weiler HA, O'Donnell S, Puil L (2008). Summary of evidence-based review on vitamin D efficacy and safety in relation to bone health. Am J Clin Nutr 88, 513S–519S.

Engelsen O, Brustad M, Aksnes L, Lund E (2005). Daily duration of vitamin D synthesis in human skin with relation to latitude, total ozone, altitude, ground cover, aerosols and cloud thickness. Photochem Photobiol 81, 1287–1290.

Glendenning P, Noble JM, Taranto M, Musk AA, McGuiness M, Goldswain PR et al. (2003). Issues of methodology, standardization and metabolite recognition for 25-hydroxyvitamin D when comparing the DiaSorin radioimmunoassay and the Nichols advantage automated chemiluminescence protein-binding assay in hip fracture cases. Ann Clin Biochem 40, 546–551.

Glendenning P, Taranto M, Noble JM, Musk AA, Hammond C, Goldswain PR et al. (2006). Current assays overestimate 25-hydroxyvitamin D3 and underestimate 25-hydroxyvitamin D2 compared with HPLC: need for assay-specific decision limits and metabolite-specific assays. Ann Clin Biochem 43, 23–30.

Hathcock JN, Shao A, Vieth R, Heaney R (2007). Risk assessment for vitamin D. Am J Clin Nutr 85, 6–18.

Hintzpeter B, Mensink GB, Thierfelder W, Muller MJ, Scheidt-Nave C (2008). Vitamin D status and health correlates among German adults. Eur J Clin Nutr 62, 1079–1089.

Holick MF, Chen TC (2008). Vitamin D deficiency: a worldwide problem with health consequences. Am J Clin Nutr 87, 1080S–1086S.

Holick MF, Shao Q, Liu WW, Chen TC (1992). The vitamin D content of fortified milk and infant formula. N Engl J Med 326, 1178–1181.

Jasinghe VJ, Perera CO (2005). Distribution of ergosterol in different tissues of mushrooms and its effect on the conversion of ergosterol to vitamin D2 by UV irradiation. Food Chem 92, 541–546.

Jasinghe VJ, Perera CO (2006). Ultraviolet irradiation: the generator of vitamin D2 in edible mushrooms. Food Chem 95, 638–643.

Ko JA, Lee BH, Lee JS, Park HJ (2008). Effect of UV-B exposure on the concentration of vitamin D2 in sliced shiitake mushroom (Lentinus edodes) and white button mushroom (Agaricus bisporus). J Agric Food Chem 56, 3671–3674.

Koyyalamudi SR, Jeong SC, Song CH, Cho KY, Pang G (2009). Vitamin D2 formation and bioavailability from Agaricus bisporus button mushrooms treated with ultraviolet irradiation. J Agric Food Chem 57, 3351–3355.

Malabanan A, Veronikis IE, Holick MF (1998). Redefining vitamin D insufficiency. Lancet 351, 805–806.

Mastaglia SR, Mautalen CA, Parisi MS, Oliveri B (2006). Vitamin D2 dose required to rapidly increase 25OHD levels in osteoporotic women. Eur J Clin Nutr 60, 681–687.

Mattila P, Lampi AM, Ronkainen R, Toivo J, Piironen V (2002). Sterol and vitamin D2 contents in some wild and cultivated mushrooms. Food Chem 76, 293–298.

Mau JL, Chen PR, Yang JH (1998). Ultraviolet irradiation increased vitamin D2 content in edible mushrooms. J Agric Food Chem 46, 5269–5272.

Natri AM, Salo P, Vikstedt T, Palssa A, Huttunen M, Karkkainen MU et al. (2006). Bread fortified with cholecalciferol increases the serum 25-hydroxyvitamin D concentration in women as effectively as a cholecalciferol supplement. J Nutr 136, 123–127.

Need AG, Morris HA, Horowitz M, Nordin C (1993). Effects of skin thickness, age, body fat, and sunlight on serum 25-hydroxyvitamin D. Am J Clin Nutr 58, 882–885.

Outila TA, Mattila PH, Piironen VI, Lamberg-Allardt CJ (1999). Bioavailability of vitamin D from wild edible mushrooms (Cantharellus tubaeformis) as measured with a human bioassay. Am J Clin Nutr 69, 95–98.

Ozzard A, Hear G, Morrison G, Hoskin M (2008). Vitamin D deficiency treated by consuming UVB-irradiated mushrooms. Br J Gen Pract 58, 644–645.

Pietras SM, Obayan BK, Cai MH, Holick MF (2009). Vitamin D2 treatment for vitamin D deficiency and insufficiency for up to 6 years. Arch Intern Med 169, 1806–1808.

Roberts JS, Teichert A, McHugh TH (2008). Vitamin D2 formation from post-harvest UV-B treatment of mushrooms (Agaricus bisporus) and retention during storage. J Agric Food Chem 56, 4541–4544.

Semba RD, Garrett E, Johnson BA, Guralnik JM, Fried LP (2000). Vitamin D deficiency among older women with and without disability. Am J Clin Nutr 72, 1529–1534.

Tangpricha V, Pearce EN, Chen TC, Holick MF (2002). Vitamin D insufficiency among free-living healthy young adults. Am J Med 112, 659–662.

van den Berg H (1997). Bioavailability of vitamin D. Eur J Clin Nutr 51(Suppl 1), S76–S79.

van der Wielen RP, Lowik MR, van den Berg H, de Groot LC, Haller J, Moreiras O et al. (1995). Serum vitamin D concentrations among elderly people in Europe. Lancet 346, 207–210.

Vieth R, Chan PC, MacFarlane GD (2001). Efficacy and safety of vitamin D3 intake exceeding the lowest observed adverse effect level. Am J Clin Nutr 73, 288–294.

Webb AR, Kline L, Holick MF (1988). Influence of season and latitude on the cutaneous synthesis of vitamin D3: exposure to winter sunlight in Boston and Edmonton will not promote vitamin D3 synthesis in human skin. J Clin Endocrinol Metab 67, 373–378.
Acknowledgements
We are grateful to Carole Cürten for proofreading this manuscript, to Peter Metzger from Schlossbergpilze, Freiburg, Germany, for donating the button mushrooms used in this study, to Daniela Klein and Elmar Maier for their help preparing the soups in the university's kitchen and to Weber GmbH for technical support with the construction of the UV unit. The authors' responsibilities were as follows: PU, study concept and design, obtaining funding, statistical analysis, data interpretation and writing the manuscript; FS, construction of UV-unit, collection, assembly and interpretation of data; GI, study design, statistical advice and analysis; HKB, critical review and contribution to the final draft; HB, supervision of the study, critical review and contribution to the final draft. All authors have read and approved the final manuscript.
The work was supported by a PhD grant (PU) from the National Research Fund, Luxemburg. Financial support for the irradiation experiments was by the Dr Heinrich-Kircher Foundation, University of Freiburg, Freiburg, Germany.
Ethics declarations
Competing interests
The authors declare no conflict of interest.
About this article
Cite this article
Urbain, P., Singler, F., Ihorst, G. et al. Bioavailability of vitamin D2 from UV-B-irradiated button mushrooms in healthy adults deficient in serum 25-hydroxyvitamin D: a randomized controlled trial. Eur J Clin Nutr 65, 965–971 (2011). https://doi.org/10.1038/ejcn.2011.53
Received:

Revised:

Accepted:

Published:

Issue Date:

DOI: https://doi.org/10.1038/ejcn.2011.53
Keywords
vitamin D2

ergosterol

button mushrooms

ultraviolet irradiation

bioavailability

humans