Abstract
Background:
There is a debate currently about whether different chemical forms of eicosapentaenoic acid (EPA) and docosahexaenoic acid (DHA) are absorbed in an identical way. The objective of this study was to investigate the response of the omega-3 index, the percentage of EPA+DHA in red blood cell membranes, to supplementation with two different omega-3 fatty acid (n-3 FA) formulations in humans.
Design:
The study was conducted as a double-blinded placebo-controlled trial. A total of 150 volunteers was randomly assigned to one of the three groups: (1) fish oil concentrate with EPA+DHA (1.01 g+0.67 g) given as reesterified triacylglycerides (rTAG group); (2) corn oil (placebo group) or (3) fish oil concentrate with EPA+DHA (1.01 g+0.67 g) given as ethyl ester (EE group). Volunteers consumed four gelatine-coated soft capsules daily over a period of six months. The omega-3 index was determined at baseline (t0) after three months (t3) and at the end of the intervention period (t6).
Results:
The omega-3 index increased significantly in both groups treated with n-3 FAs from baseline to t3 and t6 (P<0.001). The omega-3 index increased to a greater extent in the rTAG group than in the EE group (t3: 186 versus 161% (P<0.001); t6: 197 versus 171% (P<0.01)).
Conclusion:
A six-month supplementation of identical doses of EPA+DHA led to a faster and higher increase in the omega-3 index when consumed as triacylglycerides than when consumed as ethyl esters.
Relevant articles
Open Access articles citing this article.
Anne Zartmann

,

Leon Völcker

&

Simon Hammann

European Food Research and Technology Open Access 24 January 2023

Gediz Dogay Us

&

Sohail Mushtaq

Lipids in Health and Disease Open Access 01 September 2022

Vicente Ávila-Gandía

,

Antonio Torregrosa-García

…

F. Javier López-Román

Journal of the International Society of Sports Nutrition Open Access 21 October 2020
Access options
Subscribe to this journal
Receive 12 print issues and online access
$259.00 per year
only $21.58 per issue
Rent or buy this article
Get just this article for as long as you need it
$39.95
Prices may be subject to local taxes which are calculated during checkout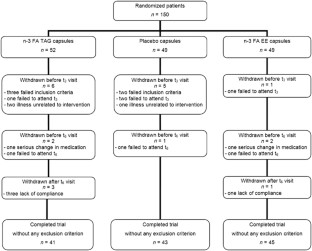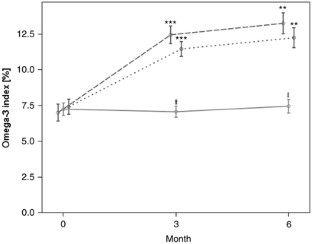 References
Arterburn LM, Hall EB, Oken H (2006). Distribution, interconversion, and dose response of n-3 fatty acids in humans. Am J Clin Nutr 83 (Suppl 6), S1467–S1476.

Barceló-Coblijn G, Murphy EJ, Othman R, Moghadasian MH, Kashour T, Friel JK (2008). Flaxseed oil and fish-oil capsule consumption alters human red blood cell n-3 fatty acid composition: a multiple-dosing trial comparing 2 sources of n-3 fatty acid. Am J Clin Nutr 88 (Suppl 3), S801–S809.

Beckermann B, Beneke M, Seitz I (1990). Comparative bioavailability of eicosapentaenoic acid and docasahexaenoic acid from triglycerides, free fatty acids and ethyl esters in volunteers. Arzneimittelforschung 40 (Suppl 6), S700–S704.

Belluzzi A, Brignola C, Campieri M, Camporesi EP, Gionchetti P, Rizzello F et al. (1994). Effects of new fish oil derivative on fatty acid phospholipid-membrane pattern in a group of Crohn's disease patients. Dig Dis Sci 39 (Suppl 12), S2589–S2594.

Cao J, Schwichtenberg KA, Hanson NQ, Tsai MY (2006). Incorporation and clearance of omega-3 fatty acids in erythrocyte membranes and plasma phospholipids. Clin Chem 52 (Suppl 12), S2265–S2272.

Carlier H, Bernard A, Caselli C (1991). Digestion and absorption of polyunsaturated fatty acids. Reprod Nutr Dev 31 (Suppl 5), S475–S500.

Cartwright IJ, Pockley AG, Galloway JH, Greaves M, Preston FE (1985). The effects of dietary omega-3 polyunsaturated fatty acids on erythrocyte membrane phospholipids, erythrocyte deformability and blood viscosity in healthy volunteers. Atherosclerosis 55 (Suppl 3), S267–S281.

Dyerberg J, Madsen P, Møller JM, Aardestrup I, Schmidt EB (2010). Bioavailability of marine n-3 fatty acid formulations. Prostaglandins Leukot Essent Fatty Acids 83, 137–141. doi:10.1016/j.plefa.2010.06.007.

El Boustani S, Colette C, Monnier L, Descomps B, Crastes de PA, Mendy F (1987). Enteral absorption in man of eicosapentaenoic acid in different chemical forms. Lipids 22 (Suppl 10), S711–S714.

Fruchart JC, Sacks F, Hermans MP, Assmann G, Brown WV, Ceska R et al. (2008). The residual risk reduction initiative: a call to action to reduce residual vascular risk in patients with dyslipidemia. Am J Cardiol 102 (Suppl 10), S1K–S34K.

Graham I, Atar D, Borch-Johnsen K, Boysen G, Burell G, Cifkova R et al. (2007). European guidelines on cardiovascular disease prevention in clinical practice: full text. Fourth Joint Task Force of the European Society of Cardiology and other societies on cardiovascular disease prevention in clinical practice (constituted by representatives of nine societies and by invited experts). Eur J Cardiovasc Prev Rehabil 14 (Suppl 2), S1–S113.

Hansen JB, Olsen JO, Wilsgard L, Lyngmo V, Svensson B (1993). Comparative effects of prolonged intake of highly purified fish oils as ethyl ester or triglyceride on lipids, haemostasis and platelet function in normolipaemic men. Eur J Clin Nutr 47 (Suppl 7), S497–S507.

Harris WS (2007). Omega-3 fatty acids and cardiovascular disease: a case for omega-3 index as a new risk factor. Pharmacol Res 55 (Suppl 3), S217–S223.

Harris WS (2008). The omega-3 index as a risk factor for coronary heart disease. Am J Clin Nutr 87 (Suppl 6), S1997–S2002.

Harris WS, Pottala JV, Sands SA, Jones PG (2007). Comparison of the effects of fish and fish-oil capsules on the n 3 fatty acid content of blood cells and plasma phospholipids. Am J Clin Nutr 86 (Suppl 6), S1621–S1625.

Harris WS, Sands SA, Windsor SL, Ali HA, Stevens TL, Magalski A et al. (2004). Omega-3 fatty acids in cardiac biopsies from heart transplantation patients: correlation with erythrocytes and response to supplementation. Circulation 110 (Suppl 12), S1645–S1649.

Harris WS, von Schacky C (2004). The omega-3 Index: a new risk factor for death from coronary heart disease? Prev Med 39 (Suppl 1), S212–S220.

Harris WS, Zucker ML, Dujovne CA (1988). Omega-3 fatty acids in hypertriglyceridemic patients: triglycerides vs methyl esters. Am J Clin Nutr 48 (Suppl 4), S992–S997.

Katan MB, Deslypere JP, van Birgelen AP, Penders M, Zegwaard M (1997). Kinetics of the incorporation of dietary fatty acids into serum cholesteryl esters, erythrocyte membranes, and adipose tissue: an 18-month controlled study. J Lipid Res 38 (Suppl 10), S2012–S2022.

Krokan HE, Bjerve KS, Mork E (1993). The enteral bioavailability of eicosapentaenoic acid and docosahexaenoic acid is as good from ethyl esters as from glyceryl esters in spite of lower hydrolytic rates by pancreatic lipase in vitro. Biochim Biophys Acta 1168 (Suppl 1), S59–S67.

Lawson LD, Hughes BG (1988a). Human absorption of fish oil fatty acids as triacylglycerols, free acids, or ethyl esters. Biochem Biophys Res Commun 152 (Suppl 1), S328–S335.

Lawson LD, Hughes BG (1988b). Absorption of eicosapentaenoic acid and docosahexaenoic acid from fish oil triacylglycerols or fish oil ethyl esters co-ingested with a high-fat meal. Biochem Biophys Res Commun 156 (Suppl 2), S960–S963.

Luley C, Wieland H, Gruwald J (1990). Bioavailability of omega-3 fatty acids: ethylester preparations are as suitable as triglyceride preparations. Akt Ernaehr-Med 15, S122–S125.

Marangoni F, Angeli MT, Colli S, Eligini S, Tremoli E, Sirtori CR et al. (1993). Changes of n-3 and n-6 fatty acids in plasma and circulating cells of normal subjects, after prolonged administration of 20:5 (EPA) and 22:6 (DHA) ethyl esters and prolonged washout. Biochim Biophys Acta 1210 (Suppl 1), S55–S62.

Metcalf RG, James MJ, Gibson RA, Edwards JR, Stubberfield J, Stuklis R et al. (2007). Effects of fish-oil supplementation on myocardial fatty acids in humans. Am J Clin Nutr 85 (Suppl 5), S1222–S1228.

Nordøy A, Barstad L, Connor WE, Hatcher L (1991). Absorption of the n-3 eicosapentaenoic and docosahexaenoic acids as ethyl esters and triglycerides by humans. Am J Clin Nutr 53 (Suppl 5), S1185–S1190.

Popp-Snijders C, Schouten JA, de Jong AP, van der Veen EA (1984). Effect of dietary cod-liver oil on the lipid composition of human erythrocyte membranes. Scand J Clin Lab Invest 44 (Suppl 1), S39–S46.

Reis GJ, Silverman DI, Boucher TM, Sipperly ME, Horowitz GL, Sacks FM et al. (1990). Effects of two types of fish oil supplements on serum lipids and plasma phospholipid fatty acids in coronary artery disease. Am J Cardiol 66 (Suppl 17), S1171–S1175.

Smith Jr SC, Allen J, Blair SN, Bonow RO, Brass LM et al. (2006). AHA/ACC guidelines for secondary prevention for patients with coronary and other atherosclerotic vascular disease: 2006 update: endorsed by the National Heart, Lung, and Blood Institute. Circulation 113 (Suppl 19), S2363–S2372.

Sun Q, Ma J, Campos H, Hankinson SE, Hu FB (2007). Comparison between plasma and erythrocyte fatty acid content as biomarkers of fatty acid intake in US women. Am J Clin Nutr 86 (Suppl 1), S74–S81.

Tynan MB, Nicholls DP, Maguire SM, Steele IC, McMaster C, Moore R et al. (1995). Erythrocyte membrane fatty acid composition as a marker of dietary compliance in hyperlipidaemic subjects. Atherosclerosis 117 (Suppl 2), S245–S252.

Vandal M, Freemantle E, Tremblay-Mercier J, Plourde M, Fortier M, Bruneau J et al. (2008). Plasma omega-3 fatty acid response to a fish oil supplement in the healthy elderly. Lipids 43 (Suppl 11), S1085–S1089.

Visioli F, Rise P, Barassi MC, Marangoni F, Galli C (2003). Dietary intake of fish vs. formulations leads to higher plasma concentrations of n-3 fatty acids. Lipids 38 (Suppl 4), S415–S418.

von Schacky C (2010). Omega-3 Index and cardiovascular disease prevention: principle and rational. Lipid Technology 22 (Suppl 7), S1–S4.

von Schacky C, Weber PC (1985). Metabolism and effects on platelet function of the purified eicosapentaenoic and docosahexaenoic acids in humans. J Clin Invest 76 (Suppl 6), S2446–S2450.

Yang LY, Kuksis A, Myher JJ (1990a). Intestinal absorption of menhaden and rapeseed oils and their fatty acid methyl and ethyl esters in the rat. Biochem Cell Biol 68 (Suppl 2), S480–S491.

Yang LY, Kuksis A, Myher JJ (1990b). Lipolysis of menhaden oil triacylglycerols and the corresponding fatty acid alkyl esters by pancreatic lipase in vitro: a reexamination. J Lipid Res 31 (Suppl 1), S137–S147.
Acknowledgements
Gratuitous supply of the study supplements from Dr Loges+Co. GmbH, Winsen, Germany is gratefully acknowledged. We specially thank Heike Kohrs for her technical assistance in the laboratory.
Ethics declarations
Competing interests
C von Schacky received a speaker's honoraria from Solvay, and grant support from Sanofi-Aventis and Smartfish. He founded Omegametrix, a company offering FA analyses. A Hahn and JP Schuchardt worked as consultants for companies, which also produce and merchandise FA supplements. The authors are solely responsible for the design and conduct of the study; collection, management, analysis and interpretation of the data; as well as preparation of the manuscript.
Additional information
The study supplements used in this study were a gift from Dr Loges+Co. GmbH, Winsen, Germany.
About this article
Cite this article
Neubronner, J., Schuchardt, J., Kressel, G. et al. Enhanced increase of omega-3 index in response to long-term n-3 fatty acid supplementation from triacylglycerides versus ethyl esters. Eur J Clin Nutr 65, 247–254 (2011). https://doi.org/10.1038/ejcn.2010.239
Received:

Revised:

Accepted:

Published:

Issue Date:

DOI: https://doi.org/10.1038/ejcn.2010.239
Keywords
n-3 fatty acids

triacylglycerides

ethyl esters

omega-3 index

eicosapentaenoic acid

docosahexaenoic acid