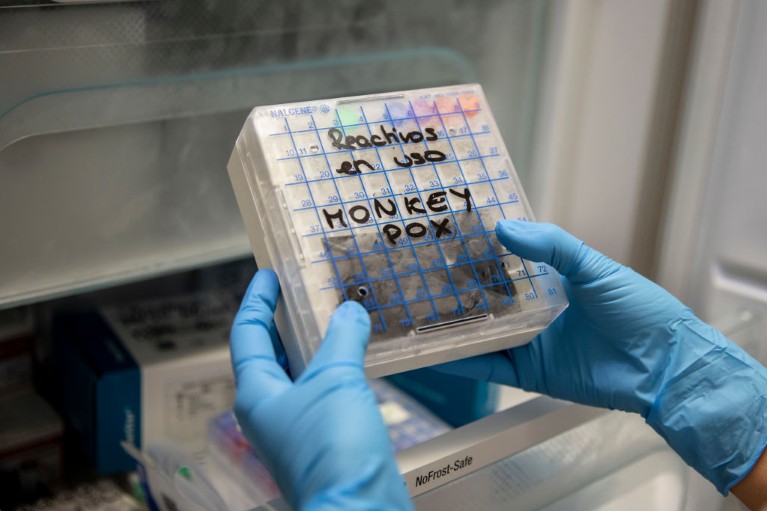 The current global monkeypox outbreak has thrown doctors, epidemiologists, and infectious disease experts off-balance. Unlike previous outbreaks, the world is seeing hundreds of infections outside of Africa. Cases have been found in over 28 countries in Europe, the United States, Australia, and Asia7. These cases raise a number of concerns.
Why do we have outbreaks in multiple countries (more than 23 countries at last count)? Why do these cases occur, mainly outside endemic West and Central Africa? Was the monkeypox disease spreading undetected in the west, and could this explain why, so far, none of the current cases has been traced to an endemic country? Why is there a higher incidence in gay and bisexual populations? Answers to these questions and many more will help epidemiologists ,infectious disease experts and clinicians find a solution to a suspected shift in the epidemiology of the disease.
Monkeypox virus is a member of the Poxviridae family and genus Orthopoxviruses. This also includes variola virus, which causes smallpox, and vaccinia virus, which is used in the smallpox vaccine, and cowpox virus. The virus is found mainly in tropical rainforest regions of Central and West Africa and has two clades - the Congo Basin clade and the milder and less deadly West African clade.
The natural reservoir of monkeypox remains unknown. However, African rodents and non-human primates (such as monkeys) can harbor the virus and infect humans3. For many years, monkeypox was endemic only in Africa, until the first case outside of Africa was reported in 2003ref.4,5. Since then, there have been pockets of intermittent outbreaks in America, Europe, and Asia, most of which can be traced back to African origins, either through travel or importing animals6. The latest outbreak, however, is not following the same pattern – with epidemiologists suspecting transfer to people who have not been to Africa.
A large number of these infections have occurred in bisexuals and men who have sex with men6, suggesting the possibility of sexual transmission. This suggestion cannot be dismissed, even if it does not support the already known epidemiology of the disease. This may involve new knowledge and previously unknown facts. Examples of emerging and re-emerging infectious diseases that were later found to be potentially sexually transmitted were the Zika and Ebola virus diseases. These viruses were later isolated from semen, vaginal fluids, and breast milk to confirm the possibility of their sexual and postnatal mother-to-child transmission8-12.
According to the World Health Organisation (WHO), there are currently outbreaks of monkeypox in three West African (Sierra Leone, Liberia and Nigeria) and four Central African countries (Congo, Cameroon, the Central African Republic and the Democratic Republic of the Congo). About 1,440 cases have been reported since early 2022 but only 44 of them have been laboratory confirmed2. Cases have not been reported in any of the non-endemic African countries. However, it is not out of place to reflect on the evolution of epidemiological changes based on further insight into the reported cases.
In recent years, outbreaks have been identified in new areas and locations in endemic countries2. Data reported by the Nigeria Center for Diseases Control has shown varying levels of surveillance between states and ease of movement within the country13. In the past , monkeypox was mainly reported in the south of the country, but since 2020, the virus has spread to the central, eastern, and northern parts of the country14.
With the ongoing outbreaks in non-endemic countries, evidence suggesting sexual transmission, and incidents outside of endemic geographic areas, such as those seen recently in Nigeria, there may be an ongoing change in monkeypox epidemiology. Additionally, being vigilant of a possible global monkeypox outbreak should not be disregarded, with 23 non-endemic countries, 257 laboratory-confirmed cases and 120 suspected cases as of May 26, 2022, in data reported by the WHO7.
Therefore, we call for further research to confirm the sexual transmission of monkeypox and share insight on the association of HIV with sexual transmission. For instance, the festival in Canary Island plus COVID epidemic causing lack of access to healthcare and disease going on undetected. The meager 3% of laboratory confirmations of cases are grossly suboptimal and would not help find a lasting solution to the disease on the continent. Therefore, African countries need to step up their monkeypox disease surveillance activities through prompt detection, accurate diagnosis, laboratory confirmation of cases, contact tracing, disease control, and effective rapid response to outbreaks.