Abstract
A urine contaminant concentration per se has uncertain meaning for human health because of dilution by hydration. However, the estimation of the health-related daily intake dose of pollutant (mg/kg/day) that equilibrates with a spot urinary concentration of a pesticide residue or metabolite, or other analyte, can be made using creatinine-corrected toxicant levels (mg analyte/mg creatinine) multiplied by an estimate of the subjects' expected creatinine excretion rates (mg creatinine/kg/day). The objective was to develop a set of equations predicting a person's expected daily creatinine excretion (mg/kg) as a function of age, gender, race and morphometry, from birth to old age. We review the creatinine excretion literature where infants, children and adults provided 24 h total urine samples for creatinine analysis. Equations are developed for infants (≤3 years), children (3–18 years) and adults (≥18 years) that match at 3 and 18 years. A series of equations that estimate daily creatinine excretion (mg/day) are developed that are piecewise continuous from birth through infancy through adolescence and through adulthood for males and females, and Black and White races. Complicating factors such as diet, health status and obesity are discussed. We propose that these equations, with caveat, can now be used with measured urine concentrations to consistently estimate the corresponding equilibrium intake doses of toxicants at ages from birth to 92 years for the healthy non-obese. We recommend that this system of equations be considered for future development and reporting of applied doses in mg/kg/day of pollutants and toxicants that are measured in urine samples, as in the National Health and Nutrition Examination Survey.
Relevant articles
Open Access articles citing this article.
Zhuan Liu

,

Yixuan Lin

…

Zhihui Chen

Nutrition & Metabolism Open Access 07 April 2022

Xiaofu Du

,

Le Fang

…

Jie Zhang

Scientific Reports Open Access 17 November 2021

Masayuki Okuda

,

Keiko Asakura

&

Satoshi Sasaki

Environmental Health and Preventive Medicine Open Access 27 November 2020
Access options
Subscribe to this journal
Receive 6 print issues and online access
$259.00 per year
only $43.17 per issue
Rent or buy this article
Get just this article for as long as you need it
$39.95
Prices may be subject to local taxes which are calculated during checkout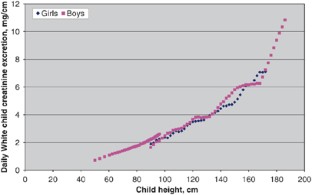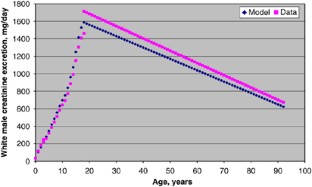 References
Barr D.B., Wilder L.C., Caudill S.P., Gonzalez A.J., Needham L.L., and Pirkle J.L. Urinary creatinine concentrations in the U.S. population: implications for urinary biologic monitoring measurements. Environ Health Perspect 2005: 113: 192–200.

Blount B.C., Valentin-Blasini L., Osterloh J.D., Mauldin J.P., and Pirkle J.L. Perchlorate exposure of the US population, 2001–2002. J Expo Sci Environ Epidemiol 2007: 17: 400–407.

Boeniger M.F., Lowry L.K., and Rosenberg J. Interpretation of urine results used to assess chemical exposure with emphasis on creatinine adjustments: a review. Am Ind Hyg Assoc J 1993: 54: 615–627.

Cockcroft D.W., and Gault M.H. Prediction of creatinine clearance from serum creatinine. Nephron 1976: 16: 31–41.

Daniels A.L., and Hejinian L.M. Growth in infants from the standpoint of physical measurements and nitrogen metabolism. I. Creatinine. Am J Dis Child 1929: 37: 1128–1138.

Franciotta D., Zanardi M.C., Albertotti L., Orcesi S., Berardinelli A., Pichiecchio A., Uggetti C., and Tagliabue A. Measurement of skeletal muscle mass in Duchenne muscular dystrophy: use of 24-h creatinine excretion. Acta Diabetol 2003: 40 (Suppl 1): S290–S292.

Fujiwara Y., Takahashi T., and Yamakido M. Re: Prediction of carboplatin clearance from standard morphological and biological patient characteristics. Response to correspondence. J Natl Cancer Inst 1997: 89: 969–970.

Goldwasser P., Aboul-Magd A., and Maru M. Race and creatinine excretion in chronic renal insufficiency. Am J Kidney Dis 1997: 30: 16–22.

Greenblatt D.J., Ransil B.J., Harmatz J.S., Smith T.W., Duhme D.W., and Koch-Weser J. Variability of 24-h urinary creatinine excretion by normal subjects. J Clin Pharmacol 1976: 16: 321–328.

Hallynck T.H., Soep H.H., Thomis J.A., Boelaert J., Daneels R., and Dettli L. Should clearance be normalised to body surface or to lean body mass? Br J Clin Pharmacol 1981: 11: 523–526.

Hatton J., Parr M.D., and Blouin R.A. Estimation of creatinine clearance in patients with Cushing's syndrome. Ann Pharmacother 1989: 23: 974–977.

Hays S.M., Becker R., Leung H.W., Aylward L.L., and Pyatt D.W. Biomonitoring equivalents: a screening approach for interpreting biomonitoring results from a public health risk perspective. Regul Toxicol Pharmacol 2007: 47: 96–106.

Institute for Algorithmic Medicine. The medical algorithms project. Chapter 14, Renal and Urinary System. Expected daily urine creatinine excretion in children and the creatinine height index of Viteri and Alvarado. http://www.medal.org/visitor/www/active/ch14/ch14.01/ch14.01.07.aspx,Accessed November 11, 2006.

ICRP (International Commission on Radiological Protection). No. 23. Report of the Task Group on Reference Man, Pergamon Press: Oxford, 1975.

James G.D., Sealey J.E., Alderman M., Ljungman S., Mueller F.B., Pecker M.S., and Laragh J.H. A longitudinal study of urinary creatinine and creatinine clearance in normal subjects. Race, sex, and age differences. Am J Hypertens 1988: 1: 124–131.

James W.P.T. DHSCC/MRC Report on research on obesity, HMSO: London, 1976.

Koch H.M., Becker K., Wittassek M., Seiwert M., Angerer J., and Kolossa-Gehring M. Di-n-butylphthalate and butylbenzylphthalate — urinary metabolite levels and estimated daily intakes: pilot study for the German Environmental Survey on children. J Expo Sci Environ Epidemiol 2006. September 27; (E-pub ahead of print).

Kuczmarski R.J., Ogden C.L., Grummer-Strawn L.M., Flegal K.M., Guo S.S., Mei Z., Curtin L.R., Roche A.F., and Johnson C.L. CDC Growth Charts: United States. Advance data from vital and health statistics; no. 314. Hyattsville, Maryland. National Center for Health Statistics 2000.

Levey A.S., Bosch J.P., Lewis J.B., Greene T., Rogers N., and Roth D. A more accurate method to estimate glomerular filtration rate from serum creatinine: a new prediction equation. Modification of Diet in Renal Disease Study Group. Ann Intern Med 1999: 130: 461–470. Comments in Ibid: 1999; 131: 629–630 and 2004;140: 934–935.

Mage D.T., Allen R., Gondy G., Smith W., Barr D.B., and Needham L.L. Estimating Pesticide Dose from Pesticide Exposure Data by Creatinine Correction in the Third National Health and Nutrition Examination Survey (NHANES-III). J Exposure Anal Environ Epidemiol 2004: 14: 457–465.

Mattix H.J., Hsu C.Y., Shaykevich S., and Curhan G. Use of the albumin/creatinine ratio to detect microalbuminuria: implication of sex and race. J Am Soc Nephrol 2002: 13: 1034–1039.

Mattsson S., and Lindstrom S. Diuresis and voiding pattern in healthy schoolchildren. Br J Urol 1995: 76: 783–789.

Mosteller R.D. Simplified calculation of body-surface area. N Engl J Med 1987: 317: 1098.

National Kidney Foundation. http://www.kidney.org/professionals/KLS/gfr.cfm#9,Accessed November 29, 2006.

Palmer B.P. Approach to the patient with renal disease. in ACP Medicine, Section 10, Chapter III, American College of Physicians, Northbrook, IL, 2004.

Pasternack A., and Kuhlbäck B. Diurnal variations of serum and urine creatine and creatinine. Scand J Clin Lab Invest 1971: 27: 1–7.

Pratt J.H., Manatunga A.K., Bloem L.J., and Li W. Racial differences in aldosterone excretion: a longitudinal study in children. J Clin Endocrinol Metab 1993: 77: 1512–1515.

Remer T., Neubert A., and Maser-Gluth C. Anthropometry-based reference values for 24-h urinary creatinine excretion during growth and their use in endocrine and nutritional research. Am J Clin Nutr 2002: 75: 561–569.

Rigas M.L., Okino M.S., and Quackenboss J.J. Use of a pharmacokinetic model to assess chlorpyrifos exposure and dose in children, based on urinary biomarker measurements. Toxicol Sci 2001: 61: 374–381.

Robertson W.G., Peacock M., Marshall R.W., Speed R., and Nordin B.E. Seasonal variations in the composition of urine in relation to calcium stone-formation. Clin Sci Mol Med 1975: 49: 597–602.

Salazar D.E., and Corcoran G.B. Predicting creatinine clearance and renal drug clearance in obese patients from estimated fat-free body mass. Am J Med 1988: 84: 1053–1060.

Segal K.R., Van Loan M., Fitzgerald P.I., Hodgdon J.A., and Van Itallie T.B. Lean body mass estimation by bioelectrical impedance analysis: a four-site cross-validation study. Am J Clin Nutr 1988: 47: 7–14.

Snider R.D., Kruse J.A., Bander J.J., and Dunn G.H. Accuracy of estimated creatinine clearance in obese patients with stable renal function in the intensive care unit. Pharmacotherapy 1995: 15: 747–753.

Stavig G.R., Leonard A.R., Igra A., and Felten P. Indices of relative body weight and ideal weight charts. J Chronic Dis 1984: 37: 255–262.

Timchalk C., Nolan R.J., Mendrala A.L., Dittenber D.A., Brzak K.A., and Mattsson J.L. A physiologically based pharmacokinetic and pharmacodynamic (PBPK/PD) model for the organophosphate insecticide chlorpyrifos in rats and humans. Toxicol Sci 2002: 66: 34–53.

USEPA. EPA Handbook for use of data from the National Health and Nutrition Examination Surveys (NHANES): A goldmine of data of environmental health analyses, EPA/600/R-02/044, National Center for Environmental Assessment, Washington DC, March 2003.

USEPA. Guidance on Selecting Age Groups for Monitoring and Assessing Childhood Exposure to Environmental Contaminants, EPA/630/P-03/003F, National Center for Environmental Assessment, Washington DC, November 2005.

Viteri F.E., and Alvarado J. The creatinine height index: its use in the estimation of the degree of protein depletion and repletion in protein calorie malnourished children. Pediatrics 1970: 46: 696–706.

Viteri F.E., Alvarado J., and Alleyne G.A.O. Creatinine-height index: reply to Drs Mendez and Buskirk. Am J Clin Nutr 1971: 24: 386–387.
Acknowledgements
An anonymous reviewer gave excellent advice on medical aspects that considerably improved this paper. This work is supported by EPA Contract GS-10F-0484N to Danya International Inc.
Additional information
Disclaimer
This paper has been cleared for publication by the USEPA. It represents the views of the authors but does not necessarily represent Agency policy. Mention of chemicals or commercial instruments does not imply recommendation for their use. The authors declare they have no conflicting financial interests.
About this article
Cite this article
Mage, D., Allen, R. & Kodali, A. Creatinine corrections for estimating children's and adult's pesticide intake doses in equilibrium with urinary pesticide and creatinine concentrations. J Expo Sci Environ Epidemiol 18, 360–368 (2008). https://doi.org/10.1038/sj.jes.7500614
Received:

Accepted:

Published:

Issue Date:

DOI: https://doi.org/10.1038/sj.jes.7500614
Keywords
creatine

creatinine

NHANES

pesticides

children

adults

obesity