Abstract
We developed a geospatial model that calculates ambient high-frequency electromagnetic field (HF-EMF) strengths of stationary transmission installations such as mobile phone base stations and broadcast transmitters with high spatial resolution in the order of 1 m. The model considers the location and transmission patterns of the transmitters, the three-dimensional topography, and shielding effects by buildings. The aim of the present study was to assess the suitability of the model for exposure monitoring and for epidemiological research. We modeled time-averaged HF-EMF strengths for an urban area in the city of Basel as well as for a rural area (Bubendorf). To compare modeling with measurements, we selected 20 outdoor measurement sites in Basel and 18 sites in Bubendorf. We calculated Pearson's correlation coefficients between modeling and measurements. Chance-corrected agreement was evaluated by weighted Cohen's κ statistics for three exposure categories. Correlation between measurements and modeling of the total HF-EMF strength was 0.67 (95% confidence interval (CI): 0.33–0.86) in the city of Basel and 0.77 (95% CI: 0.46–0.91) in the rural area. In both regions, κ coefficients between measurements and modeling were 0.63 and 0.77 for the total HF-EMF strengths and for all mobile phone frequency bands. First evaluation of our geospatial model yielded substantial agreement between modeling and measurements. However, before the model can be applied for future epidemiologic research, additional validation studies focusing on indoor values are needed to improve model validity.
Relevant articles
Open Access articles citing this article.
Mara Gallastegi

,

Mònica Guxens

…

Loreto Santa-Marina

BMC Public Health Open Access 18 February 2016
Access options
Subscribe to this journal
Receive 6 print issues and online access
$259.00 per year
only $43.17 per issue
Rent or buy this article
Get just this article for as long as you need it
$39.95
Prices may be subject to local taxes which are calculated during checkout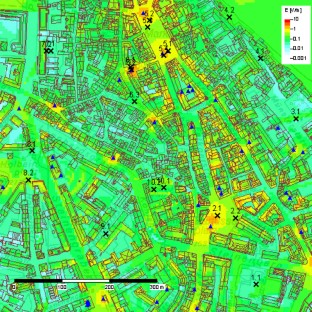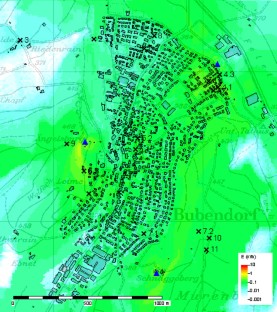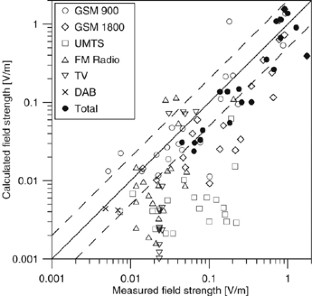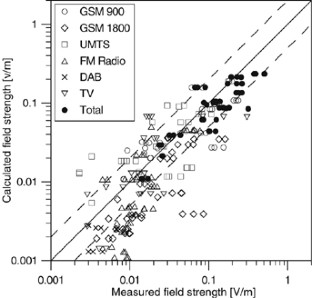 References
Berg G., Schüz J., Samkange-Zeeb F., and Blettner M. Assessment of radiofrequency exposure from cellular telephone daily use in an epidemiological study: German Validation study of the international case–control study of cancers of the brain — INTERPHONE-Study. J Expo Anal Environ Epidemiol 2005: 15 (3): 217–224.

Berg J.A. Building penetration. In: Propagation Prediction Models, in Digital Mobile Radio Towards Future Generation Systems. COST 231 Final Report European Commission, Bruxelles, 1999, 167–174 ( http://www.lx.it.pt/cost./final_report.htm).

Bornkessel C., Schubert M., Wuschek M., and Schmidt P. Bestimmung der Exposition der Bevölkerung in der Umgebung von digitalen Rundfunk- und Fernsehsendern. German Federal Office for Radiation Protection, Oberschleissheim, 2006 (http.www.emf-forschungsprogramm.de/forschung/dosimetrie/dosimetrie_abges/dosi_085.html).

Bürgi A. Pilotprojekt Immissionskataster Hochfrequenzstrahlung, Report no. RP/2005/NIS/76.1, available from Air Quality Agency Basel, Rheinstrasse 44, CH-4410 Liestal, 2005.

BUWAL/METAS. Mobilfunk-Basisstationen (GSM)–Messempfehlung. VU-5800-D, Bern, 2002 (in German and French only).

Cichon D.J., and Kürner T. Propagation Prediction Models. In: Digital Mobile Radio towards future Generation Systems, COST 231 Final Report European Commission, Bruxelles, 1999, 115–208 (http://www.lx.it.pt/cost.231/final_report.htm).

Geng N., and Wiesbeck W. Planungsmethoden für die Mobilkommunikation. Springer, Berlin, 1998.

ITU-R. Propagation and prediction methods for the planning of short-range outdoor communication systems and radio local networks in the frequency range 300 MHz to 100 GHz. International Telecommunications Union, Geneva, ITU-R P, 2003a, 1411–1422.

ITU-R. Method for point-to-area predictions for terrestrial services in the frequency range 30 MHz to 3000 MHz. International Telecommunications Union, Geneva, ITU-R P, 2003b, 1546–1551.

Lachat E., Wagen J.F., and Li J. Effects of building heights on predictions in Munich using a multiple vertical-knife-edges propagation model. Vehicular Technology Conference 1997 47th IEEE 1997: 1: 261–265.

Lehmann H., Herrmann U., Eicher B., Trostel A., Fritschi P., and Moser M. General public exposure to electromagnetic fields generated by mobile phone base stations: A simple model, Presentation at the COST-281 Conference Workshop on RF exposure assessment, 2004, 20–21 Paris, 2004. (www.cost281.org/download.php?fid=602).

Neubauer G., Feychting M., Hamnerius Y., et al. Feasibility of future epidemiological studies on possible health effects of mobile phone base stations. Bioelectromagnetics 2007: 28: 224–230.

Parslow R.C., Hepworth S.J., and McKinney P.A. Recall of past use of mobile phone handsets. Radiat Prot Dosimetry 2003: 106 (3): 233–240.

prEN 50492. Basic standard for the in-situ measurement of electromagnetic field strength related to human exposure in the vicinity of base stations. CENELEC TC 2006, 106x.

Radon K., Spegel H., Meyer N., et al. Personal dosimetry of exposure to mobile telephone base stations? An epidemiologic feasibility study comparing the Maschek dosimeter prototype and the Antennessa DSP-090 system. Bioelectromagnetics 2006: 27 (1): 77–81.

Samkange-Zeeb F., Berg G., and Blettner M. Validation of self-reported cellular phone use. J Expo Anal Environ Epidemiol 2004: 14 (3): 245–248.

Schüz J., and Mann S. A discussion of potential exposure metrics for use in epidemiological studies on human exposure to radiowaves from mobile phone base stations. J Expo Anal Environ Epidemiol 2000: 10: 600–605.

Seitz H., Stinner D., Eikmann T., Herr C., and Röösli M. Electromagnetic Hypersensitivity (EHS) und subjective health complaints associated with electromagnetic fields of mobile phone communication: a literature review of papers published between 2000 and 2004. Sci Total Environ 2005: 349 (1–3): 45–55.

Vrijheid M., Cardis E., Armstrong B.K., et al. Validation of short term recall of mobile phone use for the Interphone study. Occup Environ Med 2006: 63 (4): 237–243.
Acknowledgements
We thank M. Camenzind for contributing to the measurements in Basel, H. Ziegler, who carried out the measurements in Bubendorf, and H. Ryser of METAS for his help in the determination of the detector noise. The study was funded in part by the Swiss Federal Office for the Environment (FOEN) and the Air Quality Agency Basel.
About this article
Cite this article
Bürgi, A., Theis, G., Siegenthaler, A. et al. Exposure modeling of high-frequency electromagnetic fields. J Expo Sci Environ Epidemiol 18, 183–191 (2008). https://doi.org/10.1038/sj.jes.7500575
Received:

Accepted:

Published:

Issue Date:

DOI: https://doi.org/10.1038/sj.jes.7500575
Keywords
non-ionizing radiation

exposure assessment

electromagnetic fields

model

mobile phone base station

broadcast transmitter