Abstract
Background:
Inadequate nutrition leading to growth failure is common among premature infants. Although fortified breast milk (breast milk plus commercially prepared fortifier) is the preferred feeding, nutrient intakes achieved with fortified breast milk fall short of meeting nutrient needs. This is mainly due to inadequate protein content of fortifiers and variability in composition of expressed breast milk.
Objective:
A new adjustable fortification regimen has been designed to ensure that protein needs of premature infants are met at all times. The new regimen encompasses increasing the amount of fortifier and adding extra protein to breast milk guided by periodic determinations of blood urea nitrogen (BUN). The study tested the hypothesis that infants fed according to the new regimen have higher protein intakes and improved weight gain compared to infants fed according to standard fortification regimen.
Methods:
In a prospective, controlled trial, preterm infants with birth weights of 600–1750 g and gestational ages between 26 and 34 weeks were fed their own mother's milk or banked donor milk or both. Infants were randomly assigned before 21 days of age to either the new adjustable fortification regimen or the standard regimen. The study period began when feeding volume reached 150 ml/kg/day and ended when infants reached a weight of 2000 g. Standard fortification (STD) consisted in the use of the recommended amount of fortifier. Adjustable fortification (ADJ) consisted in the use, in addition to standard fortification, of extra fortifier and supplemental protein guided by twice-weekly BUN determinations. The primary outcome was weight gain, with serum biochemical indicators and nutrient intakes as secondary outcomes.
Results:
Thirty-two infants completed the study as planned (16 ADJ, 16 STD). Infants receiving the ADJ regimen had mean protein intakes of 2.9, 3.2 and 3.4 g/kg/day, respectively, in weeks 1, 2 and 3, whereas infants receiving the STD regimen had intakes of 2.9, 2.9, 2.8 g/kg/day, respectively. Infants on the ADJ regimen showed significantly greater gain in weight (17.5±3.0 vs 14.4±3.0 g/kg/day, P<0.01) and greater gain in head circumference (1.4±0.3 vs 1.0±0.3; P<0.05) than infants on the STD regimen. Weight and head circumference gain were significantly (P<0.05) correlated with protein intake. No significant correlations were found between growth parameters and intake of fat and energy. There were no significant differences between groups in BUN and other serum chemical values. In the ADJ group, BUN concentrations increased significantly (P<0.001) over time but were not significantly higher than in the STD group.
Conclusion:
Premature infants managed with the new adjustable fortification regimen had significantly higher weight and head circumference gains than infants managed with standard fortification. Higher protein intake appears to have been primarily responsible for the improved growth with the adjustable regimen. The new fortification method could be a solution to the problem of protein undernutrition among premature infants fed human milk.
Relevant articles
Open Access articles citing this article.
Sertac Arslanoglu

,

Caroline King

…

Jean-Charles Picaud

BMC Pediatrics Open Access 26 April 2019

Michaela Mathes

,

Christoph Maas

…

Axel R. Franz

BMC Pediatrics Open Access 08 May 2018

Alessandra Coscia

,

Enrico Bertino

…

Laura Cavallarin

Nutrition Journal Open Access 09 January 2018
Access options
Subscribe to Journal
Get full journal access for 1 year
$119.00
only $9.92 per issue
All prices are NET prices.
VAT will be added later in the checkout.
Tax calculation will be finalised during checkout.
Buy article
Get time limited or full article access on ReadCube.
$32.00
All prices are NET prices.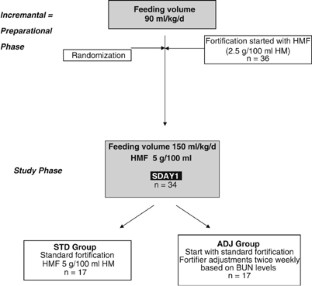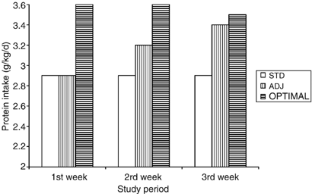 References
Dobbing J . Early nutrition and later achievement. Proc Nutr Soc 1990; 49: 103–118.

Grantham-McGregor SM, Ani CC . Undernutrition and mental development. In: Fernstrom JD, Uauy R, Arroyo P (eds). Nutrition and Brain. Vevey: Nestec Ltd, and Karger: Basel, 2001, pp 1–14.

Uauy R, Mena P, Peirano P . Mechanisms for nutrient effects on brain development and cognition. In: Fernstrom JD, Uauy R, Arroyo P (eds). Nutrition and Brain. Vevey: Nestec Ltd, and Karger, Basel, 2001, pp 41–72.

Diaz-Cintra S, Cintra L, Ortega T, Kemper T, Morgane PJ . Effects of protein deprivation on pyramidal cells of the visual cortex in rats of three age groups. J Comp Neurol 1990; 292: 117–126.

Faundez V, Cordero ME, Rosso P, Alvarez C . Calibers and microtubules of nerve fibers: differential effect of undernutrition in developing and adult rats. Brain Res 1990; 509: 198–204.

Escobar C, Salas M . Neonatal undernutrition and amygdaloid nuclear complex development: an experimental study in the rat. Exp Neurol 1993; 122: 311–318.

Escobar C, Salas M . Dendritic branching of claustral neurons in neonatally undernourished rats. Biol Neonate 1995; 68: 47–54.

Montanha-Rojas EA, Ferreira AA, Tenorio F, Barradas PC . Myelin basic protein accumulation is impaired in a model of protein deficiency during development. Nutr Neurosci 2005; 8: 49–56.

Lucas A, Morley R, Cole TJ . Early diet in preterm babies and developmental status at 18 months. Lancet 1990; 335: 1477–1478.

Lucas A, Morely R, Cole TJ . Randomised trial of early diet in preterm babies and later intelligence quotient. BMJ 1998; 317: 1481–1487.

Lucas A, Cole TJ . Breast milk and neonatal necrotising enterocolitis. Lancet 1990; 336: 1519–1523.

Anderson JW, Johnstone BM, Remley DT . Breast-feeding and cognitive development: a meta-analysis. Am J Clin Nutr 1999; 70: 525–535.

Bier JA, Oliver T, Ferguson AE, Vohr BR . Human milk improves cognitive and motor development of premature infants during infancy. J Hum Lact 2002; 18: 361–367.

Blaymore Bier J, Oliver T, Ferguson A, Vohr BR . Human milk reduces outpatient upper respiratory symptoms in premature infants during their first year of life. J Perinatol 2002; 22: 354–359.

Feldman R, Eidelman AI . Direct and indirect effects of breast-milk on the neurobehavioral and cognitive development of premature infants. Dev Psychobiol 2003; 43: 109–119.

Hylander MA, Strobino DM, Dhanirreddy R . Human milk feedings and infection among VLBW infants. Pediatrics 1998; 102(3): E18.

Hylander MA, Strobino DM, Pezzullo JC, Dhanirreddy R . Association of human milk feedings with a reduction in retinopathy of prematurity among very low birth weight infants. J Perinatol 2001; 21: 356–362.

Lucas A, Morley R, Cole TJ, Gore SM . A randomised multicentre study of human milk versus formula and later development in preterm infants. Arch Dis Child 1994; 70: F141–F146.

Lönnerdal B . Nutritional and physiolologic significance of human milk proteins. Am J Clin Nutr 2003; 77(suppl): 1537S–1543S.

McGuire W, Anthony MY . Donor human milk versus formula for preventing necrotising enterocolitis in preterm infants: systematic review. Arch Dis Child Fetal Neonatal Ed 2003; 88: F11–F14.

Rønnestad A, Abrahamsen TG, Medbø S, Reigsatd H, Lossius K, Kaaresen PI et al. Late-onset septicemia in a Norwegian national cohort of extremely premature infants receiving very early full human milk feeding. Pediatrics 2005; 115: e269–e276.

Schanler RJ . The use of human milk for premature infants. Pediatr Clin North Am 2001; 48: 207–219.

Kilbride HW, Wirtschafter DD, Powers RJ, Sheehan MB . Implementation of evidence-based potentially better practices to decrease nosocomial infections. Pediatrics 2003; 111(4 pt 2): e519–e533.

American Academy of Pediatrics. Policy statement. Section on breastfeeding. Pediatrics 2005; 115: 496–506.

Ziegler EE . Breast-milk fortification. Acta Paediatr 2001; 90: 720–723.

Hay Jr WW, Lucas A, Heird WC, Ziegler EE, Levin E, Grave GD et al. Workshop summary: nutrition of the extremely low birth weight infant. Pediatrics 1999; 104: 1360–1368.

Kuschel CA, Harding JE . Multicomponent fortified human milk for promoting growth in preterm infants. Cochrane Rev 2004; 1: Cochrane Library.

Carlson SJ, Ziegler EE . Nutrient intakes and growth of very low birth weight infants. J Perinatol 1998; 18: 252–258.

Ehrenkranz RA, Younes N, Lemons JA, Fanaroff AA, Donovan EF, Wright LL . Longitudinal growth of hospitalised very low birth weight infants. Pediatrics 1999; 104: 280–289.

Lemons JA, Bauer GR, Oh W . 2001 Very-low-birth-weight outcomes of the NICHD Neonatal Research Network, January 1995 through December 1996. Pediatrics 2001; 107(1): E1.

Dusick AM, Pointdexter BB, Ehrenkranz RA, Lemons JA . Growth failure in the preterm infant: can we catch up? Semin Perinatol 2003; 27: 302–310.

Embleton NE, Pang N, Cooke RJ . Postnatal malnutrition and growth retardation: an inevitable consequence of current recommendations in preterm infants? Pediatrics 2003; 107: 270–273.

Schanler RJ, Shulman RJ, Lau C . Feeding strategies for premature infants: beneficial outcomes of feeding fortified human milk versus preterm formula. Pediatrics 1999; 103: 1150–1157.

Pieltain C, deCurtis M, Gerard P, Rigo J . Weight gain composition in preterm infants with dual energy x-ray absorptiometry. Pediatr Res 2001; 49: 120–124.

O'Connor DL, Jacobs J, Hall R, Adamkin D, Auestad N, Castillo M et al. Growing and development of premature infants fed predominantly human milk, predominantly premature infant formula, or a combination of human milk and premature formula. JPGN 2003; 37: 437–446.

Olsen IE, Richardson DK, Schmid CH, Ausman LM, Dwyer JT . Intersite differences in weight growth velocity of extremely premature infants. Pediatrics 2002; 110: 1125–1132.

Ziegler EE, Thureen PJ, Carlson SJ . Aggressive nutrition of the very low birthweight infant. Clin Perinatol 2002; 29: 225–244.

Lemons JA, Moye L, Hall D, Simmons M . Differences in the composition of preterm and term human milk during early lactation. Pediatr Res 1982; 16: 113–117.

Gross SJ, Geller J, Tomarelli RM . Composition of breast milk from mothers of preterm infants. Pediatrics 1981; 68: 490–493.

Michaelsen KF, Skafte L, Badsberg JH, Jørgensen M . Variation in macronutrients in human bank milk: Influencing factors and implications for human milk banking. J Pediatr Gastroenterol Nutr 1990; 11: 229–239.

Weber A, Loui A, Jochum F, Bührer C, Obladen M . Breast milk fom mothers of very low birth weight infants: variability in fat and protein content. Acta Paediatr 2001; 90: 772–775.

Polberger S, Raiha NCR, Juvonen P, Moro GE, Minoli I, Warm A . Individualized protein fortification of human milk for preterm infants: comparison of ultrafiltrated human milk protein and a bovine whey fortifier. JPGN 1999; 29: 332–338.

Moro GE, Minoli I, Ostrom M, Jacobs JR, Picone TA, Räihä NCR et al. Fortification of human milk: evaluation of a novel fortification scheme and of a new fortifier. J Pediatr Gastroenterol 1995; 20: 162–172.

Polberger S, Lönnerdal B . Simple and rapid macronutrient analysis of human milk for individualized fortification: basis for improved nutritional management of very-low-birhweight infants? J Pediatr Gastroenterol Nutr 1993; 17: 283–290.

Fomon SJ, Thomas LN, Filler Jr LJ, Anderson TA, Bergmann KE . Requirements for protein and essential amino acids in early infancy. Acta Paediatr Scand 1973; 62: 33–45.

Fomon SJ . Requirements and recommended dietary intakes of protein during infancy. Pediatr Res 1991; 30: 391–395.

Eggum BO . Blood urea measurement as a technique for assessing protein quality. Br J Nutr 1979; 24: 983–988.

Polberger S, Axelsson IE, Raiha NCR . Urinary and serum urea as indicators of protein matabolism in very low birth weight infants fed varying human milk protein intakes. Acta Paediatr Scand 1990; 79: 737–742.

Fomon SJ . Nutrition of Normal Infants. Mosby-Year-Book: St Louis, 1993 pp 129–131.

Davies DP, Saunders R . Blood urea. Normal values in early infancy related to feeding practices. Arch Dis Child 1973; 48: 563–565.

Gross SJ, Oehler JM, Eckerman CO . Head growth and developmental outcome in very low-birth-weight infants. Pediatrics 1983; 71: 70–75.

Hack M, Breslau N, Weissman B, Aram D, Klein N, Borawski E . Effect of very low birth weight and subnormal head size on cognitive abilities at school age. N Engl J Med 1991; 325: 231–237.
Acknowledgements
We thank L Grella, responsible nurse of Human Milk Bank, for her precious help in collecting milk samples. We also thank L Guida, RN and all NICU staff for their assistance in collecting blood samples and for their contributions to the study.
About this article
Cite this article
Arslanoglu, S., Moro, G. & Ziegler, E. Adjustable fortification of human milk fed to preterm infants: does it make a difference?. J Perinatol 26, 614–621 (2006). https://doi.org/10.1038/sj.jp.7211571
Received:

Revised:

Accepted:

Published:

Issue Date:

DOI: https://doi.org/10.1038/sj.jp.7211571
Keywords
human milk fortification

breast milk fortification

individualized fortification

VLBW infant

neonatal nutrition

protein intake